Articles
January 21, 2016 17:24:45 EST
Last week, We Are The Mighty wrote a list of nine of the most legendary heroes of the U.S. Army. This week, we remember some of the Air Force's heroes.
---
At 68, the Air Force may be technically the youngest branch of the five services, just a fraction of the Army's age, but the service's roots are well over a hundred years old. Here are 10 men who became legends in that time:
1. Eddie Rickenbacker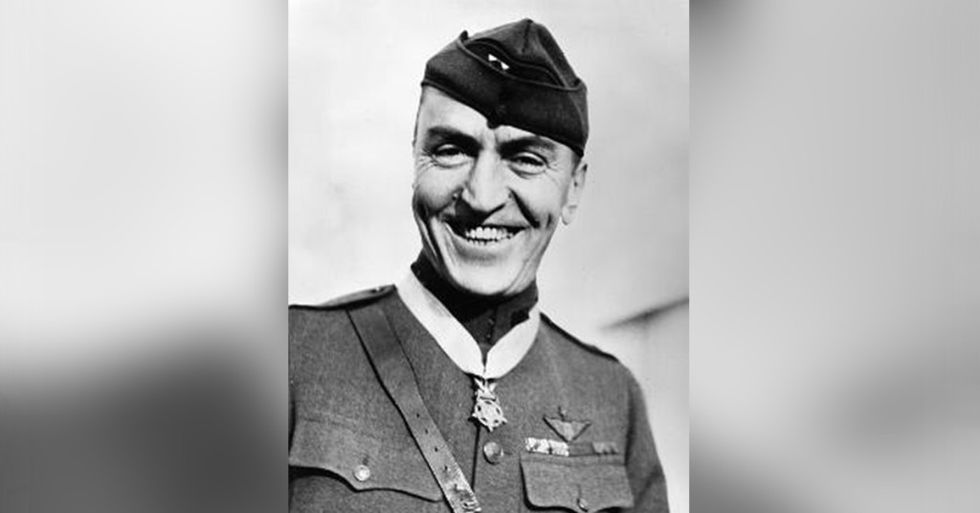 A race car driver turned self-taught pilot, Rickenbacker joined the military immediately after the United States entered World War I. In less than a year, he earned a promotion to an officer's rank and shot down his fifth enemy aircraft, earning him the title of "Ace." A year later, he was in command of his entire Aero Squadron. By the time of the November 11, 1918 armistice, Rickenbacker racked up 26 aerial victories, a record he held until World War II.  His tactic was to charge right at enemy flying squads, whatever the odds, winning every time. Rickenbacker was awarded the Distinguished Service Cross with six oak leaf clusters, the Croix de Guerre with two palms, the French Legion d'Honneur, and was later awarded the Medal of Honor.
2. Billy Mitchell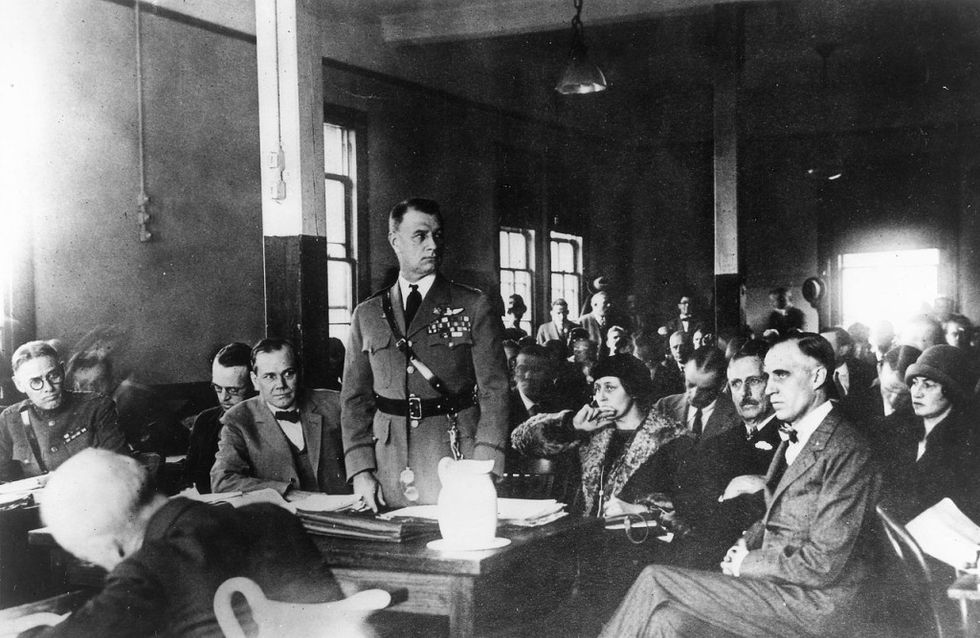 A scene taken from Gen. William "Billy" Mitchell's court-martial, 1925. (U.S. Air Force photo)
General William "Billy" Mitchell is known as the "Father of the Air Force." He was a turn-of-the-20th-century pilot who advocated for a separate, independent Air Force. He argued that airpower would be a revolution in modern warfare, but was dismissed as a radical by his peers. Mitchell became an Army aviator at a time when he was considered too old to go through pilot training. He paid for lessons himself and led more than 1,400 planes against the Germans during the World War I Battle of St. Mihiel. His experience flying planes in combat led to his idea of a separate Air Force, even demonstrating the power of airplanes against naval battleships. When he criticized the War Department for incompetence and negligence, he was sensationally court-martialed. He resigned his commission instead of accepting a humiliating sentence.
3. Henry "Hap" Arnold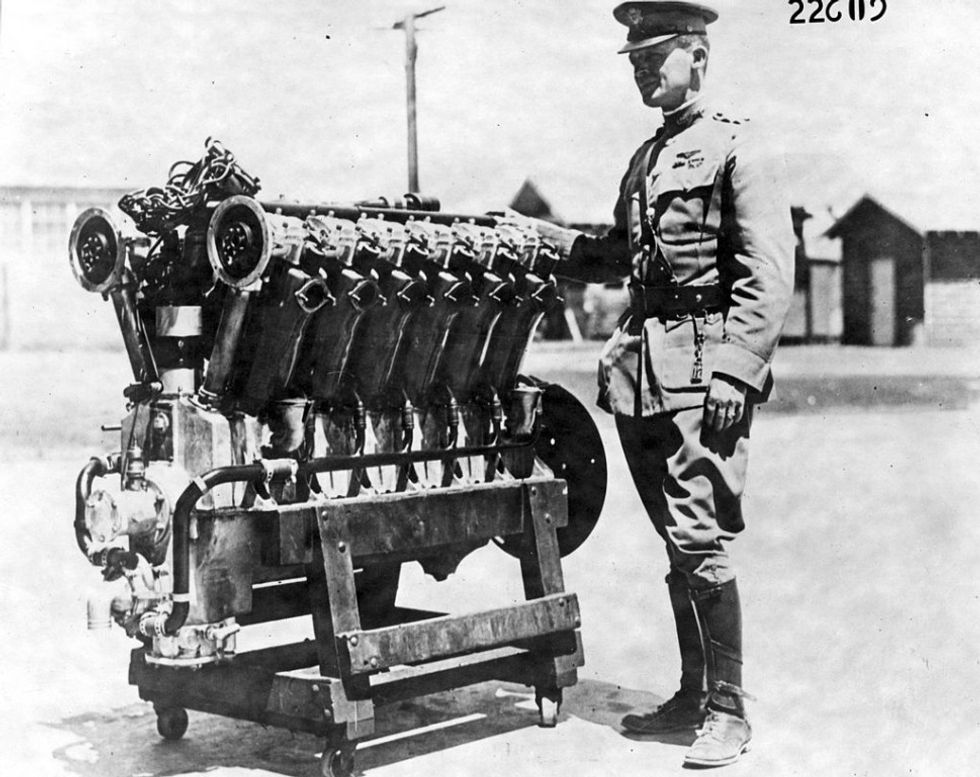 Major Henry H. Arnold with first Liberty V12 engine completed. (U.S. Air Force photo)
A protégé of Gen. Billy Mitchell's, Hap is probably the only airman on this list who needed to overcome a fear of flying to reach his legendary Air Force status. Arnold oversaw the expansion of the Army Air Corps in the years between World War I and World War II to its position as the world's largest Air Force. He oversaw development of intercontinental bombers, radar, airlift capabilities, and the use of nuclear weapons in modern air combat. His wartime job was so stressful, he experienced three heart attacks in three years, but survived to become a five-star General of the Army, which was later changed to General of the Air Force after it became an independent branch in 1947. He remains the only person to ever hold the rank and title.
4. Daniel "Chappie" James, Jr.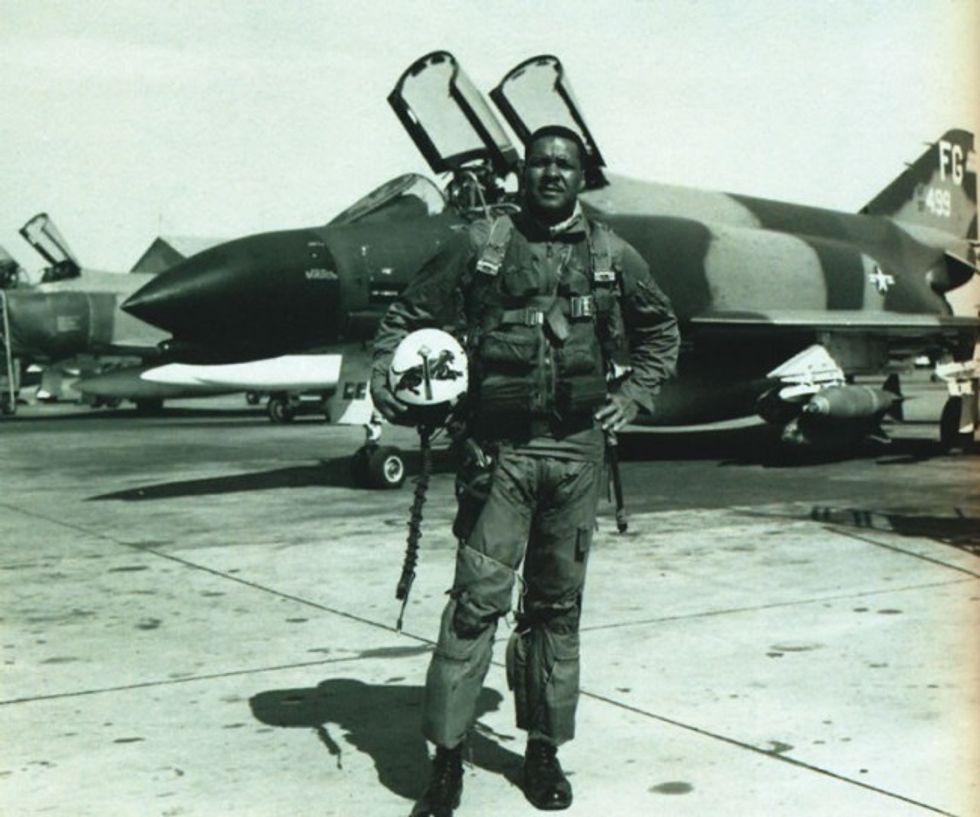 General Daniel "Chappie" James, Jr. in front of his McDonnell-Douglas F-4C Phantom in Thailand during the Vietnam War. (U.S. Air Force photo)
Though Chappie did not see combat until the Korean War, he was one of the original Tuskegee Airmen, training pilots in the Army Air Corps' 99th Pursuit Squadron, the famous Red Tails.  In Korea, he flew 101 combat missions and then another 78 missions as vice-commander of the 8th Tactical Fighter Wing during the Vietnam War. In the 8th TFW, he served under none other than then-Col. Robin Olds, including during Operation Bolo, the highest single MiG sweep ever. The duo were so successful their men nicknamed the team "Blackman and Robin." During his command of the U.S. Air Force Base in Libya, he stared down Muammar Qaddafi in a stand-off, admitting later that he almost shot the dictator with his .45. Chappie became the first African-American to reach the rank of four-star General and the third person of African descent to reach the highest ranks in the Western world.
5. Robin Olds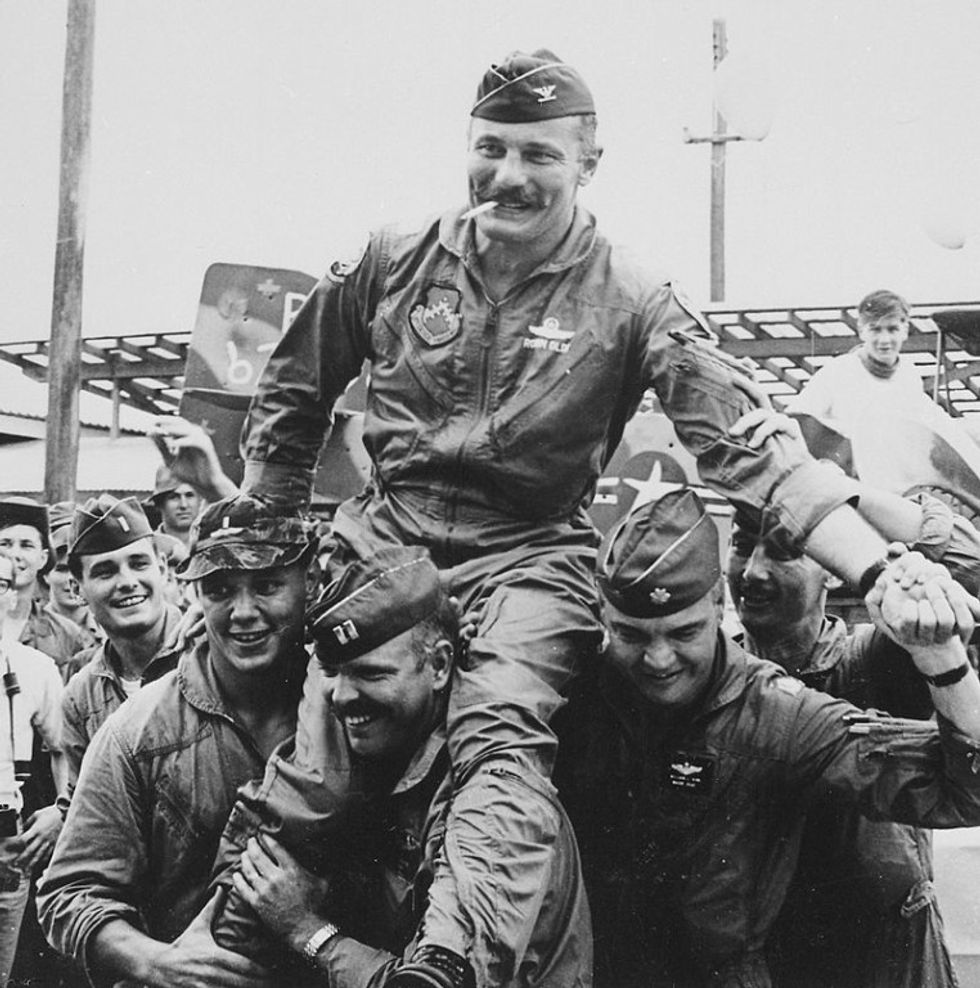 "Wolfpack" aviators of the 8th Tactical Fighter Wing carry their Commanding Officer, Colonel Robin Olds, following his return from his last combat mission over North Vietnam, on 23 September 1967. (U.S. Air Force photo)
Olds joined the military through The U.S. military academy at West Point, an all-star linebacker for the football team who was anxious to get into the fight raging in World War II Europe. His legacy was larger than life. He was a triple ace fighter pilot with 16 kills in WWII and married Hollywood actress Ella Raines. He stayed in the Air Force when it became independent from the U.S. Army and then commanded a fighter wing during the Vietnam War. He is remembered by the Air Force today during "Mustache March," for the distinctive mustache he wore in Vietnam, sported as a way to boost morale among his men and thumb his nose at the media.
6. Curtis LeMay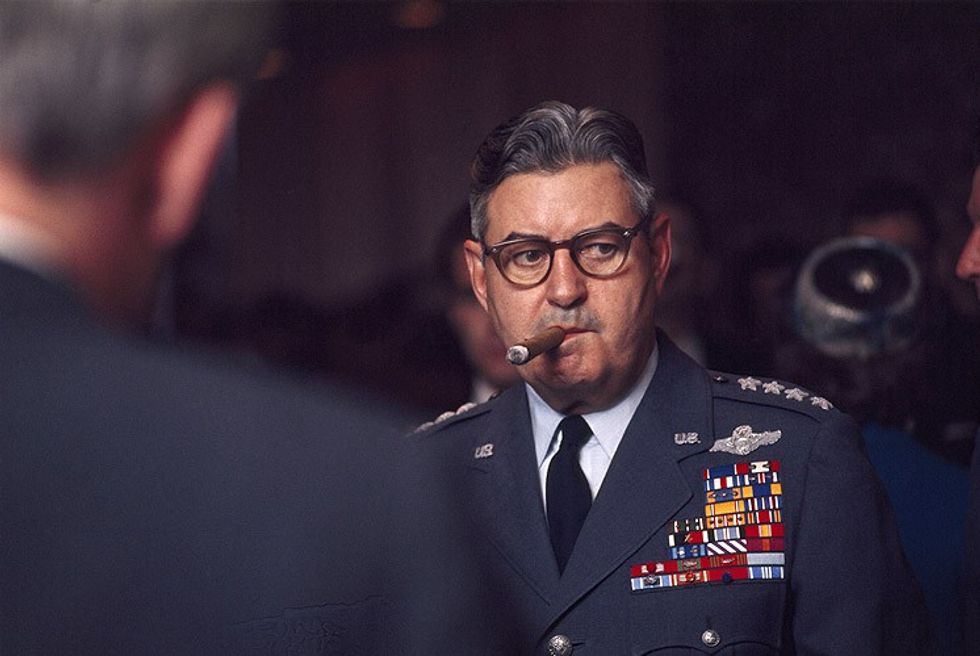 "I'll tell you what war is about. You've got to kill people and when you kill enough of them, they stop fighting." - Curtis LeMay
LeMay was the youngest four-star general in American military history. He served with four stars longer than anyone ever had — a big deal for a general who didn't go to a service academy. He earned the nickname "Iron Ass" for his stubbornness and shortness once his mind was made up. When he did speak, the stout, cigar-chomping, stone-faced general had a reputation for his outspoken manner. He is not always remembered fondly by history, as seen through the silver screen depiction of him as Gen. Jack D. Ripper in Stanley Kubrick's Dr. Strangelove, but LeMay led the U.S. military through some of its most trying times.
LeMay's leadership revolutionized the tactics and effectiveness of the 8th Air Force in World War II Europe, giving the Allies the decisive edge over the Nazi Luftwaffe. In the Pacific Theater, LeMay's strategic planning crippled the Japanese war effort. He saw the U.S. through the Berlin Airlift and Cuban Missile Crisis. The Soviet Union would not have gone to war with a man who was famous for saying "If I see that the Russians are amassing their planes for an attack, I'm going to knock the shit out of them before they take off the ground."
7. Chuck Yeager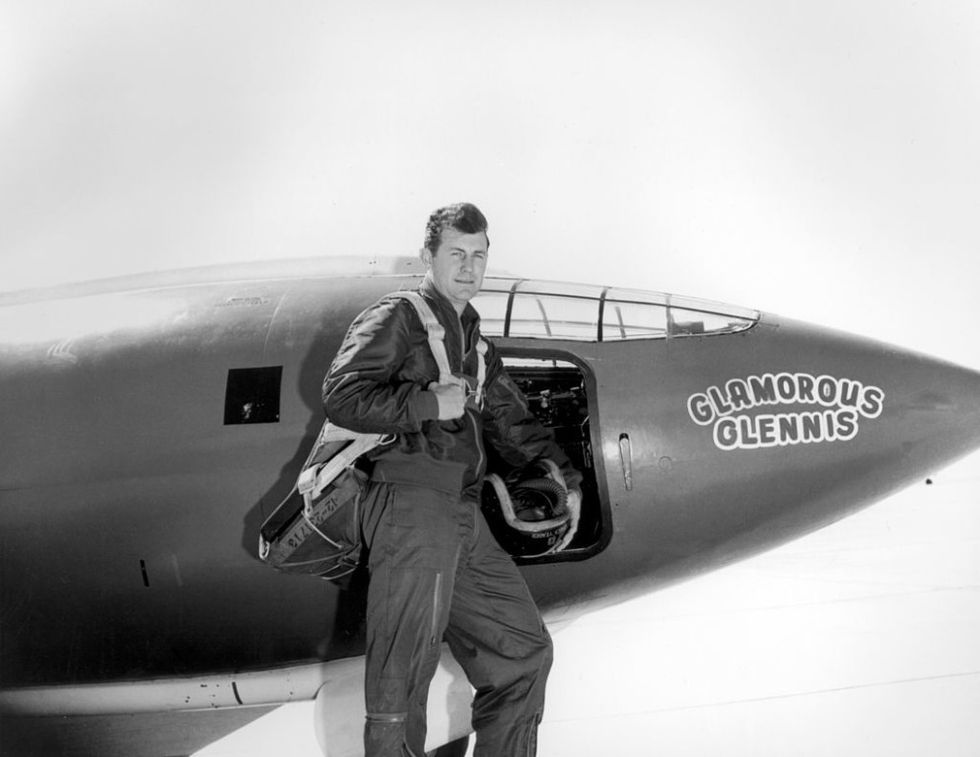 Yeager in front of the Bell X-1, which, as with all of the aircraft assigned to him, he named Glamorous Glennis (or some variation thereof), after his wife. (U.S. Air Force photo)
Charles Elwood Yeager began his Air Force career as a private in the U.S. Army Air Forces. His time as an aircraft mechanic probably gave him a good idea of what planes could handle, information he would need later down the line as a USAF test pilot. He entered the enlisted flying program in 1942 and became at test pilot at war's end. Two days before he famously broke the sound barrier, he broke two ribs and had them treated at a veterinarian's office rather than risk losing that flight by going to an Air Force doctor.
8. William H. "Pits" Pitsenbarger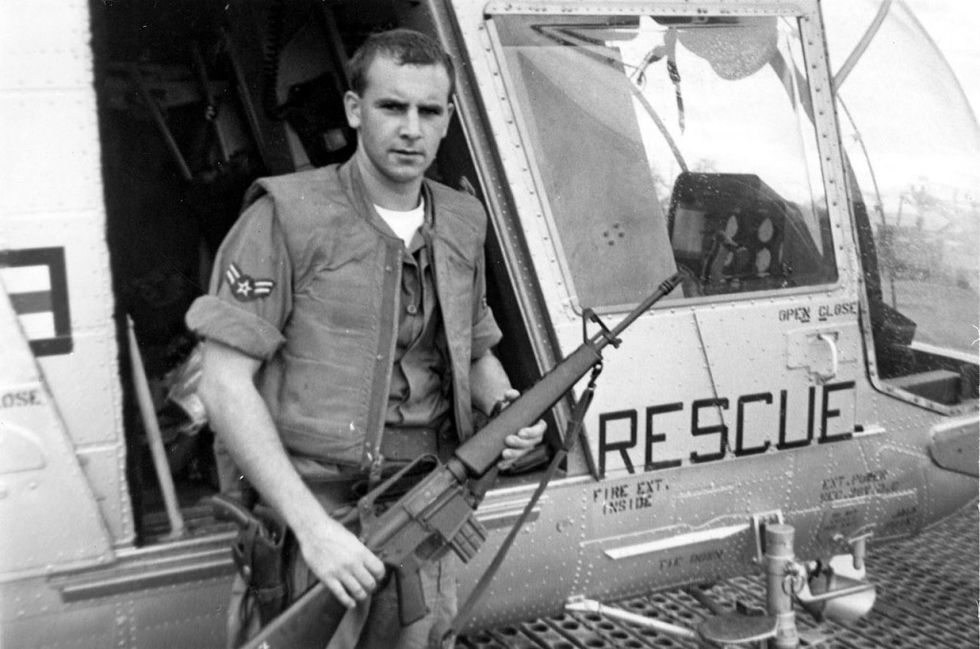 Airman 1st Class William Pitsenbarger with an M-16 outside the HH-43. (U.S. Air Force Photo)
"Pits" was a U.S. Air Force Pararescue Jumper from Piqua, Ohio during the Vietnam War. He joined the Air Force right after high school and became a Pararescueman right after basic training. Less the a year after receiving orders to Vietnam, he set out on a mission to extract Army infantry casualties in the jungles near Cam My. He dropped into the trees, tended to some wounded and then loaded them onto his helicopter. When it came time for Pits to be extracted, his helicopter was hit by small arms fire and had to leave. Instead of leaving with the helo, Pits stayed with the infantry. For an hour and a half, he tended to the wounded, built improvised stretchers, and redistriubuted ammo. When everyone was set, Pitsenbarger joined the firefight. He was killed by a VC sniper during the night.
9. John L. Levitow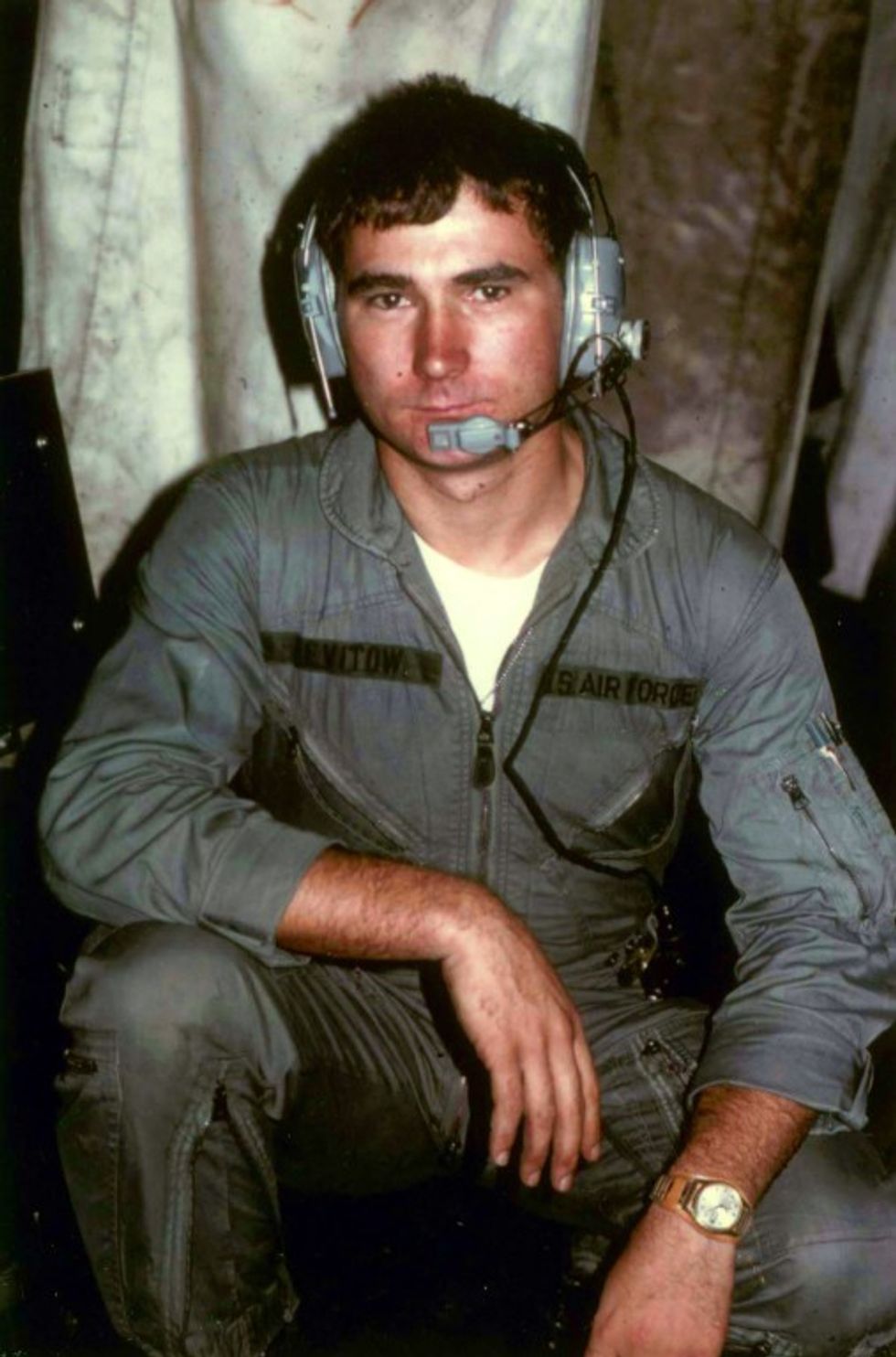 Levitow was a Loadmaster on board an AC-47 "Spooky" Gunship during the Vietnam War. In an engagement with Viet Cong guerillas in February 1969, Levitow and the plane's gunner started deploying flares during an bank when the gunship was hit by VC mortar fire. The entire crew was wounded by shrapnel and the gunner dropped a flare inside the gunship. Its fuse burned next to 19,000 rounds of ammunition which would surely take out the gunship when it exploded. Levitow, despite not being able to walk and fighting the plane's 30-degree bank, crawled over to it, hugged the flare close to his body, and crawled to the rear toward the cargo door, dropping it out just before it ignited. He received the Medal of Honor for his actions and now the top graduate of all Air Force Enlisted Military Education courses receive the "John L. Levitow Award" for exceptional performance.
10. George Everett "Bud" Day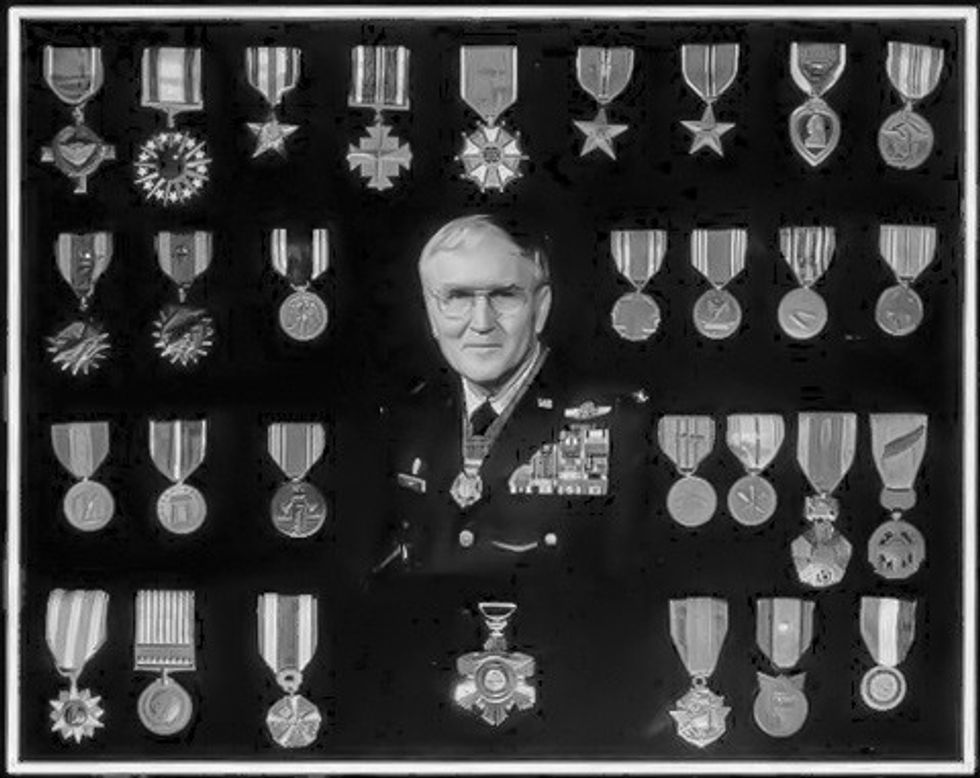 Though he retired an Air Force Colonel, Day started his military career as an enlisted Marine, joining in 1942 at age 17. After World War II, he went stateside to earn a law degree. At the onset of the Korean War, he joined the Air National Guard and was activated the next year. He flew combat sorties as an Air Force fighter pilot throughout the Korean War. He stayed in the Air Force through 1967, flying combat missions over North Vietnam. He was shot down, captured, tortured, beaten, and sent to the infamous "Hanoi Hilton." A year later, he was sent to "The Zoo," a punishment camp for the most defiant POWs. At his most defiant, he would stare down his guards, singing the Star-Spangled Banner in their face. He was released in 1973, and returned to a flying status a year later.