Articles
March 27, 2015 08:00:05 EST
---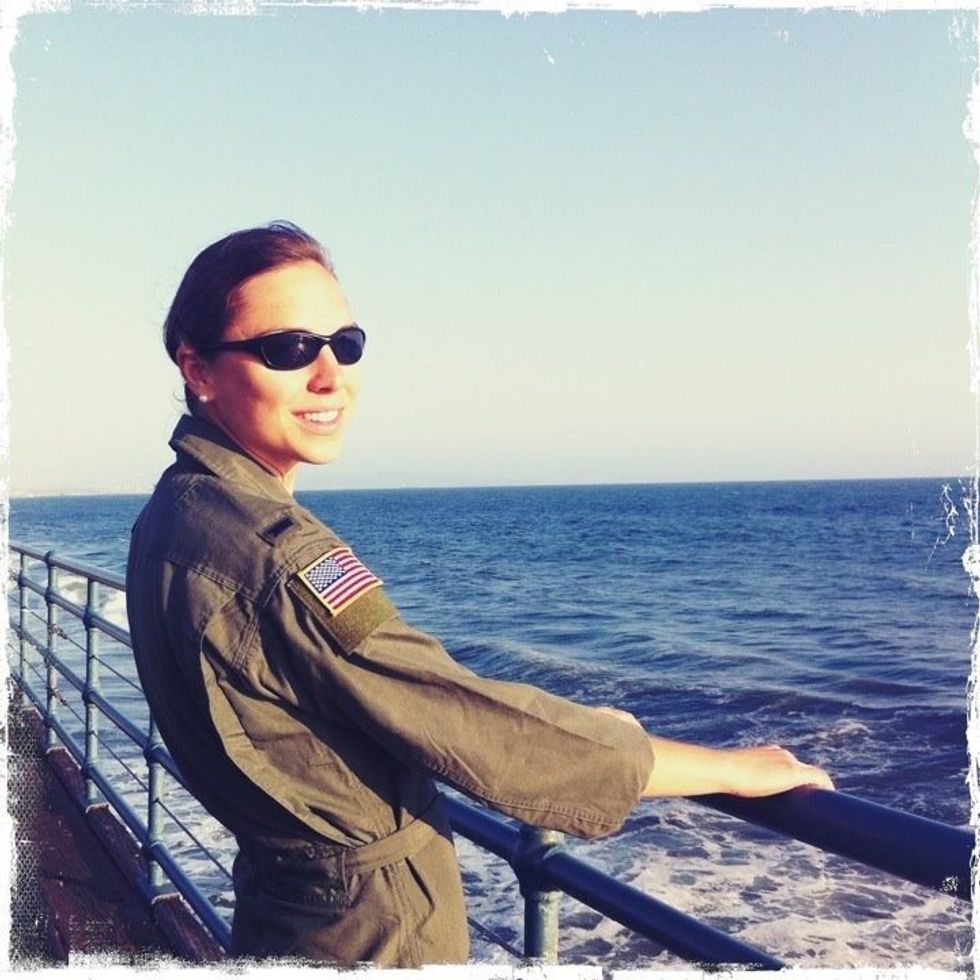 Molly with Bella. (Photo: Molly Potter)
"She slowly started bringing my life back," Potter says. "I started realizing she was waking me up in the middle of the night when I was having nightmares. She prevented my panic attacks and my night terrors. I started progressing with my therapy and becoming myself again." Bella's effect on Potter was so strong, her therapist suggested she train Bella as a service dog, and that's exactly what she did.
In the meantime, the Air Force began to wonder what to do with Potter. She did lose her clearance and could no longer fly, but she didn't have disciplinary issues, so her command wanted to work with her to help her find a new Air Force role or help her transition to the civilian world.
In her preparation to leave the service, she started to work at the Airmen and Family Readiness Center at Nellis Air Force Base, to help troubled Airmen and families or help those who were also transitioning. Bella would come with her, to keep her calm and bring her back in case of a panic attack or breakdown. The families visiting the AFRC loved her, but not everyone was a fan of Bella in the workplace.
"I got a lot of pushback for this service dog," Potter says. "There was no regulation for service dogs and uniformed personnel."
A potentially troubling situation took a turn for the best one evening, as Potter brought Bella to an Air Force Association Symposium in Washington, DC. She happened to run into Air Force Chief of Staff General Mark Welsh and then-Secretary of the Air Force Eric Fanning.
She told the senior leaders how great her therapy was and how the Air Force PTSD therapy helped her. Then she told them about her concern for regulations regarding service dogs and that one should be written. They both agreed. Now active duty Airmen and Soldiers on PTSD therapy can use working dogs to help them cope as an accepted practice.
"Bella saved my life," Potter says. "She changed the tide of my therapy and gave me the confidence to be Captain Potter again."
The CSAF and the SECAF gave their full support and attention to this issue and Potter now uses her story with Bella as a way to help promote getting help while in the military.
"It's not the only way, but it was my way," Potter remarked. "I was anorexic, divorced, and suicidal. Five month changed my life. I had horrible experience in Afghanistan, but by the time I left the military, I was happy, sleeping and had a support network to start a new life."
Potter now lives and works in Austin, Texas. In her spare time, she volunteers with the Air Force Association and works to match service dogs to other veterans facing the struggles she once faced.
"I still think women on the battlefields is a positive thing," she said. "War isn't in the trenches anymore and women bring a more creative, sometimes necessary softer tone to the fight. In the future, critical thinking could be crucial to winning and I think women in these roles bring new solutions to the problems surrounding war."