Articles
January 15, 2016 08:00:06 EST
When the trailer for 13 Hours: The Secret Soldiers of Benghazi dropped, netizens were quick to dub it "Bayghazi," a portmanteau of the location of the now-infamous embassy attack and the name of director Michael Bay. But the film deserves more credit than that for a number of reasons, but mostly because it manages to celebrate the human elements of an otherwise overly-politicized event.
---
"We all think we know Benghazi," Bay says. "But we all only really know so much. There was a great human story in Benghazi that was never told. It's an inspirational movie, even though it's tragic."
The movie is a faithful retelling of the events on the ground during that day in the Libyan port city, as written in journalist Mitchell Zuckoff's book 13 Hours: The Inside Account of What Really Happened in Benghazi, which he co-authored with the surviving security contractors who were on the ground. The way Zuckoff writes the story in the book lends itself to Michael Bay's directing style.
"The book, when I read it, it was an amazing human experience," Michael Bay says. "It's my most realistic movie. I think it opens eyes to what they really go through. It's a collection of 36 Americans coming together, figuring out how the hell to survive. It starts at 9:42 and we follow the waves and the adrenaline and the ebbs and flows for 13 hours."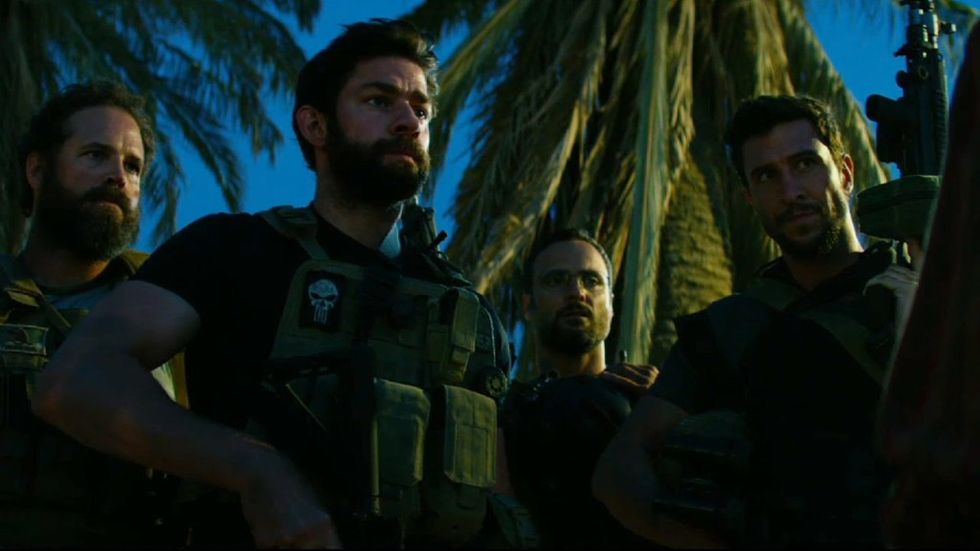 The portrayals of the team are realistic and intense. Anyone who's ever met Navy SEALs, Marine Scout Snipers, Army Rangers, or any other special forces operators will recognize the personalities portrayed on screen by Krasinski, James Badge Dale ("Rone"), Pablo Schreiber ("Tanto"), David Denman ("Boon"), Max Martini ("Oz"), and Dominic Fumusa ("Tig").
"It's about the human spirit and the will to win," the directors said. "No one ordered them to go. They volunteered and they volunteered at the drop of a hat. At a time when there's so much crap going on in the world, you are appreciative that people like this exist."
13 Hours: The Secret Soldiers of Benghazi is in theaters today. Follow the film on Facebook, Twitter, and Instagram.