Articles
April 14, 2016 08:12:16 EST
Platoon sergeants aren't just managers and leaders, they're also mentors -- proxy parents even.
---
But they're (in)famously gruff about it. After all, they didn't father any of these kids, and they didn't pick them either. And their primary job isn't to turn them into beautiful snowflakes but honed weapons.
So, below are 5 classic fairy tales as recited by cigar-chomping and dip-spewing platoon sergeants:
1. Red Riding Hood Learns to Secure Her Logistics Chain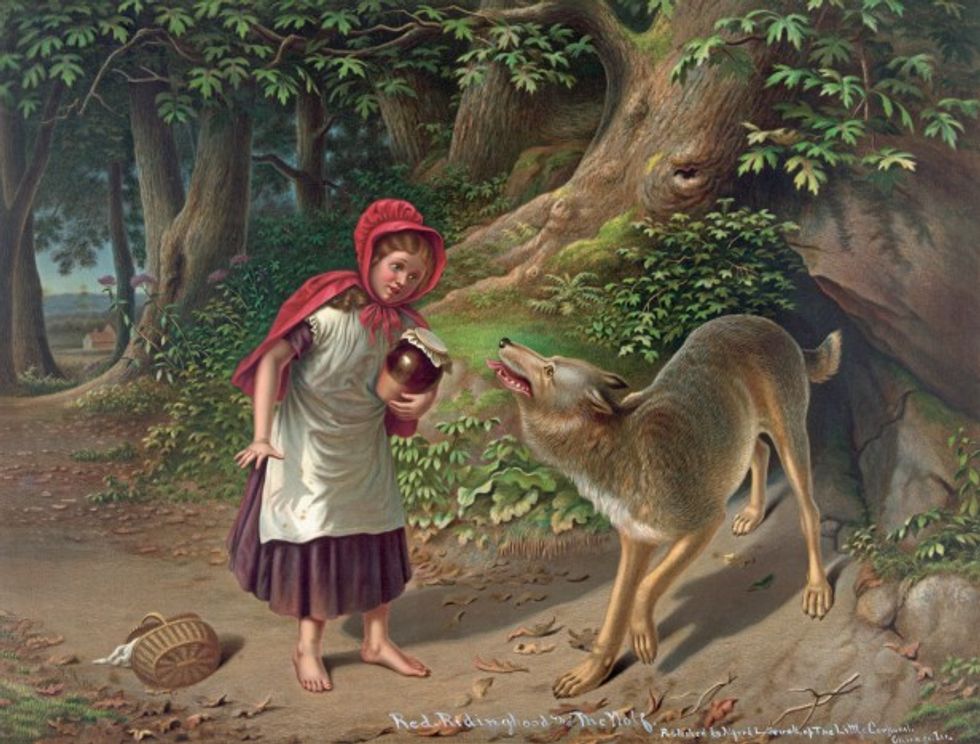 Photo: Public Domain
So, this little girl was getting ready for a trip to her grandma's house. Red Riding Hood started by doing a map recon and checking with the intel bubbas to see what was going on along her route. After she heard about the increase in wolf-related activity in the area, she requested additional assets like a drone for overwatch and more ammunition for the mass-casualty producing weapons systems.
When a wolf attempted to hit her basket carriers and then fled, she had her drone operator follow the wolf to the cave. Red and her squad conducted a dynamic entry into the cave and eliminated the threat. Now, they conduct regular presence patrols to deter future wolves from operating in their area of operations.
2. Goldilocks and the Three Tangos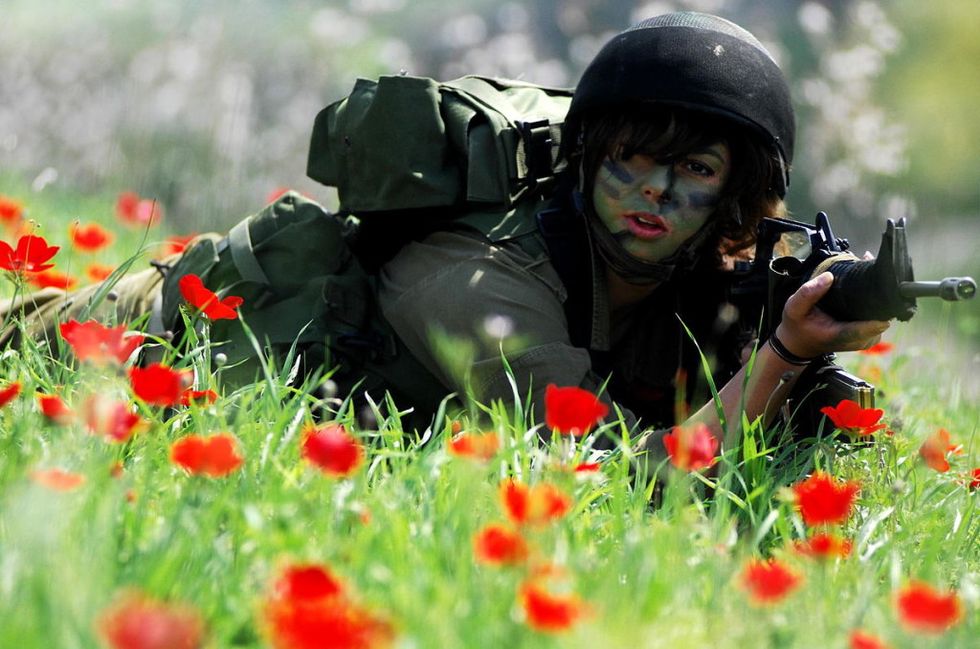 Photo: Israeli Defense Forces
Goldilocks was moving tactically through the forest when she spotted a large wooden structure with a single point of ingress/egress. Since she wasn't an idiot, she didn't just burst inside to try out the beds. Instead, she practiced tactical patience and established an observation post.
After tracking patterns of life for a few days, she was certain that the structure housed three bears of various sizes. In her head, she rehearsed the battle dozens of times before engaging. When the dust settled from the firefight, she found herself in possession of a defendable combat outpost deep in the woods.
3. Hansel and Gretel Learn About SERE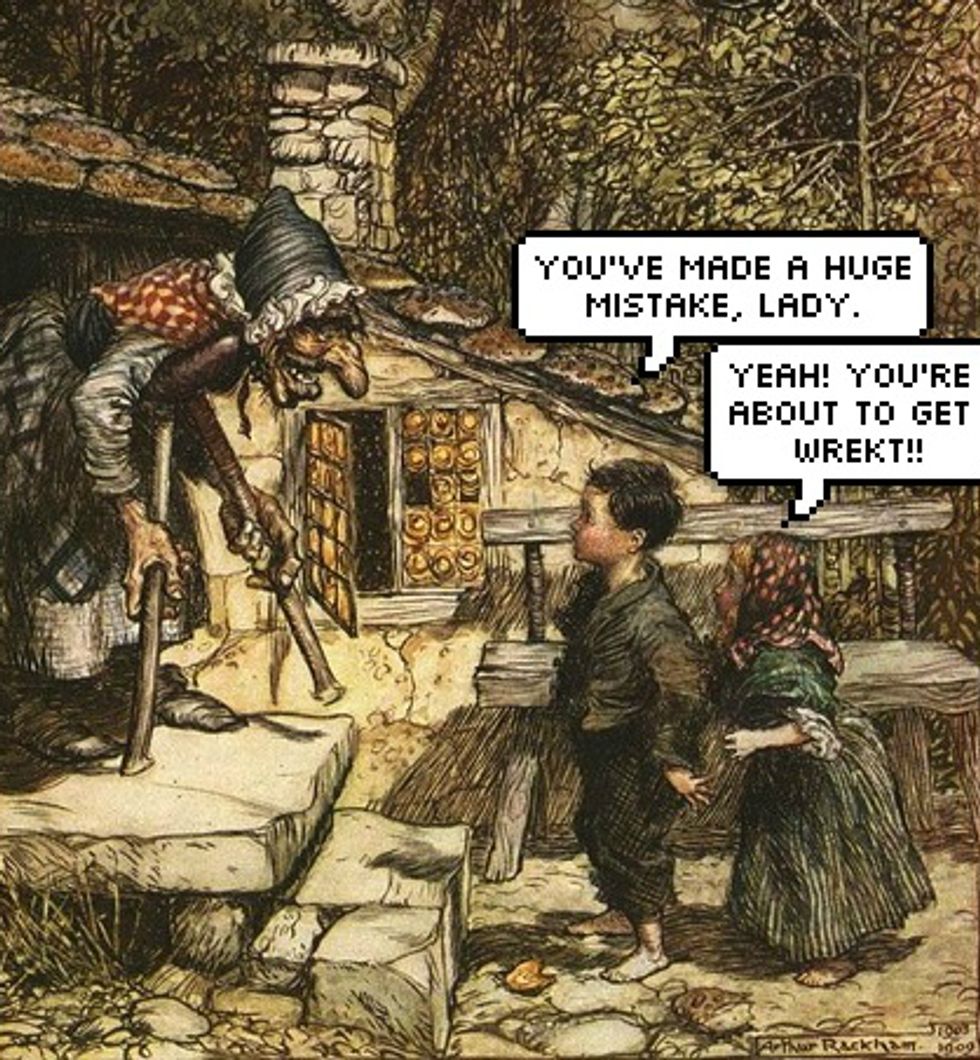 Photo: Public Domain. Cartoon bubbles by WATM Logan Nye
When two privates were led by their evil stepmother to play deep in the woods, they brought a compass and map. The stepmother then attempted to abandon them in the forest. Since they knew their stride counts and checked their azimuth often, the kids were able to quickly move back to their home.
Near the house, the kids prepared a number of traps normally used to hunt game for food. These traps were positioned on areas the stepmother was known to frequent and the kids waited. When she trapped herself in a snare near the river, the kids bundled her up and sent her to a black site hidden under a candy cottage. The HUMINT guys got valuable information about witch operations and everyone else lived happily ever after.
4. Jack Gives the Army Instant Cover and Concealment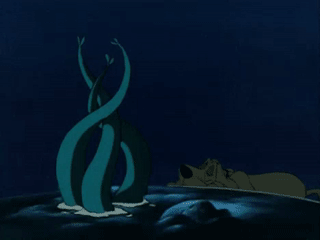 Photo: Public Domain
Three little pigs were preparing for an imminent invasion by a big, bad wolf when one proposed that each pig should fall back to their own home, the senior pig got pissed. "What are you, some kind of dumb boot!?" he asked. "We should concentrate our forces in the most defensible territory we have."
That pig led his brothers to his house made of brick where they took shelter behind the thick walls. When the wolf arrived, the oldest pig engaged him from a second-floor window while his brothers maneuvered behind the enemy. Then, the pigs established fire superiority and cut the wolf down.
If you have your own platoon sergeant fairytale, share it with us on Facebook or Twitter with the hashtag #PltSgtFairyTales.