Articles
April 27, 2015 06:06:31 EST
Before my first deployment, I heard all kinds of horror stories about lettuce sandwiches, green powdered eggs, and sludge-like coffee. When I wasn't MREating, I found myself at the DFAC, Air Force parlance for the mess tent, chow hall, or cafeteria. Although I did find green eggs (no ham) in a few remote field kitchens, the modern overseas stations had some fairly impressive meal options and, except for the atrocity that was the pasta carbonara (featuring bologna and spaghetti sauce – looking at you Camp Victory), life at mealtime was pretty good. It still is if Okinawa's TRC means anything to you. For better or for worse, the mess is the main source of food you if were/are lucky enough to not have to live on rations.
---
This has not always been the case. U.S. troops of days past didn't always fare well at mealtime. Sometimes, the only benefit from having a mess tent seemed to be that the meal was hot, and in some cases, it wasn't even that. Here are a few of the more famous meals produced by military-grade cooks. If it's good enough for them, it's good enough.
1. Firecake
Revolutionary War
As if anyone needed more examples of just how difficult life for a soldier in the Continental Army was, consider the main staple of troops who wintered with George Washington at Valley Forge: Firecake - a tasteless mixture of flour and water, cooked on a rock near a fire. On a good day, the makeshift bread was slightly flavored by ash from the fire or by vinegar, if one of the troops managed to secure some.
The texture and form of the bread depended on just how much of each substance the troop had. It would either be flattened on a rock or cooked in globs in the ashes, the result being a thick, dense mass of baked "goods."
Ingredients:
Flour
Water
Salt or Vinegar (if available)
Prep Orders:
Mix flour and water together until the mixture is a smooth paste, but isn't too sticky. Preheat oven to 350 degrees and either drop onto a greased cookie sheet or spread out like a tortilla. Bake until brown. Found the world's first modern democracy. Spread freedom.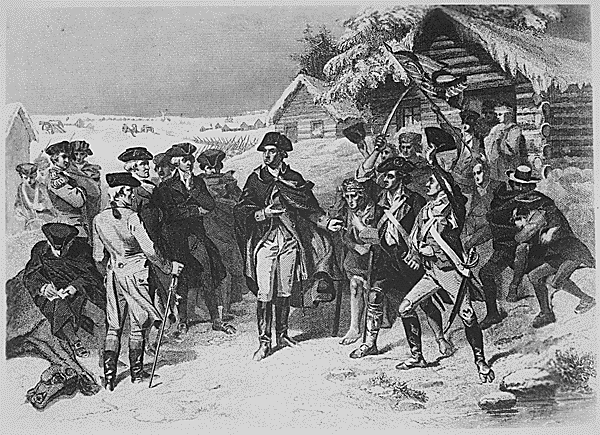 I thought they marched all day...
Ingredients:
2 lbs of bread
¼ lb of suet
1 dozen apples
¼ lb sugar
Prep Orders:
Melt suet in a frying pan, cut bread into slices ¼ in thick.
Dip bread pieces into melted fat and place in oven to dry.
Peel and boil apples then mash them into the sugar.
Line a baking dish with fatty bread and cover with apple mixture.
Cover with alternating layers of bread and fruit until it's all used up, then bake for 20 minutes. Any kind of fruit is actually okay, it's not like you're making this for your health.