Articles
June 25, 2016 04:45:12 EST
Every presidential election has memorable moments — some inspiring, some questionable. And then some are just plain bizarre.
---
If the possibility of a reality TV star becoming president sounds outlandish, history proves that crazier things have happened. One thing is for sure; there's never a dull moment when electing the leader of the free world.
Related: That time the US Army attacked veterans because they wanted their benefits
1. That time the president ran against his vice president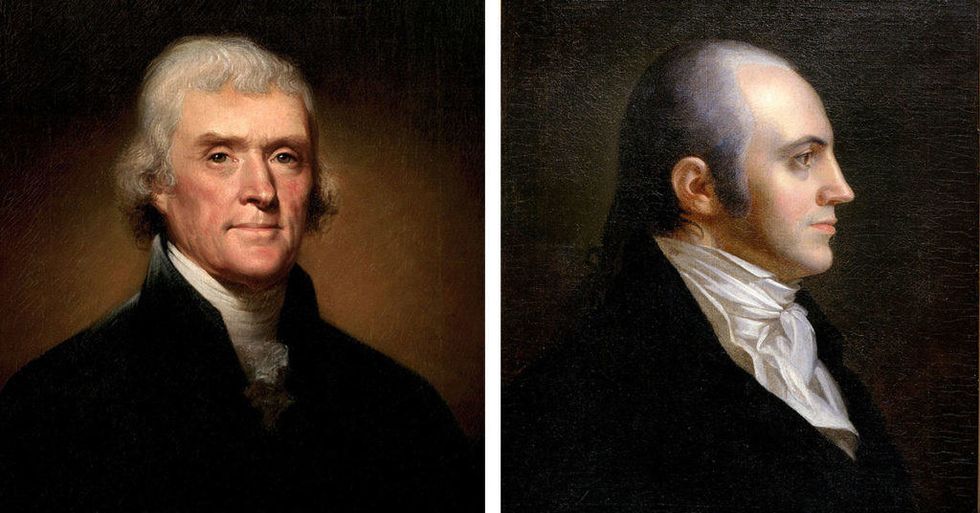 Portrait of Thomas Jefferson by Rembrandt Peale in 1800 via White House Historical Association. John Vanderlyn portrait of Aaron Burr, 1802, Creative Commons via Wikimedia
Before the election of 1800, the electoral college picked the president and vice president by voting for their favorite candidate. Whoever got the most votes became president and the runner-up became vice president. But in 1800, the "two-vote" practice led to a tie between Thomas Jefferson and Aaron Burr. It took over a week to sort the mess out, with Jefferson eventually becoming president. The ordeal resulted in the creation of the 12 Amendment, which eliminates the possibility of another draw from happening again.
2. That time a president attended his rival's funeral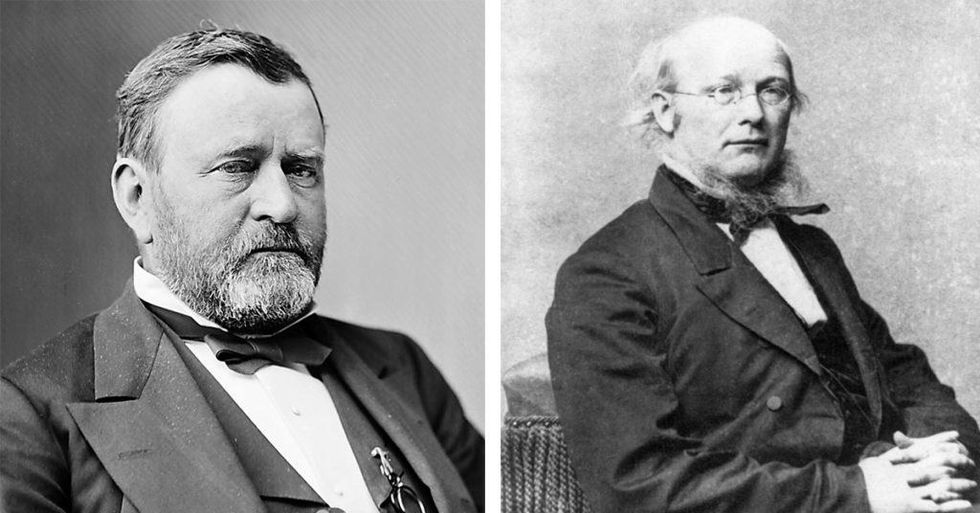 Ulysses S. Grant and Horace Greeley. Photos by Library of Congress, Prints and Photographs division.
The presidential election of 1872 sounds like it came out of an episode of the "Twilight Zone." President Ulysses S. Grant was running for his second term in office against New York Tribune founder Horace Greeley, who died before the electoral college vote.
Greeley was running as a Liberal Republican, a party started by Republicans who were dissatisfied with Grant and his radical Republican supporters. Despite his new found party and the additional support of the Democratic Party, he lost in a landslide and died three weeks after his defeat. Grant attended Greeley's funeral.
Other noteworthy candidates were Victoria Woodhull of the People's Party—the first woman to run for president—and her running mate abolitionist Fredrick Douglass, the first African-American to be considered for the vice presidency.
3. That time a socialist ran his presidential campaign from prison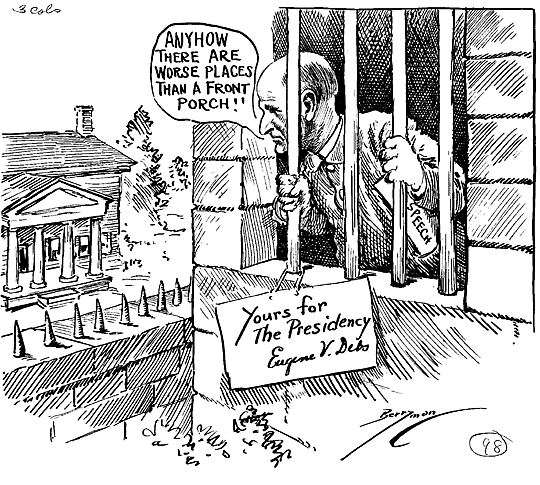 Clifford Berryman's cartoon depiction of Debs' 1920 presidential run from prison. Public Domain image via Library of Congress.
Eugen V. Debs was the Socialist Party's front-runner through five presidential elections — from 1900 to 1920. He ran his last campaign as prisoner 9653 from an Atlanta Federal Penitentiary while serving ten years for opposing World War I.
4. That time Ronald Reagan stole President Carter's debate notes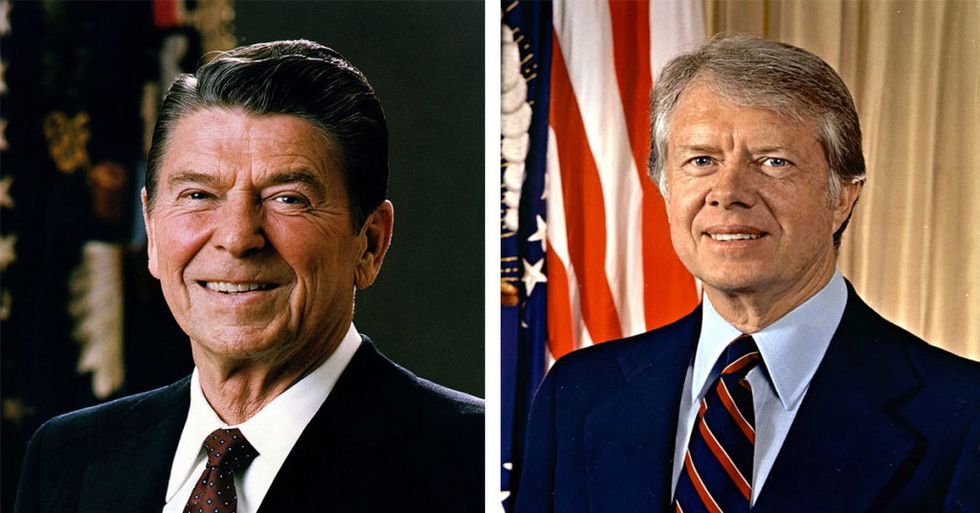 Ronald Reagan and Jimmy Carter. Photos by U.S. federal government.
"Debategate" happened in the final days of the 1980 presidential election. Someone stole Jimmy Carter's briefing papers he was using in preparation for the debate with Reagan from the White House and turned them over to the GOP team. Reagan's camp used the notes to destroy Carter in the debate and swipe the presidency.
No one knows for sure who the culprit was but Craig Shirley—a Reagan biographer—gathered enough evidence to suggest it was Paul Corbin, a Democrat, and one time Kennedy family confidant, according to Politico.
5. That time a president lost the popular vote but captured enough states to win the electoral vote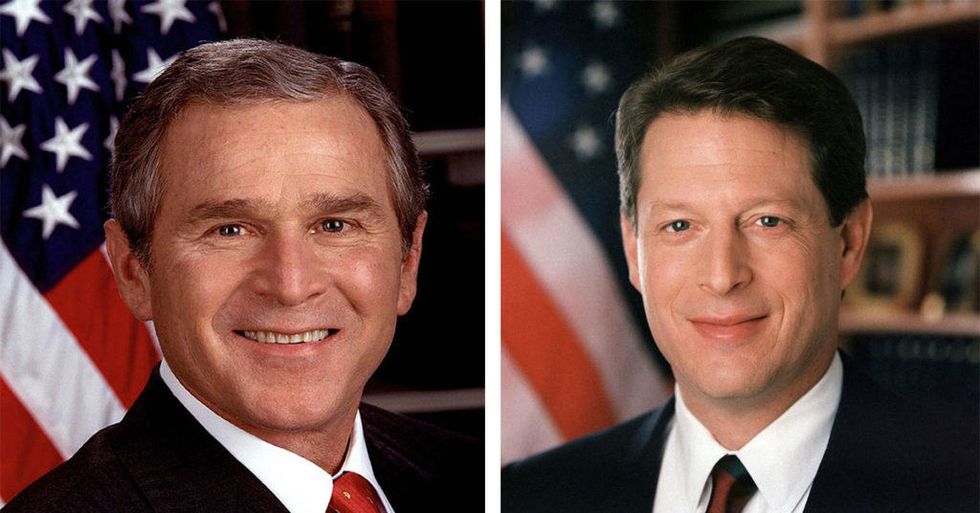 George W. Bush and Al Gore. Photos by U.S. federal government
The 2000 presidential election between George W. Bush and Al Gore was one of the closest in U.S. history. The presidency hinged on the Florida vote, whose margin triggered a mandatory recount. Litigations ensued, and various counties started additional recounts, ultimately involving the Supreme Court. The grueling 36-day recount battle seemed like an endless election. When the high court finally announced its contentious 5 to 4 decisions for Bush, no one was happy. Depending on which side of the aisle you were in, the belief was that the Supreme Court handed the presidency to Bush, or took it away from Gore.