Articles
July 21, 2017 12:58:58 EST
On July 20, 2017, the veteran community lost a valuable advocate in Chester Bennington, lead singer and front man of Linkin Park. Not only do his lyrics resonate deeply within the veteran community, he was a loud supporter of the U.S. troops.
---
To commemorate the life and support of Chester, let us never forget the acts of a true patriot.
1. He was a friend of Paul Rieckhoff, Founder and CEO of IAVA
All of us in the @IAVA community mourn the tragic loss of our friend @ChesterBe. We loved him..and he loved us... https://t.co/49vyUzIseW pic.twitter.com/uhFCwu5BHV

— Paul (PJ) Rieckhoff (@PaulRieckhoff) July 20, 2017
Chester was gentle and thoughtful...he met thousands of vets through @linkinpark's partnerhsip w @IAVA..he was always patient and kind... pic.twitter.com/xBXjpVpDkZ

— Paul (PJ) Rieckhoff (@PaulRieckhoff) July 20, 2017
...and he always took so much time to hear our stories. Chester felt them, absorbed them, channelled them. Night after night, he listened... pic.twitter.com/dbKrbKUjJa

— Paul (PJ) Rieckhoff (@PaulRieckhoff) July 20, 2017
City after city, Chester would stop the show & ask thousands to pause to think about us, our country & our cause... https://t.co/hoEOY6PekO

— Paul (PJ) Rieckhoff (@PaulRieckhoff) July 20, 2017
2. He joined many celebrities on the "Convoy to Combat Suicide" tour
Along with Lady Gaga, Korn, Avenged Sevenfold, Cale Conley, and many MLB teams, the goals of the tour were to pass the Clay Hunt SAV Act, getting President Obama to take Executive action in this effort, and to connect over a million post-9/11 veterans with transitional resources.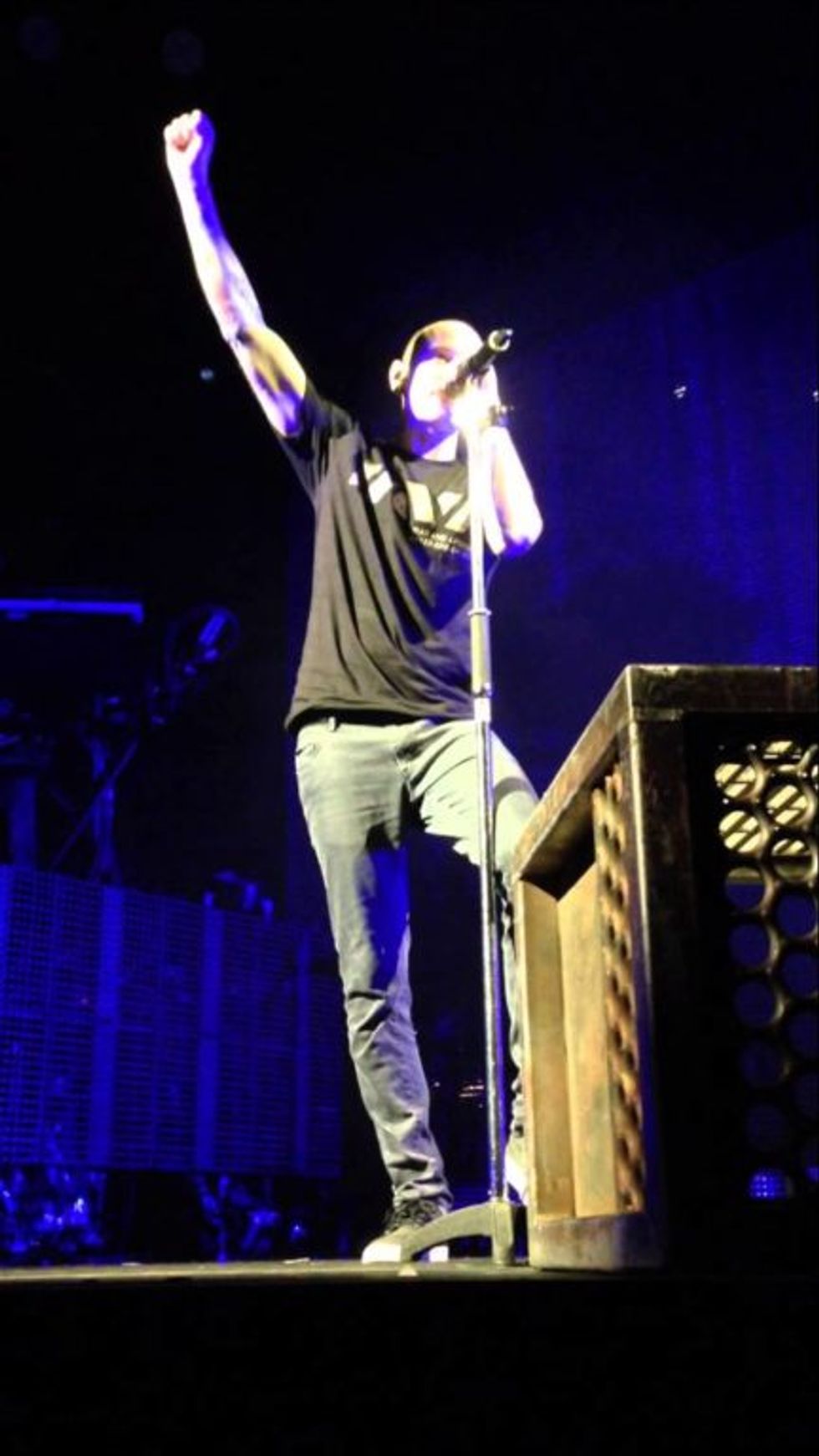 (Photo via Twitter)
Writer's Note: He was a great man and a voice of my generation. Personally, his music helped me get through the rough times of my teenage years.
As a soldier, Linkin Park was always on my playlist. Going through my divorce in Afghanistan, it was the music that truly felt like someone else knew what was going on in my life.
Now, as a veteran, it breaks my heart knowing that a man that gave his all to prevent veteran suicide ended his own life.
An estimated 40% of all Post 9/11 veterans know a veteran who ended their life and 47% know someone who attempted. The burden of suicide isn't just on the shoulders of one person.
We need to stand together. Friend to friend. Comrade to comrade. Veteran to veteran.
Be there for the people who swore to always have your back.