Articles
August 23, 2016 11:40:17 EST
A combat trooper's most important piece of gear is his weapon. And fortunately for the U.S. military, American arms makers have been for years at the cutting edge of weaponology, merging technology with practicality, durability, and accuracy to field some of the best arms in the world.
---
We all know that the choice of what to ultimately put in the hands of America's warfighters is a tradeoff between a lot of different factors — and there are strong opinions on either side of the debate. Just strike up a conversation with a bar table full of gun nuts over .45 ACP versus 9mm and let the fur fly.
But those of us "people of the gun" still harken back to some of the iconic weapons in U.S. military history and like to think about how things might be different if the U.S. were to bring some of them out of mothballs and hand them back to the troops fighting America's wars.
So here's our list of six weapons (largely) consigned to history that we'd consider bringing back to the armory:
1. The M1 Carbine
You might not know it, but more M1 Carbines were produced during World War II than M1 Garands — about 500,000 more — and it became the standard issue long gun for paratroopers and support troops like mortarmen and artillerymen.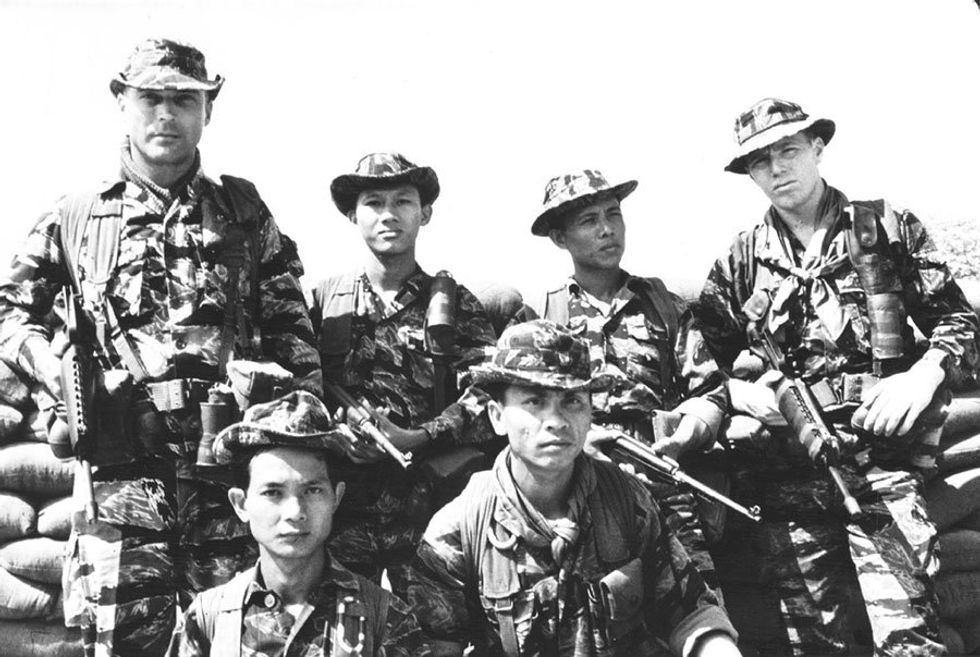 More M1 Carbines were produced during World War II and M1 Garand rifles. And the .30 caliber firearm was so successful, it found a home with U.S. troops and their allies into the Vietnam war. (photo Wikimedia Commons)
Beloved for its short, 36-inch length and 6-pound weight, the M1 fired a fairly accurate .30 caliber rimless round that zinged at about 2,000 feet per second at the muzzle — that's getting close to the speed of a standard mil spec 5.56 round. The M1 feeds from either a 15- or 30-round magazine, making it a killer in close quarters. So why not ditch the .300 Blackout and go retro?
And FYI, one of the M1's original builders, Inland Manufacturing, has restarted the line and is selling these things like hotcakes.
2. The Browning Automatic Rifle
Really, all you need to say about the BAR is "thirty-ought-six."
End of discussion.
Designed by John Browning in 1917 for the trenches of Europe, the BAR sits in a nether world of not quite a machine gun, not quite a rifle. Fed from a 20-round magazine, the BAR's .30-06 round packs nearly 3,000 feet-per-second at the muzzle and can reach out well over 1,000 yards.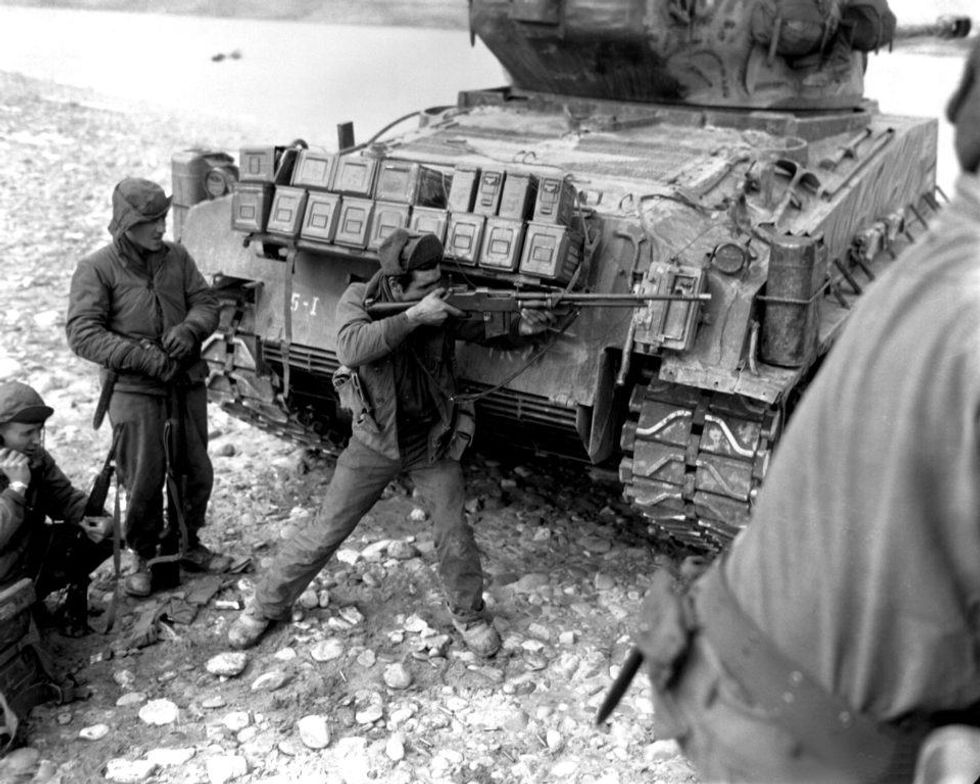 The BAR was popular during World War II and saw action for several decades after. (Photo: Wikimedia Commons)
Sure it weighs a whopping 16 pounds, and never mind that a BAR gunner in World War II was estimated by some to have an average lifespan of about 30 minutes. But with the popularity of the Mk-17 SCAR and it's .308 round these days — not to mention the Marine Corps outfitting some of its designated marksmen with SR-25 .308 ARs — maybe the BAR should be given another chance.
3. Stoner 63/M63
Sure, the Stoner 63 was a maintenance headache, but its ground-breaking modular technology paved the way for predecessors like the Sig Sauer MCX and the early concept of the FN SCAR family of special operations rifles.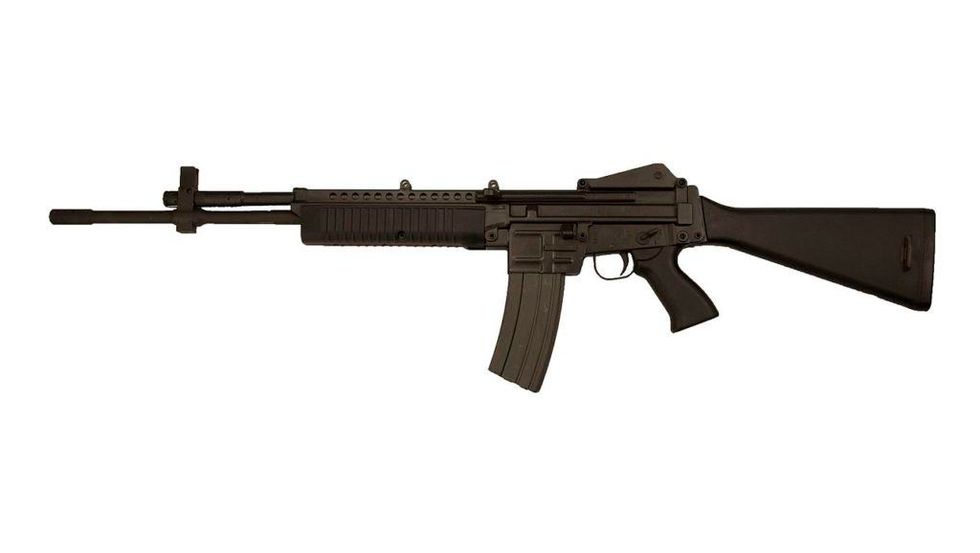 (Photo: Wikimedia Commons)
Chambered in 5.56 and designed primarily by Eugene Stoner, the father of the M16, the M63 was manufactured in a range of variants, including a light machine gun version with a 20-inch barrel fed from an open bolt to an assault rifle variant that fired from a closed bolt. Either fed from a standard 30-round magazine or a belt-fed drum, the Stoner 63 weighed anywhere from about 8 pounds to 12 pounds.
Manufactured in limited quantities in the 1960s, the Stoner 63 became a favorite of SEAL teams operating in Vietnam, before it was removed from the inventory in the 1970s in favor of the M249 SAW.
4. M79 Grenade Launcher
The M79 grenade launcher was America's first attempt to meld the range of a mortar with the portability of a rifle grenade. The innovative "high-low propulsion system" kept recoil low while also reducing weight.
The single-shot, break-action M79 fired a 40mm grenade with a variety of warheads, including a specially-designed one for close-in combat (the regular 40mm grenade needed at least 30 meters to arm) and was used extensively in Vietnam. It was used and modified by special operations forces — including the SEALs and Special Forces — since its development in the 1960s and was eventually replaced by the M203 and later M320.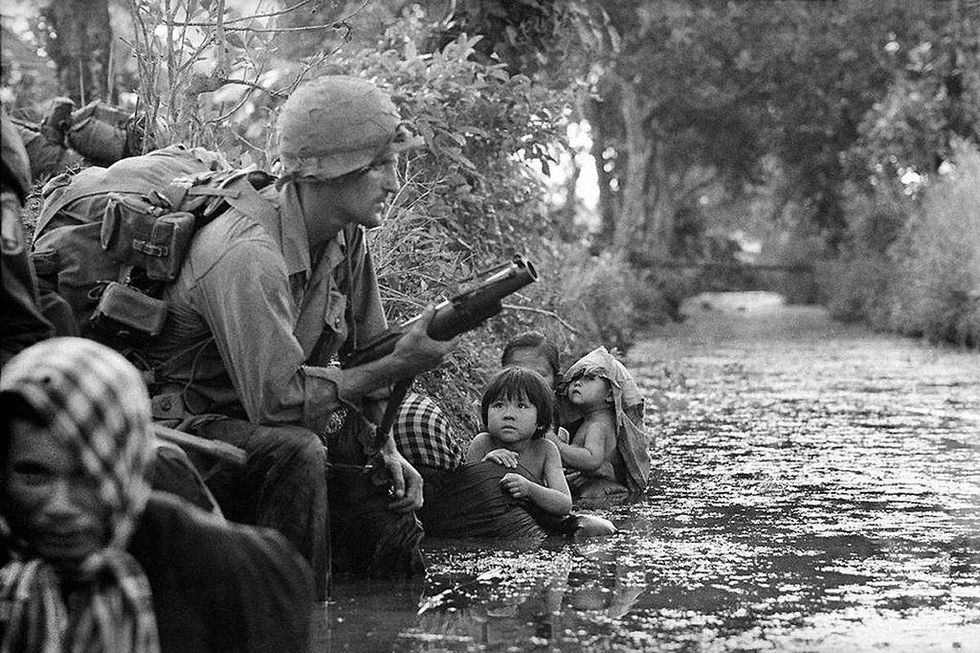 The M79 was beloved by troops since Vietnam and still has a following in today's military. (Photo: Wikimedia Commons)
But the M79 still had fans in more recent conflicts, with some arguing it had better range (about 400 meters) than the newer, Heckler & Koch-built M320. It was even featured in the arsenal of bin Laden raid SEAL Mark Owen, which he dubbed the "pirate gun."
5. 1911 Pistol
Ahhh, the M1911.
Literally one of the most revered guns in U.S. military history, the M1911 is one of the most comfortable and powerful semi-automatic handguns ever developed. It's a favorite among competitive shooters (particularly more modern double-stack versions) and is still fielded in limited quantities to Marine Corps special operations troops — though that could change with greater adoption of the Glock 19 throughout SOCOM.
Marine Cpl. Alex Daigle fires at his target with an M45 1911 A1 pistol during a deck shoot aboard the amphibious assault ship USS Essex (LHD 2). (U.S. Marine Corps photo by Cpl. Anna Albrecht/Released)
With his powerful .45 ACP round and a magazine-fed, seven-round capacity, the M1911 served as the standard American military sidearm for about 75 years. The M1911 was ditched in the 1980s in favor of the lighter, higher-capacity 9mm Beretta M9, but with the Pentagon looking to replace that pistol, many are wondering whether the 1911 should make a comeback.
6. Thompson Submachine Gun
Originally dubbed the "Annihilator" by its inventor, the Thompson is believed to be the first firearm to be formally designated a "submachine gun." Operating a straight- or delayed-blowback action like a pistol, the Thompson fired the .45 ACP round like the M1911 and could be loaded with a 30-round "stick" magazine or a 100-round drum. Though it was developed as a trench sweeper for World War I, the Thompson saw most of its action in World War II.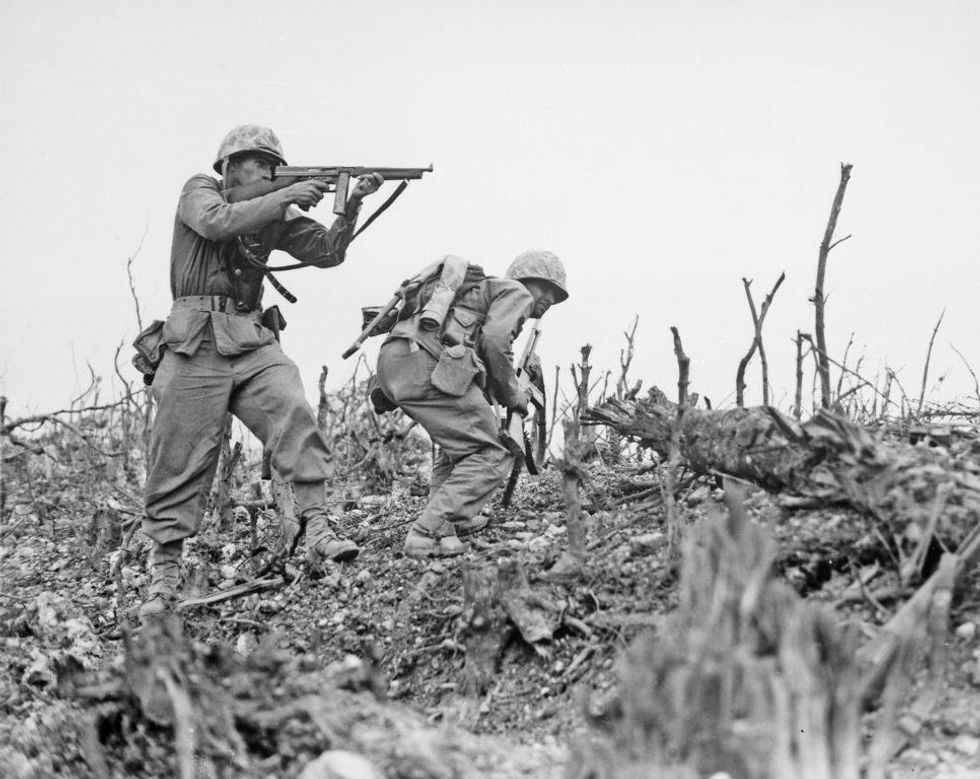 The Thompson submachine gun is one of the most recognizable firearms in American history and played a key role in World War II. (Photo: Wikimedia Commons)
In all, about 1.5 million Thompsons were reportedly manufactured during World War II, but the gun suffered from a hefty 11-pound weight and is notoriously difficult to control in rapid fire. The Thompson was all but scrubbed from the U.S. inventory in the 1970s in favor of newer submachine gun designs firing 9mm ammunition like the H&K MP5.