Articles
June 18, 2017 03:48:30 EST
Seven   sailors who went missing following a collision between their destroyer and a Philippine-flagged cargo ship were found dead on Sunday, the  7th Fleet said in a statement.
---
The bodies of the missing sailors "were located in the flooded berthing compartments" after rescue workers were able to gain access to areas of the Fitzgerald that were damaged in the collision with the ACX Crystal.
The sailors' bodies are being transferred to the  Hospital in Yokosuka, Japan, where the  7th Fleet is headquartered, to proceed with the identification process, the statement added.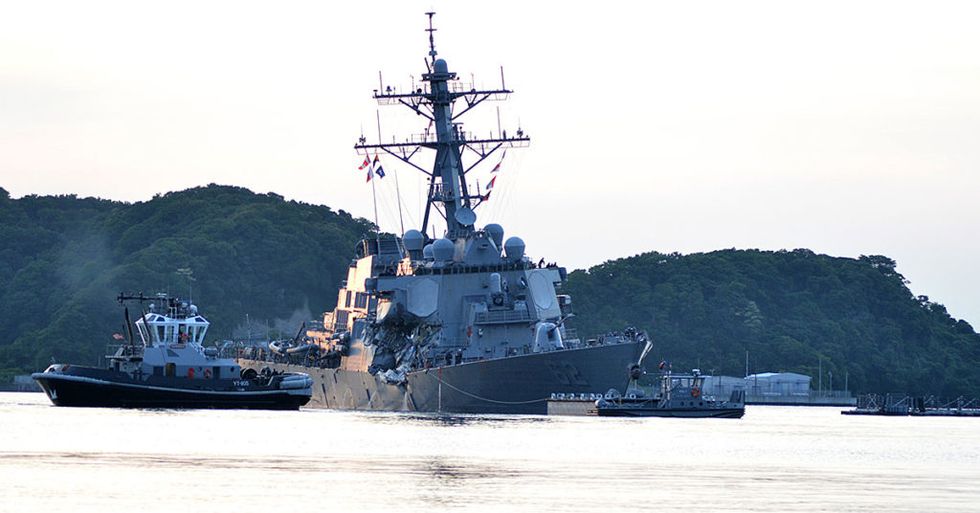 The Arleigh Burke-class guided-missile destroyer USS Fitzgerald (DDG 62) returns to Fleet Activities (FLEACT) Yokosuka following a collision with a merchant vessel while operating southwest of Yokosuka, Japan. (U.S. Navy photo by Mass Communication Specialist 1st Class Peter Burghart/Released)
The Fitzgerald and ACX Crystal collided on Saturday at 2.30 am local time in Japanese waters.
Two people injured during the incident, including the destroyer's commander Bryce Benson, were evacuated.
Japanese shipping company Nippon Yusen KK, which charters the Philippine cargo ship, said none of the 20 crew members on board were hurt.
Both ships were severely damaged and had to be towed by the Japanese Coast Guard.
The  destroyer suffered damage on the starboard side, above and below the waterline, which led to the flooding of the berthing compartments, a machinery room and the radio room.
The ship, with around 330 crew members, is an Arleigh Burke-class destroyer, among the largest and most advanced destroyers built by the .
It was deployed at the Yokosuka base, from where it was supporting peace and security missions in the Asia-Pacific.