Articles
February 16, 2017 07:47:16 EST
"Once the pin is pulled, Mr. Hand Grenade is no longer your friend."
---
In war, troops who cover enemy grenades (or badly-thrown friendly grenades) with their own bodies have usually been awarded the Medal of Honor. Some lived, but all too often, the award is posthumous.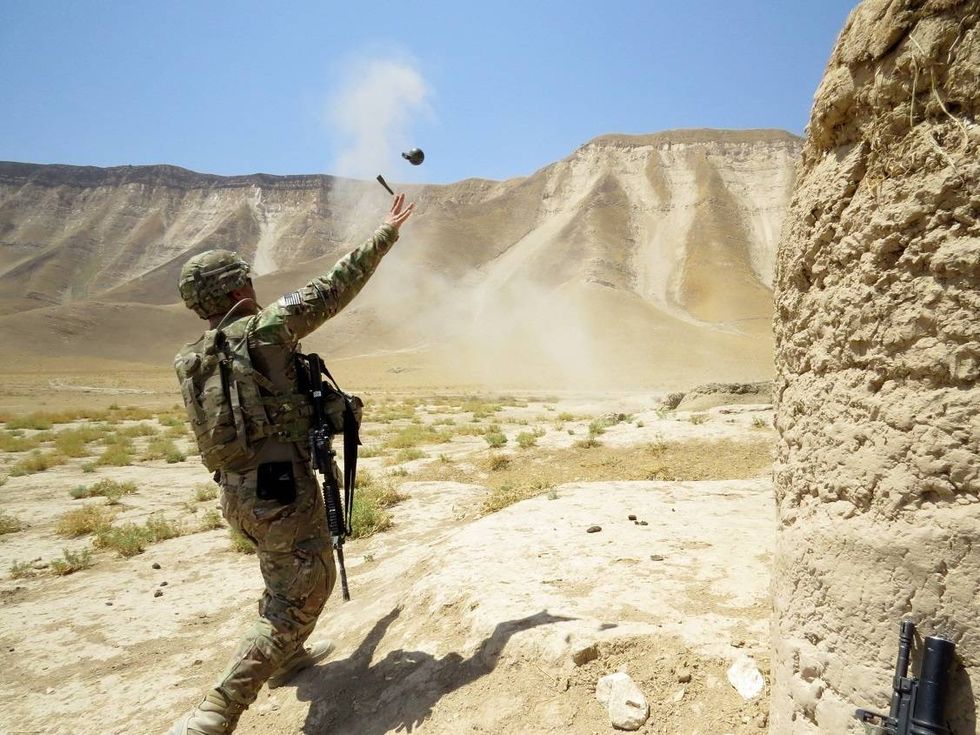 U.S. Army Lt. Charles Morgan, with the 6th Squadron, 4th Cavalry Regiment, 3rd Brigade Combat Team, 1st Infantry Division, throws a M67 fragmentation grenade during skills training at Kunduz province, Afghanistan, July 3, 2013. (U.S. Army photo by Sgt. Avila /Released)
But the opening statement is also true in peacetime training. When recruits are taught to throw grenades, they use the real M67 fragmentation grenade. MilitaryFactory.com notes that this has about 6.5 ounces of Composition B explosive, and can kill people standing roughly 50 feet away. Fragments have gone as far as 750 feet from where the grenade goes off – and they don't care who is in the way.
So it's important that trainees handle grenades with care — and have fellow troopers who'll step in to avert tragedy.
Here are eight badass troops who saved lives during grenade training.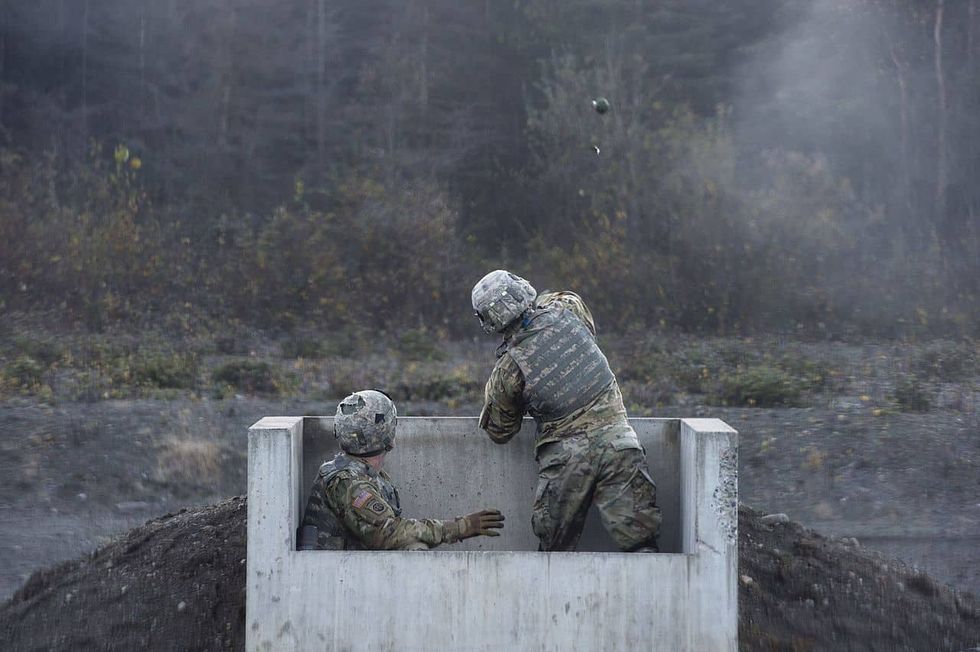 U.S. Army Spc. Stephen Maklos, right, throws a M67 fragmentation grenade under the supervision of Sgt. Brandon Johnpier while conducting live fire training at Kraft Range on Joint Base Elmendorf-Richardson, Alaska, Sept. 29, 2016. In order to maintain a safe instructional environment and enforce safety standards, a 'pit' noncommissioned officer supervised the Soldiers who were conducting the training in the grenade pits, directing them on proper handling and use of explosives. (U.S. Air Force photo/Alejandro Pena)
1. Marine Sgt. Joseph Leifer
On June 13, 2013, Sgt. Leifer was manning a grenade pit when a student's toss bounced back into the pit. According to the Marine Corps Times, Leifer grabbed the student, threw him out of the way, and covered him with his body. Leifer received the Navy and Marine Corps Medal on Nov. 7, 2014.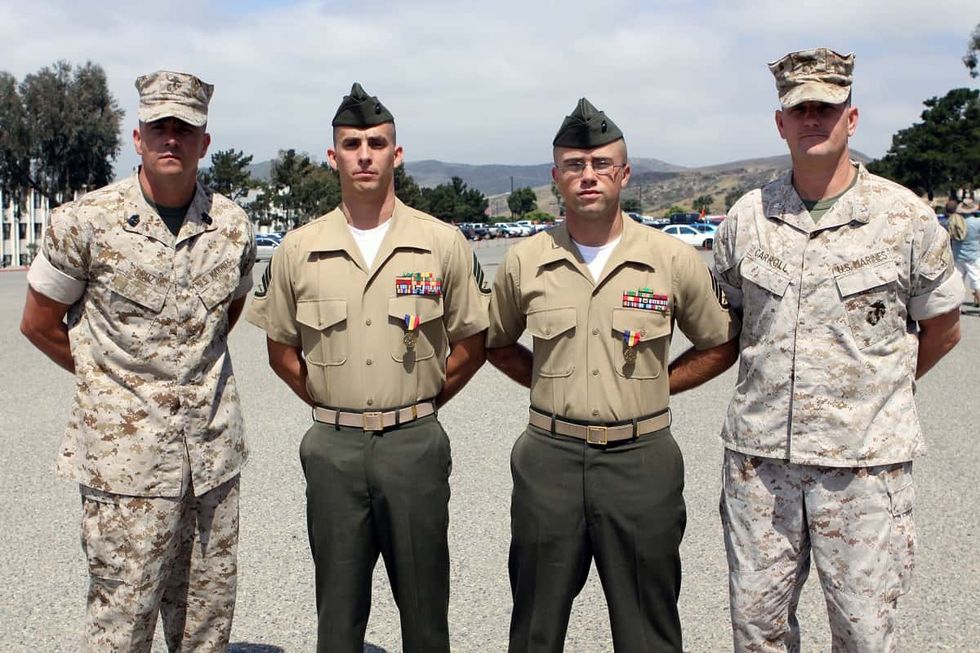 Sgt. Maj. Anthony Cruz Jr., sergeant major, Marine Combat Training Battalion, Staff Sgts. Shawn M. Martin and Jason M. Kuehnl, and Lt. Col. John J. Carroll, commanding officer, MCT Bn. pose for a photo. The two staff sergeants were awarded the Navy and Marine Corps Medals during a graduation ceremony at the School of Infantry West, June 23. On two separate occasions, the Marines immediately responded to improper M67 fragmentation grenade throwing techniques and saved the lives of their students with no regard to their own lives. (USMC photo)
2. and 3. Marine Staff Sgt. Shawn M. Martin and Marine Staff Sgt. Jason M. Kuehnl
According to a Marine Corps release, these Marines received their Navy and Marine Corps Medals on the same day, June 23, 2009. The previous year, each had saved recruits when mishaps took place during grenade training. The Military Times Hall of Valor notes that Kuehnl's actions took place on Oct. 31, 2008, while Martin's took place on Sept. 12, 2008.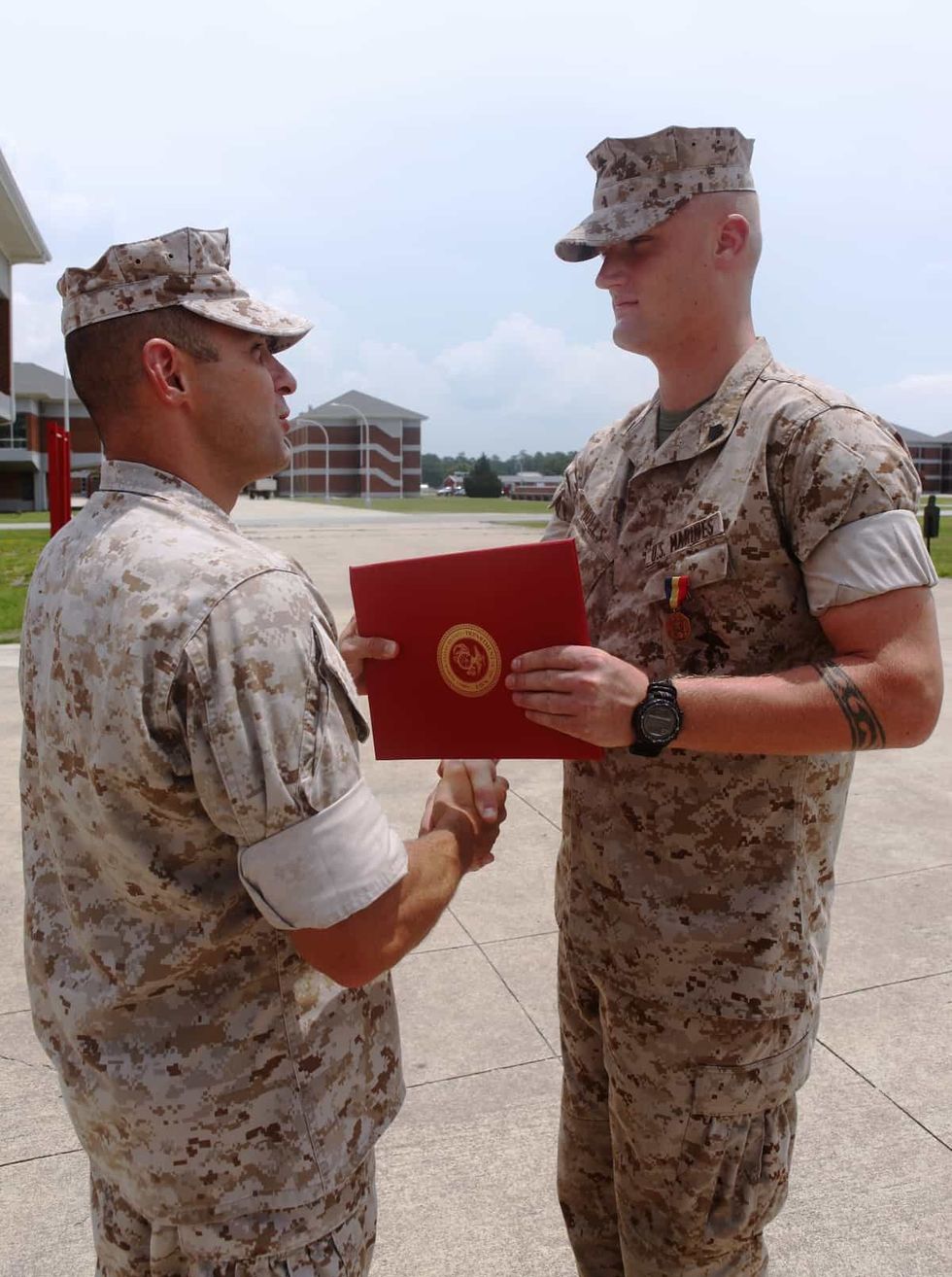 Sgt. William Holls, (right) a combat instructor with Mobile Training Company, Advanced Infantry Training Battalion, School of Infantry - East, is presented the Navy and Marine Corps Medal by Lt. Col. John Armellino, commanding officer of AITB, SOI-E, during a ceremony held aboard Camp Geiger, July 15, for saving a Marine's life while conducting training in the grenade pit in September 2009.
4. Marine Sgt. William Holls
A 2010 Marine Corps release noted that on Sept. 28, 2009, Holls noticed one recruit seemed very nervous as he prepared for the grenade toss. When the recruit froze, Holls moved to assist. The recruit panicked and dropped the live grenade. Holls threw the recruit out of the way and shielded the recruit with his body. Both the recruit and Holls were wounded by the blast. Holls provided first aid to the recruit before help arrived. He received the Navy and Marine Corps Medal on July 15, 2010.
5. Marine Sgt. Duane T. Dailey
The April 2001 issue of Leatherneck magazine noted that Sgt. Duane T. Dailey caught a grenade dropped during training in midair. Dailey received the Navy and Marine Corps Medal for his actions.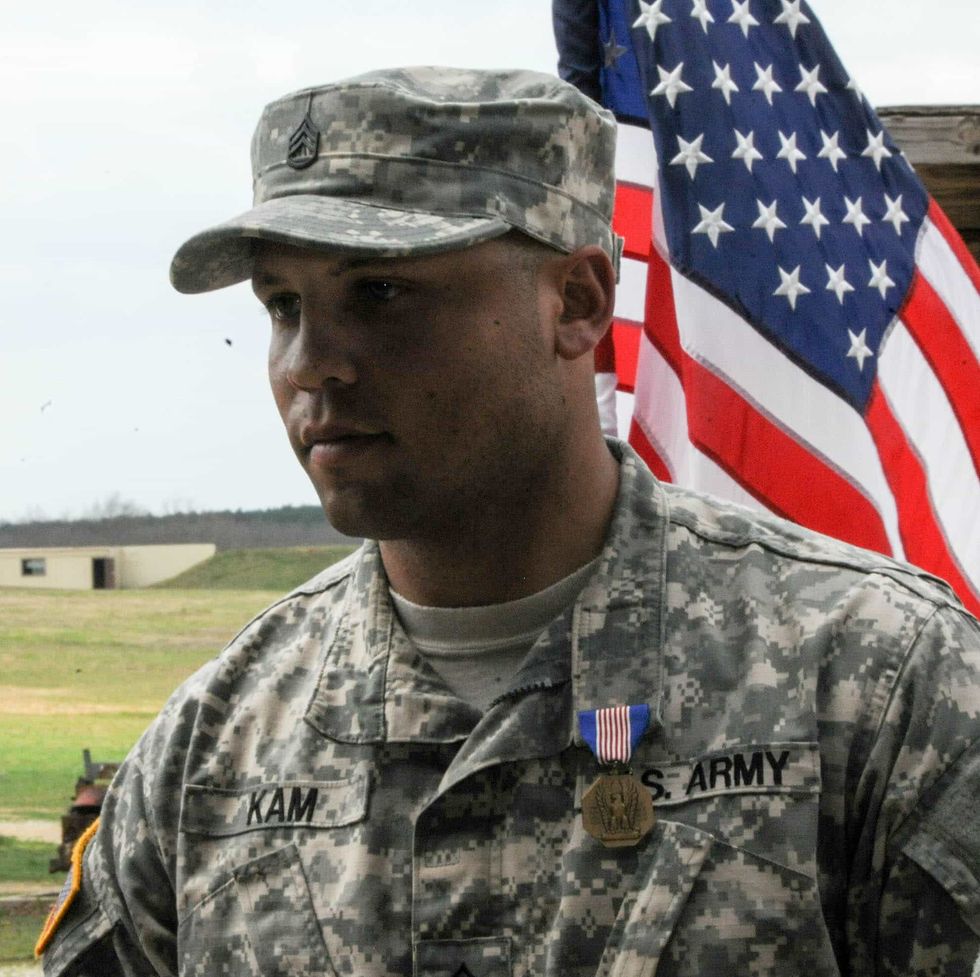 Staff Sgt. Kenneth Kam, Combat Training Company, with his Soldier's Medal. (US Army photo)
6. Army Staff Sgt. Kenneth Kam
In June 2014, Sgt. Kenneth Kam saw a recruit fail to get a grenade over the wall of the grenade pit at Fort Leonard Wood. With what an Army release described as "three to four seconds" to act, he grabbed the recruit, moved her out of the pit, and saved her life. For those actions, he was awarded the Soldier's Medal.
7. Army Staff Sgt. John King
According to a report from Newson6.com, Staff Sgt. John King, with less than a half-dozen seconds to react, threw a hand grenade over a wall after a recruit's bad toss, then pulled the recruit to the ground. The report noted that King was nominated for the Soldier's Medal. KSWO.com added that King received an Army Commendation Medal while the nomination was being processed.
8. Army Staff Sgt. Gary Moore
A 2013 report from Cleveland19.com described how Staff Sgt. Gary Moore had been doing grenade instruction when a recruit was about to throw a grenade the wrong way. While Moore was correcting the recruit's aim, the recruit dropped the grenade. Moore was quoted as saying, "I proceeded to get the soldier and myself out of the bay as quickly as possible."
More like Moore threw the recruit out of the bay and jumped on top of him. Moore received the Soldier's Medal for his actions.
These near-tragic incidents remind us that even in peacetime, our troops are risking it all.