Articles
May 25, 2017 12:28:04 EST
When bombers beat fighters, it is very notable. But some bombers have more tools than others in an air-to-air fight. For instance, the F-105 shot down 27 MiGs during the Vietnam War, many thanks to its M61 cannon.
---
Here are some bombers that an enemy fighter would not want to get caught in front of.
1. De Havilland Mosquito
While some versions of this plane were designed as out-and-out bombers, with the bombardier in the nose, others swapped out the bombardier for a powerful armament of four .303-caliber machine guns and four 20mm cannons.
It goes without saying just what this could do to a fighter. One incident saw a number of Mosquitos being jumped by the deadly Focke-Wulf FW190. The Mosquitos shot down five of the enemy in return for three of their own in the dogfight.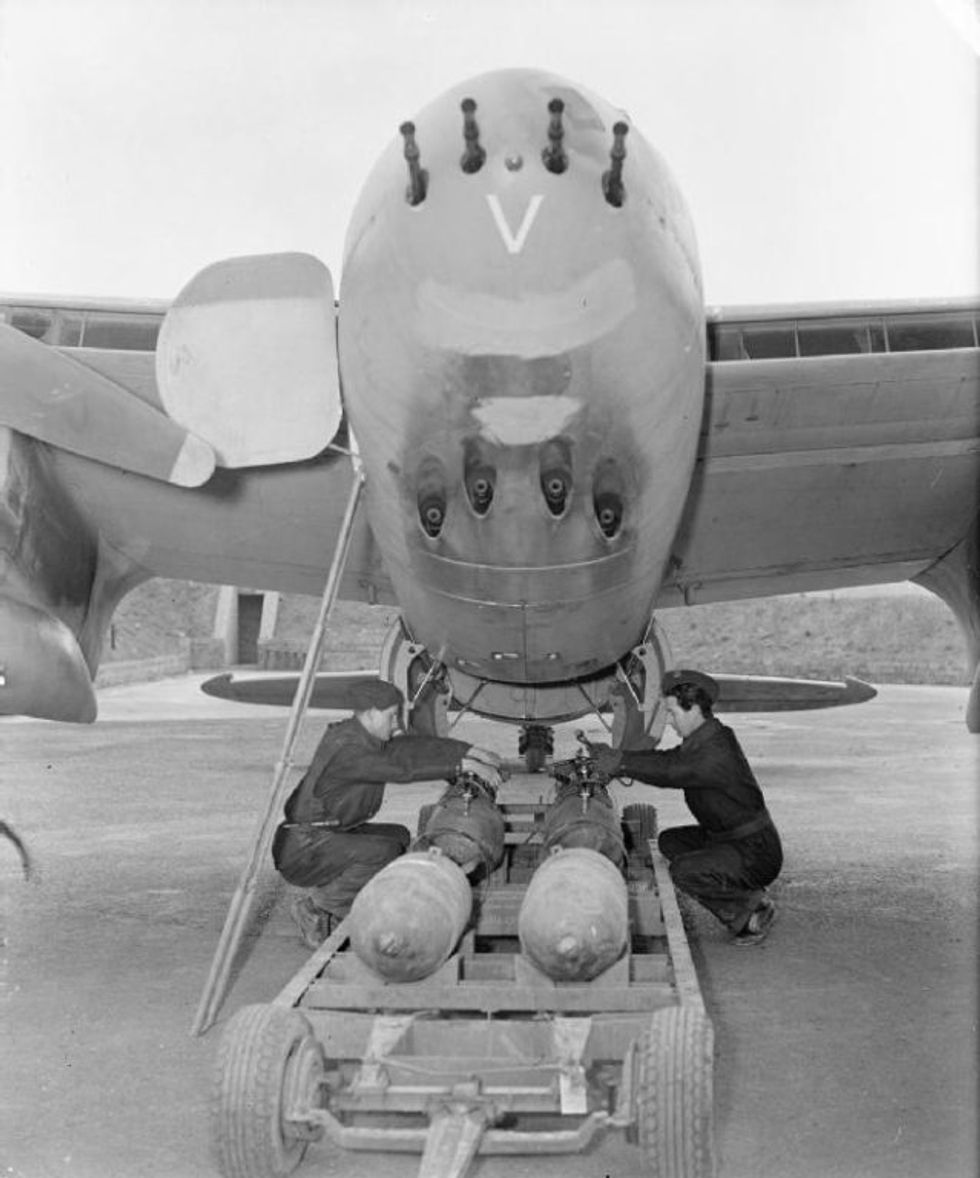 The Mosquito's heavy armament of four .303-caliber machine guns and four 20mm cannon is very apparent. (Photo from Wikimedia Commons)
2. Douglas A-20G Havoc
During the Pacific War, Paul I. Gunn, also known as "Pappy" came up with the idea to make use of the extra .50-caliber machine guns that came from wrecked fighters. He put those on A-20 bombers.
Eventually his modifications were something that Douglas Aircraft began to put on the planes at the factory. The A-20G had six .50-caliber machine guns in the nose — the same firepower of a P-51 Mustang or F6F Hellcat. Against a Zero, that would be a deadly punch. The A-20 later was used as the basis for the P-70, a night fighter armed with four 20mm cannon.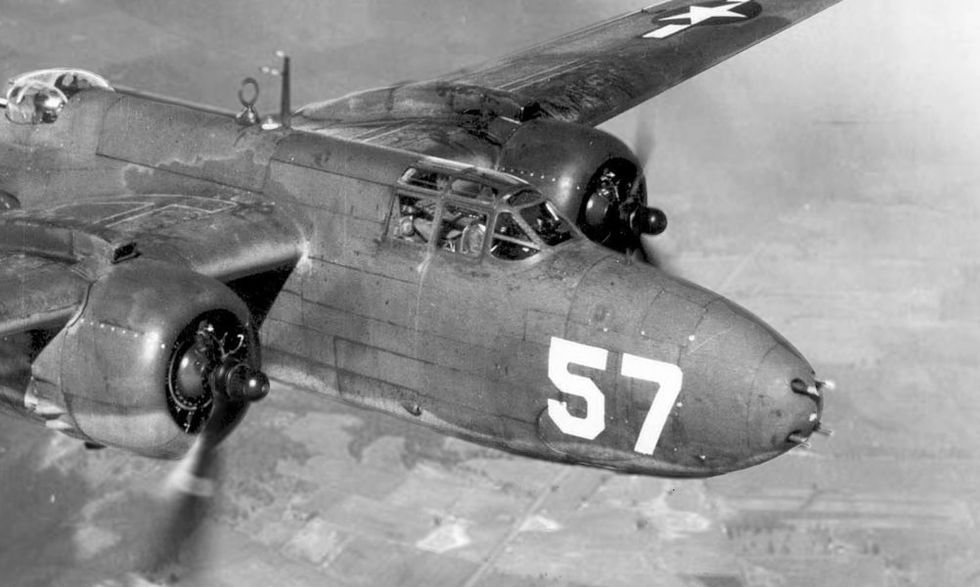 A look at the nose of an A-20G Havoc. (USAAF Photo)
3. Douglas A-26B Invader
Designed to replace the A-20 Havoc, the Invader was equipped to carry up to 14 .50-caliber machine guns in its nose. Nope, not a misprint; this was the combined firepower of a P-47 and a P-51. That is more than enough to ruin the life of an enemy pilot who gets caught in front of this plane.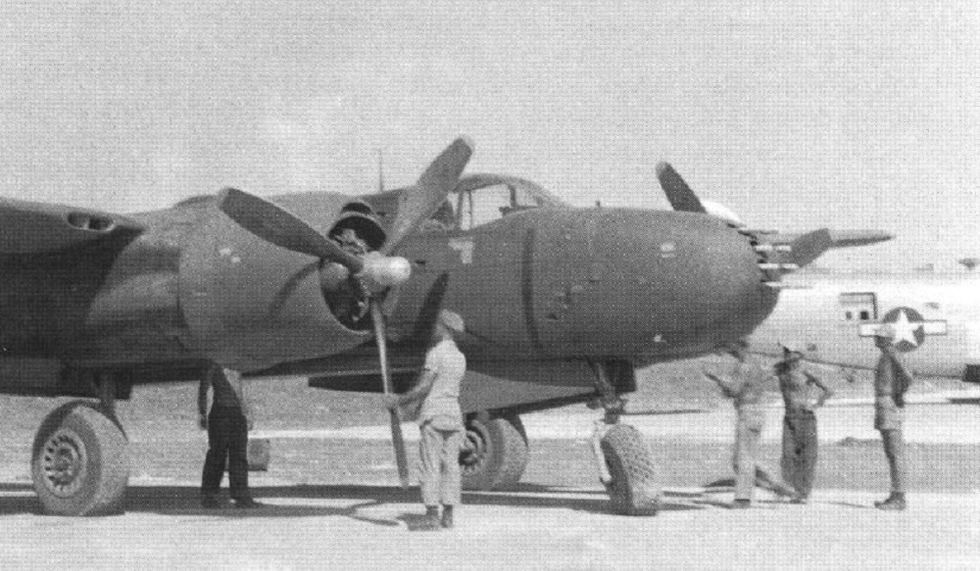 The A-26B Invader. Note the eight ,50-caliber machine guns in the nose. Six more were in the wings. (USAAF photo)
4. North American B-25J Mitchell
The medium bomber version of the B-25J was pretty much conventional, but another version based on the strafer modifications made by "Pappy" Gunn in the Southwest Pacific held 18 M2 .50-caliber machine guns. One B-25, therefore, had the firepower of three F4U Corsairs.
Other versions of the B-25, the G and H models, had fewer .50-caliber machine guns, but added a 75mm howitzer in the nose.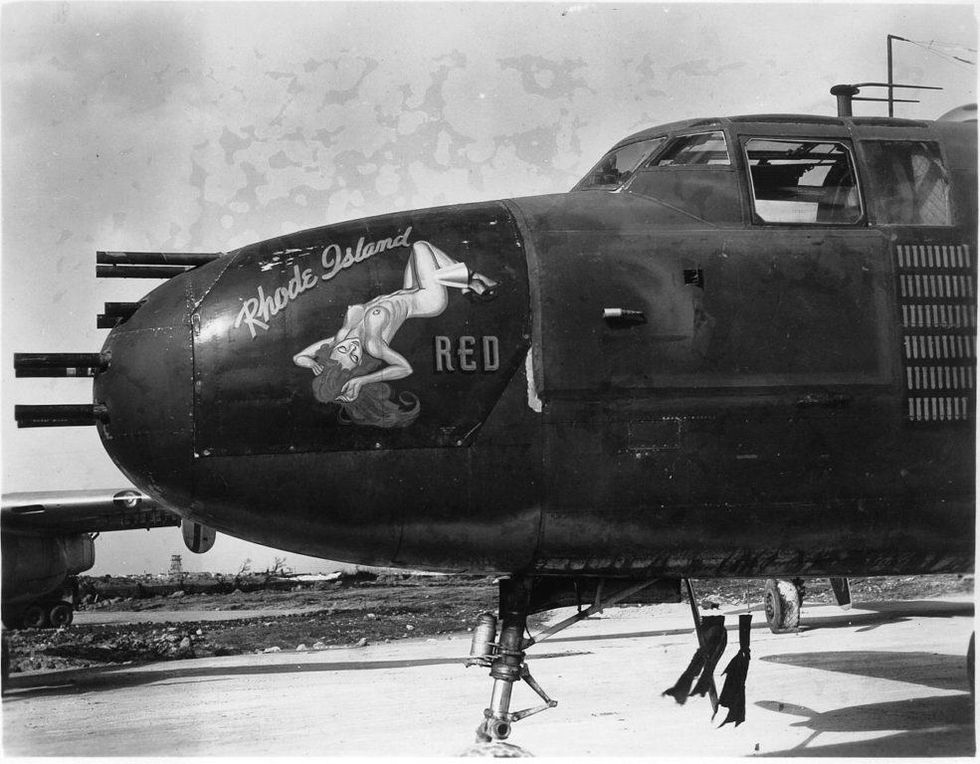 B-25 Mitchell bomber with nose art "Rhode Island Red", photograph taken by Sgt. Gert O. Uthman while stationed in the Pacific during WWII. Note the numerous M2 .50-caliber machine guns, an innovation from Paul I. "Pappy" Gunn. (U.S. Air Force photo)
5. Junkers Ju-88
Like the Allied planes listed above, the Ju-88 proved to be a very receptive candidate for heavy firepower in the nose. Some versions got four 20mm cannon and were equipped as night fighters. Others got two 37mm cannon and six 7.92mm machine guns, and were intended to kill tanks and/or bombers. Either way, it will leave a mark, even on the P-47.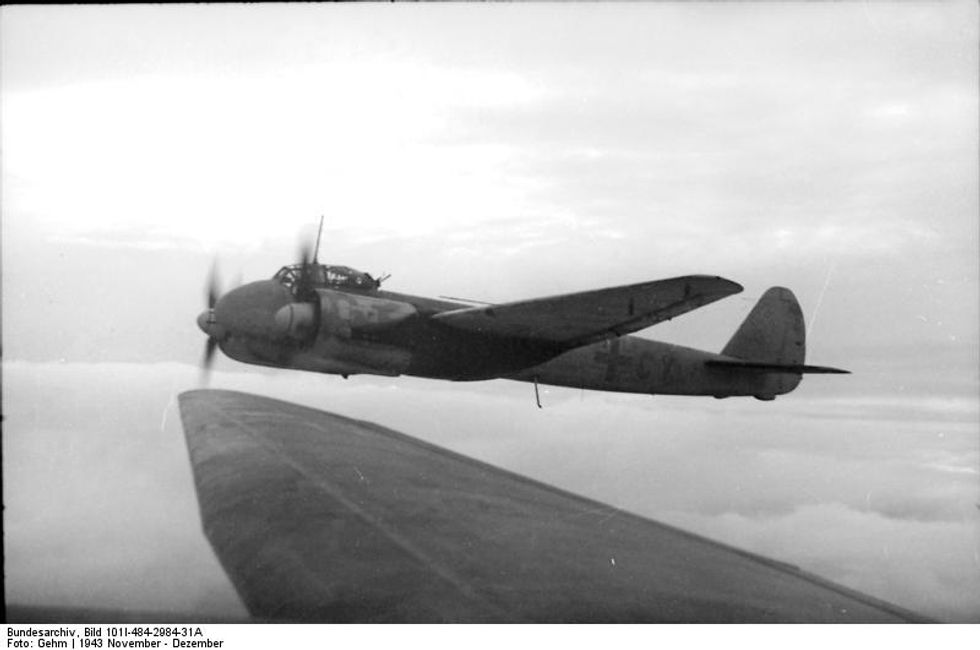 Ju-88 in flight. Some were armed with two 37mm cannon. (Photo from Wikimedia Commons)
6. Vought A-7D/E Corsair
The A-7 Corsair is widely seen as an attack aircraft. It carries a huge bomb load, but the D (Air Force) and E (Navy) models also have a M61 Vulcan with a thousand rounds of ammo. While no Navy or Air Force Corsairs scored an air-to-air kill in the type's service, if a plane or helicopter was caught in front of this bird, it wouldn't last long.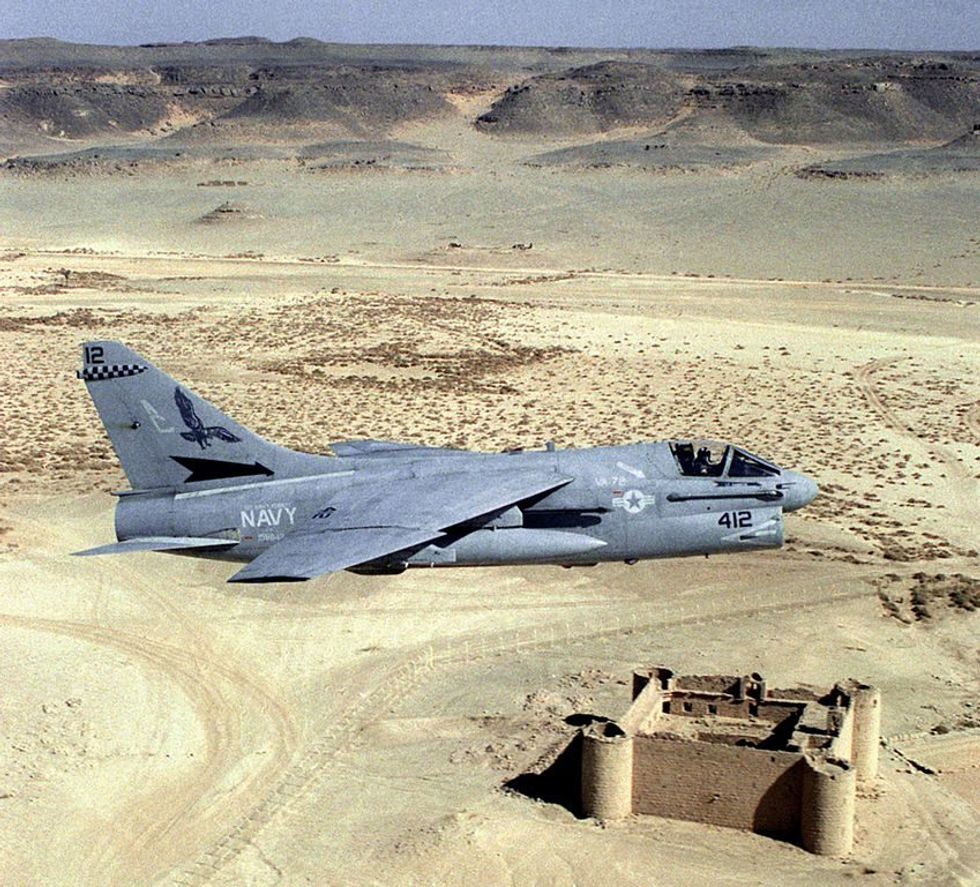 An A-7E Corsair from VA-72 during Operation Desert Shield. (U.S. Navy photo)
7. F-105D/F/G Thunderchief
The F-105 is probably the tactical bomber with the highest air-to-air score since the end of World War II. Much of this was due to its M61 Vulcan with 1,029 rounds of ammo. You know what Leo Thorsness did with his F-105 against a bunch of MiGs.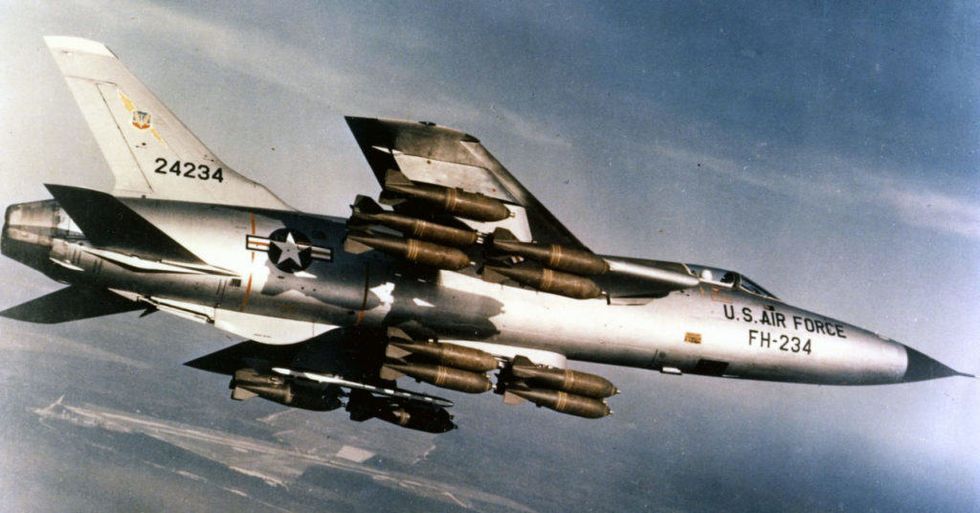 Republic F-105D in flight with full bomb load. (U.S. Air Force photo)
8. F-111 Aardvark
While it was an awesome strike aircraft that could still be contributing today, it is not that well known that the F-111 did have the option to carry a M61 cannon with 2,000 rounds of ammo. That is a lot of heat for whatever unfortunate plane is in front of it.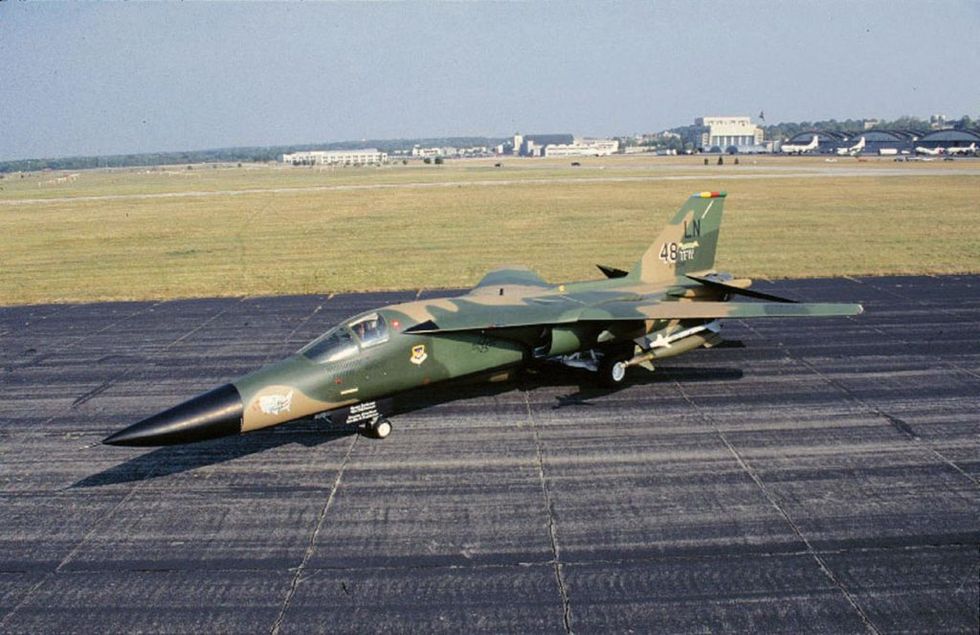 General Dynamics F-111F at the National Museum of the United States Air Force. (U.S. Air Force photo)
9. A-10 Thunderbolt
Widely beloved for its use as a close-air support plane in Desert Storm and the War on Terror, the A-10's GAU-8 was designed to kill tanks. That didn't mean it couldn't be used against aerial targets. During Desert Storm, a pair of Iraqi helicopters found that out the hard way.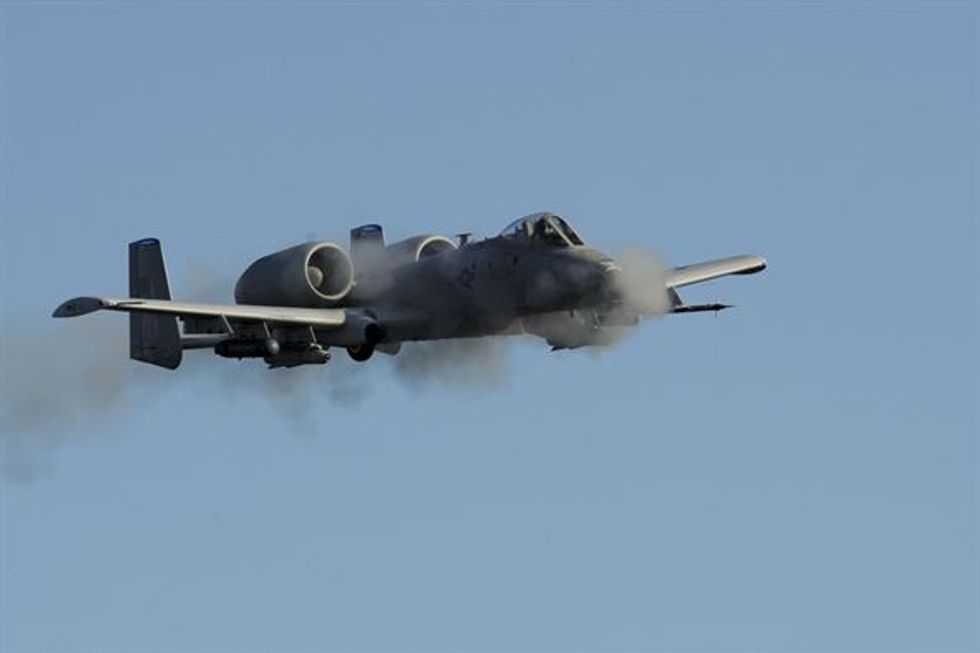 BRRRRRT. (U.S. Air Force photo)