Articles
Aug. 09, 2016 01:49PM EST
9 important things you realize when dating a veteran
Dating a service member or veteran can be challenging for a civilian unfamiliar with the world of military life. And it can even throw veterans dating other veterans into unfamiliar ground.
---
Whatever your background, here are nine things you're going to have to get used to if you decide to date a servicemember or veteran.
1. Understanding dark humor

Learning a new sense of humor is something that has to happen when you date a veteran. They cope with things with a dark sense of humor, and this can be a little off-putting.
Thing is, you just have to learn to laugh when he takes his leg off at dinner, sets it on a chair and asks the waiter for another menu.
2. The things they carry
When you're dating a civilian, they might sometimes leave a shirt or socks behind after a late-night visit. But if you're dating a veteran, you may have to deal with a forgotten piece of their prosthetic, a utility knife, or something else you might not expect.
3. Bobby pins are everywhere
Just like dating a civilian woman, military women will leave bobby pins behind. To keep the crisp, clean bun many women in uniform rely on, it can take 15 or more bobby pins to make it work. Occasionally, they get left behind on night stands and kitchen sinks as an accidental territory marker.

All women missile crews from Malmstrom Air Force Base, Mont., gather for a pre-departure briefing before heading in the 13,800 square mile missile complex to complete their 24-hour alert on March 22, 2016. (U.S. Air Force photo by Airman Collin Schmidt)
4. Opening up takes a little longer
Any relationship is built on trust and understanding – a relationship with a vet is no different. Special importance has to be put on trust, though. When someone's ready to open up, you have to be ready to listen and try to understand things you may have never experienced and couldn't begin to comprehend. Many veterans are used to losing the people who are closest to them, whether from failed relationships, in combat, or to suicide. They may not want to get attached for fear of losing you, but you have to work to build their trust.
5. Inter-service rivalry is all in good fun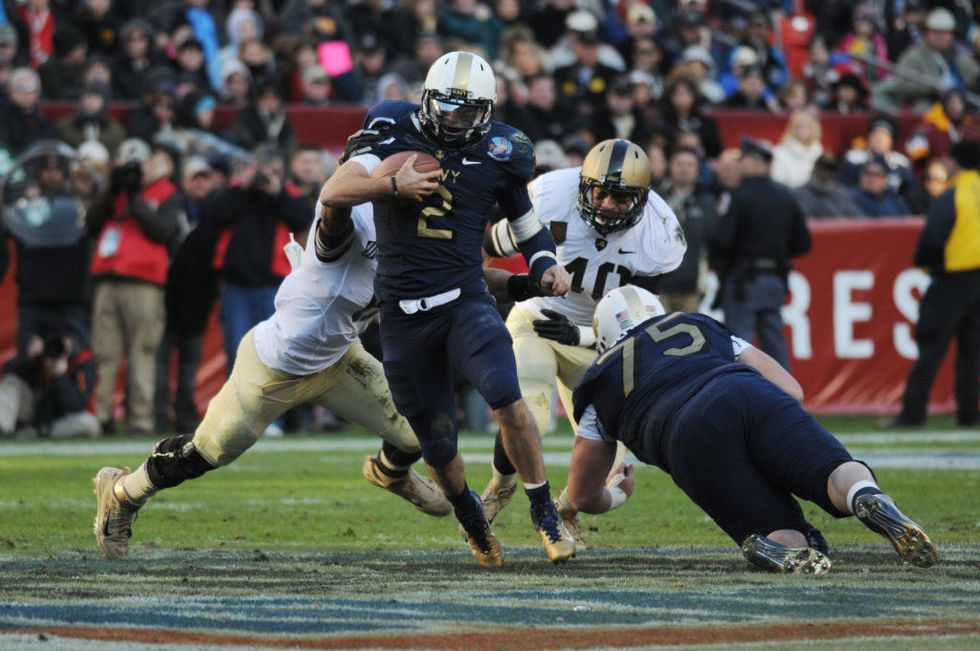 U.S. Naval Academy quarterback Kriss Proctor runs the ball during the 112th Army-Navy Football game at FEDEX Field in Landover, Md. (U.S. Navy photo by Mass Communication Specialist 1st Class Chad Runge)
If you're a veteran dating a veteran of another branch, you have to get used to the good-natured teasing of your service coming into all aspects of your life. Whether you forget something at home on a trip and hear "man, that's why you can't trust an Airman!" or if you're late to a date and get a "sailors, always on their own time," you have to learn to dish it back with a smile.
6. You learn to love listening to stories
Any veteran, young or old, loves to tell stories from their service. Whether they fought the Nazis in 10 feet of snow with an ax handle and a pocket knife, or they battled al-Qaeda as a member of Delta Team Six, the stories are always an interesting look into the way the military works. Whether they're 100 percent true or a little embellished, you'll learn to revel in the stories of your veteran significant other — especially over a few drinks.
7. You learn to give your all and try new things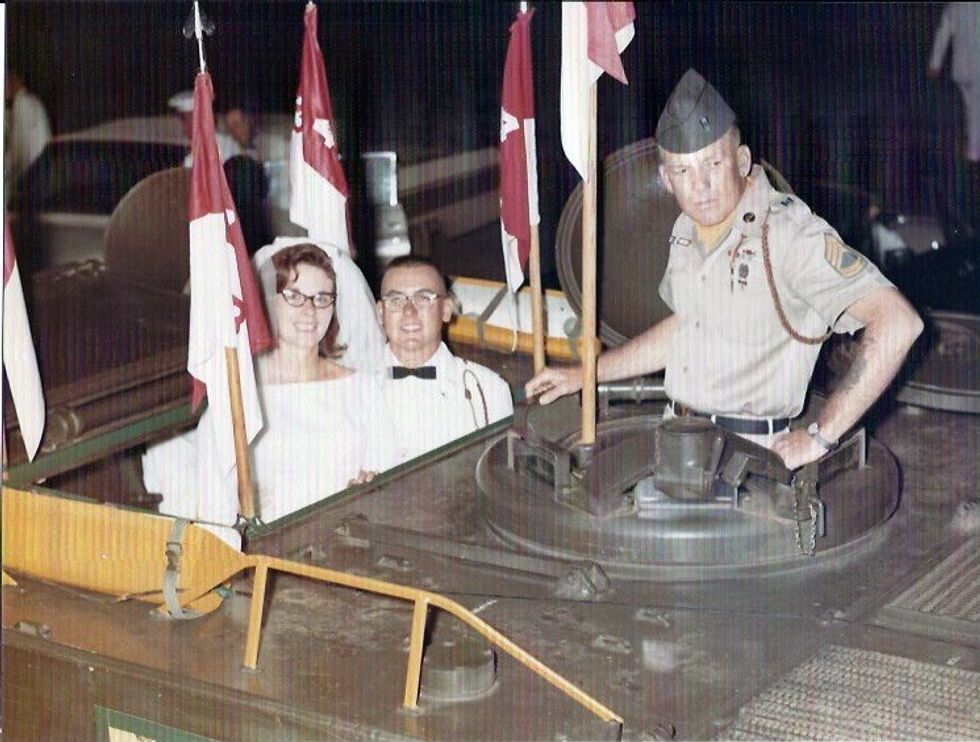 Then-1st Lt. Richard Page with his new bride, Janet, stands inside an M113 armored personnel carrier after their wedding ceremony at the Soldier's Chapel, Schofield Barracks, Hawaii, on Oct. 23, 1965. Guidons of the 3rd Squadron, 4th Cavalry Regiment, surround the newlywed couple. (Photo courtesy of Richard and Janet Page)
Veterans can be intense people. They're used to giving a mission their all and take that passion into the things they love most. Learning new things may include backpacking or kayaking or it could be a sport like football or basketball. No matter what, you have to learn to give 100 percent to anything you try.
8. Not every vet has post-traumatic stress, but some do
Life isn't always sunshine and roses. While visible wounds may make people stare, the invisible wounds can be harder to deal with in a relationship. Traumatic brain injuries and post-traumatic stress are big hurdles modern veterans face, and they can affect their closest relationships dramatically. Patience is key in a time where your significant other is facing something they may not want to – or be able to – talk about.
9. Commitment is more than a ten-letter word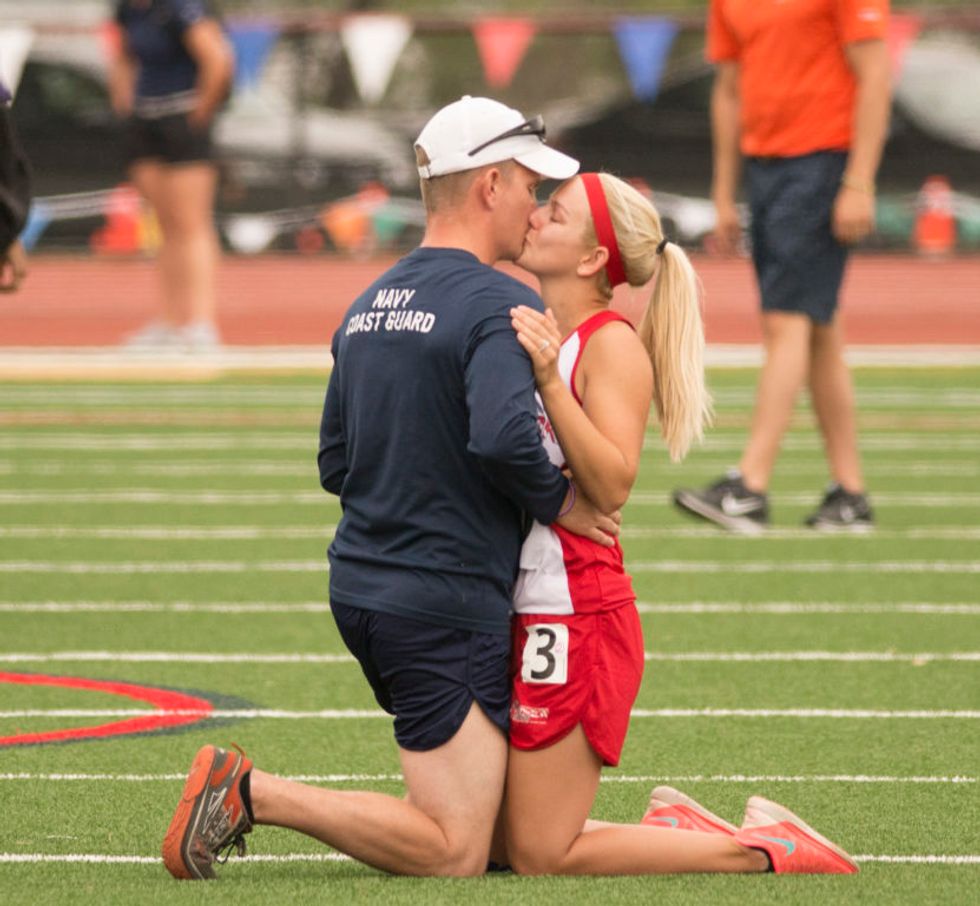 Navy veteran Andrew Johnson kisses Marine Corps veteran Rose Jessica Hammack after she accepted his marriage proposal during the 2016 Department of Defense Warrior Games at the U.S. Military Academy in West Point, New York, June 16, 2016. (DoD photo by Roger Wollenberg)
Each branch of the military focuses on commitment, duty, honor, sacrifice, and service and others before self. This bleeds into their life outside of the military – dating and marrying a veteran can be one of the most rewarding things someone can do. It isn't for everyone, but if you meet and fall in love with a veteran, you can be assured their service will be an asset in your life together.