Articles
December 30, 2016 08:07:34 EST
The Mi-24 Hind had a reputation as a cinematic bad guy in "Rambo III" and the original 1980s Cold War flick "Red Dawn."
---
Helping the Mujahidin kill it was the focus of 2007's "Charlie Wilson's War." But how much do you really know about this so-called "flying tank?"
Let's take a good look at this deadly bird. According to GlobalSecurity.org, this helicopter can carry a lot of firepower, including 57mm and 80mm rockets, anti-tank missiles, and deadly machine guns or cannon. But it also can carry a standard Russian infantry section – eight fully-armed troops.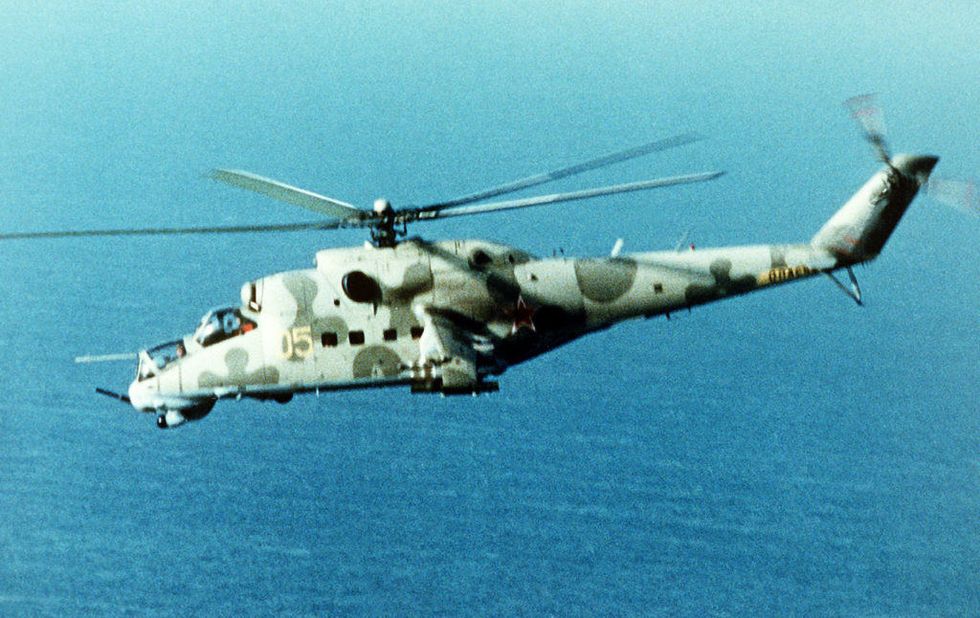 A left side view of a Soviet-made Mi-24 Hind-D assault helicopter in-flight. (DOD photo)
So, it's really not a flying tank. It's a flying infantry fighting vehicle.
There really isn't a similar American – or Western – helicopter. The UH-1 and UH-60s were standard troop carries, but don't really have the firepower of the Hind. The AH-64 Apache and AH-1 Cobra have a lot of firepower, but can't really carry troops (yeah, we know the Brits did that one time – and it was [very] crazy!).
While the Mi-24 got its villainous cinematic reputation thanks to 1984's "Red Dawn," and the 1988 movie "Rambo III," its first action was in the Ogaden War – an obscure conflict that took place from 1977-1978. After the Somali invasion of Ethiopia, the Air Combat Information Group noted that as many as 16 Mi-24s were delivered to the Ethiopians by the Soviets.
It has taken part in over 30 conflicts since then.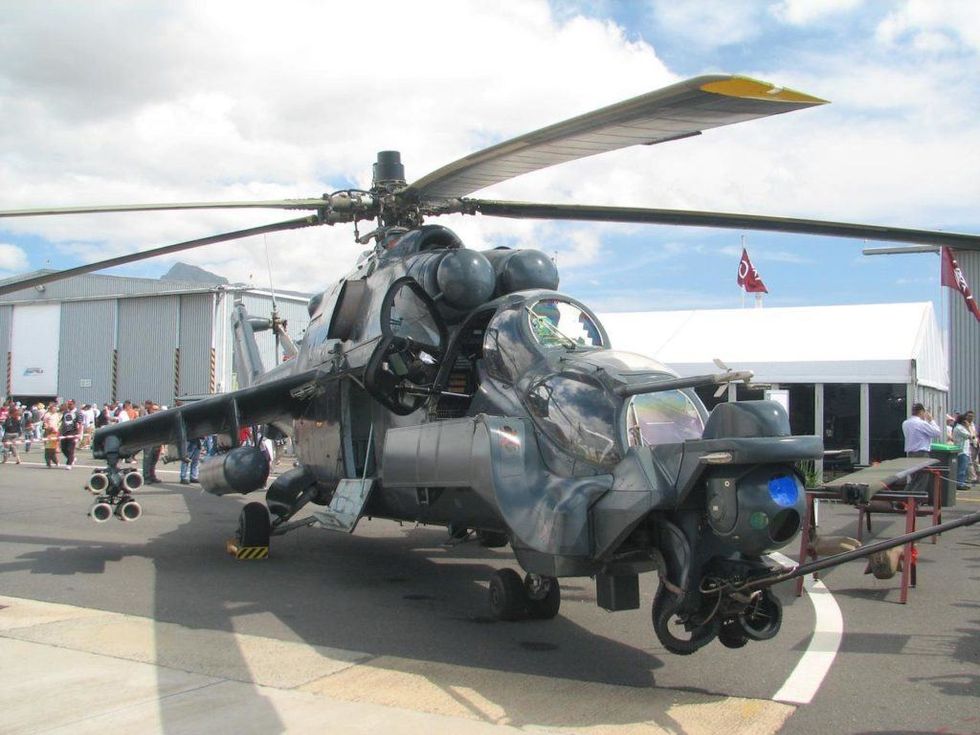 Mi-24 Super Agile Hind, a modernized Hind by the South African firm ATE. At the Ysterplaat Airshow 2006. Photo by Danie van der Merwe, Flikr
The Hind was to Afghanistan what the Huey was to Vietnam: an icon of the conflict. GlobalSecurity.org reported that as many as 300 Mi-24s were in Afghanistan.
In the Russian war movie "The Ninth Company," the Mi-24 gets a more heroic turn than it did in Red Dawn or Rambo III.
At least 2,300 have already been built, and versions of the Mi-24 are still in production, according to the Russian Helicopters website. This cinematic aviation bad boy will surely be around for many years to come.