Articles
March 15, 2017 12:25:47 EST
Measured against today's politically correct standards for training raw recruits, I must have been abused to the point of permanent psychologically scarring during basic training.
---
Only, that's not how I remember it.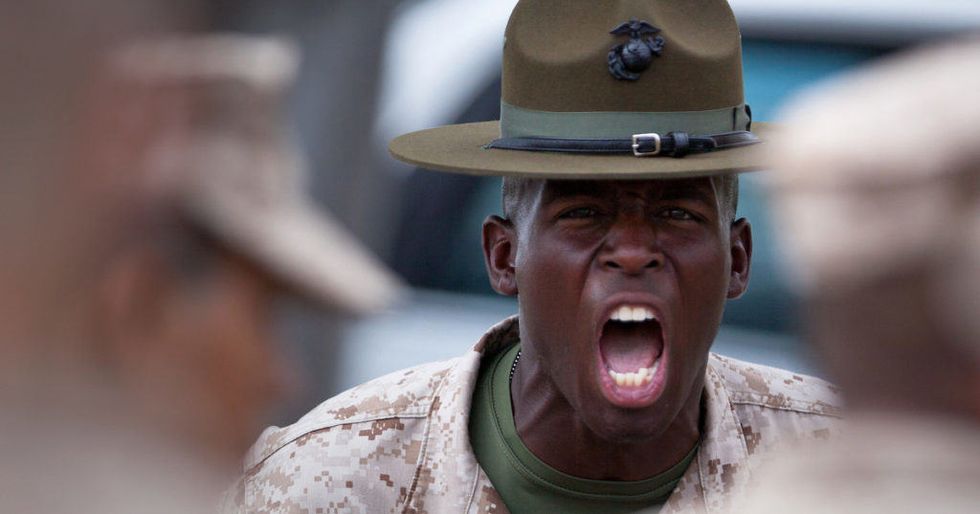 Sgt. Stephen Wills, a drill instructor from Marine Corps Recruit Depot San Diego, instructs Marine enlistees to clean up their gear during a Recruiting Station Seattle pool function at the Yakima Training Center in Yakima, Wash., July 17, 2015. (U.S Marine Corps photo by Sgt. Reece Lodder)
In the final days of boot camp we had earned a post pass. We could only go to the PX, post theatre, or beer garden. After falling in formation wearing highly decorated Class 'A's (name tags and U.S. brass) we filed up by squad to sign for our passes.
During this process the platoon sergeant asked if anyone had a pencil. I did and ran it up to him, then returned to formation. When he had finished calling out the names to collect their passes and was folding his little OD green wooden table, I was still at attention.
As he began to walk away I said, "Excuse me, Staff Sgt. Johnson. I signed for a pass."
He looked in the sign out book and responded, "No you didn't, boy. Look." I looked, and my name had been erased, possibly with my own pencil.
Cruel? It took me years to admit it was my mistake, but I got it. To this day I only use pencil on electronically scanned forms and crossword puzzles.
I'm a product of the Greatest Generation. My dad, uncles, and neighbors had all served. We were raised on the stories of that era and had no illusions about what to expect in boot camp. We were all prepared to be treated as one rank below, and certainly less revered than the general's dog.
But some fifty years later not a day goes by that I don't call on and use those lessons imprinted on me in boot camp: Help those who need it but don't facilitate weakness. Be part of something greater than myself. This life is not all about me. Spend any available time you have improving your position.
To all my "abusers": you earned my respect and have my heartfelt thanks for making me the person I am today.
This article first appeared in The Havok Journal on 10MAR15.