Articles
June 01, 2016 12:18:05 EST
Military advocates are rallying to stop a proposal in the U.S. Senate to reduce military housing allowances.
---
The Senate Armed Services Committee's version of the 2017 National Defense Authorization Act, which sets policy and spending targets for the fiscal year beginning Oct. 1, would curb the military's Basic Allowance for Housing, or BAH, for new entrants beginning in 2018 by only covering what they actually pay in rent. It would also reduce the combined value of the benefit received by military couples or roommates.
"We're not in favor of the language in there," Michael Barron, deputy director of government relations at the Military Officers Association of America, an advocacy group based in Arlington, Virginia, told Military.com. "We've got some major concerns with it."
The Senate panel led by Sen. John McCain, a Republican from Arizona, wants the monthly BAH — which varies by paygrade, dependent status and region in the U.S. -- to be more like the Overseas Housing Allowance — which covers only housing expenses.
Section 604 of the Bill S.2943 is titled, "Reform of Basic Allowance for Housing."
Beginning Jan. 1, 2018, the legislation would set the allowance for new entrants at "the actual monthly cost of housing" or an amount "based on the costs of adequate housing" for each military housing area, according to a copy of the legislation. It also states two or more service members occupying the same housing would split the allowance.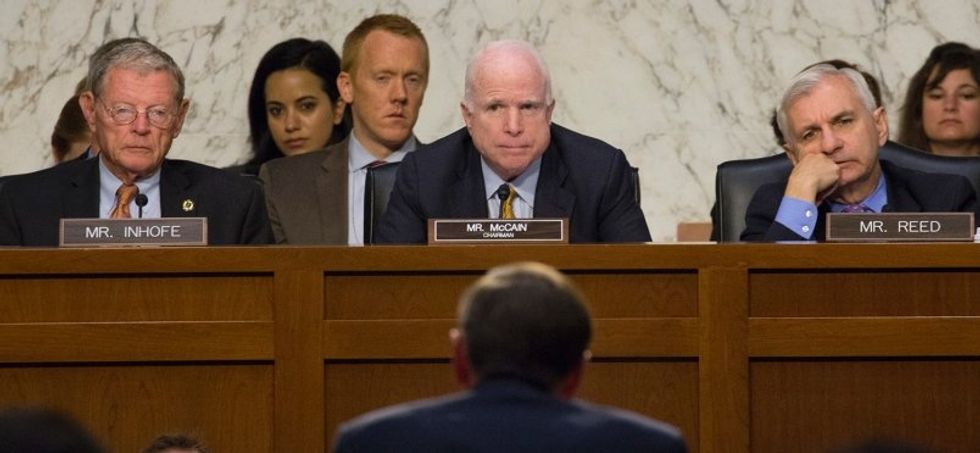 Senate Armed Services Committee Chairman Sen. John McCain, R-Ariz., Ranking Member Sen. Jack Reed, D-R.I., and Sen. Jim Inhofe, R-Okla., listen as retired Gen. David Petraeus testifies at a hearing in Washington, Sept. 22, 2015.
It's unclear whether the full chamber will approve the language when it votes on the defense authorization bill at a later date. Republican Sens. Lisa Murkowski of Alaska and Susan Collins of Maine have already introduced amendments to strike the provision. The House didn't include similar language in its version of the bill and the Defense Department hasn't requested the change.
In addition, Congress is already supporting a Pentagon plan to slow the growth of Basic Allowance for Housing over five years so service members on average pay 2 percent of their housing costs this year, 3 percent in 2017, 4 percent in 2018 and 5 percent in 2019 and thereafter. Troops won't see a modification in the allowance until they change duty stations.
Senators argue the housing allowance has become "bloated and ripe for abuse" and note the change could save an estimated $200 million, according to an article by Leo Shane III, a reporter for the Military Times newspapers who first reported the proposal.
Barron said the allowance is part of regular military compensation designed to retain and recruit talented people into the military. He also noted in the 1990s troops paid roughly 15 percent of their housing allowance out of pocket and that lawmakers in Congress had "done a lot of work" over the past decade to reduce that expense.
"We really don't think they should be trying to make these reductions for new entrants coming in. We just don't think it's the right thing to do," he said.
"You're already asking a service member to pay more for retirement savings," he added, referring to the recent overhaul of the military retirement system that incorporated a 401(k)-style plan. "You're asking them also now to pay more for housing."