Articles
December 16, 2015 10:17:24 EST
When a veteran or member of the armed forces dies, he or she is entitled to a ceremony that includes the presentation of a U.S. flag to a family member and a bugler blowing Taps. Most of the time, there is a three-volley rifle salute if requested by family members. But now, if the deceased served in the Air Force, the three-volley salute is not an option because the Air Force can no longer support riflemen for funeral services for veteran retirees.
---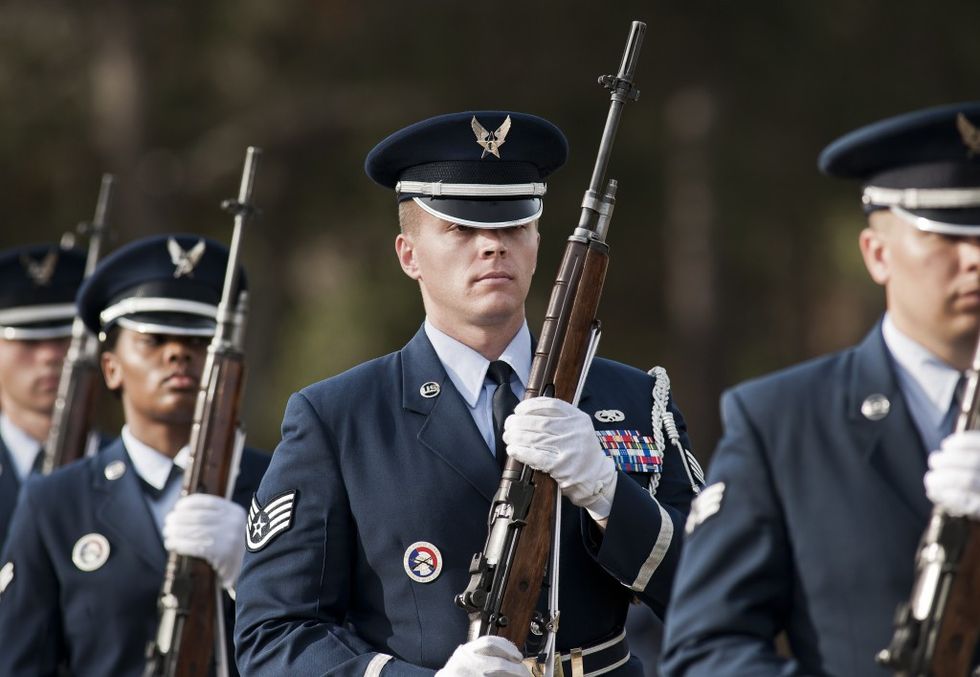 The RAF Mildenhall Honor Guard performs a three-volley salute during the Madingley American Cemetery Memorial Service in Cambridge. (U.S. Air Force Photo)
Rose Richeson, from the Secretary of the Air Force's Public Affairs Press Desk, told We Are The Mighty the policy of restricting the funeral honor is an Air Force-wide requirement.
"The requirement is consistent with  DoD policy which require a minimum of two personnel," Richeson said. "Any number of personnel above two that is provided in support of military funeral honors is based on local resources available."
A three-volley salute is the correct term for what is commonly (though mistakenly) referred to as a 21-gun salute. There are often seven riflemen, totaling 21. The origin of the three-volley funeral honor lies elsewhere, according to the Tom Sherlock, an Arlington National Cemetery Historian. A 21-gun salute is reserved for Presidents of the United States or visiting heads of state.