Articles
August 15, 2017 06:06:15 EST
Two American soldiers have been killed while conducting combat operations in Iraq, the US military said, adding that the deaths were "not due to enemy contact" but instead were the result of an artillery "mishap."
---
Five other soldiers were wounded, the DoD said.
The soldiers killed in the incident were identified as 22-year-old Sgt. Allen L. Stigler Jr. of Arlington, Texas, and 30-year-old Sgt. Roshain E. Brooks of Brooklyn, New York.
Both were artillerymen assigned to 2nd Battalion, 319th Airborne Field Artillery Regiment, 2nd Brigade Combat Team, 82nd Airborne Division. The 2nd BCT is based at Camp Swift, Iraq.
Lt. Gen. Stephen Townsend, the commander of US forces battling the Islamic State group in Iraq, said the coalition "sends our deepest condolences to these heroes' families, friends and teammates."
More than 5,000 US troops are taking part in the war against IS in Iraq, according the Pentagon. The vast majority operate within heavily guarded bases, collecting and sharing intelligence with Iraqi forces and providing logistical support.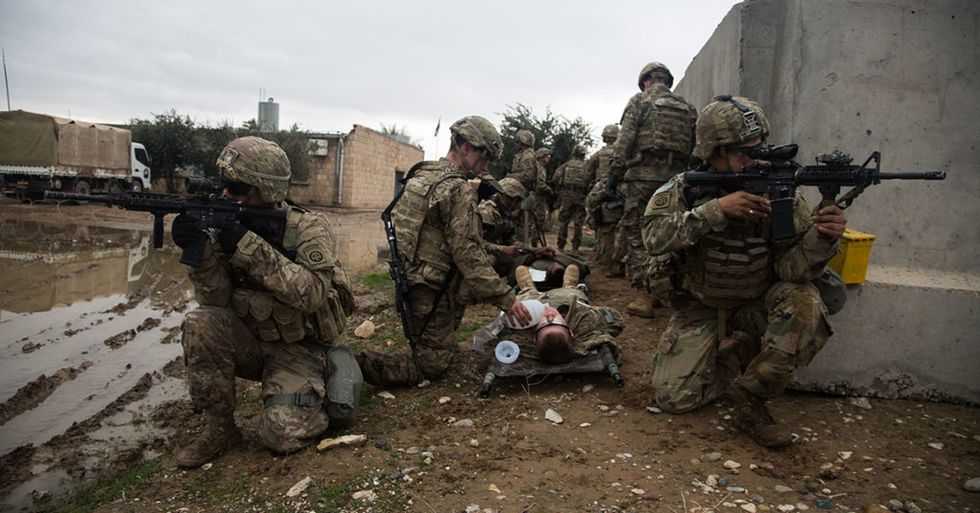 U.S. Army Paratroopers of the 2nd Brigade Combat Team, 82nd Airborne Division secure a helicopter-landing zone during simulated casualty evacuation in a force provider drill at Camp Swift, Makhmour, Iraq, on Jan. 22, 2017. (U.S. Army photo by Spc. Ian Ryan)
But as the fight has evolved over the past three years, more and more US troops are operating close to the front lines. In addition to the two troops killed August 13, five other US troops have been killed in Iraq in the fight against IS, including two in the battle to retake the northern city of Mosul.
More than 1,200 Iraqi forces were killed in the battle for Mosul and more than 6,000 wounded, US Defense Secretary Jim Mattis said earlier this month.
Iraq's prime minister declared victory against IS in Mosul in July, and Iraqi forces are now preparing to retake the IS-held town of Tel Afar, to the west.