Articles
April 14, 2015 15:01:14 EST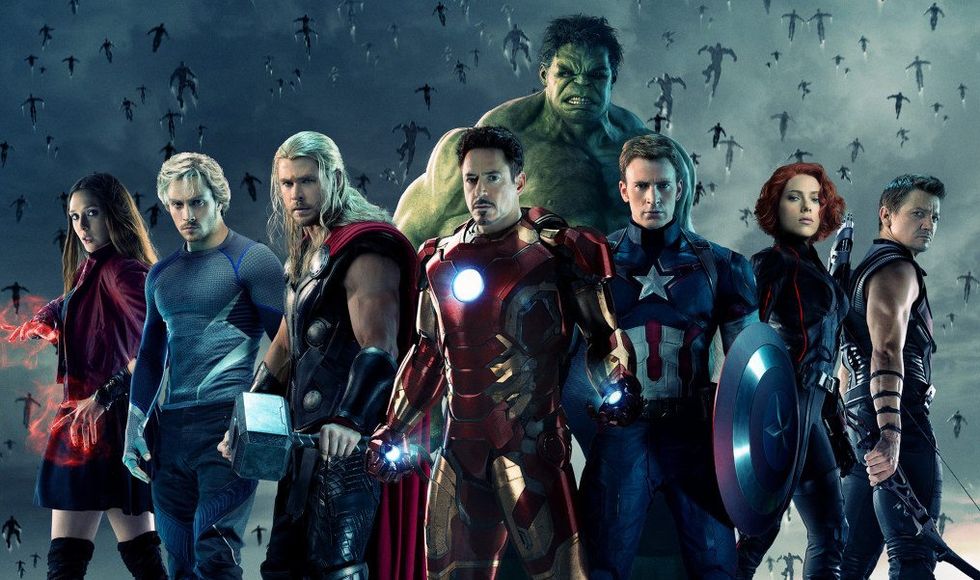 ---
How does director Joss Whedon follow the success of the first Avengers movie, that $220 million budget ensemble cast epic that grossed more than $1.5 billion worldwide?
"With the smallest thing I can think of," Whedon said at a recent gathering of the cast at the Disney Studios in Burbank, California. "What little moments are there between these characters that I haven't gotten to do yet? What conversations have they not had? It's never the big picture stuff – although that's cool too – it's how can I get inside their hearts? What's funny about them? I write reams and reams of paper just thinking about the tiniest part."
But "tiny" is not the first word one might use to describe the sequel, "Avengers – Age of Ultron." It is a big movie in most ways that picks up where "Avengers" left off, taking the interpersonal and witty aspects of the team to the next level while hurtling full tilt across the screen for the duration.
"I read the script, and I said, 'This is great; let's go shoot it,'" said Robert Downey, Jr., who returns as Tony Stark/Iron Man. "It's a Swiss watch to begin with, and Josh really created some great new situations for Tony to be in."
James Spader plays Ultron – the evil robot who's trying to use artificial intelligence to destroy the world – and the actor found the Whedon's production process a challenge to keep up with.
"I really was just trying to hold on and stay on the train that was moving very quickly," Spader said. "I arrived in London and within the first half hour they put on a suit and all this gear and I went through a range of motion and within 15 minutes I was watching me on a monitor move around this big room as Ultron. That pace was what it was throughout the entire project."
Jeremy Renner returns as Hawkeye, a character who many fans felt got short shrift in terms of screen time in the first movie. But that's not the case in "Age of Ultron."
"I speak in this movie, which is awesome," joked Renner. "And I become part of the team, which is awesome, and dive into some killer aspects of the character."
As Renner's Hawkeye role grew so too did that of Black Widow, played once again by Scarlett Johansson.
"There some sense of normal in a way at the beginning of Avengers 2," Johansson said. "But at the end she let her guard down. . . She had this moment of false hope. She put in the work and there should be some kind of personal pay off, but she realizes her calling is a greater one. That's not something she's necessarily thrilled about, but that's what's most heroic about her."
Johansson (who was pregnant during the shooting of the film) also allowed that her action sequences were the result of a multi-person effort. "There's a team around me that is super supportive in helping all of Widow's fight moves and badass motorcycle riding happen. All that work being seamless takes a lot of choreography and team spirit."
Mark Ruffalo reprises his role as Dr. Banner who turns into The Hulk when provoked, and when asked what methods he draws on acting-wise to differentiate between the two forms, he joked, "I was helped out by the fact that I'm green and huge. That helped with the distinction between the two characters. I can't take full credit for that except for the accent I was using, maybe."
Marvel Studios president Kevin Feige summed up the state of the Avengers brand by reflecting on how far it's come in the last ten years or so: "It started with the notion of making these movies ourselves and becoming Marvel Studios, and then it continued with Robert in 'Iron Man 1' and having Samuel L. Jackson come in in the end and say, 'You're part of a bigger universe, you just don't know it yet,' thinking that most people wouldn't know what that meant . . . but the world got it much more quickly than I anticipated."
Feige pointed down the table at the cast and said, "It's the greatest ensemble ever assembled in cinematic history, and it just keeps getting better and better."
OR: Watch 'Captain America' in under 3 minutes:
[jwplatform NrTWVNIu]