Articles
April 19, 2017 14:13:37 EST
Britain is trying to get homegrown robots ready for service on the front lines of combat, but they're not looking for Terminators yet. They're looking for POGs.
---
Specifically, they're looking for robots to handle "last-mile" logistics. While insurgents in Iraq and Afghanistan have proven that a small force can slow down the movement of supplies across the entire theater, engineers and other route clearance assets can usually keep the roads open between bases.
But when troops need ammo, water, medical supplies, or other necessities under fire, there's no guarantee that a route clearance asset will be available. That could lead to infantry losing fire superiority or cavalry forces who are unable to keep scouting enemy positions.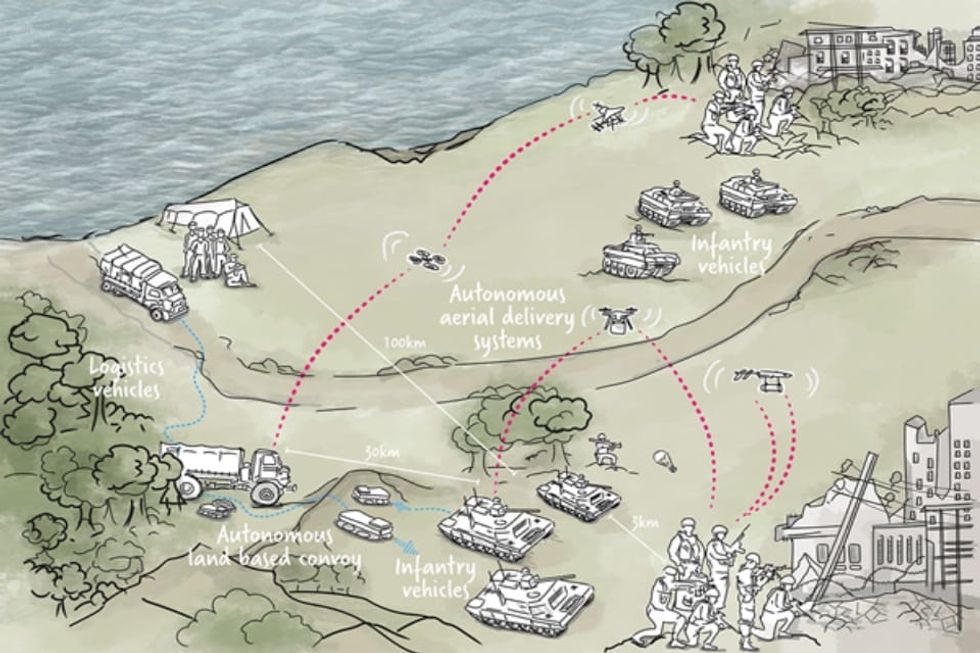 A new technology competition out of Britain wants to find ways to get supplies to troops under fire, making sure they always have enough ammo and medical supplies to get the job done. (Graphic: Crown Copyright)
The second vignette paints a more dire picture. A group of soldiers are in contact and running low on ammunition when they suffer a casualty. With a full ammo load, they would be able to eliminate the enemy or lay down cover fire and break contact to evacuate the wounded. But they don't have a full load of ammo left.
The troops do have a group of friends on foot about 1.5 miles away. It would be the robot's job to get ammo from the reinforcements to the troops in contact quickly. Preferably, the supplies would arrive broken down by weapon system and would be delivered as close to each shooter as possible.
For anyone interested in learning more or submitting technologies, the performance thresholds are available here. The contest is looking for relatively mature technologies that could be demonstrated by early 2018.