Articles
January 28, 2016 15:06:20 EST
The drones of tomorrow will be stealthier, faster, more computerized, equipped for electronic warfare, more lethal, more autonomous and, in some cases, able to deploy as swarming groups of mini-drones, according to the Air Force's Chief Scientist.
---
"The ISR (intelligence, surveillance, reconnaissance) side will get a lot smarter. With the next generation, you will see UAVs that are faster, more maneuverable and maybe stealthy. You will see them accompanying fighters with extra weapons, EW (electronic warfare), countermeasures and even lasers on board," Air Force Chief Scientist Greg Zacharias told Scout Warrior in an interview.
Some of these anticipated developments were forecasted in a 2014 Air Force report called RPA (Remotely Piloted Aircraft) Vector designed to anticipate and prepare for future drone developments over the coming 25 years. However, the rapid pace of technological change has sped up and, to some extent, changed the timeline and mission scope for drones outlined in the report.
Artificial Intelligence and Autonomy
The processing speeds of computers and algorithms aimed at increasing autonomous activities have continued to evolve at an alarming rate, creating a fast-moving circumstance wherein drones will increasingly take on more and more functions by themselves, Zacharias explained.
Computer algorithms will enable drones to conduct a much wider range of functions without needing human intervention, such as sensing, targeting, weapons adjustments and sensor payload movements, ranges and capabilities, he added.
Developments with "artificial intelligence," (AI) will better enable unmanned platforms to organize, interpret and integrate functions independently such as ISR filtering, sensor manipulation, maneuvering, navigation and targeting adjustments.  In essence, emerging computer technology will better enable drones to make more decisions and perform more functions by themselves.
The beginning of this phenomenon is evidenced in the computers and sensor technologies of the F-35 Joint Strike Fighter; the aircraft uses a technique known as "sensor fusion" wherein information from multiple sensors is organized, interpreted and presented to pilots on a single screen.
Digital mapping, ISR information from the F-35's Distributed Aperture System and targeting data from its Electro-Optical Targeting System are not dispersed across multiple screens which pilots try to view simultaneously. Fast evolving sensor technology, which allows for an ability to more closely view targets and tactically relevant information from increasingly farther distances, will continue to enable and improve this trending phenomenon.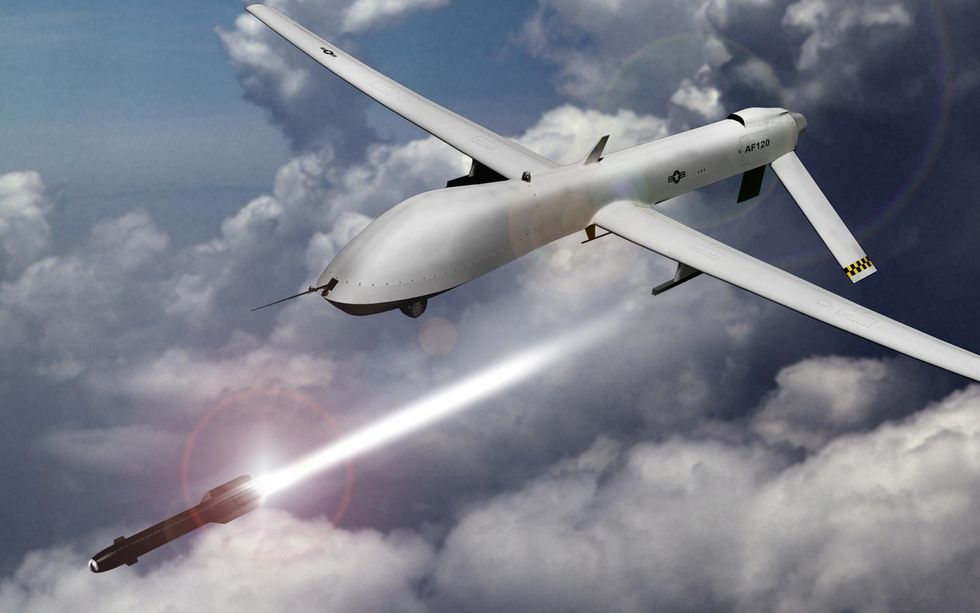 More Lethal Drones
A wider arsenal of weapons will also be integrated onto drone platforms, including high-tech guided weapons able to discern and destroy enemy targets by themselves to a much greater degree. This will likely include laser weapons as well, Zacharias added.
These weapons will naturally include laser-guided AGM-114 Hellfire missiles which are the primary weapon used by today's platforms such as the Predator, Reaper and Army Gray Eagle.  At the same time, drones or unmanned platforms are expected to fire a wider range of guided air-dropped munitions and air-to-air weapons such as the AIM-9 Sidewinder, AIM-120 AMRAAM.
Also, the Air Force is now developing an air-dropped guided weapon called the Small Diameter Bomb II. This weapon uses an emerging technology called a tri-mode seeker, which draws upon infrared, laser and millimeter wave radar technology to detect, track and destroy targets in any kind of weather environment.
At the same time, Pentagon doctrine stipulates that a human needs to be in-the-loop when it comes to the possible use of lethal force, except potentially in some rare circumstance where immediate defensive weapons are needing in milliseconds due to an incoming attack, Zacharias explained.  As a result, nearly all weapons will help distinguish, track and destroy targets under the guidance and supervision of human command and control.
Given the pace of technological change, future Air Force drones will also need to be modular, meaning they will be engineered such that they can readily exchange sensor payloads when mission requirements change or new technology emerges, Air Force officials said.
Wikimedia Commons
Future drones will also be much faster than the 200 to 300 miles per hour most current drones are able to travel at. Hypersonic speeds greater than Mach 5.5 may be in the very distant future; the Air Force Research Laboratory and Boeing have worked together on an emerging hypersonic test platform called the X-51A Waverider. The test vehicle has had both failed and successful test trying to launch from an aircraft and travel at hypersonic speeds. While this super-high speed technology may hold promise for possible drone applications in the distant future, it is currently regarded as a long way off and in need of much further development.
Nevertheless, there have been some successfull flights of hypersonic technology, including on in May of 2013 wherein the X-51A Waverider flew over the Pacific Ocean reaching speeds of Mach 5.1.
This May 1 test flight wound up being the longest air-breathing hypersonic flight ever, wrapping up a $300 million technology demonstration program beginning in 2004, according to an Air Force statement.
"The X-51A took off from the Air Force Test Center at Edwards AFB, Calif., under the wing of B-52H Stratofortress. It was released at approximately 50,000 feet and accelerated to Mach 4.8 in about 26 seconds powered by a solid rocket booster. After separating from the booster, the cruiser's supersonic combustion ramjet, or scramjet, engine then lit and accelerated the aircraft to Mach 5.1 at 60,000 feet," a previous Air Force Statement explaining the test stated.
Naturally, massively increased speed could give drones an ability to urgently reach and potentially deliver weapons and sensors to crucial time-sensitive combat situations exponentially faster.
Northrop Grumman
Stealthy Drones
Future drones will also be quite stealthy, as a technique for having more success against high-tech air defenses. There are already a number of stealthy drones in various stages of development.
One such example is Lockheed Martin's RQ-170 Sentinel stealth UAV which, according to a 2011 report in The Atlantic, helped track Bin Laden's compound prior to his death.
Boeing has unveiled its Phantom Ray, a fighter-sized unmanned combat air vehicle which first flew in 2011. The aircraft has a 50-foot wingspan, can climb to 40,000 feet and reach speeds of Mach .85.
Also, the Navy is still contemplating and analyzing future plans for a first-of-its kind stealthy, carrier launched drone, called the Unmanned Carrier Launched Airborne and Strike system (UCLASS). UCLASS is slated to arrive in the mid-2020s to give a Carrier Air Wing an ability to launch stealthy drone attacks over enemy territory without needing to launch from a nearby land-base and, in some cases, secure permission from a nearby country to take-off-and-land from the ground.