Articles
December 05, 2016 17:53:00 EST
The former top American commander in South Korea on Thursday said the Trump administration must be ready to launch a pre-emptive strike on North Korea before it tests a long-range missile capable of hitting the U.S. mainland.
---
"I don't think any talking, any diplomacy, is going to convince Kim Jong-un to change," retired Army Gen. Walter Sharp said of the North Korean leader in suggesting the possibility of a pre-emptive strike to eliminate the nuclear threat.
Also read: As North Korea gets more ambitious with missiles, Japan looks to US for backup
Should North Korea put a missile such as the three-stage Taepodong 2 on the launchpad, and the U.S. was unsure whether it carried a satellite or a nuclear warhead, the missile should be destroyed, said Sharp, the former commander of U..S. Forces-Korea and the United Nations Command from 2008 to 2011.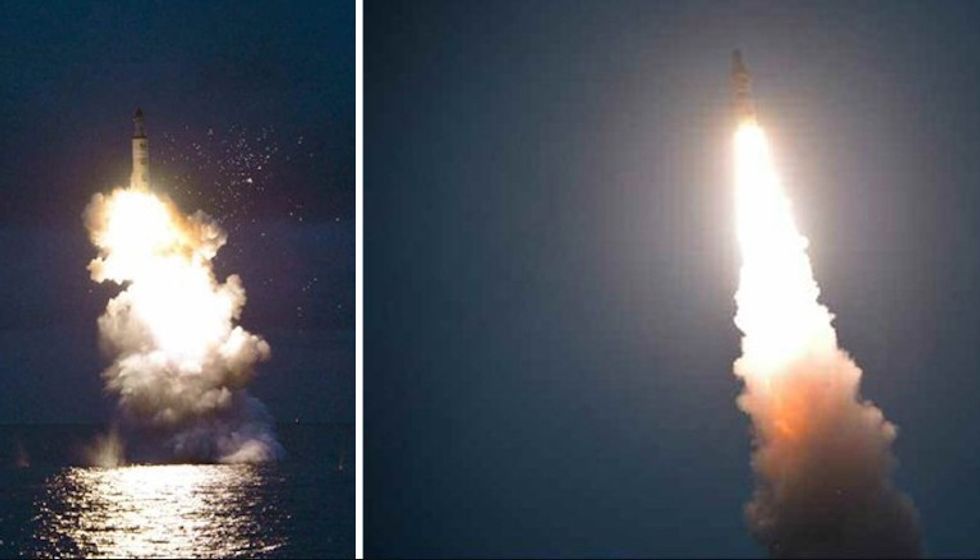 A North Korean propaganda poster depicting a missile firing at the United States. | Via Flickr
The 15-member council unanimously adopted a resolution to slash North Korea's exports of coal — its main export item — by about 60 percent and also imposed a ban on its export of copper, nickel, silver and zinc.
Samantha Power, the U.S. ambassador to the United Nations, said that the sanctions would cost North Korea about $800 million annually.
"No resolution in New York will likely, tomorrow, persuade Pyongyang to cease its relentless pursuit of nuclear weapons, but this resolution imposes unprecedented costs," she said.
In a statement, North Korea's Foreign Ministry said the sanctions would have no effect on the regime's pursuit of nuclear weapons and delivery systems.
"There will be no greater miscalculation than to think that Obama and his henchmen can use the cowardly sanctions racket to try to force us to give up our nuclear armament policy or undermine our nuclear power status," the statement said.