Articles
November 16, 2015 12:45:46 EST
As French citizens deal with the emotions that surround the Paris attacks that killed 129 people and left many more wounded, the French military has come out swinging against ISIS. Land-based aircraft already deployed on anti-ISIS missions struck targets Sunday night across Raqqa, ISIS's de facto capital. Ten jets dropped 20 bombs, striking a command center, a recruitment center, a munitions depot, and a training camp, according to the BBC.
---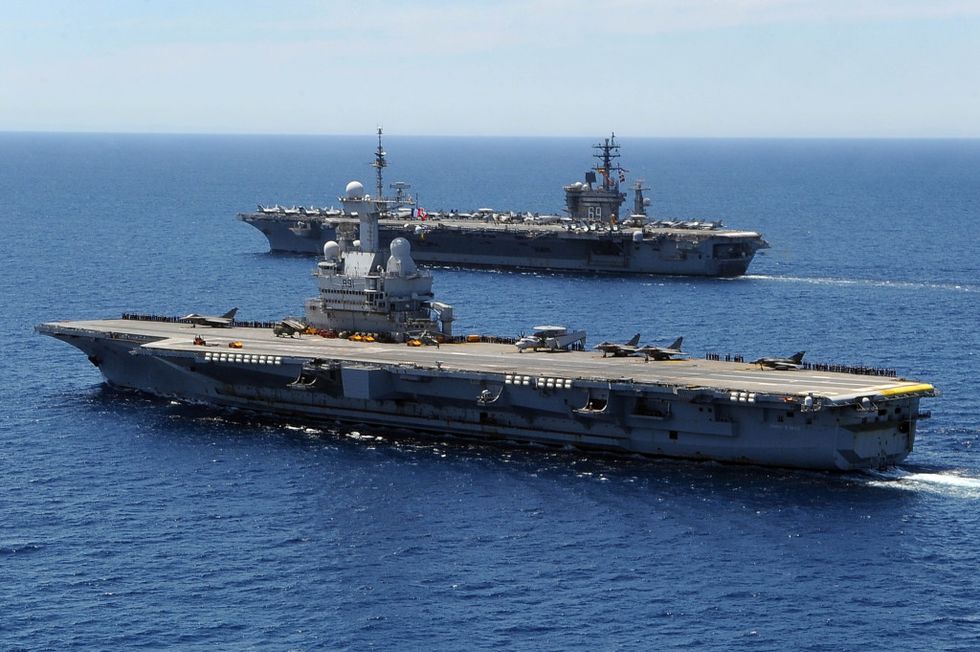 A French Super Etendard launches from the USS John C. Stennis during joint naval training. Photo: US Navy Mass Communication Specialist 1st Class Denny Cantrell
In addition to its Rafales, the de Gaulle is bringing Super Etendard strike fighters. The Super Etendard brings two 30mm cannons, more GPS guided bombs, and laser-guided missiles to the fight.
Charles de Gaulle also carries a number of support planes to enable the strike aircraft.
The carrier is capable of launching a plane every thirty seconds. Since the carrier has strong catapults to assist the launch, the planes can take off with full fuel and weapons loads so they can strike plenty of targets.
U.S. and French intelligence sharing and military cooperation will be important as France steps up its campaign in Syria. The U.S. provided some of the intelligence that enabled Sunday's strikes in Raqqa, and that partnership will surely lead to more French strike missions in the coming months. Luckily, the Charles de Gaulle already knows how to work with the U.S.
The French Navy in general and the Charles de Gaulle in particular have experience working with the U.S. The Charles de Gaulle supported America's invasion of Afghanistan, was a hub for the strikes in Libya that ousted Muammer Qaddafi, and previously struck ISIS targets in Iraq.
Vive la France, et salute!