Articles
April 26, 2017 09:33:13 EST
When a massive earthquake struck two years ago in Nepal, a sudden coalition formed to help. Service organizations, allied militaries, and others rushed from near and far to dig out survivors and provide help. And some native Gurkha soldiers are still there, lending their expertise to the rebuilding of hundreds of homes.
---
A total of 8,891 people are thought to have died and another 22,300 injured in the earthquakes on April 25 and May 12, 2015.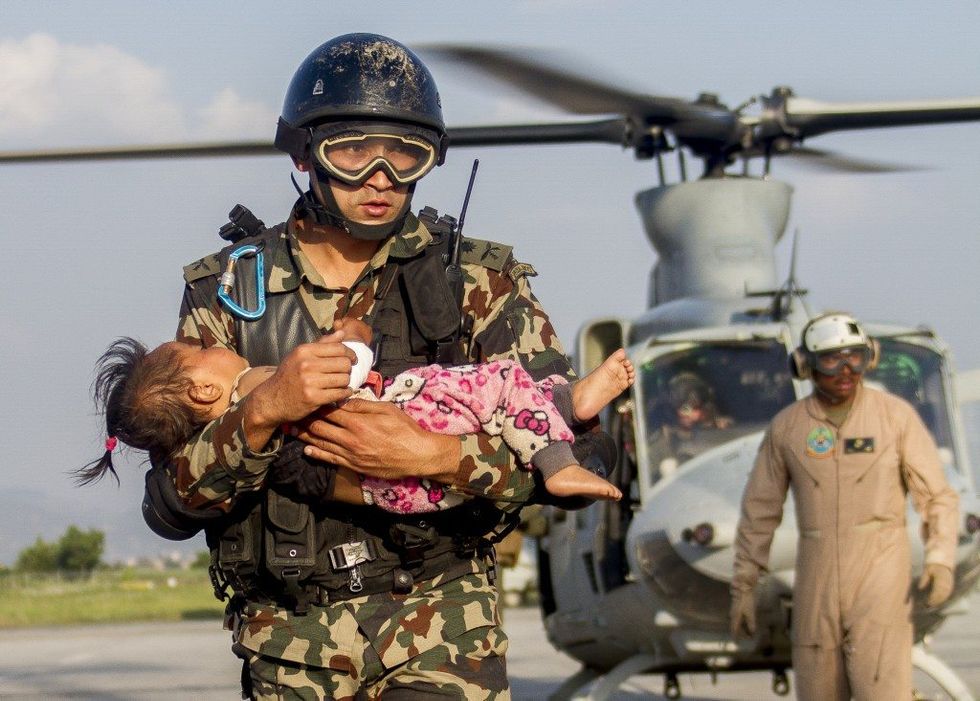 A Nepalese soldier carries a young earthquake victim from a U.S Marine Corps UH-1Y Venom helicopter assigned to Joint Task Force 505 to a medical triage area at Tribhuvan International Airport, Kathmandu, Nepal, after a 7.3 magnitude earthquake struck the country, May 12, 2015. (Photo: U.S. Marine Corps Gunnery Sgt. Ricardo Morales)
One of the military forces that rushed in were Gurkha soldiers from the British Army in Operation Leyland. The Gurkhas are recruited from the same region of Nepal that was worst hit, and the troops were deployed to help their own families and forebears.
But the Gurkhas didn't leave once the emergency passed. They're still taking turns rotating into the area to help rebuild the homes of Gurkha veterans. Operation Marmat was a deliberate deployment of about 100 Gurkhas at a time to build homes with materials purchased by the Gurkha Welfare Trust.
A Gurkha soldier helps rebuild the home of a former Gurkha rifleman during Operation Marmat, an ongoing effort to rebuild the homes of Gurkha veterans. (Photo: Facebook/British Army)
In addition to their labor in the mountains of Nepal, the Gurkhas have raised money — approximately $65,000 — across the world with an emphasis on the United Kingdom where they are based.
An update from the British Army Facebook page says that 800 homes have been rebuilt by the trust and 61 of them were built with labor from the active duty Gurkha soldiers in the past two years.
Another 300 homes are still slated for reconstruction. People who want to help can visit the Gurkha Welfare Trust.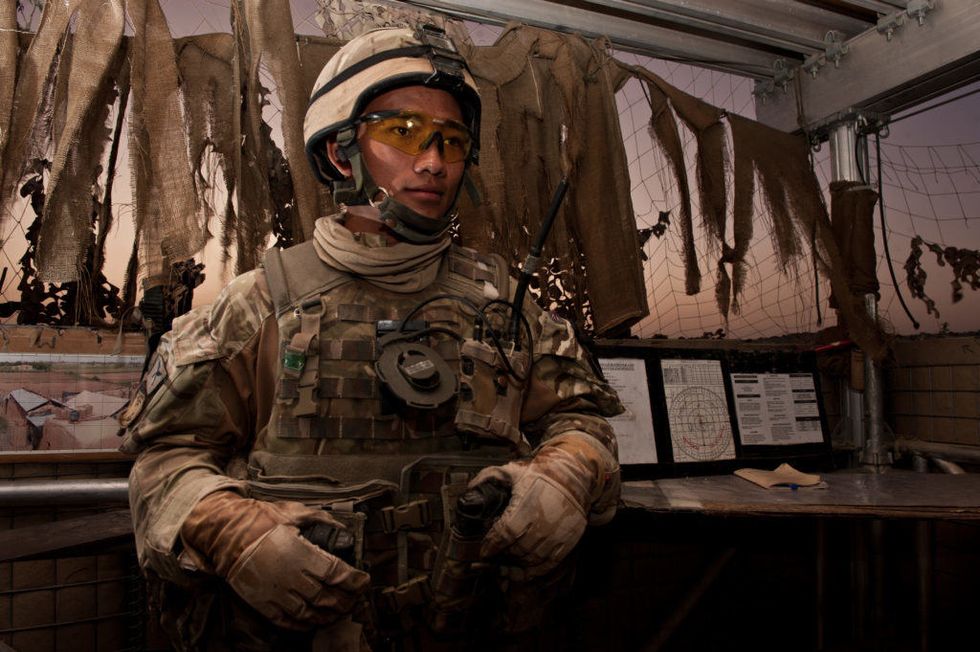 A Nepalese soldier from the Royal Gurkha Rifles regiment of the British Army stands guard in Sanger, Afghanistan. (Photo: U.S. Navy Petty Officer 2nd Class Jonathan David Chandler)
Gurkha soldiers have served the British Army with distinction for over 200 years, including deployments to both world wars, Iraq, and Afghanistan where they served alongside American troops.
To learn more, check out this short video from the British Army (you must be logged into Facebook to see the video):