Articles
October 16, 2015 07:44:39 EST
If a bad guy wants to mess with someone, they should probably make sure that someone is not a Gurkha.
---
Gurkha are a legendary class of Nepalese warriors whose lineage dates back to the Middle Ages. Gurkhas fought first against the British during the colonial era, and the Brits were so impressed by their ability in combat, they decided to enlist them in their military efforts.
They've been with the British since the days of the British East India company, through to World War II, and even through the wars in Iraq and Afghanistan. Their distinctive knife, the Khukuri, is symbolic of their heroism, bravery, and skill in combat.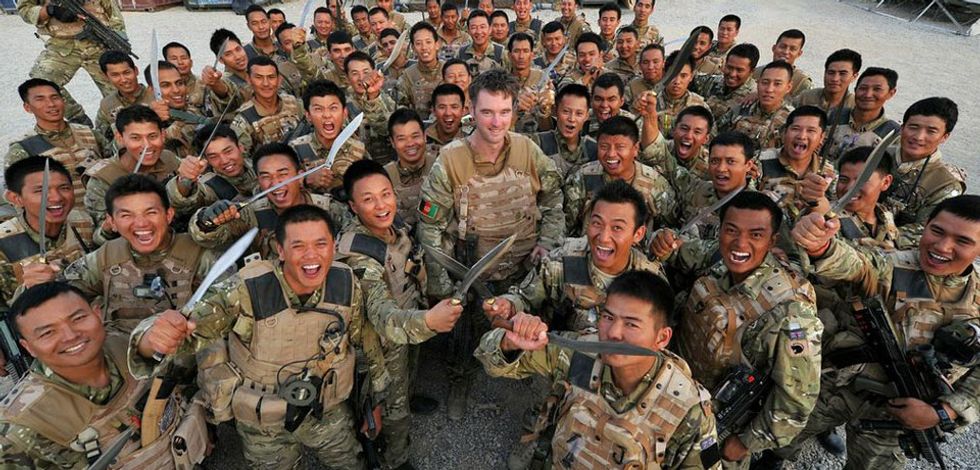 Shrestha in the hospital after the train fight.
When the intended rape victim's family offered him a large cash reward, he refused it, saying:
"Fighting the enemy in battle is my duty as a soldier. Taking on the thugs on the train was my duty as a human being."
Bishnu Prasad Shrestha held himself to the traditions of his Gurkha regiment and training. Today, Gurkhas fight with British, American, Indian, Nepalese, and Malaysian forces all over the world. After their service ends, they usually return to Nepal to become subsistence farmers. In 2009, the United Kingdom granted pensions at settlement rights to any Gurkha who served the UK for at least four years.
Check the WATM podcast to hear the author and other veterans discuss how the Gurkhas became feared warriors.
Subscribe: iTunes | Google Play | Stitcher | More Subscribe Options
Related Articles Around the Web