Articles
April 15, 2017 00:05:04 EST
The military has very talented photographers in the ranks, and they constantly attempt to capture what life as a service member is like during training and at war. Here are the best military photos of the week:
---
Air Force:
An F-22 Raptor from Tyndall Air Force Base, Fla. flies over the Gulf of Mexico, April 1, 2017. The Raptor was taking part in a flight alongside a KC-135 Stratotanker to show appreciation to the employers of Guard and Reserve Airmen.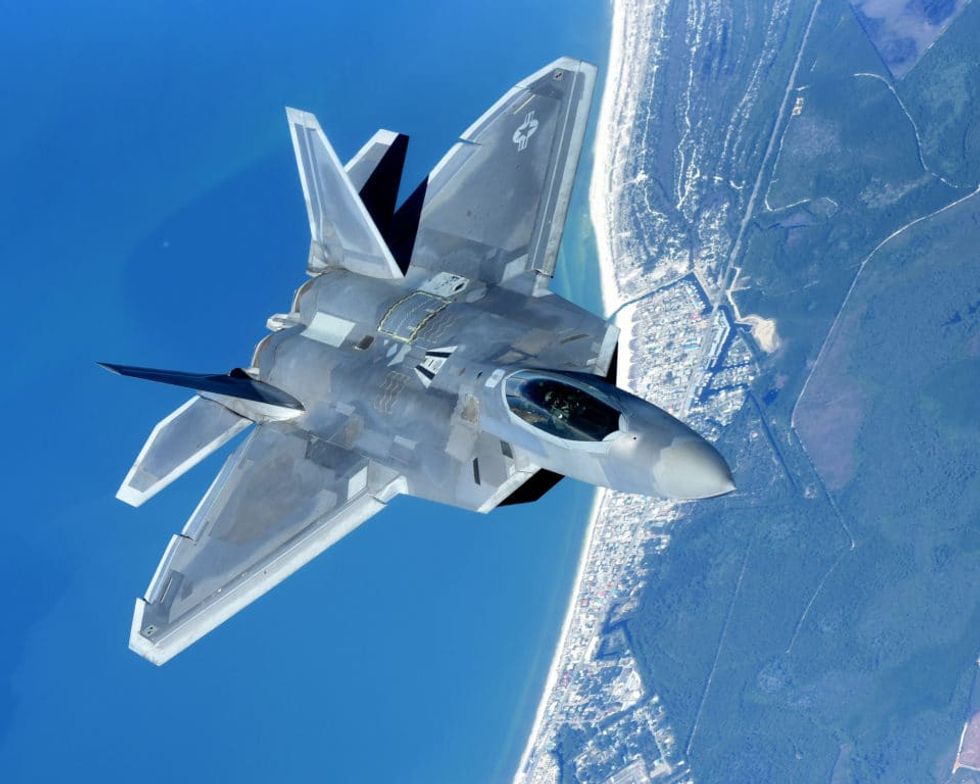 U.S. Air Force photo by Airmen 1st Class Cody R. Miller
Hill Air Force Base F-35A Lightning IIs fly in formation over the Utah Test and Training Range, March 30, 2017.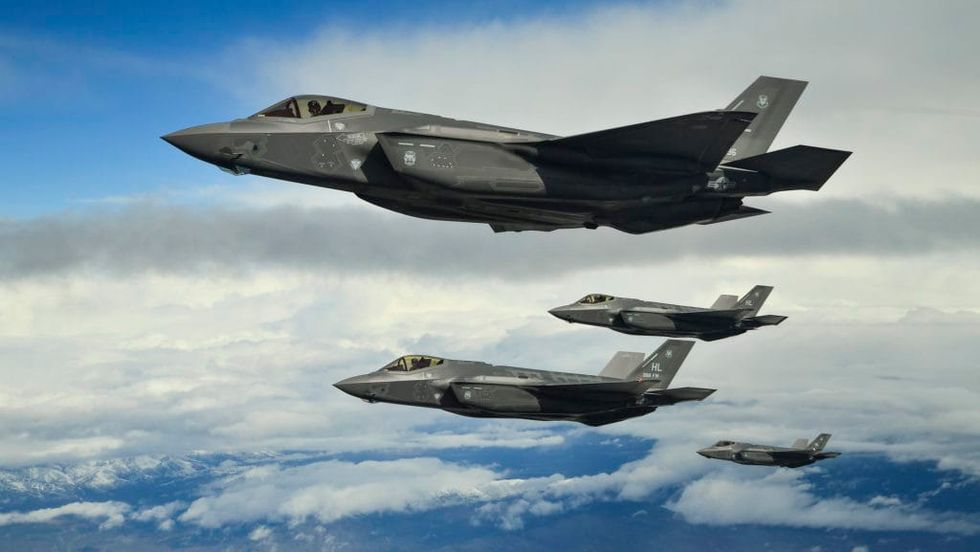 U.S. Air Force photo/R. Nial Bradshaw
Army:
A UH-60 Black Hawk helicopter arrives at the pickup zone at Grafenwoehr Training Area, Germany, April 6. The aviators were taking part in a joint-training exercise with Soldiers from 3rd Squadron, 2nd Cavalry Regiment, in anticipation of working together during future Atlantic Resolve missions.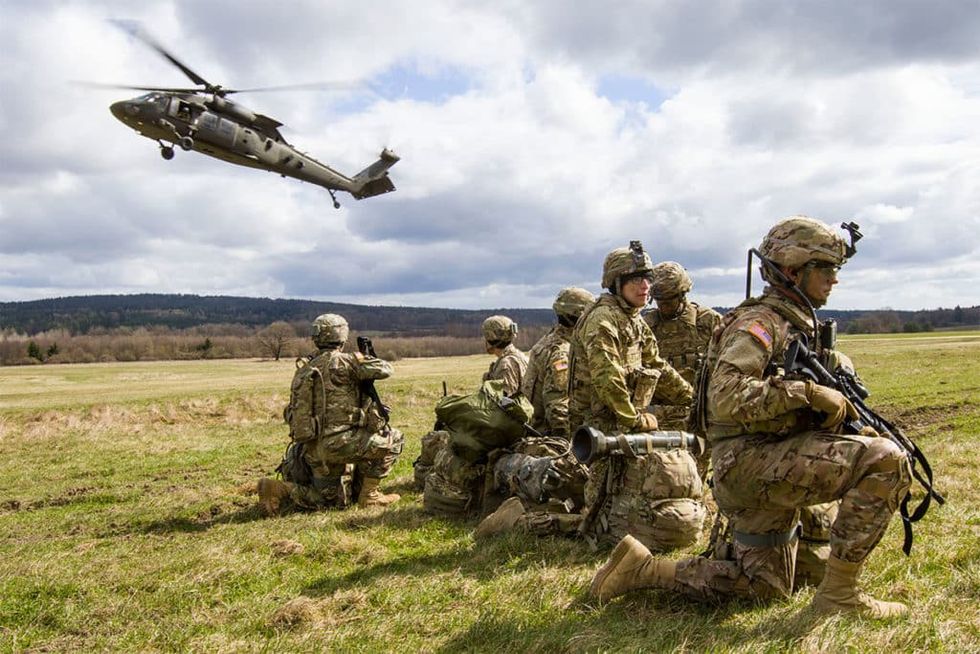 U.S. Army photo by Spc. Thomas Scaggs
U.S. Army Soldiers from around the world compete in day three of the 34th Annual David E. Grange Jr., Best Ranger Competition, April 9, 2017, on Fort Benning, Ga. The competition is designed to determine the best two-Soldier Ranger team in the Army.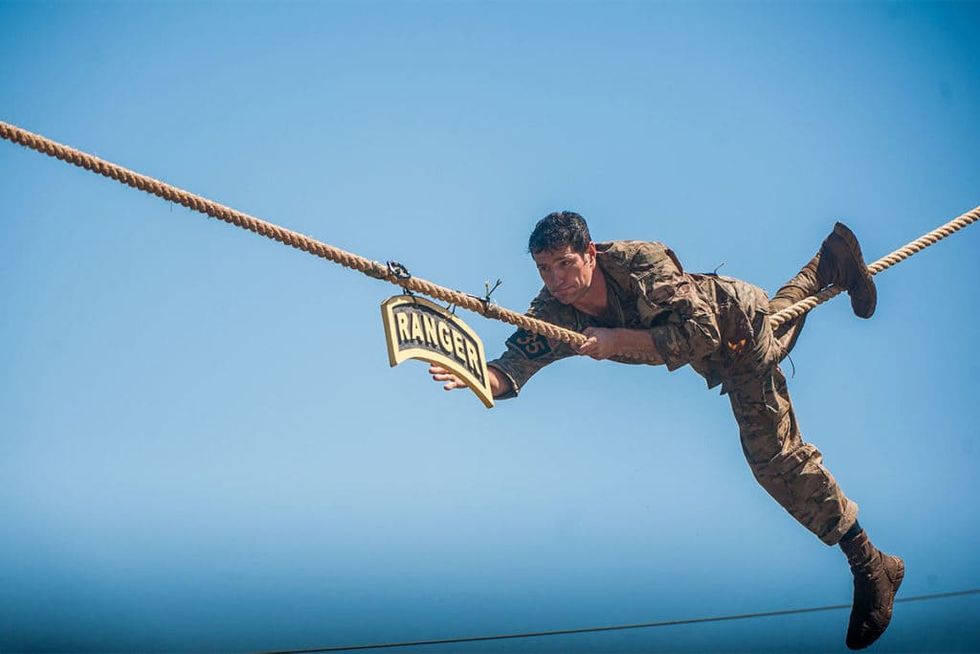 U.S. Army photo by Patrick A. Albright
Navy:
ATLANTIC OCEAN (April. 13, 2017) Aviation Boatswain's Mates (Handling) Airmen Nathaniel Eguia, left, and Obadiah Hunter scrub aqueous film forming foam off of the flight deck of the aircraft carrier Pre-Commissioning Unit Gerald R. Ford (CVN 78). Gerald R. Ford is underway on its own power for the first time. The first-of-class ship-the first new U.S. aircraft carrier design in 40 years-will spend several days conducting builder's sea trials, a comprehensive test of many of the ship's key systems and technologies.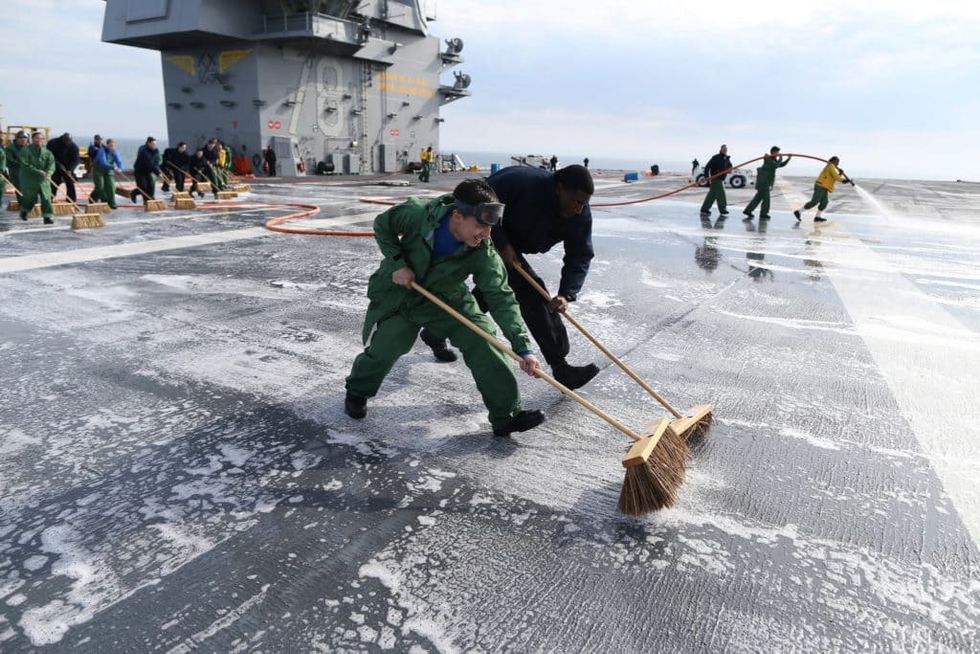 U.S. Navy photo by Mass Communication 1st Class Joshua Sheppard
SOUTH CHINA SEA (April 12, 2017) An F/A 18C Hornet from the "Blue Blasters" of Strike Fighter Squadron (VFA) 34 takes off from the aircraft carrier USS Carl Vinson (CVN 70). The Carl Vinson Carrier Strike Group is on a scheduled western Pacific deployment as part of the U.S. Pacific Fleet-led initiative to extend the command and control functions of U.S. 3rd Fleet. U.S. Navy aircraft carrier strike groups have patrolled the Indo-Pacific regularly and routinely for more than 70 years.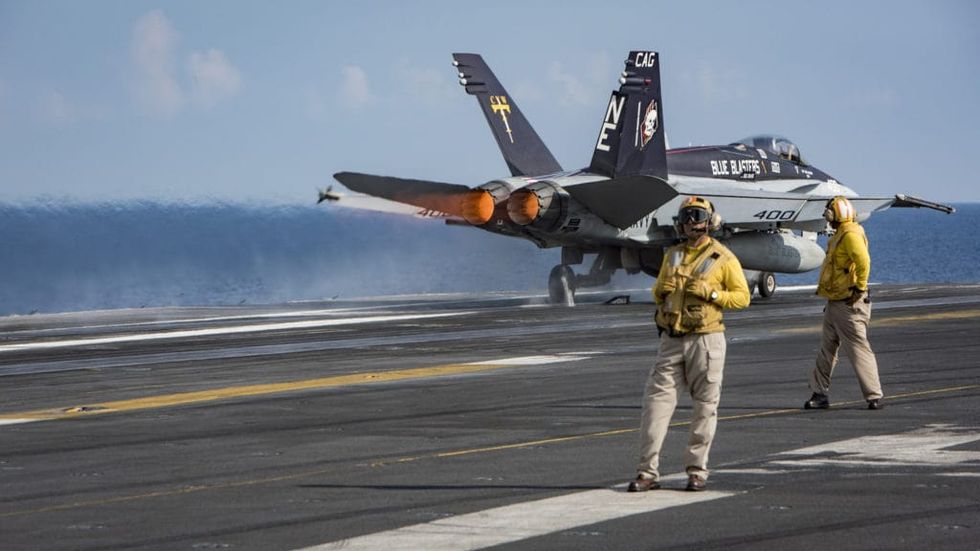 U.S. Navy photo by Mass Communication Specialist 3rd Class Matt Brown
Marine Corps:
Marines with 2nd Battalion, 6th Marine Regiment and 2nd Combat Engineer Battalion take cover while conducting urban demolition breach training for Talon Exercise (TalonEx) 2-17, Yuma, Arizona, March 30, 2017. The purpose of TalonEx was for ground combat units to conduct integrated training in support of the Weapons and Tactics Instructor Course 2-17 hosted by Marine Aviation Weapons and Tactics Squadron One.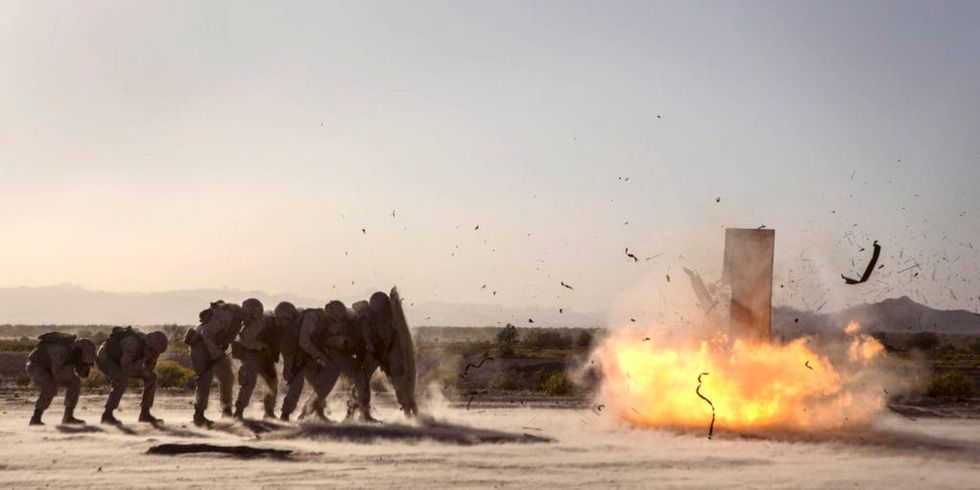 U.S. Marine Corps photo by Lance Cpl. Santino D. Martinez
Machine gunners assigned to Special Purpose Marine Air Ground Task Force-Crisis Response-Africa move toward an objective area during a Military Operation on Urbanized Terrain exercise with the Spanish Special Operations Group âGranadaâ in Alicante, Spain, March 29, 2017. The exercise provided an opportunity for Marines and Spanish SOF members to maintain joint readiness and strengthen relationships.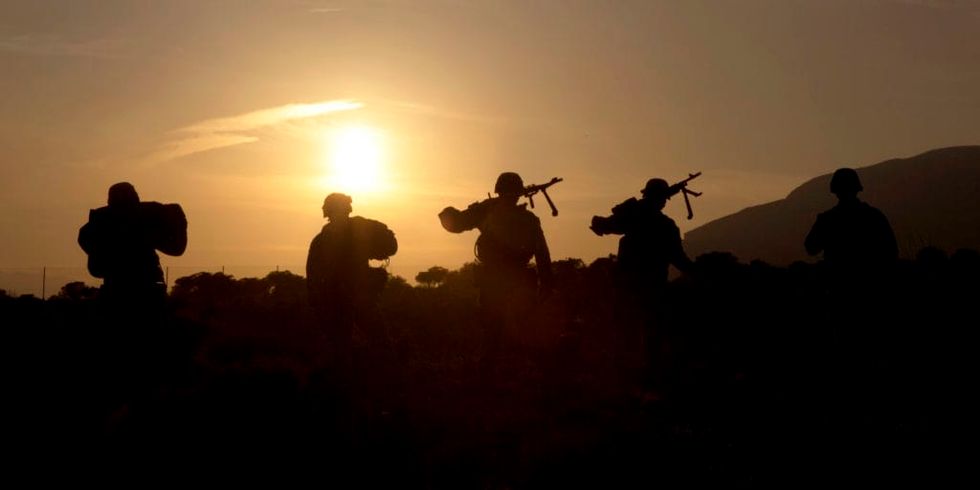 U.S. Marine Corps photo by Sgt. Jessika Braden
Coast Guard:
The crew of the Coast Guard Cutter John McCormick stands proud facing the crowd of the commissioning ceremony at Coast Guard Base Ketchikan, Alaska, April 12, 2017. The cutter McCormick is the Coast Guard's first 154-foot Fast Response Cutter to be commissioned in Alaska.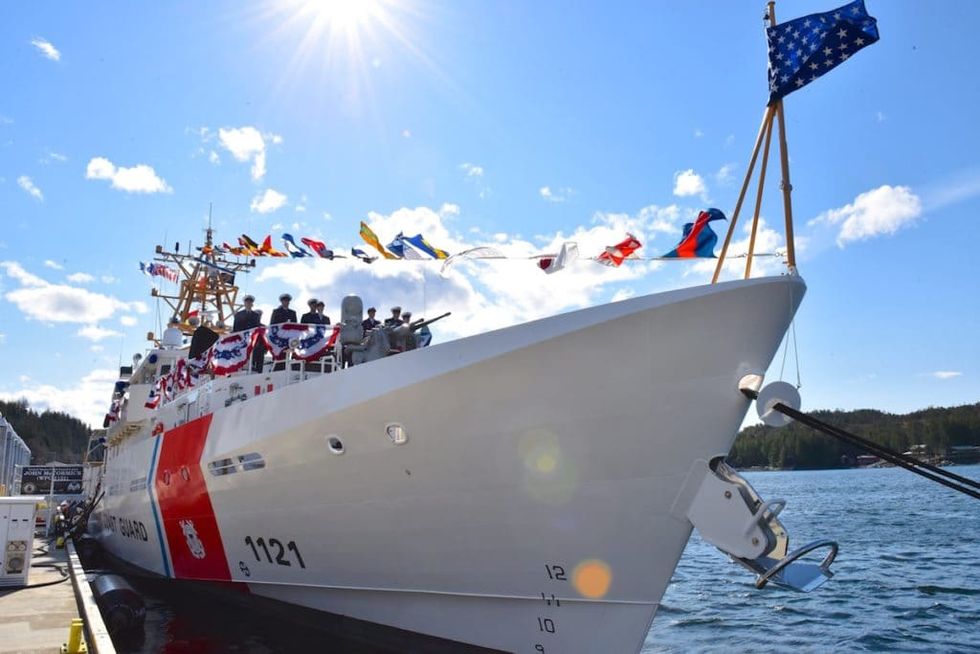 U.S. Coast Guard photo by Petty Officer 1st Class Jon-Paul Rios.
A New Hampshire Army National Guard Blackhawk helicopter lands on the helipad at Coast Guard Station Portsmouth Harbor on Sunday, April 9, 2017 in Portsmouth, New Hampshire. The helicopter was taking part in the 2017 Best Warrior Competition, which encourages the Guardsmen to strive for excellence and achievement through a variety of physical and mental challenges.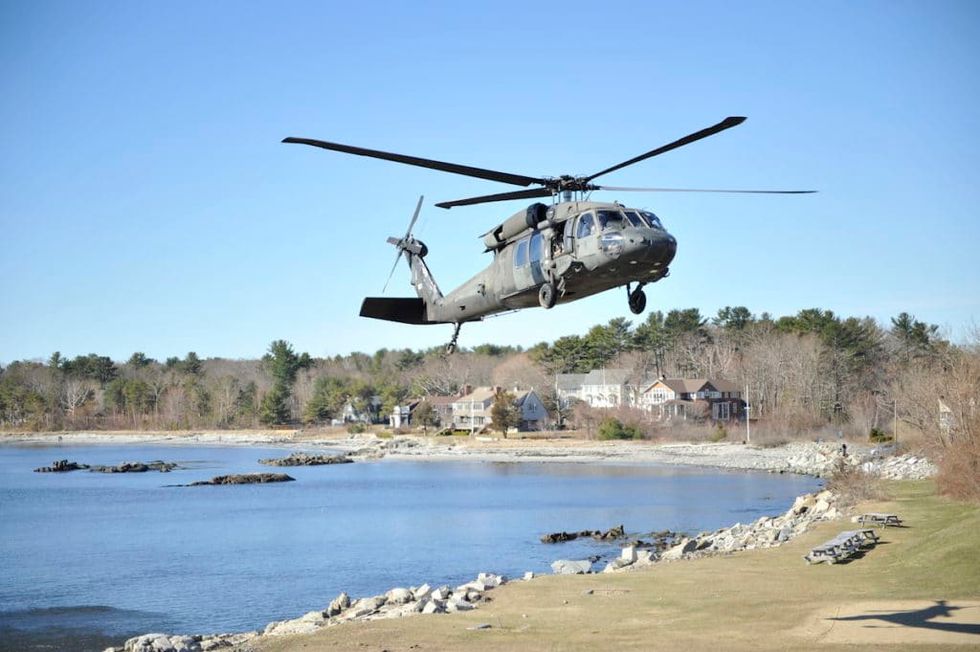 U.S. Coast Guard Petty Officer 3rd Class Brandon Hillard