Articles
April 28, 2017 17:00:25 EST
The military has very talented photographers in the ranks, and they constantly attempt to capture what life as a service member is like during training and at war. Here are the best military photos of the week:
---
Air Force:
An A-10 Thunderbolt II departs after receiving fuel from a 340th Expeditionary Air Refueling Squadron KC-135 Stratotanker during a flight in support of Operation Inherent Resolve April 19, 2017. The 340th EARS, part of U.S. Air Forces Central Command, is responsible for delivering fuel for U.S. and coalition forces, enabling a persistent 24/7 presence in the area of responsibility.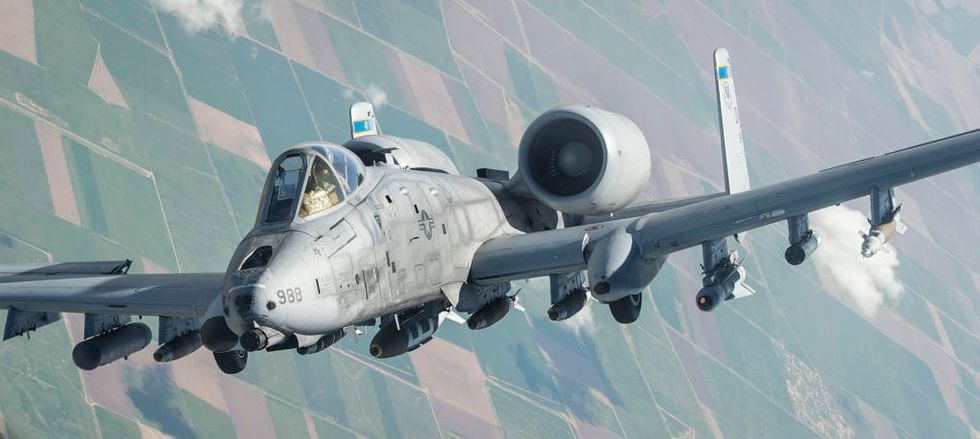 U.S. Air Force photo by Senior Airman Trevor T. McBride
The U.S. Air Force Thunderbirds and Patrouille de France fly together over Death Valley, Calif., April 17, 2017. The Thunderbirds and Patrouille de France are two of the oldest aerial demonstration teams in the world.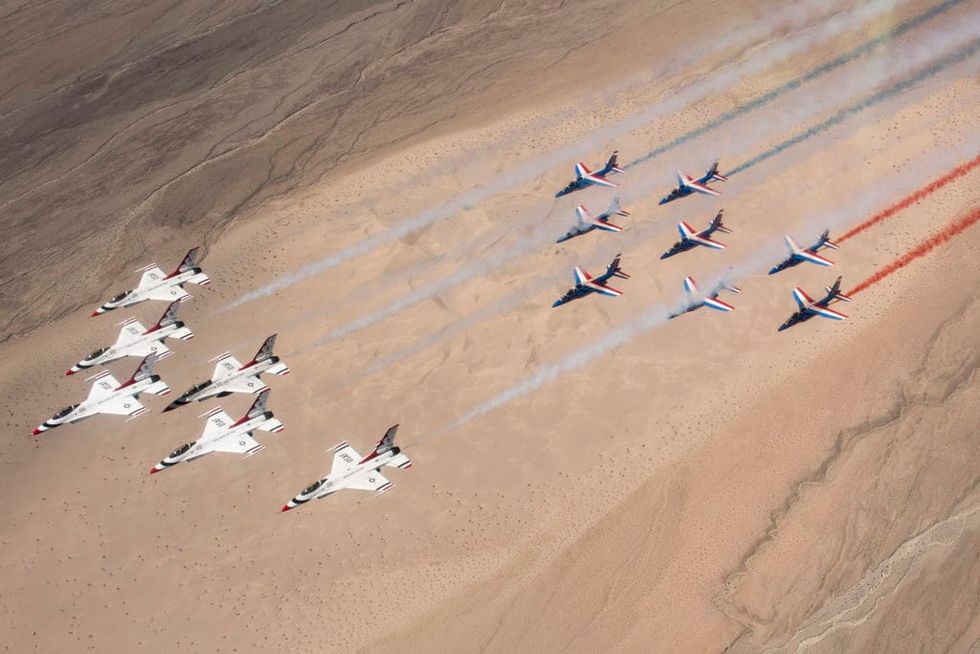 U.S. Air Force Photo/Tech. Sgt. Christopher Boitz
Army:
U.S. Soldiers with the 20th CBRNE Command conduct a 7.5 mile ruck march for their German Armed Forces Proficiency Badge (GAFPB) at the Yakima Training Center, Wash., April 22, 2017. The ruck march is one of five events in the Military training portion of the GAFPB that requires participants to wear a 35-pound ruck and complete it in one to two hours or less depending on the distance.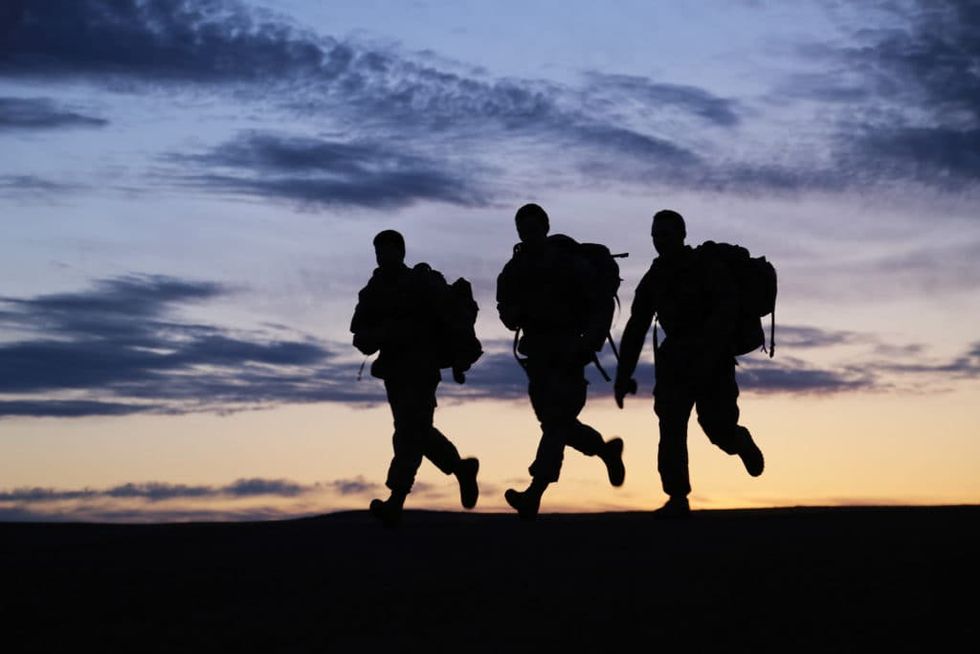 U.S. Army photo by Sgt. Kalie Jones
U.S. Vice President Michael R. Pence shakes hands with South Korean Gen. Leem Ho-Young, deputy commanding general of Combined Forces Command, near the demilitarized zone in South Korea, April 17, 2017. Pence is making his first trip to South Korea in order to receive a strategic overview of the peninsula.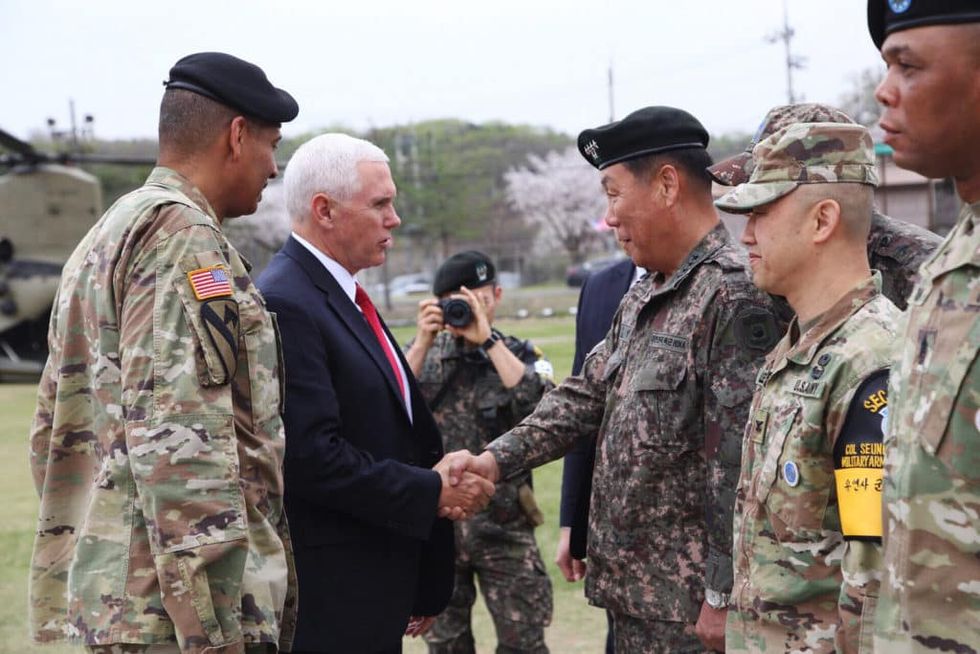 U.S. Army photo by Sgt. 1st Class Sean K. Harp
Navy:
NORFOLK (April 27, 2017) Quartermaster 1st Class Jose Triana, assigned to the Pre-Commissioning Unit aircraft carrier Gerald R. Ford (CVN 78), attaches signal flags to a line. Ford's "over the top" lines are being weight tested by the ship's navigation department.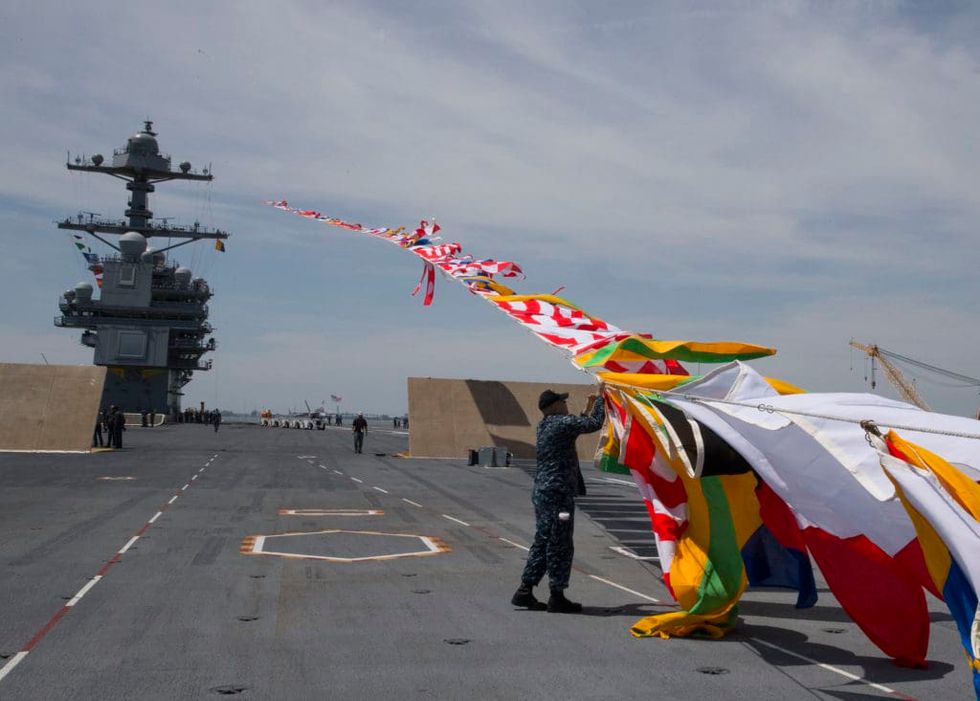 U.S. Navy photo by Mass Communication Specialist 3rd Class Elizabeth A. Thompson
PHILIPPINE SEA (April 28, 2017) The Japan Maritime Self-Defense Force destroyer JS Ashigara (DDG 178), foreground, the Arleigh Burke-class guided-missile destroyer USS Wayne E. Meyer (DDG 108) and the Ticonderoga-class guided-missile cruiser USS Lake Champlain (CG 57) transit the Philippine Sea. The U.S. Navy has patrolled the Indo-Asia-Pacific routinely for more than 70 years promoting regional peace and security.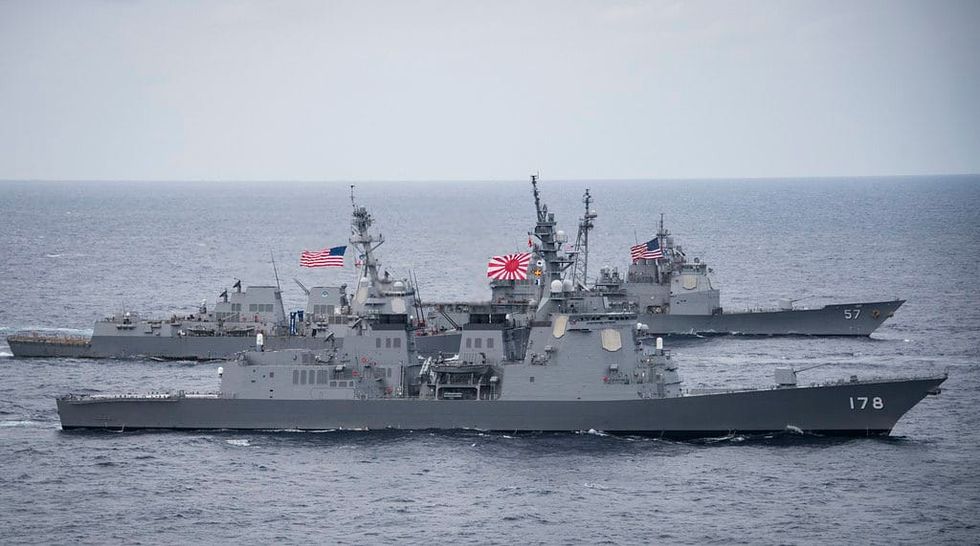 U.S. Navy photo by Mass Communication Specialist 2nd Class Z.A. Landers
Marine Corps:
U.S. Marines with the 2nd Battalion, 6th Marine Regiment are transported by a CH-53E Super Stallion helicopter assigned to Marine Heavy Helicopter Squadron (HMH) 466 during an exercise as part of Weapons and Tactics Instructors course (WTI) 2-17 near Yuma, Ariz., April 20, 2017. WTI is held biannually at Marine Corps Air Station (MCAS) Yuma, Ariz., to provide students with detailed training on the various ranges in Arizona and California.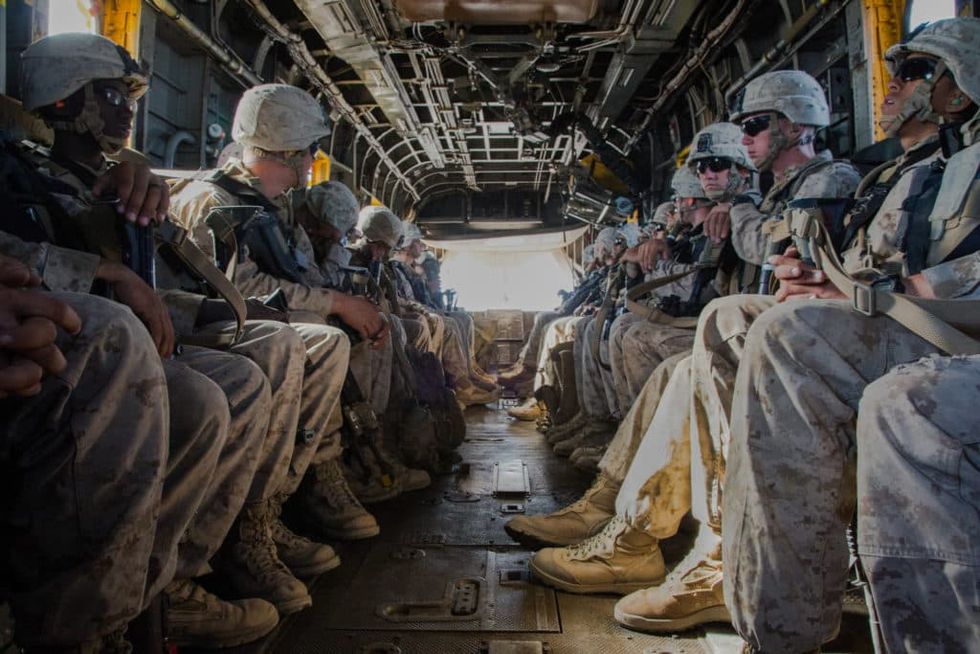 U.S. Marine Corps photo by Cpl. Trever A. Statz
U.S. Marines with Bravo Battery, 1st Battalion, 10th Marine Regiment, 2nd Marine Division provide security during a CH-53 day battle drill in support of Weapons and Tactics Instructors course (WTI) 2-17 at Fire Base Burt. Calif., April 8, 2017.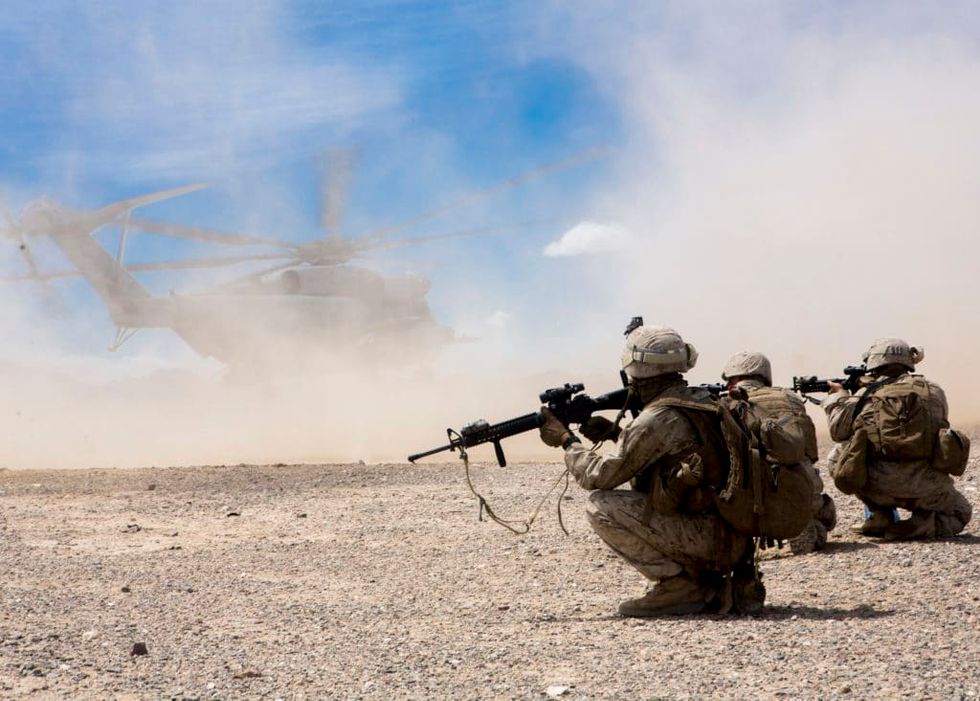 U.S. Marine Corps photo by Lance Cpl. Clare J. Shaffer
Coast Guard:
The U.S. Coast Guard Cutter Rollin Fritch Sector North Carolina comes alongside the 43-foot sailboat Tuesday, April 26, 2017, 13 miles south of Hatteras, North Carolina. Several Coast Guard assets came together to tow the Nanette through storms to moor up in Morehead City, North Carolina.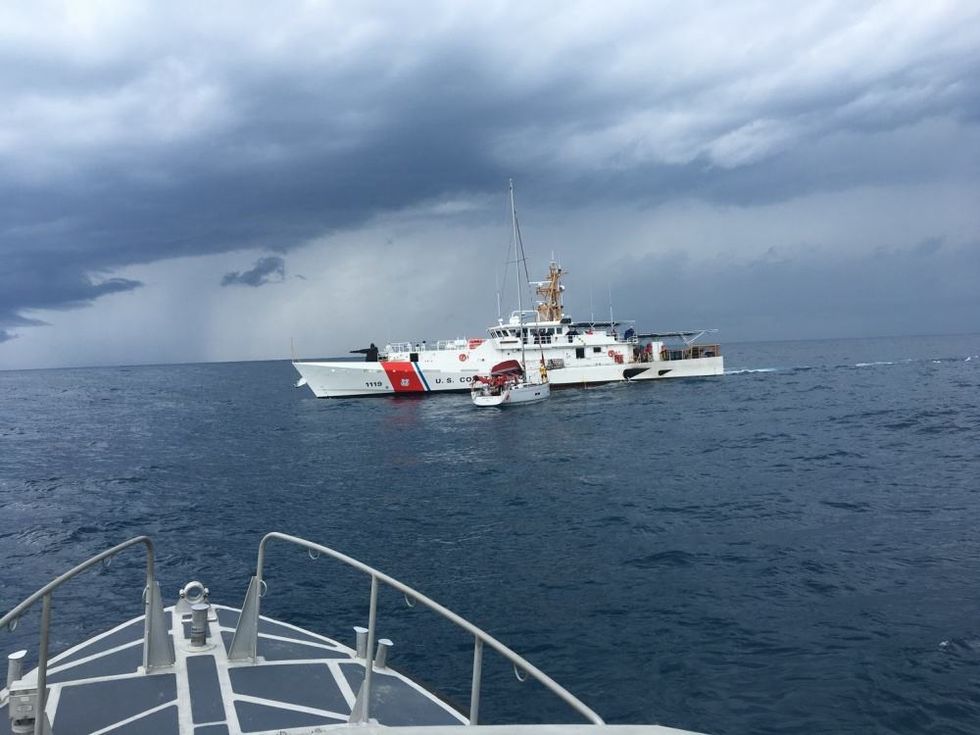 USCG photo by Petty Officer 3rd Class Joshua Canup
An aircrew member from Air Station San Diego is being hoisted up to a Coast Guard MH60 Jayhawk helicopter at Point Vicente Lighthouse in Rancho Palos Verdes, Calif. April 26, 2017. Consistently training helps the aircrews stay adept for situations where they will have to perform an actual cliff side rescue.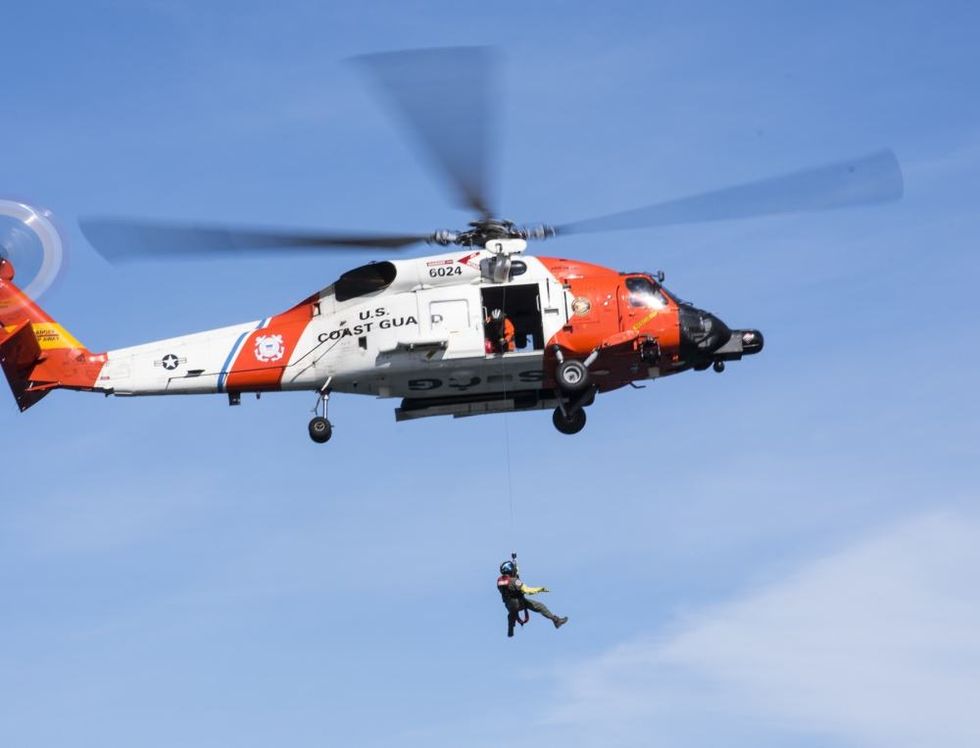 U.S. Coast Guard photo by Petty Officer 3rd Class DaVonte' Marrow