Articles
May 07, 2016 07:00:13 EST
The military has very talented photographers in the ranks, and they constantly attempt to capture what life as a service member is like during training and at war. Here are the best military photos of the week:
---
AIR FORCE:
Members of the Alaska Air National Guard's 212th Rescue Squadron participate in a mass casualty training event on Joint Base Elmendorf-Richardson, Alaska, May 4, 2016. The exercise consisted of a tactical foot patrol in the woods, where rescue team members reported casualties. During the movement, the team was ambushed by opposition forces, causing them to react to contact, suppress enemy fire, and call for close air support. This training prepares the Air Force's elite rescue personnel for the types of high-risk rescue missions they conduct when deployed in defense of their nation.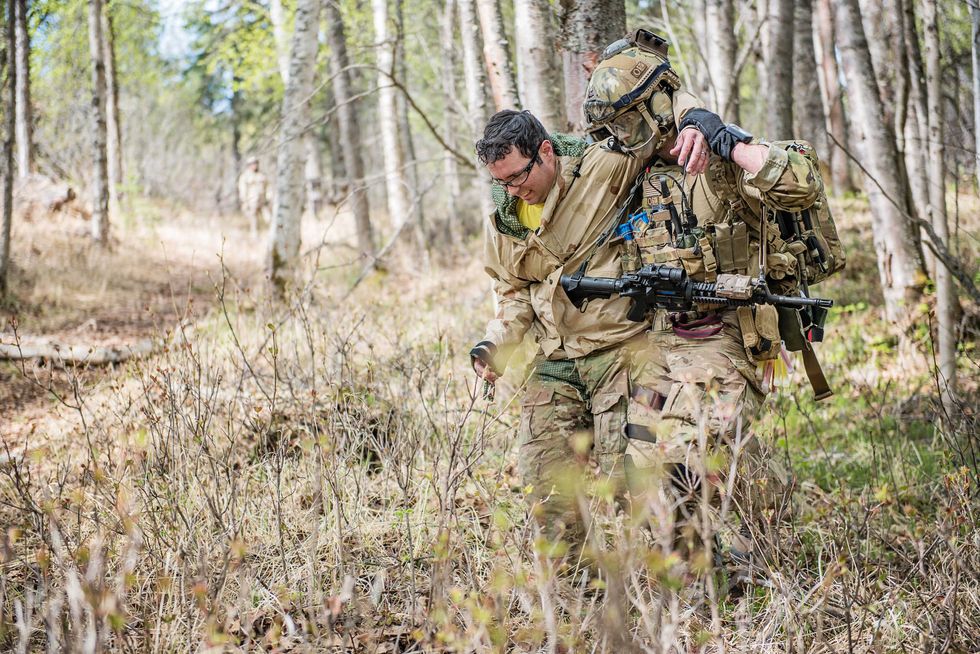 U.S. Air National Guard photo/Staff Sgt. Edward Eagerton
Capt. Jonathan Bonilla and 1st Lt. Vicente Vasquez, 459th Airlift Squadron UH-1N Huey pilots, fly over Tokyo after completing night training April 25, 2016. The 459th AS frequently trains on a multitude of scenarios in preparation for potential real-world contingencies and operations.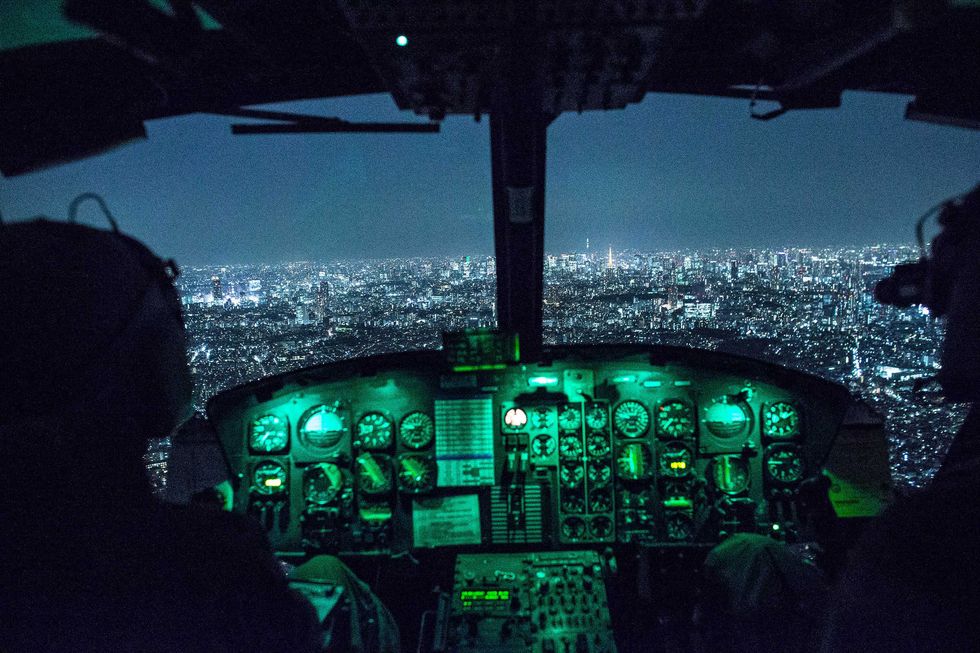 U.S. Air Force photo/Yasuo Osakabe
ARMY:
U.S. Army Soldiers, assigned to 3rd General Support Aviation Battalion, 82nd Combat Aviation Brigade, supported 3rd Brigade Combat Team, 82nd Airborne Division, with medical evacuation support during Operation Wolfpack Thunder, Fort Bragg, N.C. April 28, 2016.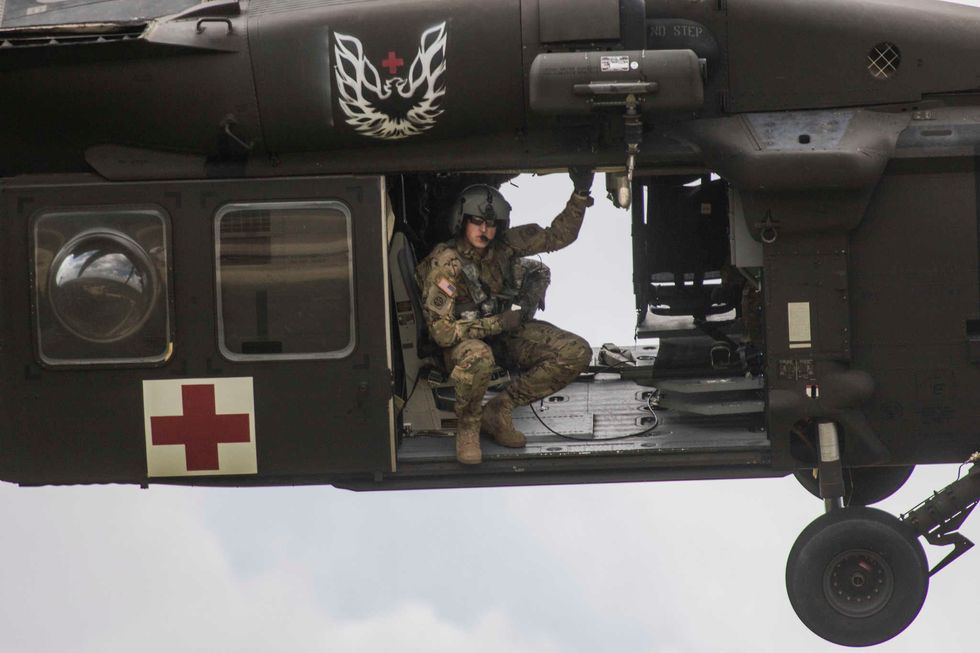 U.S. Army photo by Staff Sgt. Christopher Freeman
A U.S. Army Reserve military police Soldier shoots an M240B machine gun during night fire qualification at Fort Hunter Liggett, California, May 3, 2016.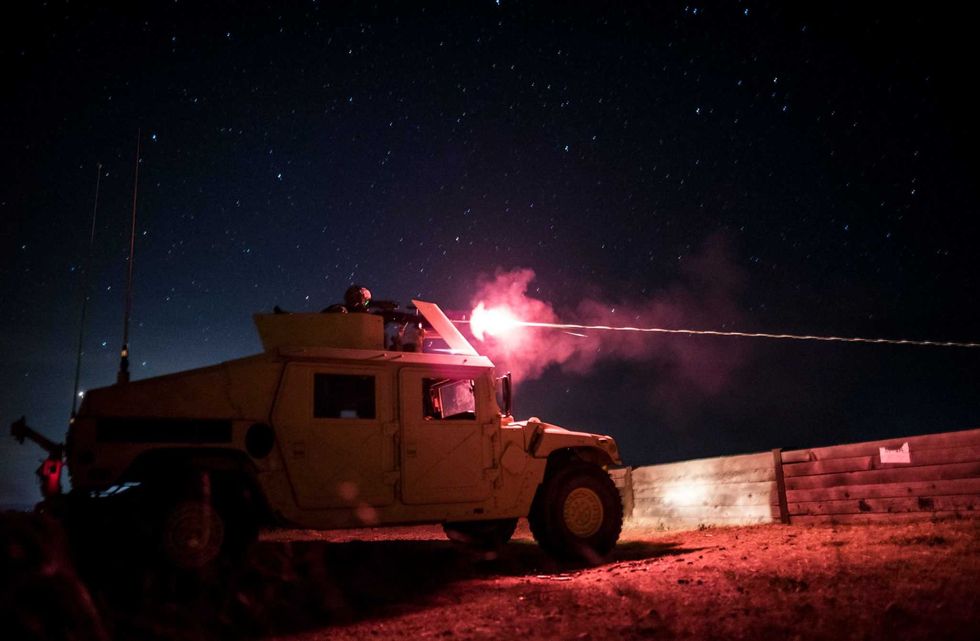 U.S.Army photo by Master Sgt. Michel Sauret
NAVY:
MEDITERRANEAN SEA (May 5, 2016) Sailors participate in a low light small arms gun shoot aboard the guided-missile destroyer USS Porter (DDG 78) May 5, 2016. Porter is conducting a routine patrol in the U.S. 6th Fleet area of operations in support of U.S. national security interests in Europe.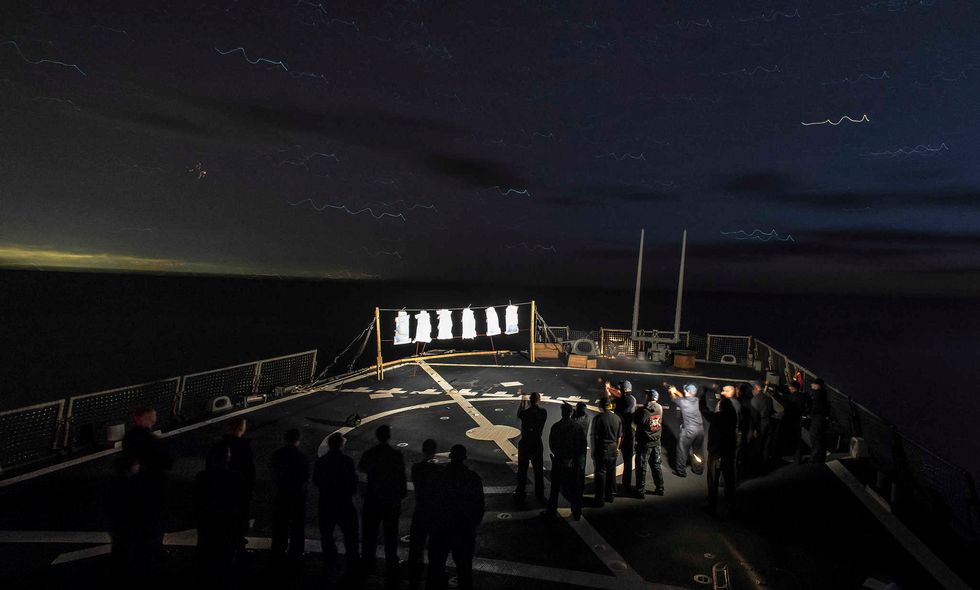 U.S. Navy Photo by Mass Communication Specialist 3rd Class Robert S. Price
PORT EVERGLADES, Fla. (May 3, 2016) Sailors from USS Bainbridge (DDG 96) attempt to stop a flood using multiple plugging techniques during the Damage Control Olympics held during Fleet Week. The event provides an opportunity for the citizens of South Florida to witness firsthand the latest capabilities of today's maritime services and gain a better understanding of how the sea services support the maritime strategy and national defense of the United States. The Navy, Marine Corps, and Coast Guard are war fighters first who train to be ready to operate forward to preserve peace, protect commerce, and deter aggression through forward presence.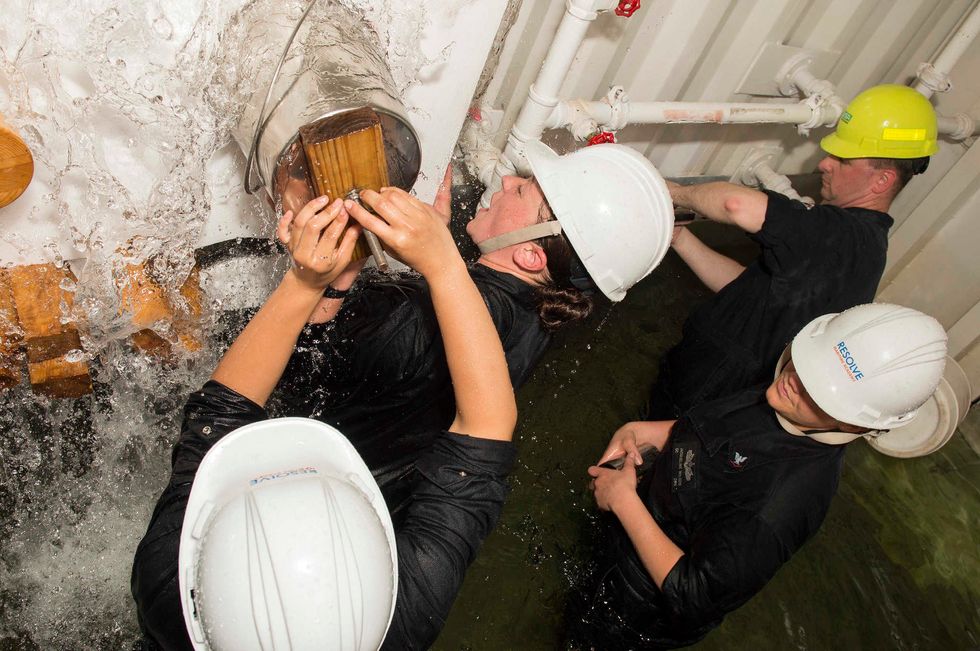 U.S. Navy photo by Mass Communication Specialist 3rd Class Shelby Tucker
MARINE CORPS:
An MV-22B assigned to Marine Tilitrotor Squadron-165 (VMM-165), Marine Air Group (MAG 16), 3d Marine Aircraft Wing (3d MAW) takes off during Wildland Firefighting Exercise at Marine Corps Base Camp Pendleton, San Diego Calif, on May 5, 2016. Wildland Firefighting Exercise 2016 is part of an annual training exercise to simulate the firefighting efforts by aviation and ground assets from the Navy, Marine Corps, San Diego County and CAL Fire. This event is aimed at bringing awareness to this joint capability while also exercising the pilots and operators who conduct firefighting missions.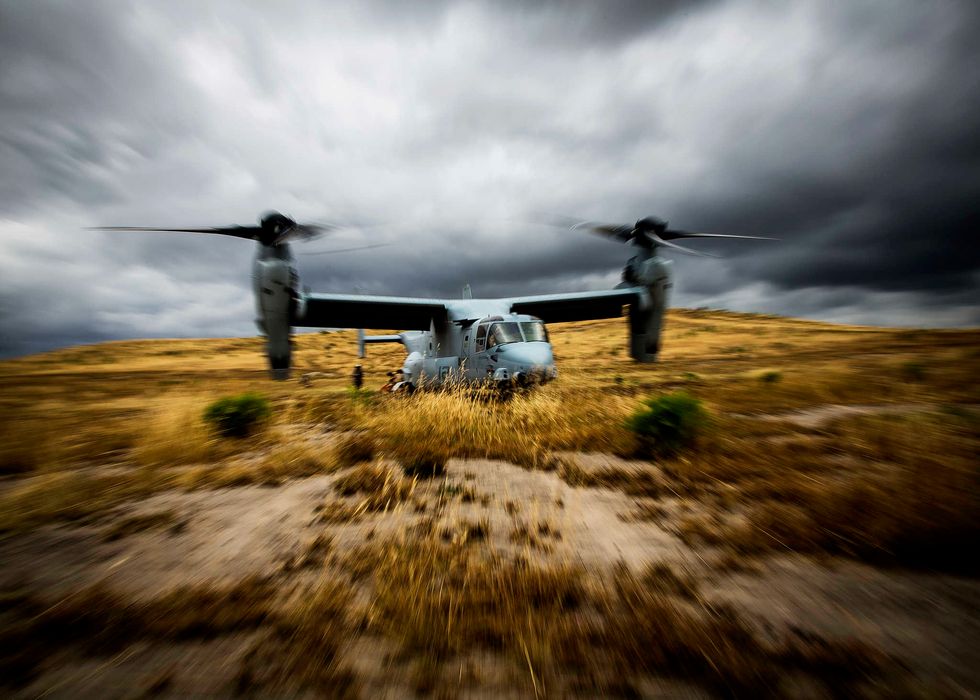 U.S. Marine Corps photo by Lance Cpl. Jeremy L. Laboy
Marines assigned to 3rd Battalion, 3rd Marine Regiment, board a CH-53E Super Stallion helicopter assigned to Marine Heavy Helicopter Squadron 463 for extraction from Landing Zone Canes, Hawaii, April 29, 2016. HMH-463 conducted personnel extraction and insertion in support of 3rd Battalion, 3rd Marine Regiment during their Marine Corps Combat Readiness Evaluation.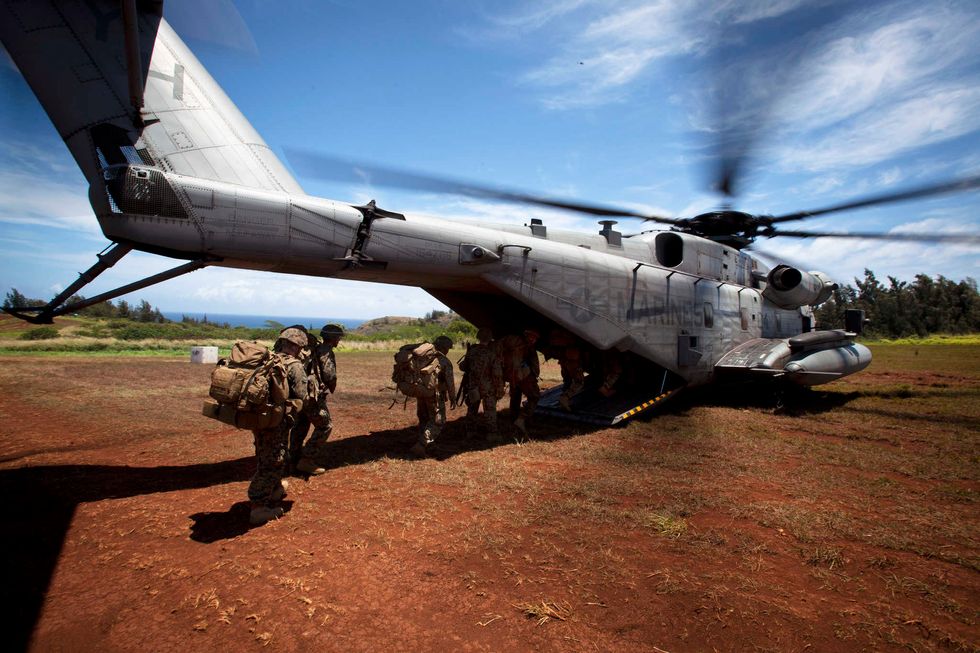 U.S. Marine Corps photo by Lance Cpl. Julian A. Temblador
COAST GUARD:
William Porter, a Houston, Texas native, gets his head shaved as part of his transformation from civilian volunteer to Coast Guardsman at Coast Guard Training Center Cape May, N.J.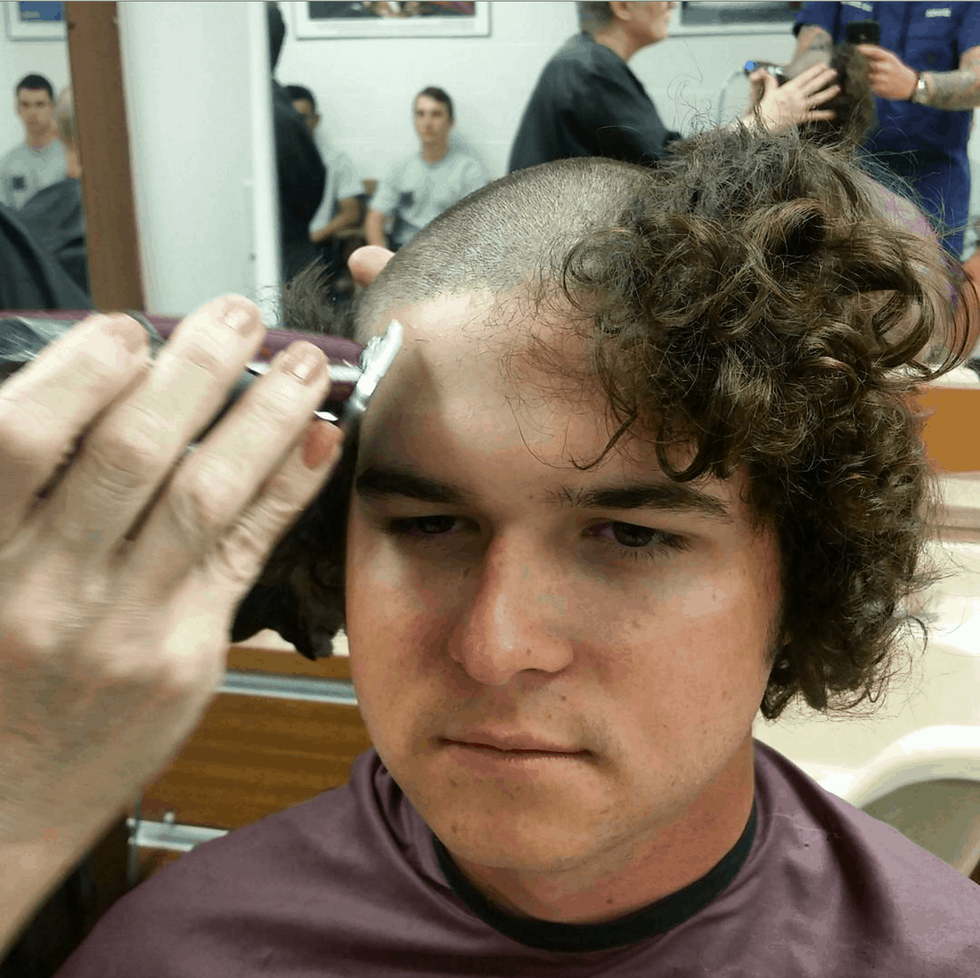 U.S. Coast Guard photo
Long hours and a strenuous work routine are the cost of maintaining constant readiness. Halibut family members wave goodbye as the crew leaves for patrol.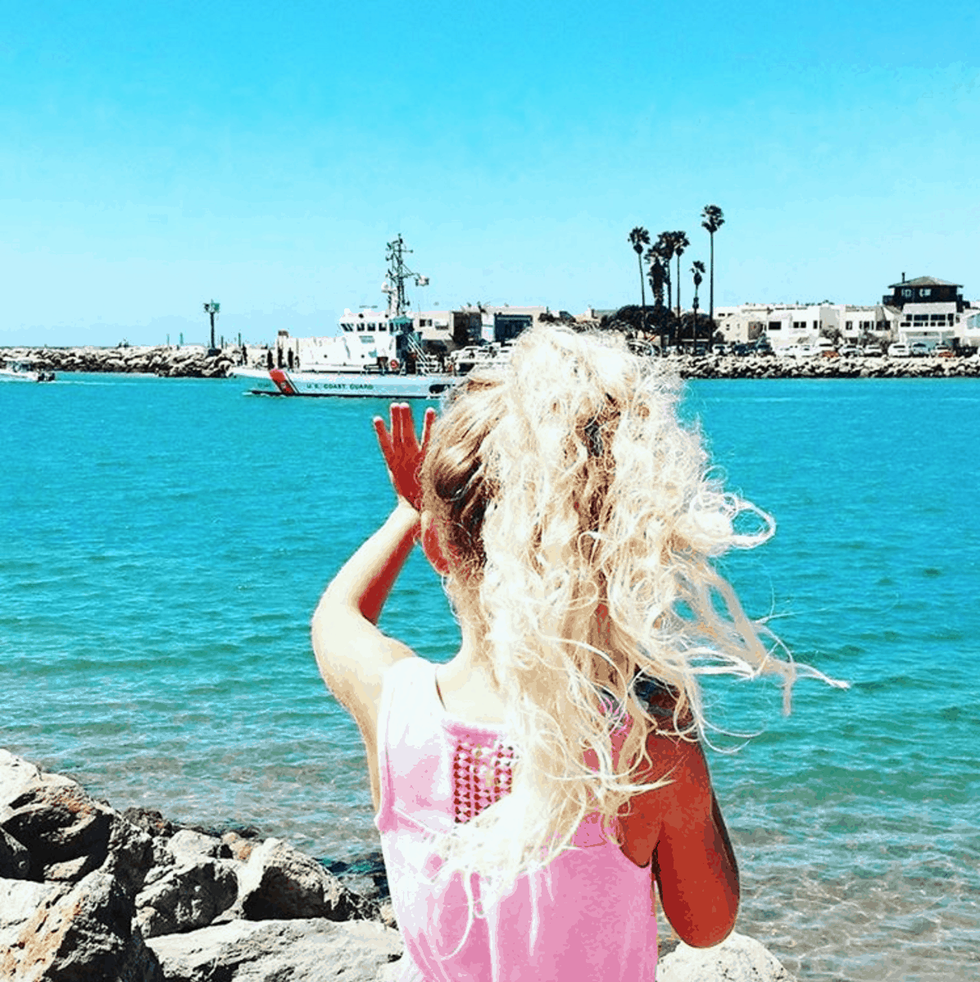 U.S. Coast Guard photo