Articles
November 12, 2016 08:00:00 EST
The military has very talented photographers in the ranks, and they constantly attempt to capture what life as a service member is like during training and at war. Here are the best military photos of the week:
---
AIR FORCE:
National VFW Honor Guard in dress whites.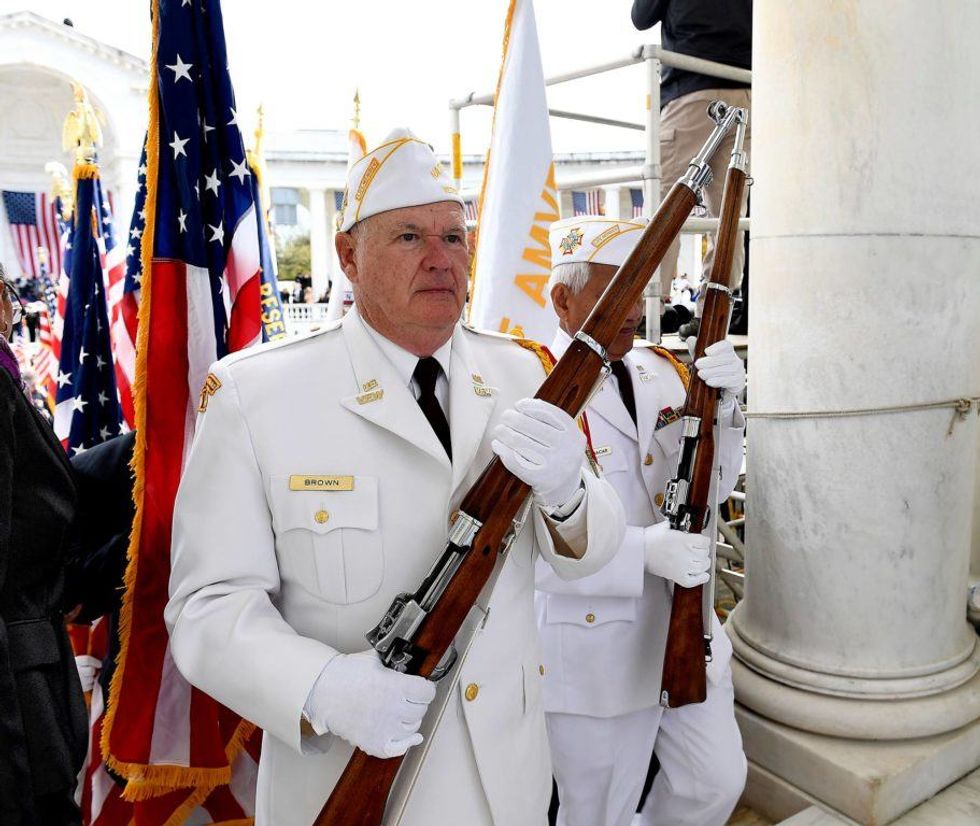 U.S. Air Force photo
Airmen in their dress blues during a Veterans Day ceremony.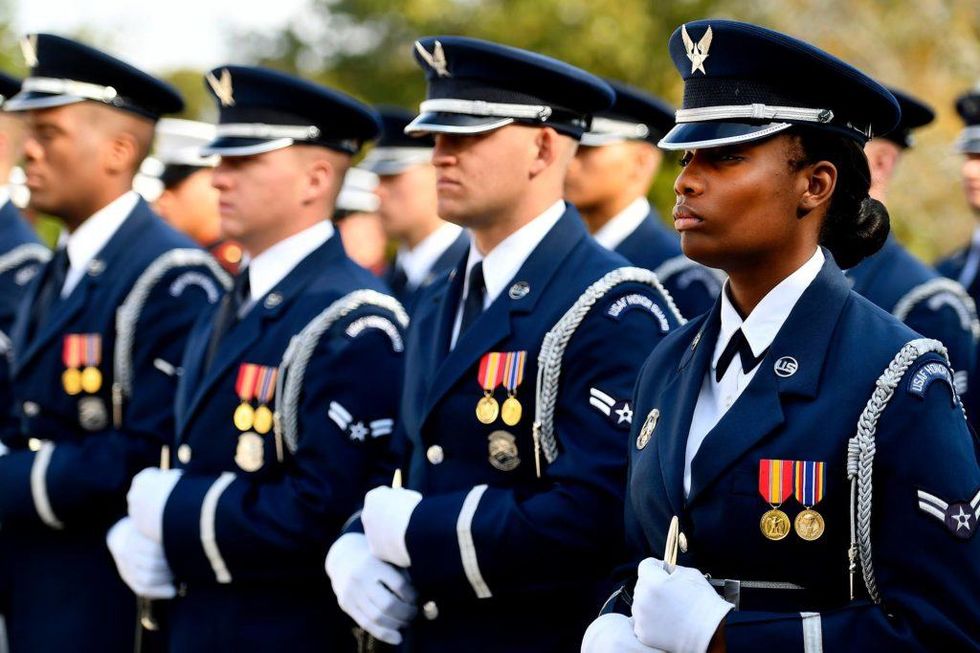 U.S. Air Force photo
ARMY:
Soldiers assigned to 10th Special Forces Group, maneuver through a shooting range during a weapons training exercise at the Panzer Range Complex, Boeblingen, Germany, Nov. 08, 2016.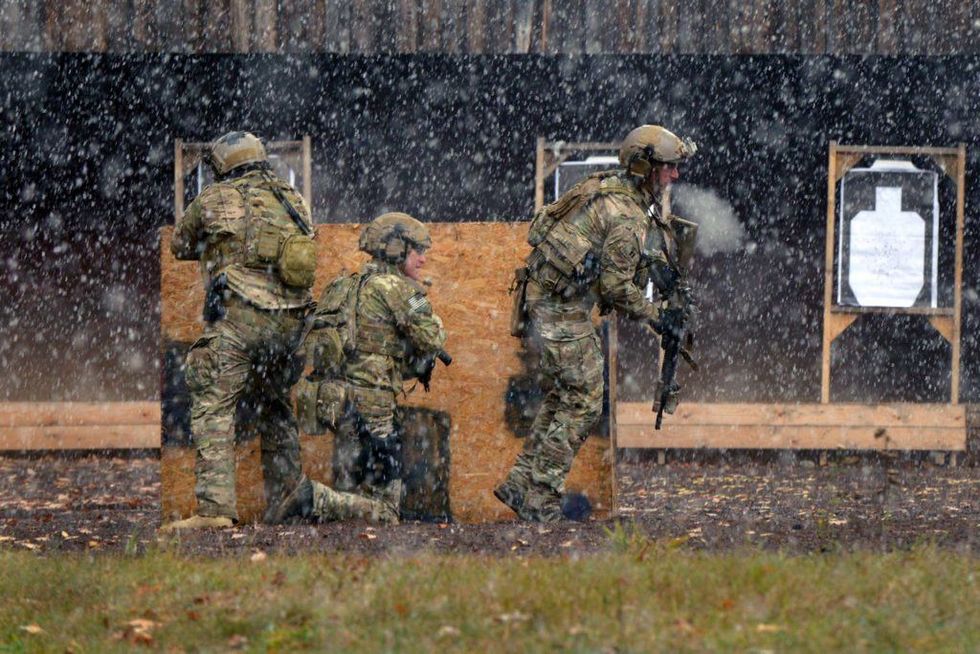 U.S. Army photo by Visual Information Specialist Jason Johnston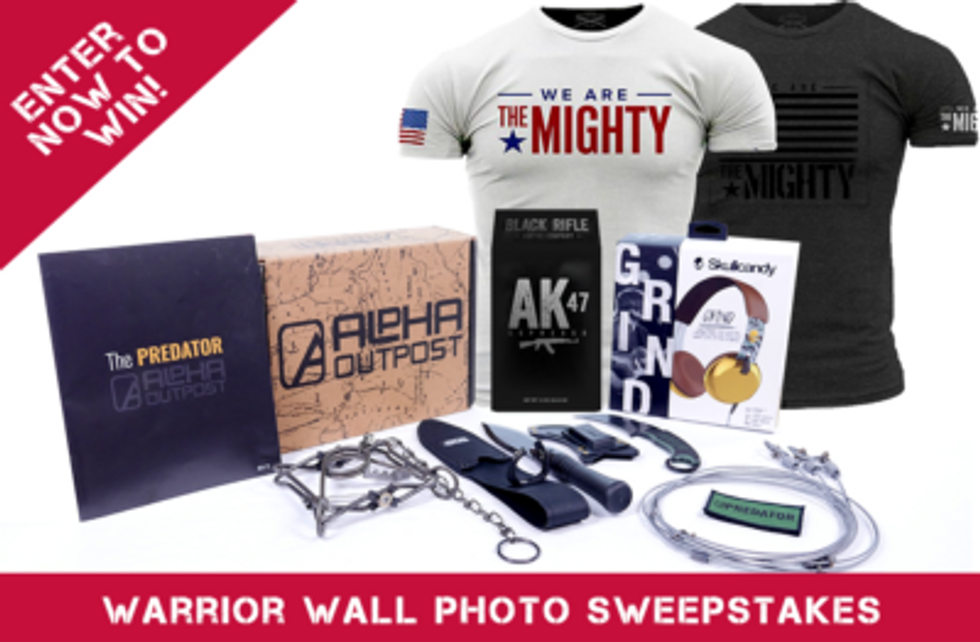 Free to enter. 5 will win. Ends November 30, 2016
A US Army Golden Knights Soldier lands after jumping into the Girls' Science and Engineering Day at UAHuntsville in Huntsville, Ala., Nov. 5, 2016.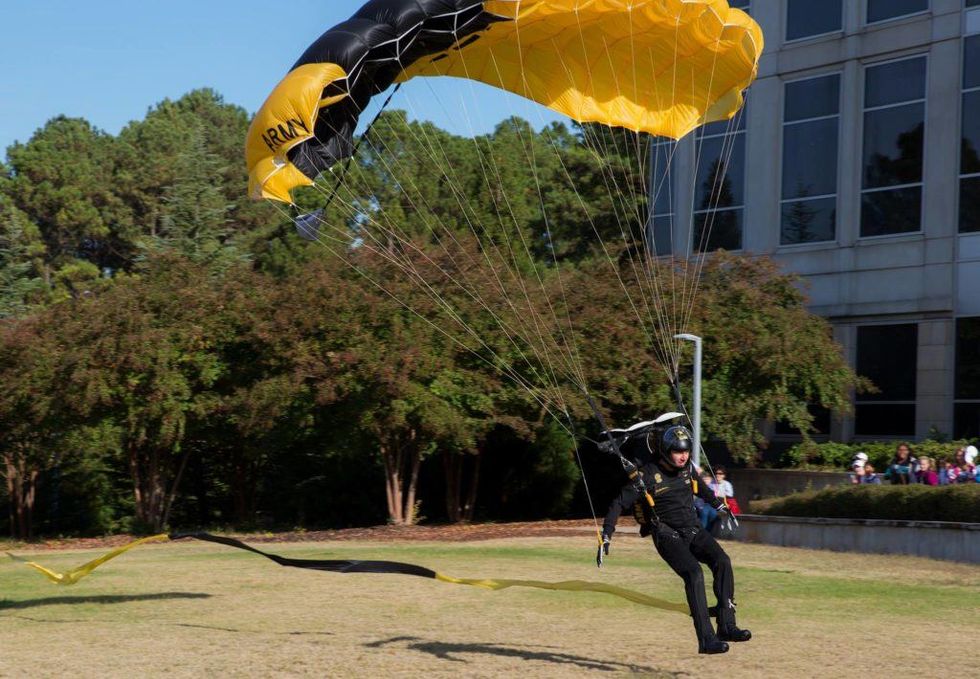 U.S. Army photo
NAVY:
PEARL HARBOR (Nov. 3, 2016) Sailors aboard the guided-missile destroyer USS Decatur (DDG 73) render honors to the Battleship Missouri Memorial as Decatur prepares to moor at Joint Base Pearl Harbor-Hickam. Decatur, along with guided-missile destroyers USS Momsen (DDG 92) and USS Spruance (DDG 111) are deployed in support of maritime security and stability in the Indo-Asia-Pacific as part of a U.S. 3rd Fleet Pacific Surface Action Group (PAC SAG) under Commander, Destroyer Squadron 31 (CDS 31).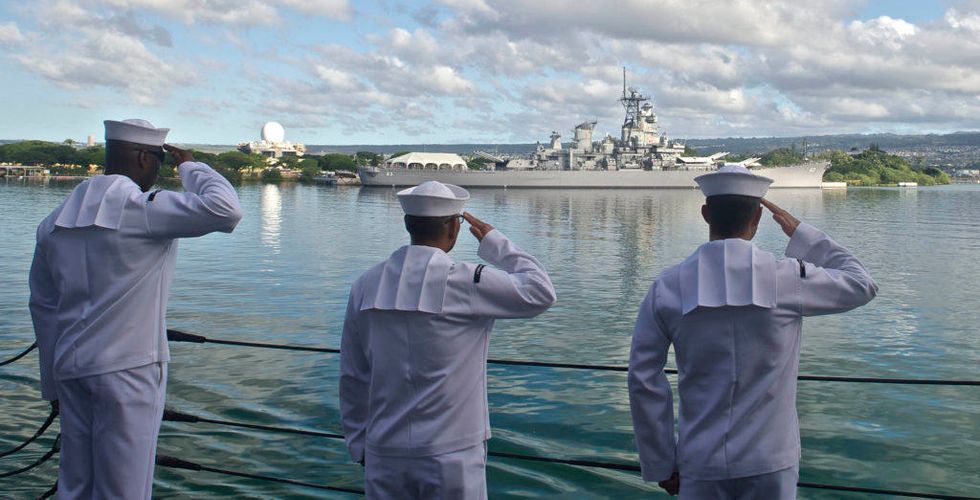 U.S. Navy photo by Petty Officer 3rd Class Gerald Dudley Reynolds
PACIFIC OCEAN (Nov. 11, 2016) A Helicopter Maritime Strike Squadron (HSM) 78 MH-60R Sea Hawk helicopter prepares to take off from the aircraft carrier USS Carl Vinson (CVN 70) flight deck. Carl Vinson is currently underway conducting Composite Training Unit Exercise (COMPTUEX) in preperation for an upcoming deployment.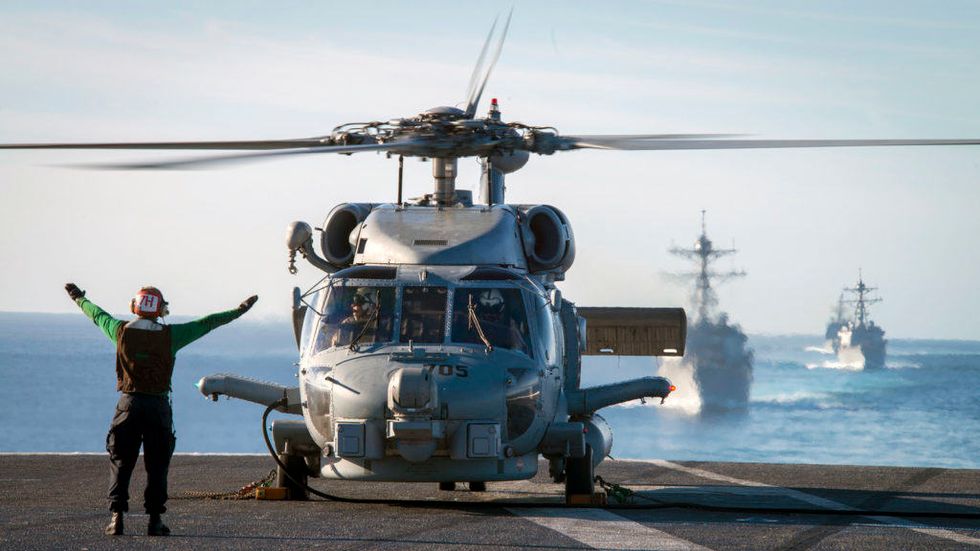 U.S. Navy Photo by Petty Officer 3rd Class Sean M. Castellano
MARINE CORPS:
The sun sets over the USS Green Bay (LPD-20) at White Beach Naval Base, Okinawa, Japan, August 21, 2016.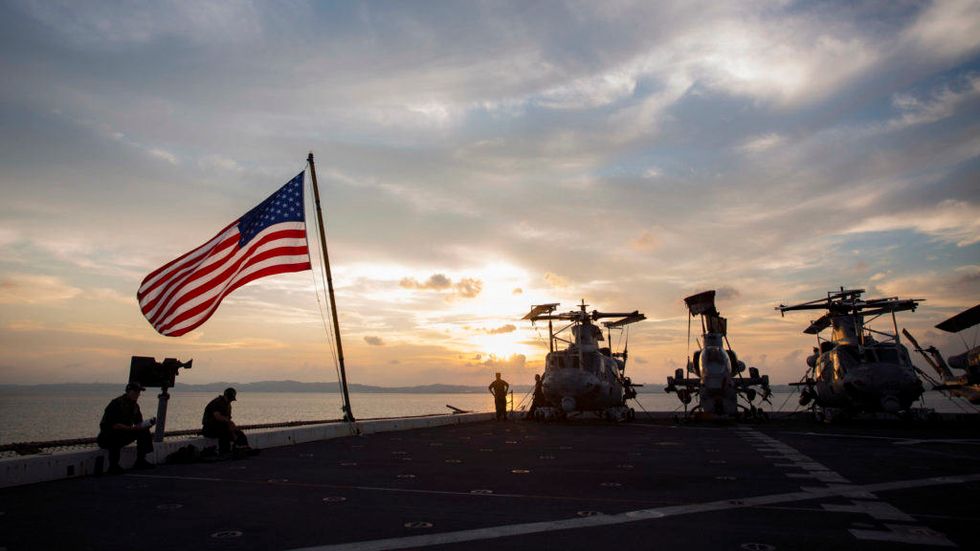 U.S. Marine Corps photo by Cpl. Darien J. Bjorndal
Marines with the Maritime Raid Force, 11th Marine Expeditionary Unit, conduct combat marksmanship and close-quarters tactics training during a "deck shoot" aboard the USS Makin Island, while afloat in the Pacific Ocean, Nov. 2, 2016.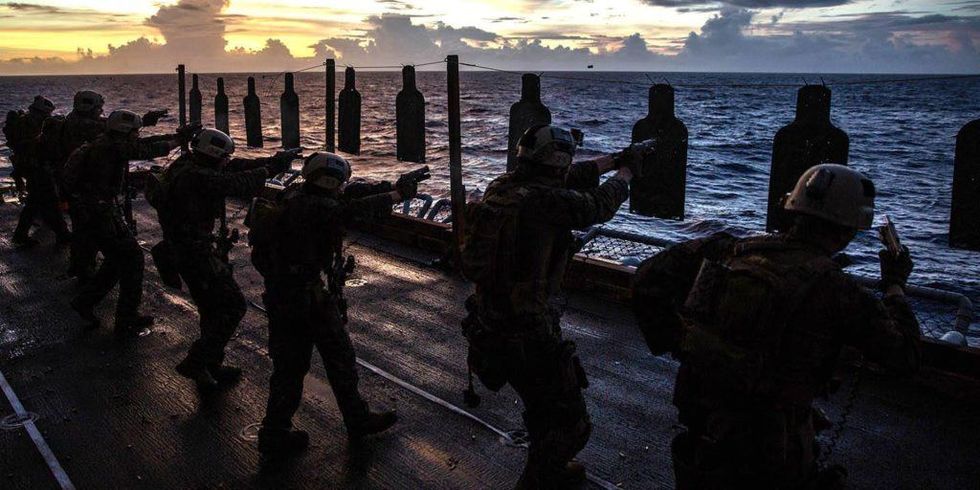 U.S. Marine Corps photo by Cpl. Devan Gowans
COAST GUARD:
Servicemembers from all five branches participated in the New York Giants vs. the Philadelphia Eagles Military Appreciation Game at MetLife Stadium today. More than 100 service members from the New York and New Jersey area volunteered to represent their branch of service during the pre-game and halftime ceremonies.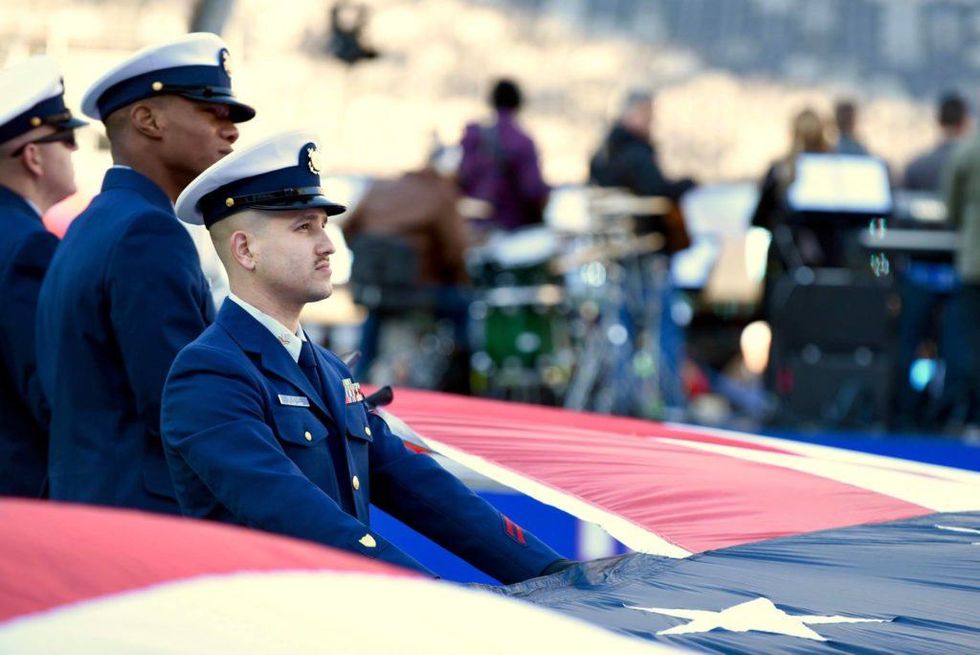 U.S. Coast Guard photo by Petty Officer 2nd Class Sabrina Clarke
They say practice makes perfect, which is exactly why our crews are always training. A crewmember aboard the USCG Cutter Active, a 210-foot medium-endurance cutter homeported in Port Angeles, Wash., fires a 25mm gun during underway training.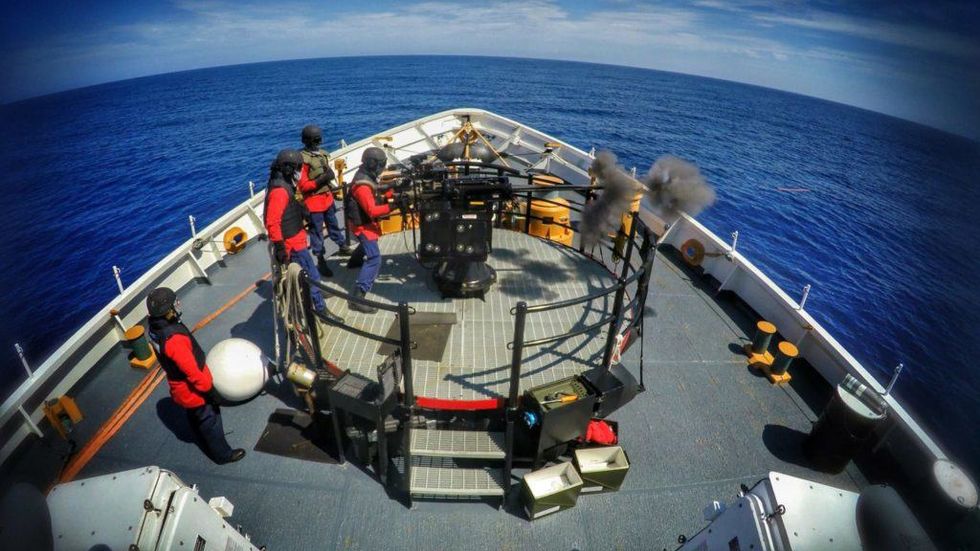 U.S. Coast Guard photo
Photo submission:
Lt. Colonel Shannon Stambersky takes a selfie with her UCLA Reserve Officers' Training Corps (ROTC) cadets after completion of an annual field training exercise (FTX) at Camp Pendleton and filming of the first ROTC Virtual Reality recruitment video.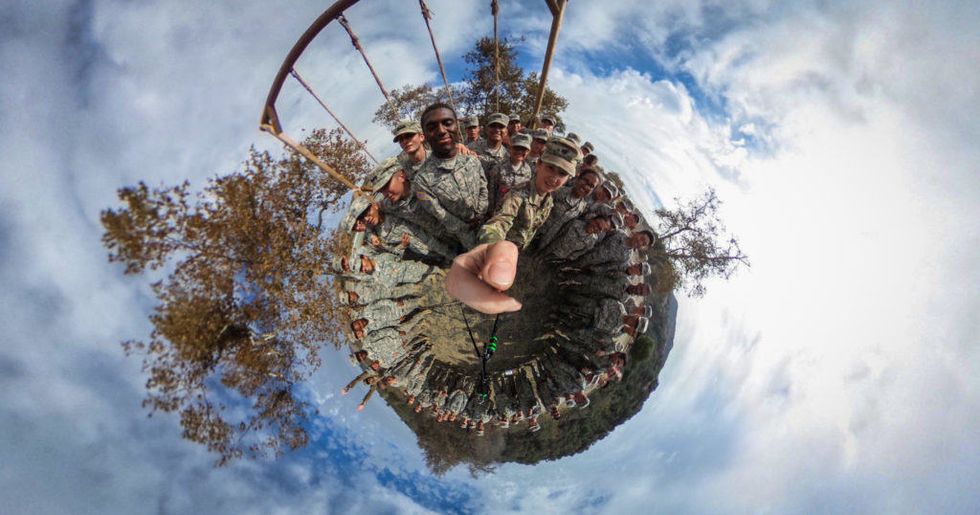 Photo by Sgt. Dae McDonald, Sgt. Derek Sherwood, Brian L. Tan