Articles
December 24, 2016 08:00:00 EST
The military has very talented photographers in the ranks, and they constantly attempt to capture what life as a service member is like during training and at war. Here are the best military photos of the week:
---
AIR FORCE:
The U.S. Air Force Honor Guard Drill Team performs during halftime at the Verizon Center in Washington, D.C., Dec. 14, 2016. The routine was part of the Washington Wizards' Air Force night, where the team took on the Charlotte Hornets.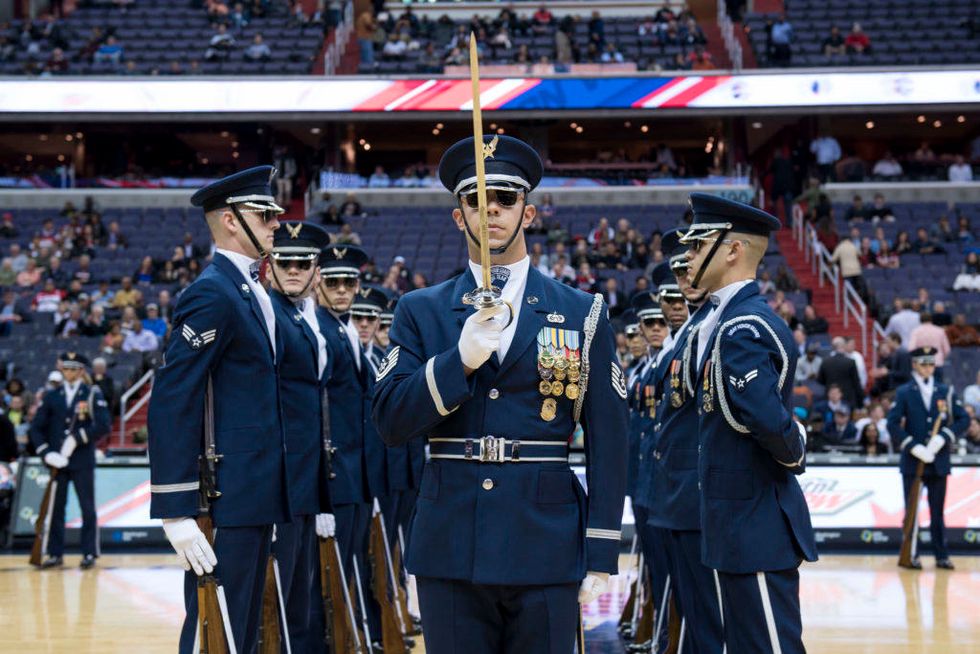 U.S. Air Force photo by Senior Airman Ryan J. Sonnier
A U.S. Air Force F-22 Raptor passes over the Tyndall Air Force Base, Fla., flightline during a morning training mission Dec. 14, 2016. Six Air Force installations contributed air and ground support assets to the 2016 Checkered Flag 17-1 and Combat Archer 17-3 large scale aerial total force integration exercise.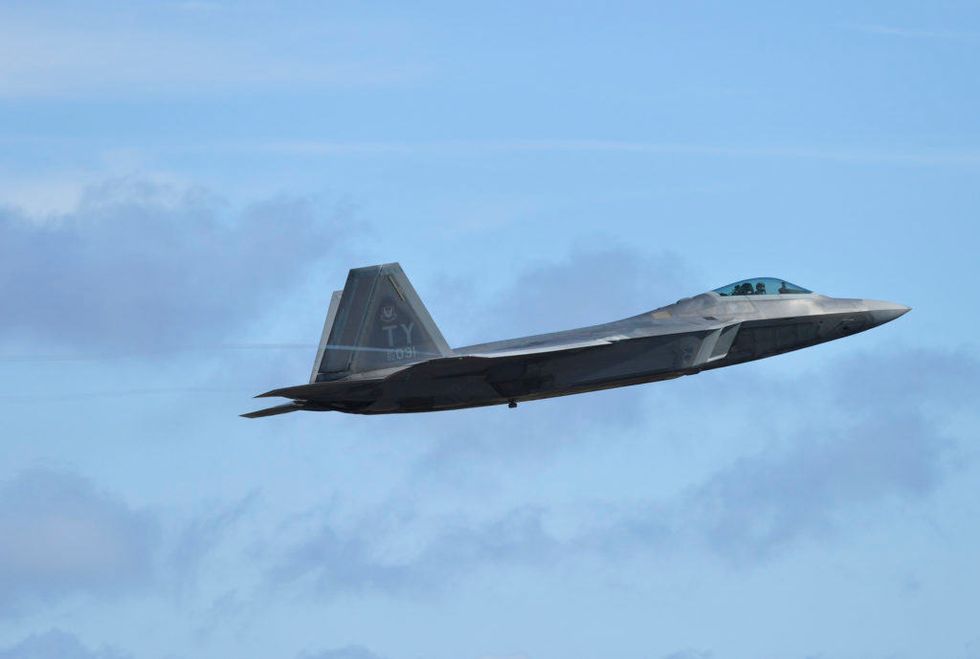 U.S. Air Force photo by Tech. Sgt. Javier Cruz
ARMY:
1st Brigade, 1st Armored Division Soldiers carry a simulated casualty to the casualty collection point during a training rotation at the National Training Center/Fort Irwin.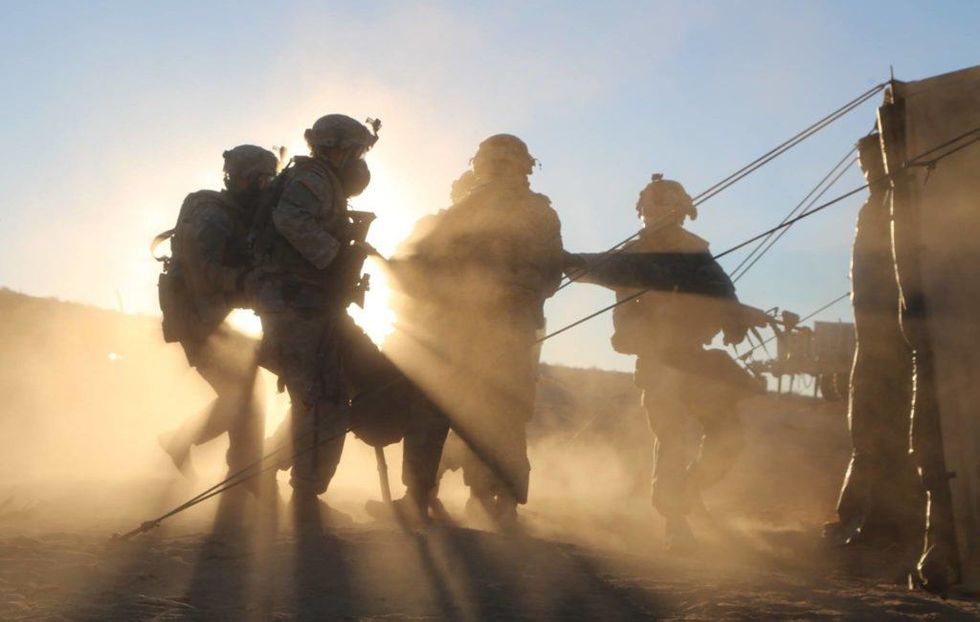 U.S. Army photo by Sgt. Nikayla Shodeen
A U.S. Soldier with Scout Platoon 2D Battalion (Airborne) 503D Infantry "The Rock" repels down a steep ravine during a German Mountain Warfare Training in Seinsbach Gorge, Mittenwald, Germany, Dec. 8, 2016.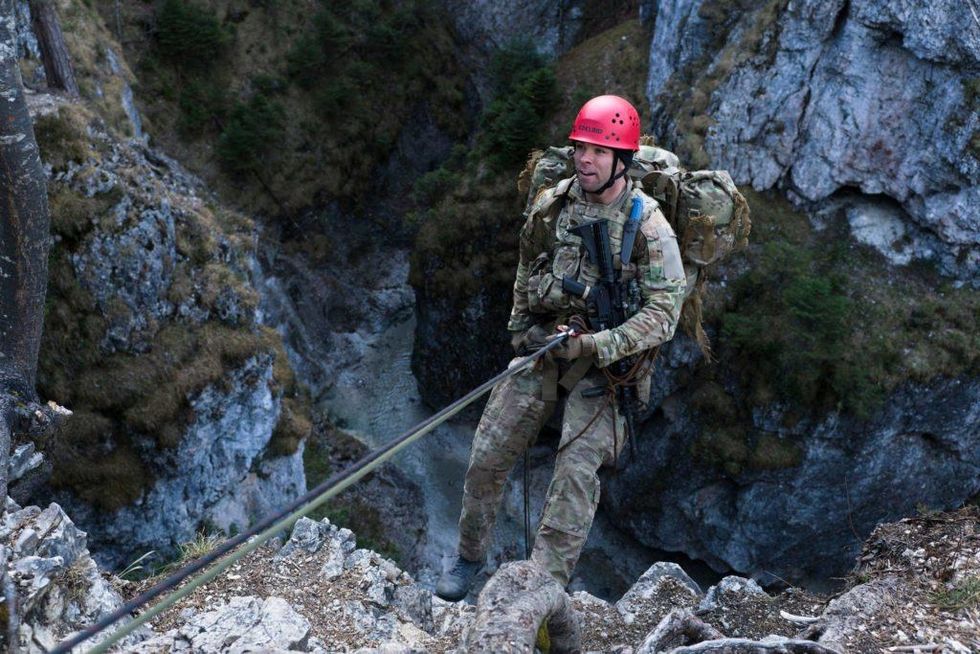 U.S. Army photo by Spc. Elliott Banks
NAVY:
YOKOSUKA, Japan (Dec. 20, 2016) Sailors assigned to the Navy's only forward-deployed aircraft carrier, USS Ronald Reagan (CVN 76), deliver gifts to Shakai Fukushi Kotobuki childcare center during a community relations project. Twenty-five Ronald Reagan Sailors and multiple Sailors' family members travelled to the center in Yokohama to interact with the children and celebrate the holiday season. Ronald Reagan, the flagship of Carrier Strike Group 5, provides a combat-ready force that protects and defends the collective maritime interests of its allies and partners in the Indo-Asia-Pacific region.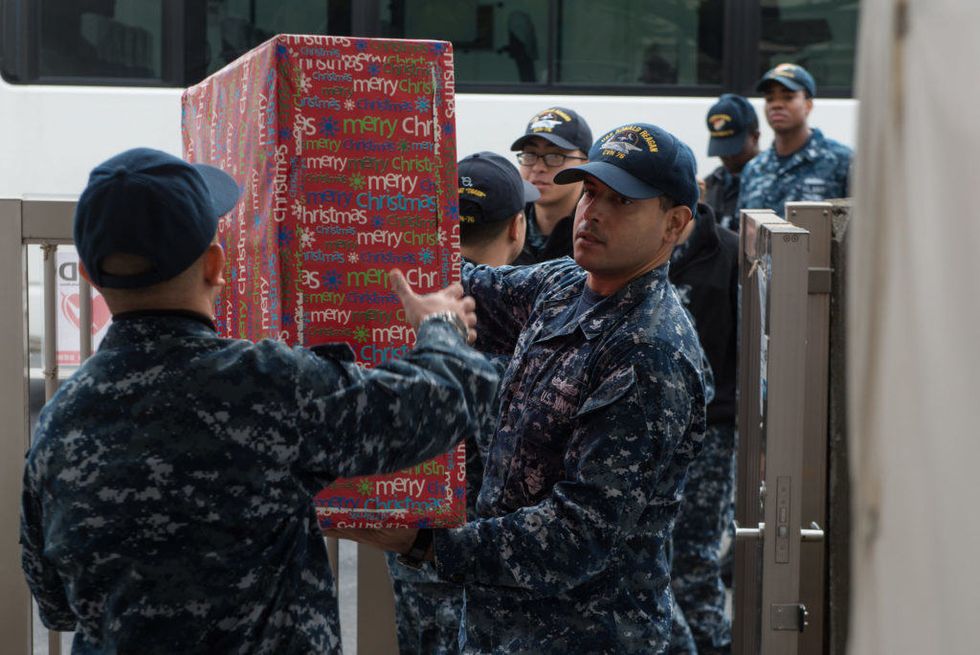 U.S. Navy photo by Petty Officer 2nd Class Nathan Burke
ATLANTIC OCEAN (Dec. 19, 2016) An AV-8B Harrier from the 22nd Marine Expeditionary Unit (22nd MEU) launches off the flight deck of the amphibious assault ship USS Wasp (LHD 1). Wasp is deployed as part of the Wasp Amphibious Ready Group, which is offloading the 22nd MEU after completing a six-month deployment to the U.S. 5th and 6th Fleet areas of operations.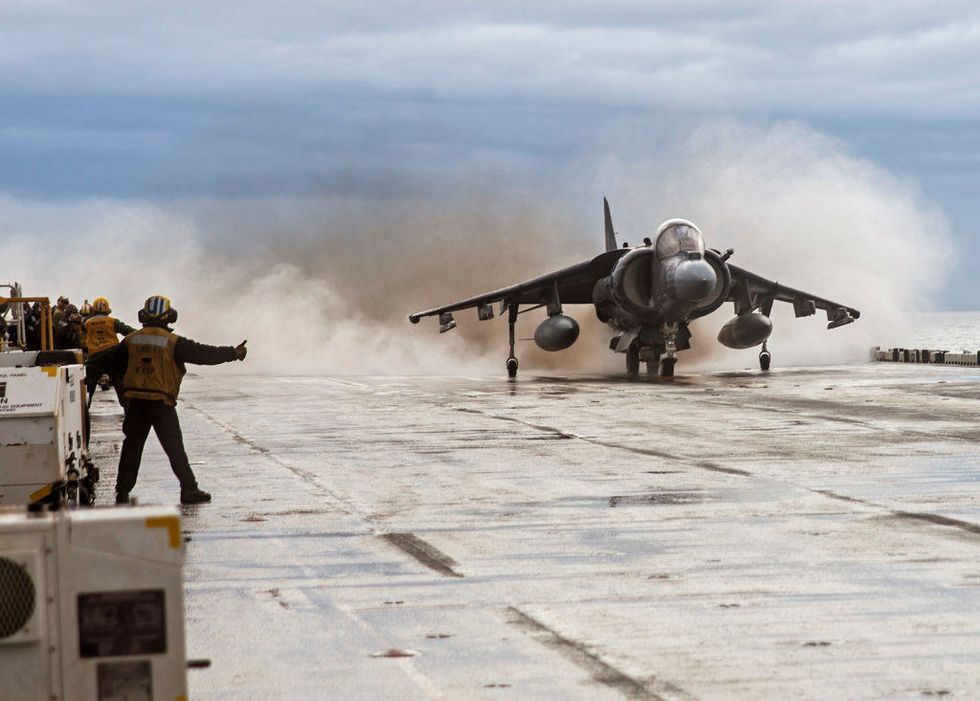 U.S. Navy photo by Seaman Levingston Lewis
MARINE CORPS:
GULF OF ADEN (Dec. 17, 2016) U.S. Marines assigned to the 2nd Platoon, Maritime Raid Force, 11th Marine Expeditionary Unit (11th MEU), position their rigid-hull inflatable boat to conduct a visit, board, search and seizure (VBSS) mission as part of Exercise Alligator Dagger, Dec. 17. The unilateral exercise provides an opportunity for the Makin Island Amphibious Ready Group and 11th MEU to train in amphibious operations within the U.S. 5th Fleet area of responsibility. The 11th MEU is currently supporting U.S. 5th Fleet's mission to promote and maintain stability and security in the region.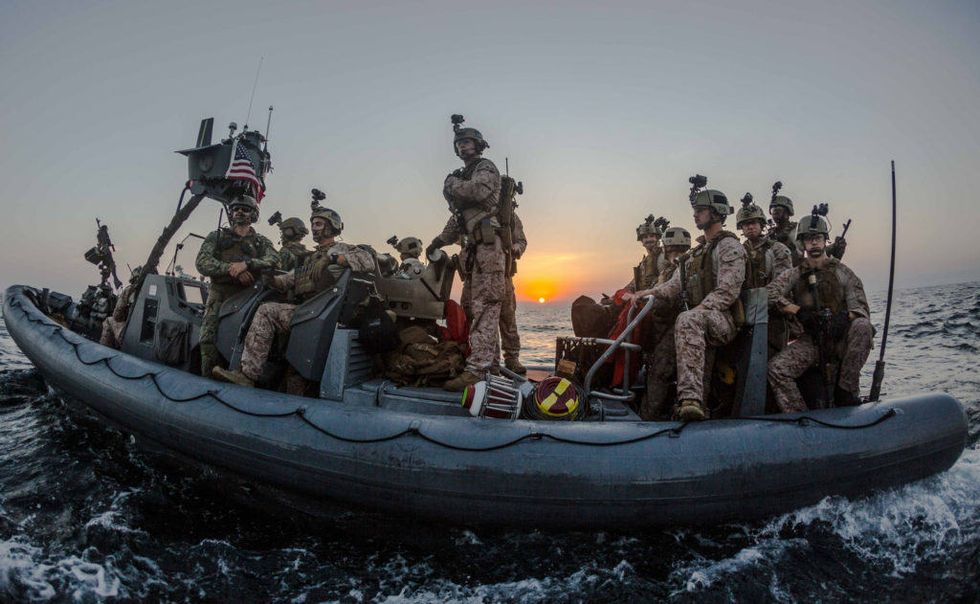 U.S. Marine Corps photo by Gunnery Sgt. Robert B. Brown Jr.
Infantry squad leaders assigned to School of Infantry West, Detachment Hawaii, provide security during the Advanced Infantry Course aboard Kahuku Training Area, September 21, 2016.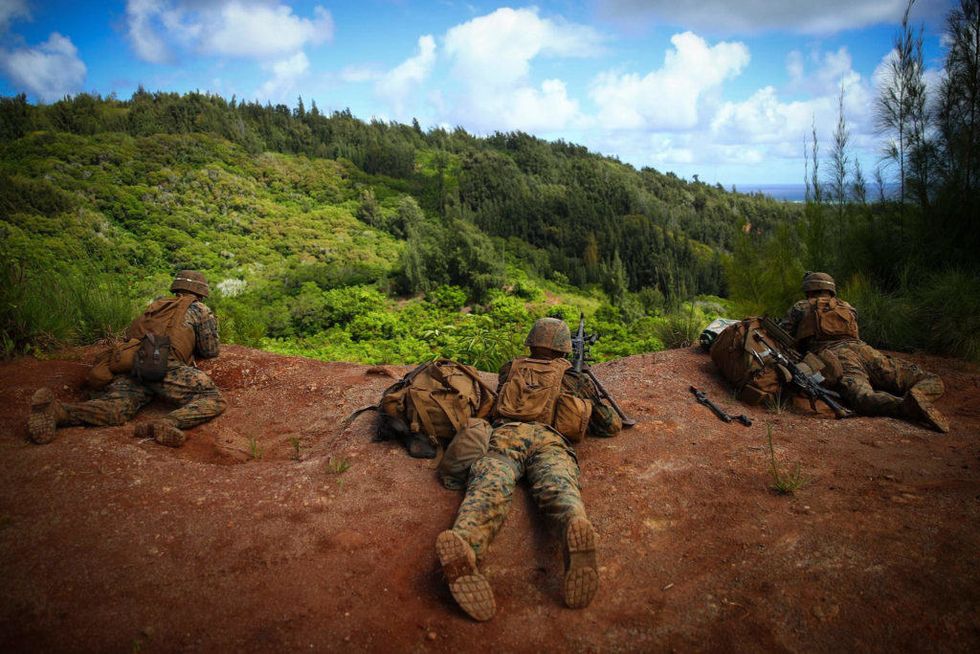 U.S. Marine Corps Photo by Cpl. Aaron S. Patterson
COAST GUARD:
The crew of the Coast Guard Cutter Alder clears ice from the deck of the cutter as the ship transits through Lake Superior Dec. 14, 2016. The Alder and other Great Lakes Coast Guard cutters commenced Operation Taconite, the Coast Guard's largest domestic ice-breaking operation, encompassing Lake Superior, the St. Mary's River, the Straits of Mackinac and Lake Michigan, Dec. 19, 2016.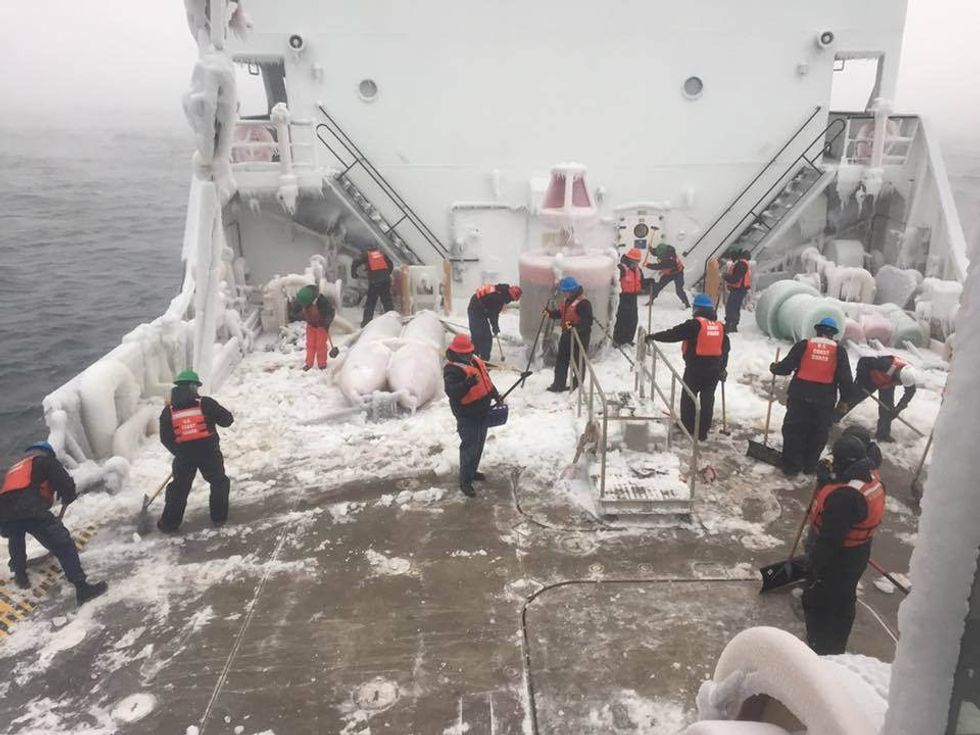 U.S. Coast Guard photo
Capt. Malcolm McLellan, deputy commander of Sector Houston-Galveston, presides over the swearing in of new Coast Guard recruits during the halftime event at the Armed Forces Bowl in Fort Worth, Texas, Dec. 23, 2016. The Navy Midshipmen played the Louisiana Tech Bulldogs in the Lockheed Martin Armed Forces Bowl at the Amon G. Carter Stadium.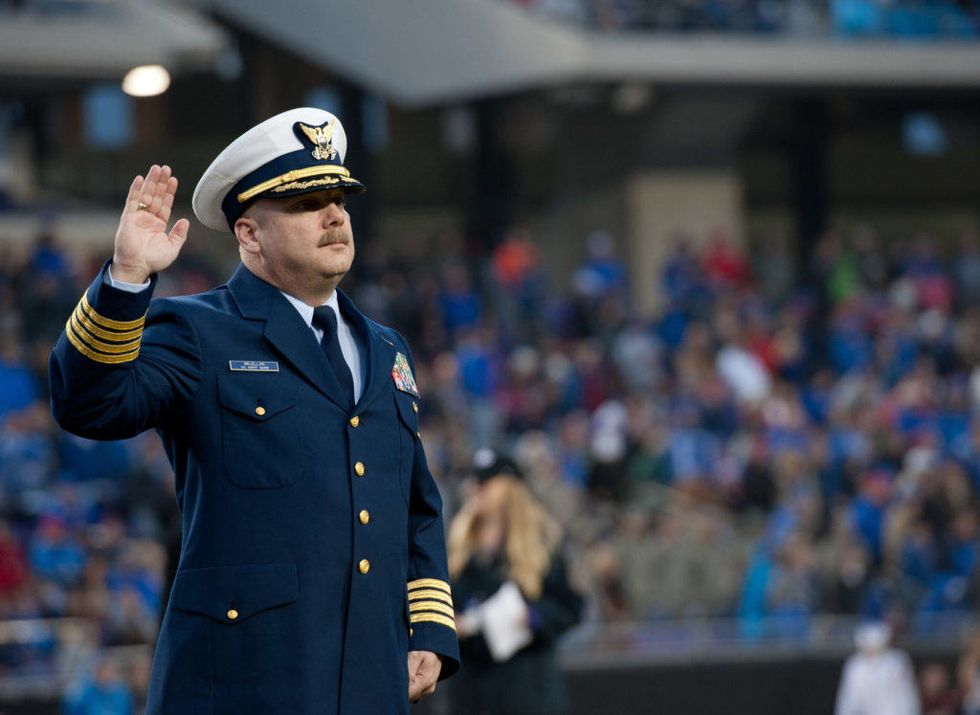 U.S. Coast Guard photo by Petty Officer 3rd Class Dustin R. Williams