Articles
May 13, 2020 15:59:00 EST
The U.S. Army Airborne School at Fort Benning, Georgia is where U.S. military members of all branches go to become military parachutists. The school is three weeks of intense physical drills, training on towers, and of course, "jumping out of a perfectly good airplane" five times to earn the coveted silver parachute badge (also known as "jump wings").
---
Here are 10 things Airborne students will encounter when going through Jump School:
1. Black Hats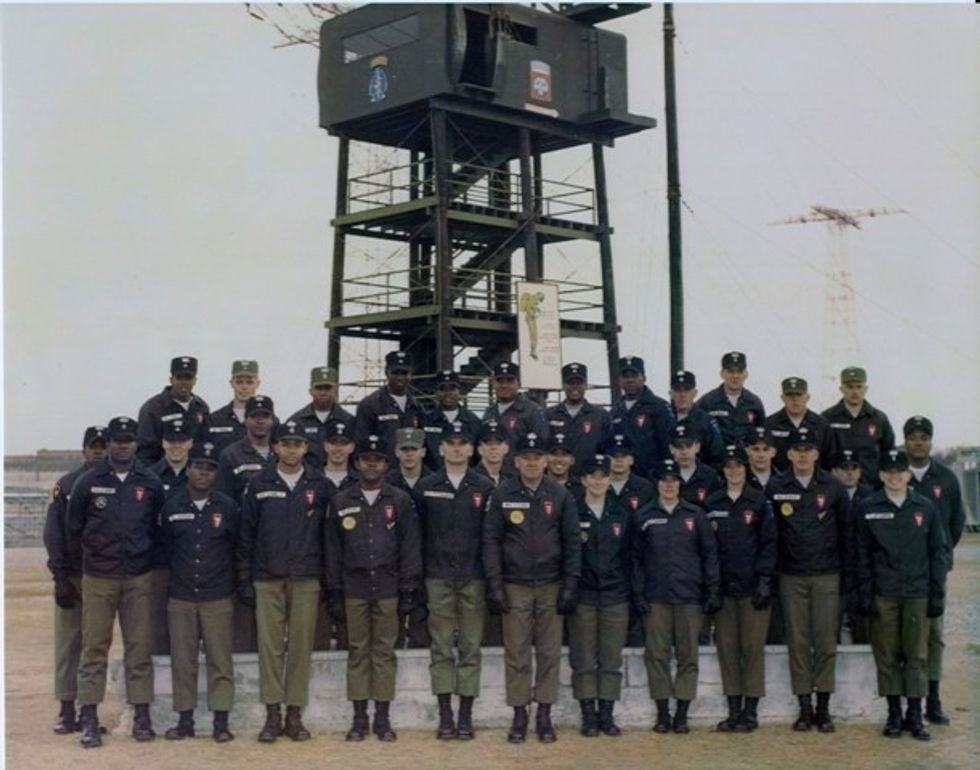 Airborne Instructors in 1977
An Airborne instructor's nametag may read "Jones" but students will address him or her as "Sergeant Airborne." New Airborne trainees are received by the school's instructors known as "Black Hats," because of their headgear, a simple black baseball cap with their rank and wings display on the cap.
The instructors are mostly Army personnel, but the Marine Corps Air Force, and Navy also provide instructors since the school is open to all eligible DOD service members. Black Hats are skilled parachutists who are responsible for training Airborne students, and they do with 'tough love.' They will make their students repeat physical drills and exercises over and over until they get it right.
No matter how exhausting, they won't stop until a student gets it right. They are doing it for the trainees own well-being.
2. The Airborne Shuffle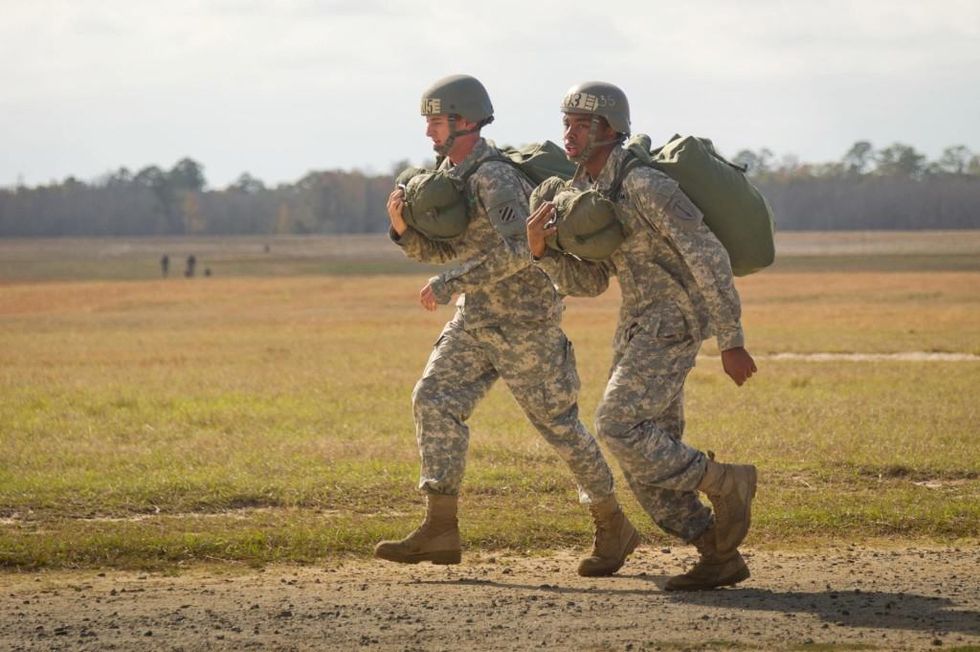 Army 2nd Lt. Nelson Lalli runs with an Airborne School classmate to report in after his first jump.
Not to be confused with the popular dance the 'Cupid shuffle' or the Chicago Bears Super Bowl shuffle, the Airborne shuffle is not a dance nor is it fun. This shuffle refers to the pace or speed of a formation run during Airborne school. It is typically about a 9-minute mile.
The shuffle is meant to build stamina, not speed. At Airborne School, trainees run everywhere especially in combat boots or with their equipment. The Airborne shuffle is also commonly known for the short choppy steps students take on the aircraft before the jump out, just like the cadence "Stand up, Hook up, Shuffle to the door."
3. Wearing Helmets all day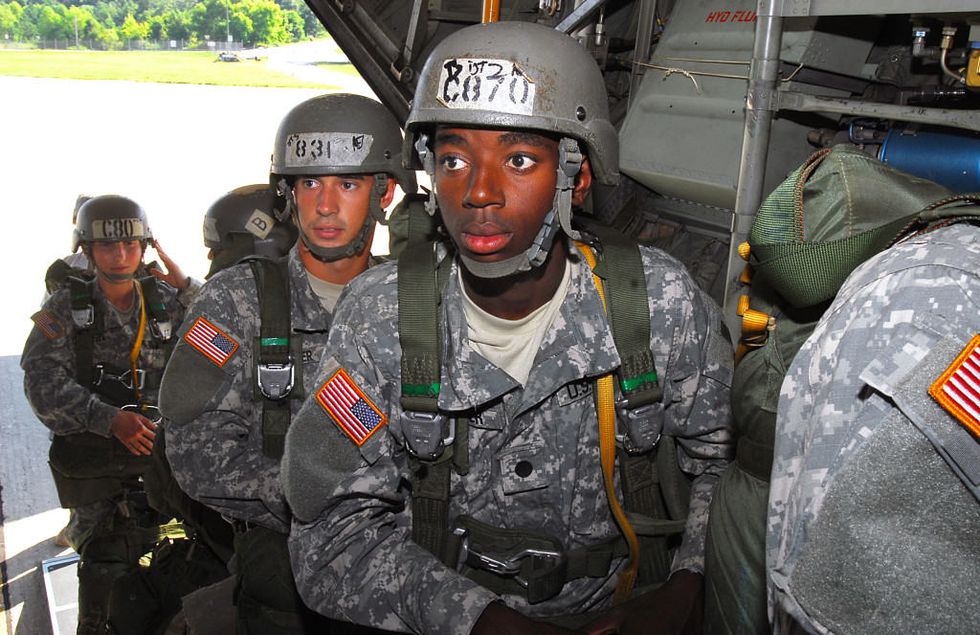 U.S. Army Cadet Bernard Wheeler (right) and U.S. Army Pvt. Daniel Shirer, both students with the U.S. Army Airborne School, board a C-130 for their first parachute jump with combat equipment at Fort Benning, Ga., July 21, 2009. "I was nervous, but you've got to be tough to be Airborne," Wheeler said, after successfully completing the jump. The students are in their final phase of parachute training, known as "jump week." They are assigned to Company B, 1st Battalion (Airborne), 507th Parachute Infantry Regiment. The company began with 525 students July 6, but only 424 made it to the final week. The students who remain are those who've "overcome their fears, worked hard and are determined to finish," said U.S. Army Capt. Winston Nabors, commander of Company B. The students graduate July 25, 2009. (U.S. Army photo by Kristin Molinaro)
At Jump School, aspiring paratroopers will wear their helmet everywhere they go. Students will run and train with it on every day. The chin strip and helmet pads will reek so bad after the first week of training that a squirt of Febreze is simply not enough to contain the smell of sweat and bacteria.
4. Falling all day
Airborne students will spend a lot of time hitting the ground during Jump School. Learning how to properly fall during a parachute landing is a core fundamental taught at the Basic Airborne Course. This is especially true when doing parachute landing fall (PLF) drills. Trainees will jump off platforms of different heights into large pits over and over until they get it right. Airborne students can expect to do hundreds of PLFs before they leave the school.
Along with PLFs, trainees will jump from tall towers like the 34-foot tower to learn proper aircraft exiting techniques and the iconic 250-foot tower, although not all Airborne class get to do the tower.
Just remember to "keep your feet and knees together!"
5. The smell of Bengay in the morning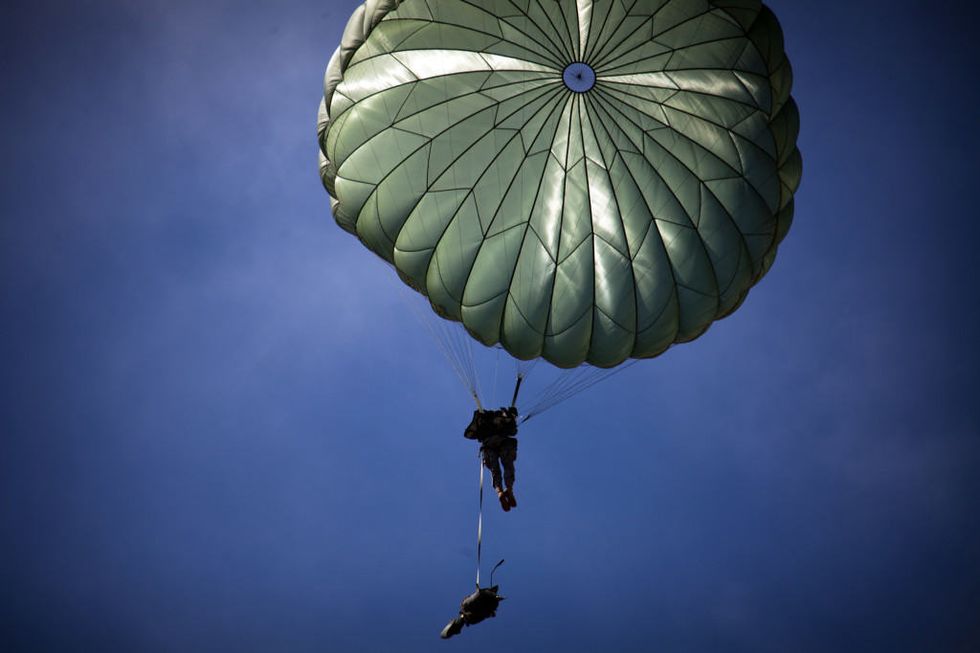 Week one, ground week, focuses on the proper landing fall techniques, emphasizing the importance of keeping feet and knees together during a landing to prevent injuries. (U.S. Marine Corps photo by Sgt. Kuande Hall)
Before long, the smell of Bengay, the over-the-counter analgesic cream used to relieve muscle and joint pain, will fill the barracks each morning to help students with their joint and muscle pain.
6. Swing Landing Trainer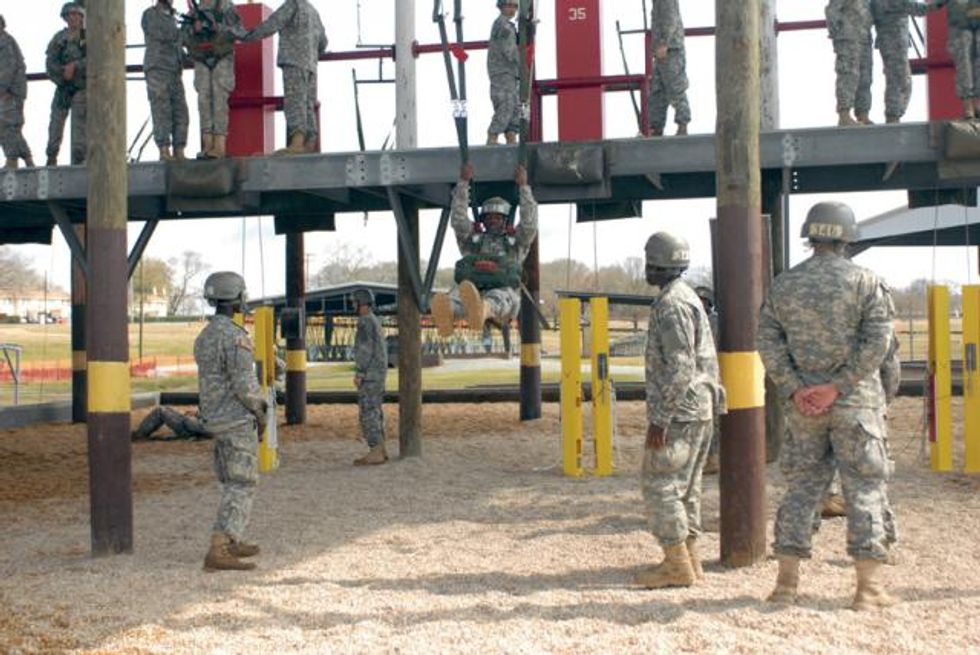 A student practices proper landing techniques on the Swing Landing Trainer.
The Swing Landing Trainer is not fun. Students are strapped into a harness to step off a platform and swing back and forth. The discomfort experienced on this device when swinging, especially for male students, is terrible. Students will continue to swing on the harness until they are released by the Black Hats. Trainees must perform several proper PLFs to pass this stage of training.
Most hit the ground like a stack of potatoes.
7. "Hurry up and wait" goes to a whole new level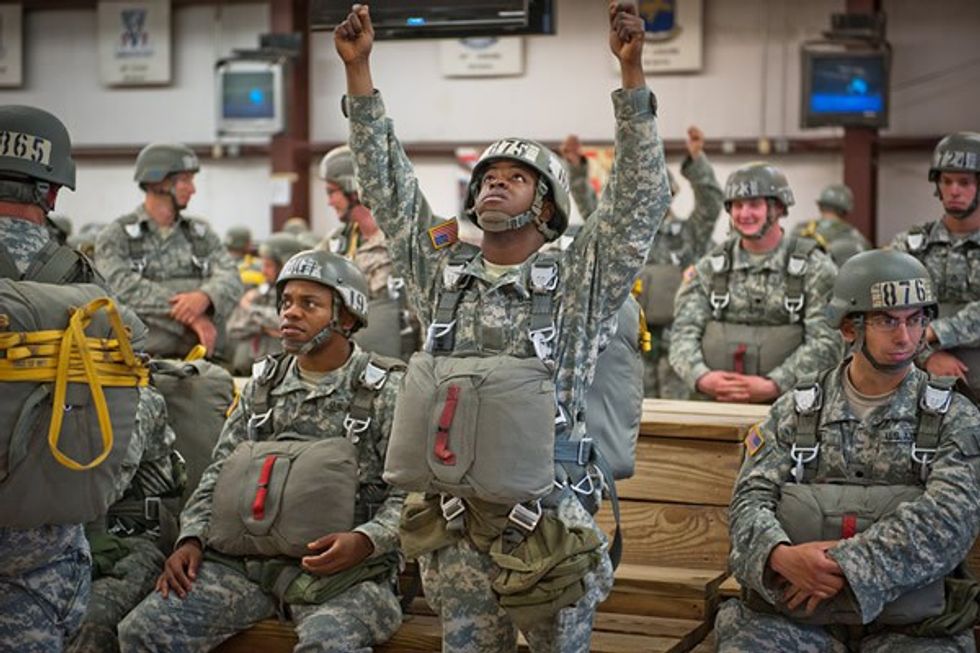 Airborne Students wait to board an aircraft.
Finally, it's jump week... but the wait isn't over. Students will wake up early, run to the chute shed, rig up, and just wait and wait for many hours. Students are not allowed to sleep or talk as they wait. It's the ultimate example of "hurry up and wait."
8. A mix of emotions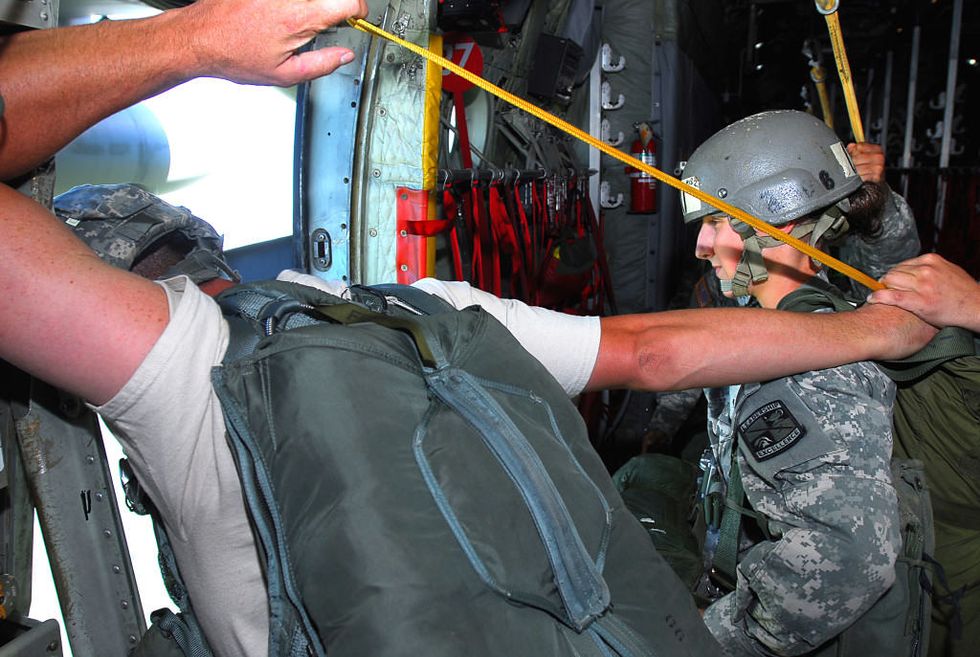 As an instructor watches for the drop zone to come into view, U.S. Army Cadet Ema Gondkavska prepares to parachute jump out of the door of a C-130 overlooking Chattahoochee Valley July 21, 2009. Gondkavska, a student with Company B of the U.S. Army Airborne School, said as she stood in front of the door she felt "ready to go for it." (U.S. Army photo by Kristin Molinaro)
Time to jump! There's certainly level of excitement and fear at this point, as jumpers hook up to the static line and prepare to jump. Some people question their judgement at this point, as butterflies flutter in their stomachs and thoughts of "why the hell am I doing this" circle in their head. For others, this is the best moment of their life!
9. Jumping Out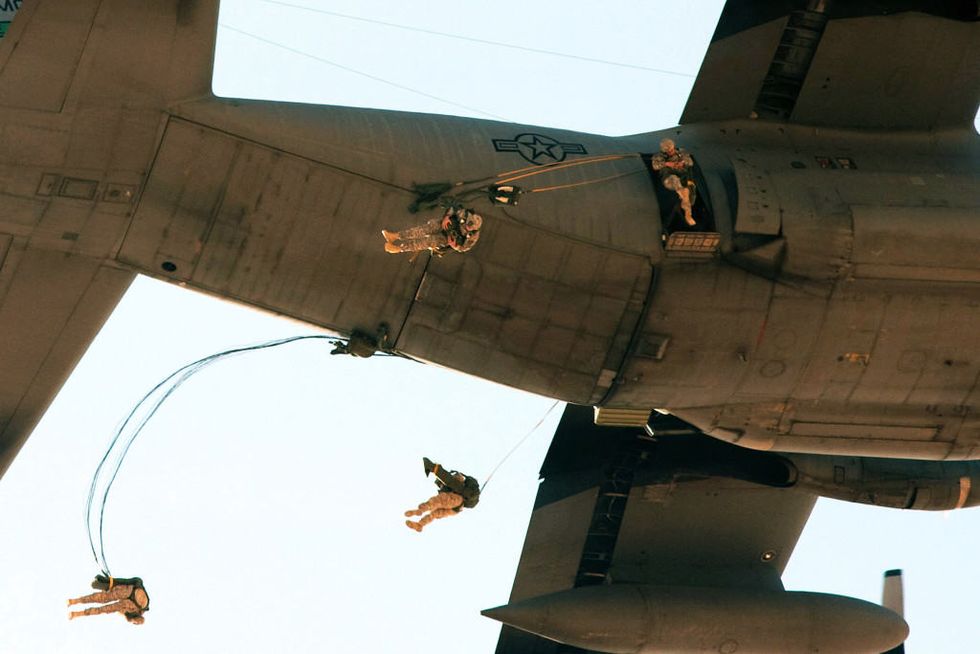 Paratroopers with 1st Brigade, 82nd Airborne Division (Advise and Assist Brigade), exit a C-130 aircraft Feb. 12, 2010, at Al Asad Airbase, Iraq, as part of the largest airborne training exercise conducted by U.S. forces in Iraq since the beginning of the war. (U.S. Army photo by Spc. Michael J. MacLeod)
Probably the two most common reactions: "This is awesome" or "Holy Shit!"
10. Pinning of the Wings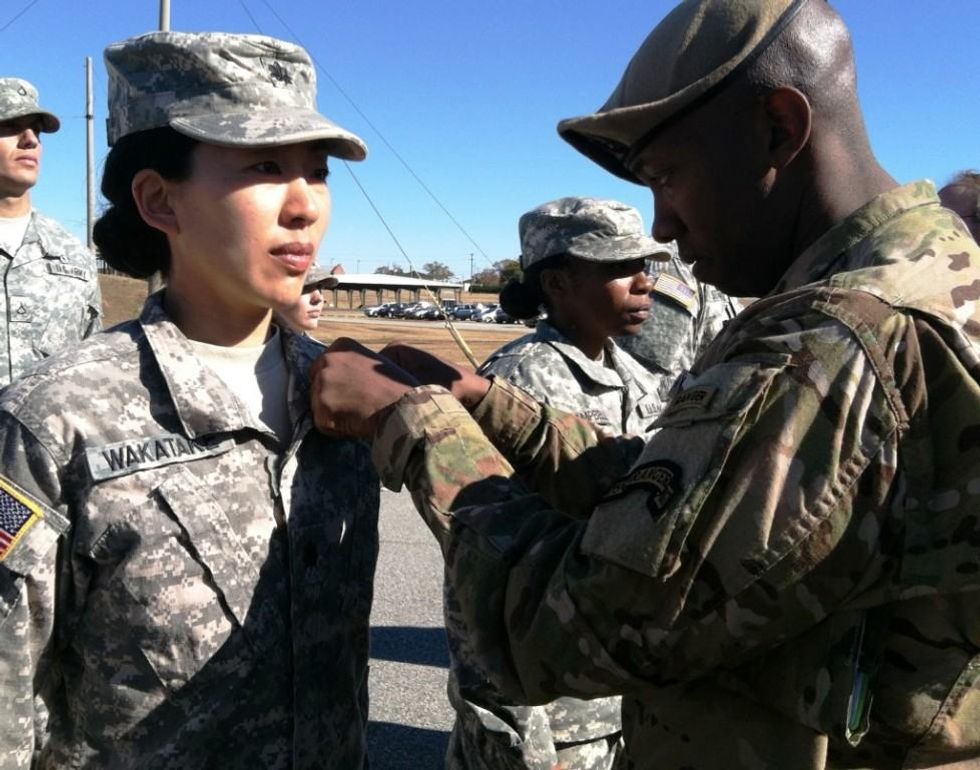 After completing five parachute jumps, Lt. Col. Kay Wakatake has her wings pinned on by Sgt. 1st Class Raymond Richardson at Fort Benning, Georgia. (Photo by Captain Greg Peterson)
The pinning of parachute wings is the crowning achievement of three weeks of training. The badge is pinned (or slammed) on the graduate's chest. This rite of passage solidifies an individual as a member of the Airborne family. The best part of all of this: You're no longer a leg!