Articles
December 15, 2016 14:11:19 EST
If you were wondering about why China didn't bother to show up to that hearing at the Hague on their South China Sea island claims — when their boycott of the process only made the adverse ruling a guarantee — well, now you know why.
---
China, like Cersei Lannister from "Game of Thrones," had no intention of accepting the consequences for their failure to take part.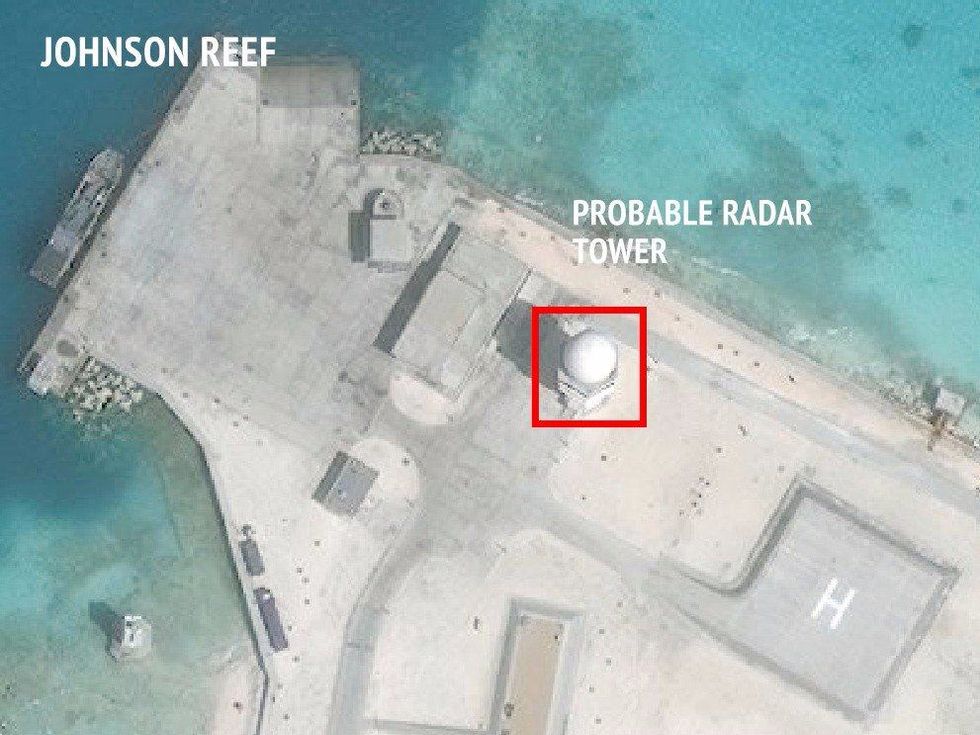 China's military installations in the South China Sea create a huge area that could possibly be turned into an air identification and defense zone. | CSIS ASIA MARITIME TRANSPARENCY INITIATIVE
According to reports from the Wall Street Journal and CBSNews.com, China has deployed weapons to at least seven of the artificial islands it has built in the South China Sea, despite a promise from Chinese president Xi Jingpin.
The report from the Asia Maritime Transparency Initiative noted that satellite photos showed various anti-aircraft weapons on the islands. These join the 10,000-foot airstrips on the islands, which have operated J-11 Flankers. Two such locations in the Spratly Islands are Mischief Reef and Fiery Cross Reef, located about 650 nautical miles from the northernmost point of Hainan Island.
China has landed airliners on those islands – and if you can land airliners, you can land other sorts of heavy aircraft, like tankers, airborne radars, and H-6 Badger bombers like the one used to assert China's "nine-dash line."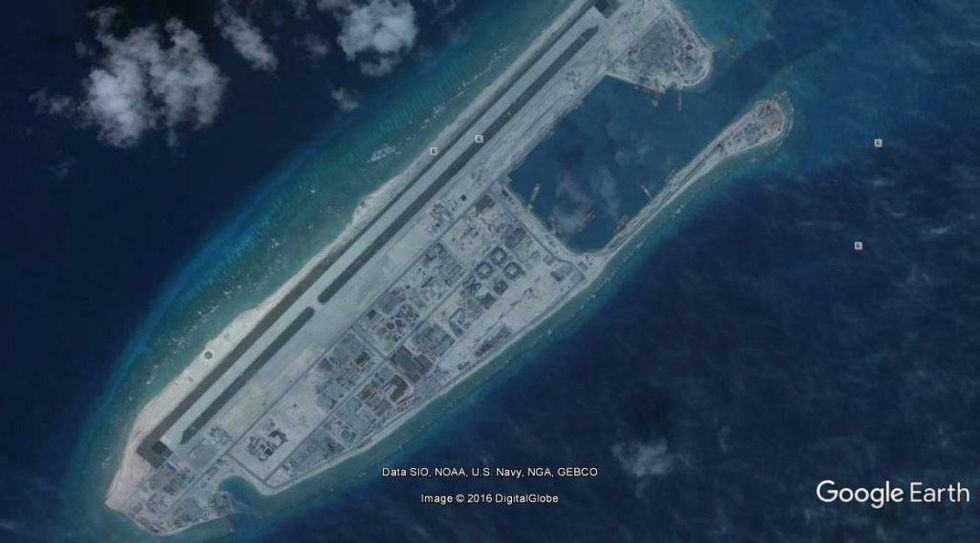 Fiery Cross Reef air base. This air base and others could help bolster China's aircraft carrier, the Liaonang. (Image taken from Google Earth)
In essence, China has turned these islands into unsinkable, albeit immobile, aircraft carriers. China's J-15, for instance, has a combat radius of about 540 nautical miles, according to GlobalSecurity.org. By getting those unsinkable aircraft carriers, the J-15s (as well as J-11 and J-16 Flankers in the Chinese inventory) can now carry more weapons, and less fuel, and spend more time dogfighting their adversaries.
When combined with China's aircraft carrier Liaoning, these bases greatly increase the striking power of the Chinese in the region. The Liaoning, like its sister ship, the Russian Admiral Kuznetsov, has a very limited aircraft capacity (about 18 Su-33 Flankers or MiG-29K Fulcrums for the Russian carrier, and a similar number of J-15 Flankers for the Chinese ship).
That alone cannot stand up to a United States Navy aircraft carrier (carrying 36 F/A-18E/F Super Hornets and 10 F-35C Lightnings). The islands also provide alternate bases, to avoid those embarrassing splash landings that are common with the Kuznetsov.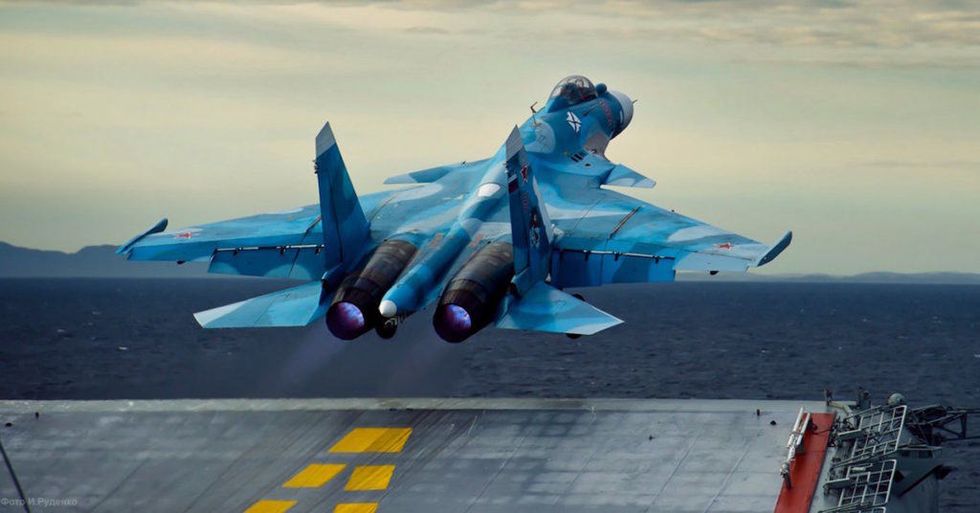 Sukhoi Su-33 launching from the Admiral Kuznetsov in 2012. | Russian MoD Photo
However, these island bases, if each had a squadron of J-11, J-15 or J-16 Flankers, suddenly change the odds, especially if the Philippines refuse to host land-based fighters. Now, the Chinese could have a numerical advantage in the region against one carrier group, and inflict virtual attrition on the United States Navy.
The forward bases have caused concern from other countries, like the Philippines.
"It would mean that the Chinese are militarizing the area, which is not good," the Philippine defense secretary told CBSNews.com.
The Philippines have been trying to modernize their forces, including with the recent purchase of a dozen KA-50 jets from South Korea, and the acquisition of second-hand Hamilton-class high-endurance cutters from the U.S. Coast Guard.
They still are badly out-classed by Chinese forces in the region.
The U.S. Navy has conducted freedom of navigation exercises in the South China Sea. In one of the recent operations, the USS John S. McCain (DDG 56) "conducted routine operations" while transiting the region, which is claimed by China. Navy surveillance and maritime patrol aircraft in the region had had a series of close calls with Chinese fighters, including an Aug. 2014 intercept where a J-11 came within 20 feet of a U.S. Navy P-8 Poseidon.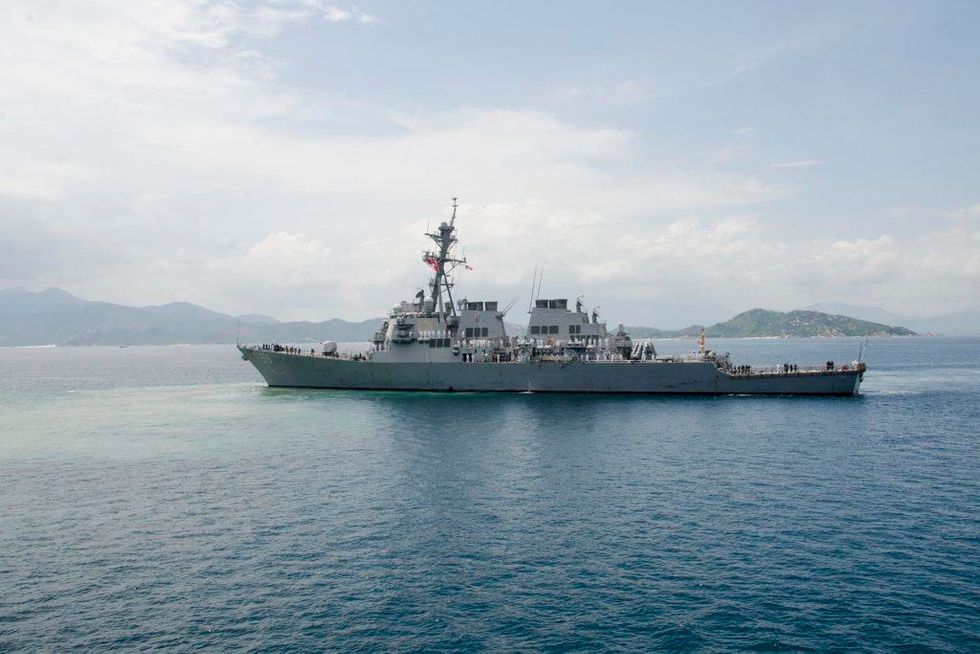 Sailors aboard the guided-missile destroyer USS John S. McCain (DDG 56) man the rails while pulling into Cam Ranh Bay, Vietnam, during a Naval Engagement Activity with the people of Vietnam, Oct. 2. (U.S. Navy photo by Petty Officer 3rd Class Allen Michael McNair)
Tensions with China increased when President-elect Donald Trump accepted a congratulatory phone call from Taiwanese president Tsai Ing-wen after winning the Nov. 8 presidential election. Trump had taken a tough line on trade with China during the campaign.