Articles
July 06, 2017 14:58:49 EST
In the wake of Pearl Harbor, President Franklin D. Roosevelt ordered the Navy to find a way to get more aircraft carriers into the fleet quickly.
---
As Japan "ran wild" during the first six months of the war, nine Cleveland-class light cruisers were converted into aircraft carriers. The ships served during World War II, with one — USS Princeton (CVL 23) — being sunk during the Battle of Leyte Gulf.
The United States Navy later added two more light carriers, the Saipan-class vessels USS Saipan (CVL 48) and USS Wright (CVL 49)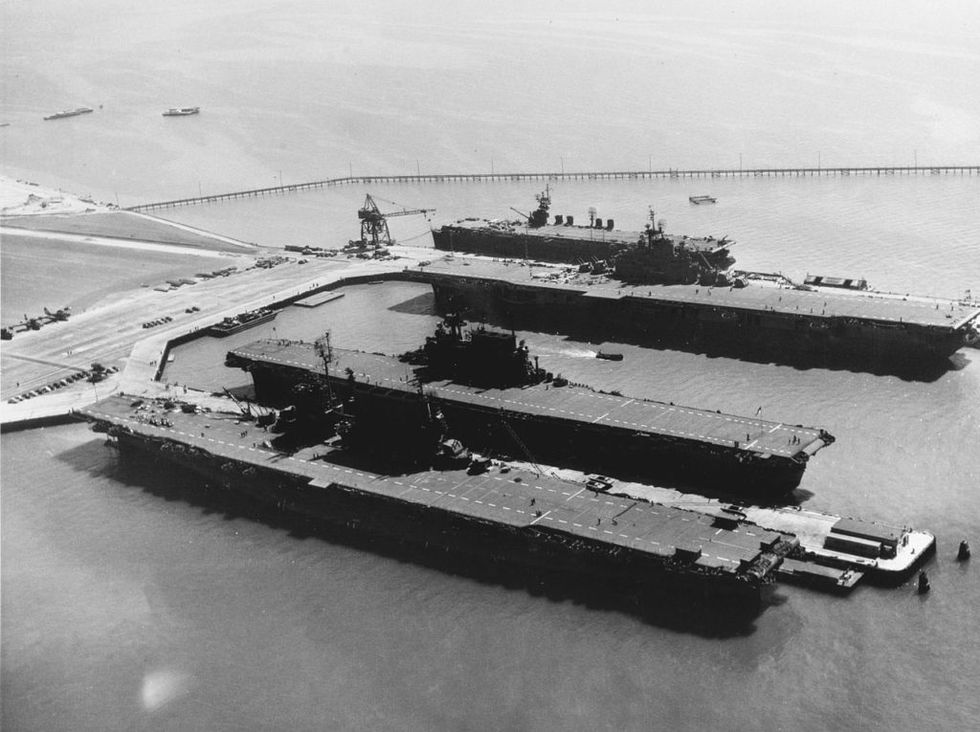 A lineup of the major American carriers in World War II. In the back is USS San Jacinto (CVL 30), an Independence-class light carrier. (U.S. Navy photo)
Now, the light carrier could be making a comeback. According to a report from Popular Mechanics, the Navy has received $30 million to come up with a preliminary design for a light carrier. This is being pursued at the behest of Senator John McCain (R-AZ), the chairman of the Senate Armed Services Committee.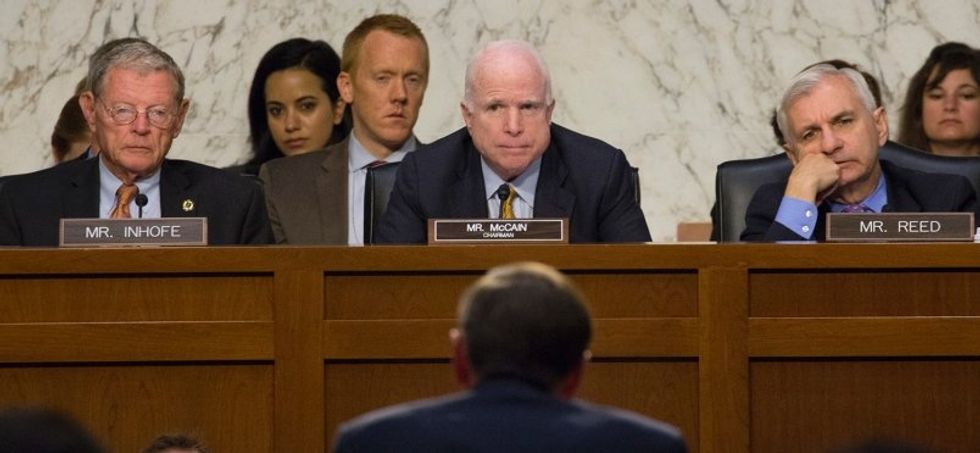 Senate Armed Services Committee Chairman Sen. John McCain, R-Ariz., Ranking Member Sen. Jack Reed, D-R.I., and Sen. Jim Inhofe, R-Okla., listen as retired Gen. David Petraeus testifies at a hearing in Washington, Sept. 22, 2015.
The report noted that the Navy had operated what amounted to "light" carriers in the Cold War. However, these "light" carriers were the fleet carrier designs (the Essex-class and Midway-class vessels), which had become "light" due to the development of the super-carriers, starting with USS Forrestal (CV 59).
The most notable of these "light" carriers, were the three Midway-class ships: USS Midway (CV 41), USS Franklin D. Roosevelt (CV 42), and USS Coral Sea (CV 43).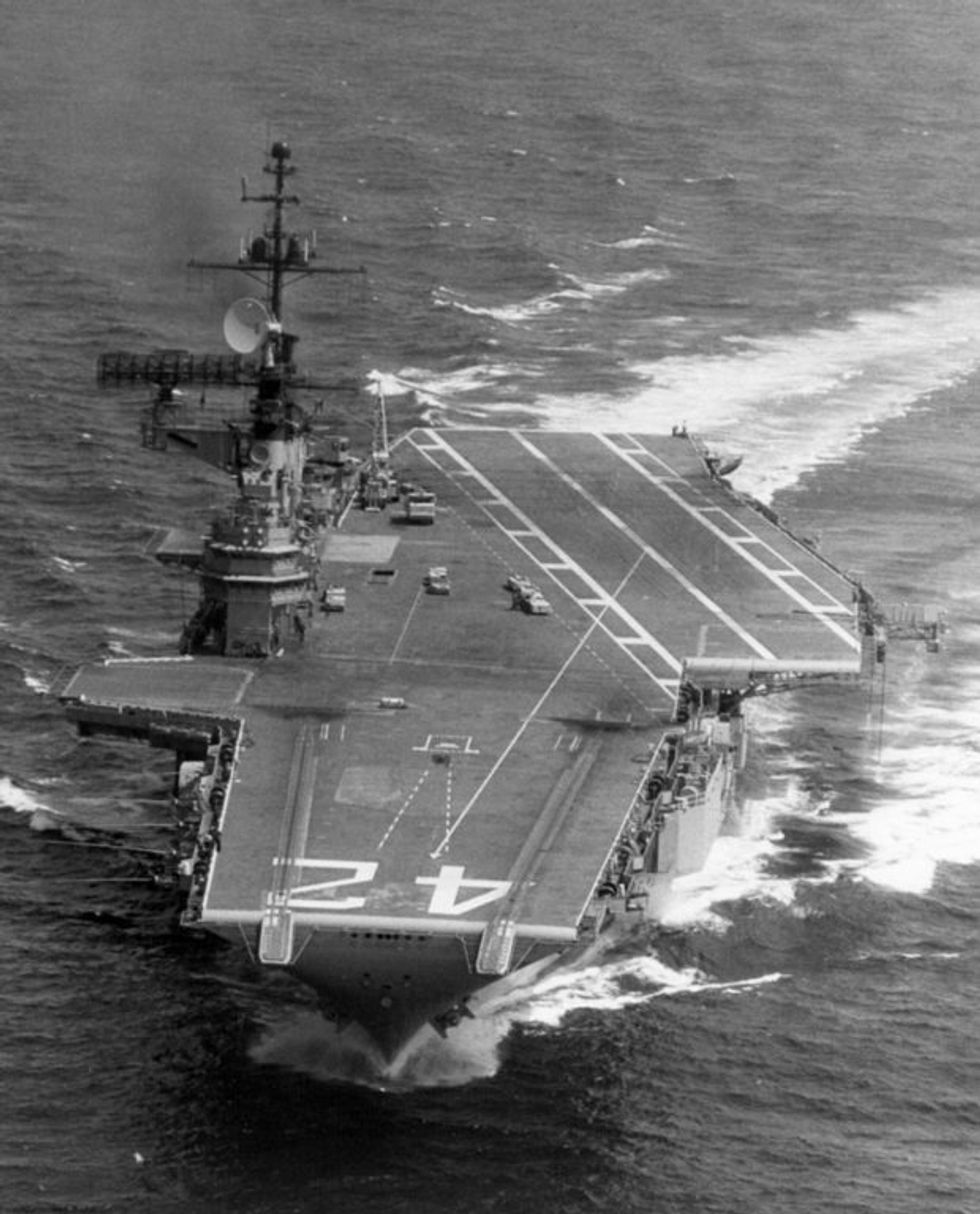 USS Franklin D. Roosevelt (CV 42), a Midway-class carrier. (U.S. Navy photo)
In World War II, the light carriers helped bolster the air power of the Third Fleet and Fifth Fleet. Mostly, this was by adding a huge complement of fighters. According to "Aleutians, Gilberts, and Marshalls," Volume VII in Samuel Eliot Morison's "History of United States Naval Operations in World War II," an Essex-class carrier usually carried 36 F6F Hellcats, 36 SBD Dauntless dive bombers, and 18 TBF Avenger torpedo bombers.
The usual air group for an Independence-class light carrier was 24 F6F Hellcats and 9 TBFs. Independence-class light carriers displaced 11,000 tons, compared to 30,000 for the Essex.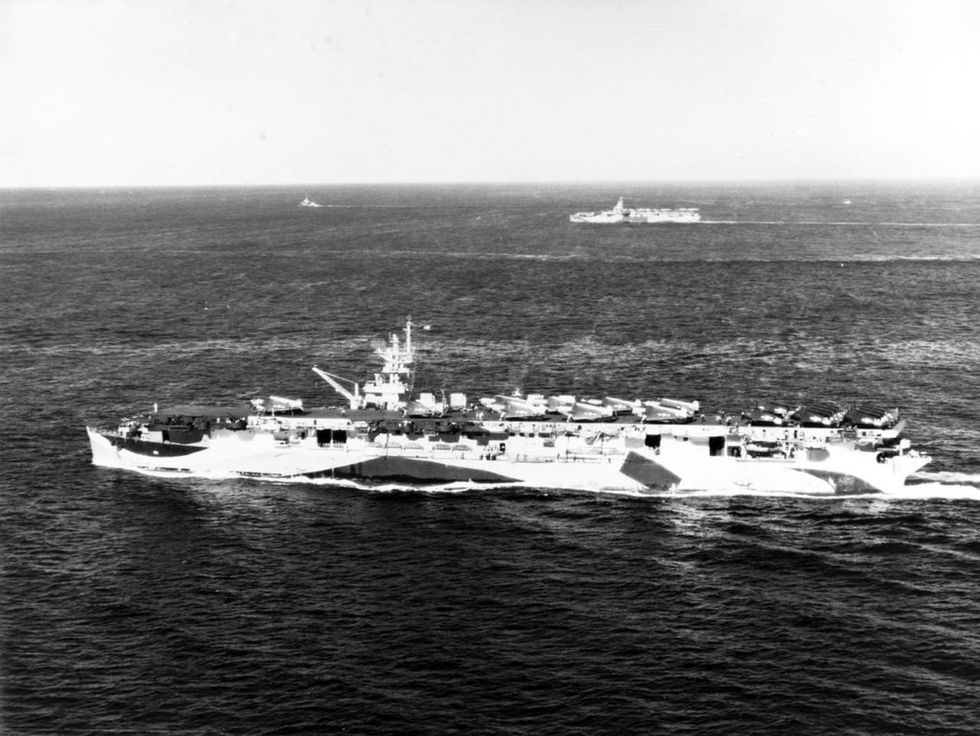 USS Cowpens (CVL 25) with aircraft on the flight deck. (U.S. Navy photo)
What could be the light carrier of today?
Popular Mechanics looked at two options. One was essentially to use the America-class amphibious assault ship to operate about 20 F-35Bs from, along with MH-60R helicopters and V-22 Osprey tankers. The other option is to modify the America design to use catapults and arresting gear to operate planes like the F/A-18E/F and F-35C.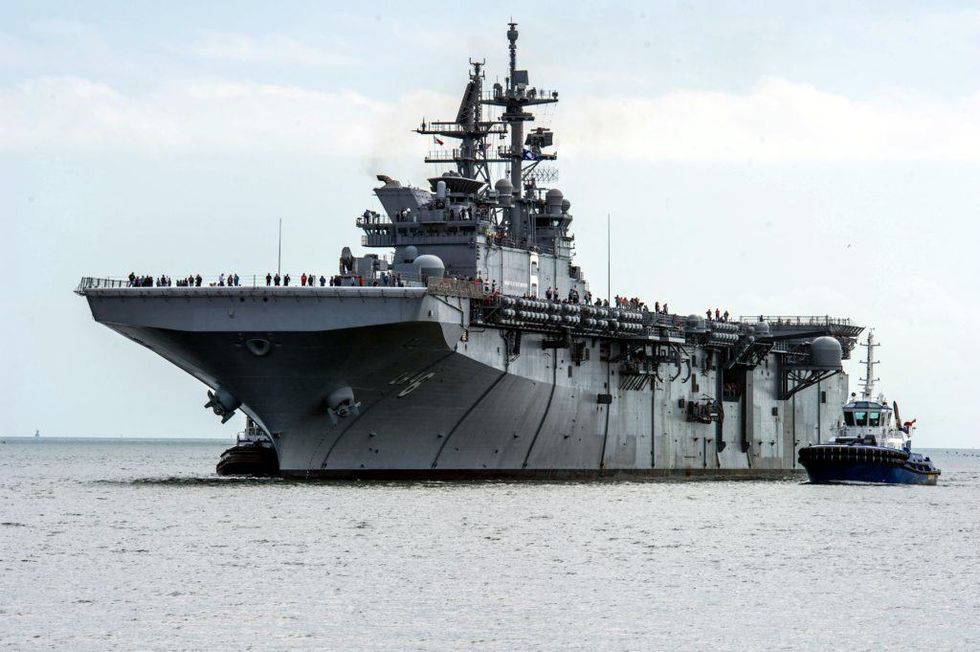 The U.S. Navy amphibious assault ship USS America (LHA-6) returns to Huntington Ingalls Shipyard, Pascagoula, Mississippi (USA), after completing sea trials. (U.S. Navy photo by Senior Chief Aviation Ordnanceman Lawrence Grove)
Either way, these carriers would not have the capabilities of a supercarrier like USS Nimitz (CVN 68) or Gerald R. Ford (CVN 78). The air groups would be smaller, and the light carriers would not likely have nuclear power.
However, the lighter carriers could handle a number of missions — including convoy escort and operations like those in Libya or Somalia, freeing up the supercarriers for major conflicts against a country like China or Russia.