Articles
March 22, 2016 12:38:42 EST
Author's note: This is a very hypothetical look at how a fight between two of America's greatest expeditionary units could play out. Obviously, this battle would never actually happen since paratroopers and Marines rarely fight outside of bars. Both sides can only use their indigenous assets and their rides to the fight, no requesting Patriot missile support or a carrier strike group.
---
During the short War of Alaskan Secession in 2017, one brutal battle pitted an Army Airborne Brigade Combat Team against a Marine Expeditionary Unit (MEU).
The fight centered on Fort Glenn, an abandoned World War II airfield on Umnak Island in the center of Alaska's Aleutian Island Chain. The 4th Brigade Combat Team (Airborne), 25th Infantry Division attempted to take the fort for the Alaskan Independence Forces while the 31st Marine Expeditionary Unit steamed north to capture it for the Federal Forces.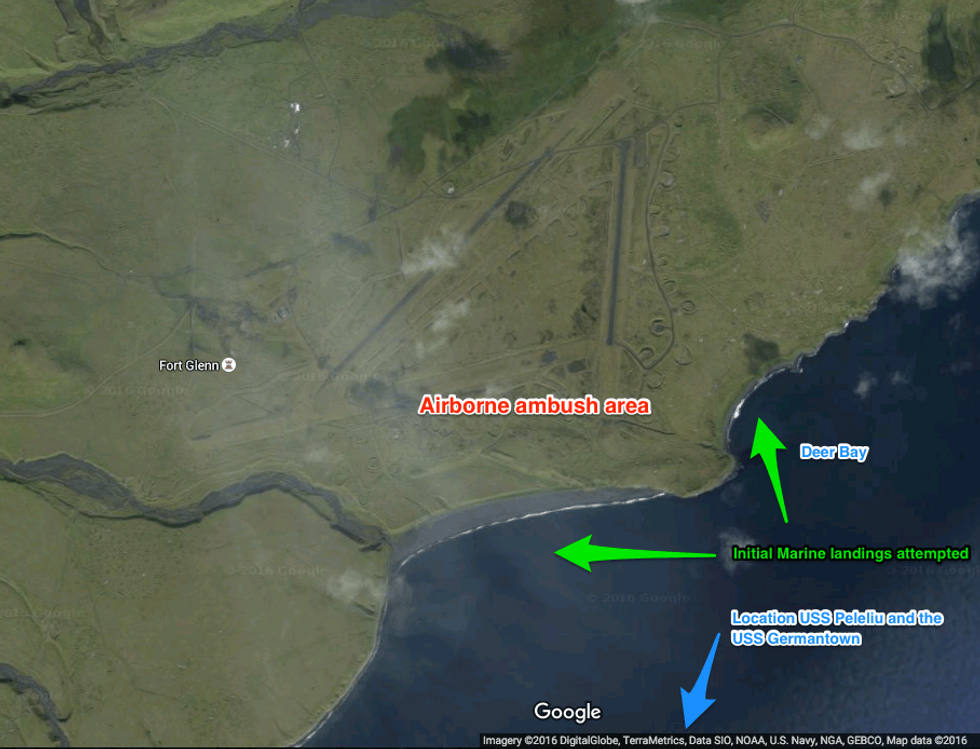 Photo: US Marine Corps Lance Cpl. Claudia Palacios
The Marines knew that since the Army fired Javelins, an anti-tank missile that is a risky choice against helicopters, the Javelin was their only anti-air missile. So the Harriers were free to fly just a little too fast and a little too high for the Javelins, and therefore they were able to rain destruction.
Once the Harriers were airborne, it was over for the Army's heavy weapons platforms. After destroying the Humvees, they went after the Army howitzers and the few M1135 Strykers on the island.
The Army attempted an organized withdrawal to the mountain as the two remaining SuperCobras returned with the Harriers. The LCACs and Landing Craft Units offloaded the Marines' six Light-Armored Vehicles and 120 humvees. The surviving AAVs swam onto the shores.
Army mortar crews, riflemen, and the surviving Javelin firers fought a valiant delaying action, but the island provided little cover and concealment and they were destroyed.
By the time the storm had passed over the Alaskan mainland and the governor could send reinforcements, the resistance on Umnak Island had been essentially wiped out. There was simply too little cover and concealment for the paratroopers to defend themselves against the air and armored support of a MEU once the Marines knew that they were there.
Related Articles Around the Web