Articles
September 15, 2017 11:52:47 EST
As victims of Hurricanes Harvey and Irma pleaded to be rescued on popular social media apps such as Facebook, Twitter, and Instagram, the National Guard altered its response accordingly.
---
"It's been a very dynamic and evolving environment," National Guard Bureau Chief Gen. Joseph Lengyel recently told Military.com. "This has certainly evolved how we do it."
Lengyel spoke with Military.com at the annual conference of the National Guard Association of the United States in Louisville, KY.
While social media isn't the primary communications tool between the Guard and those at risk, it's starting to play a larger role.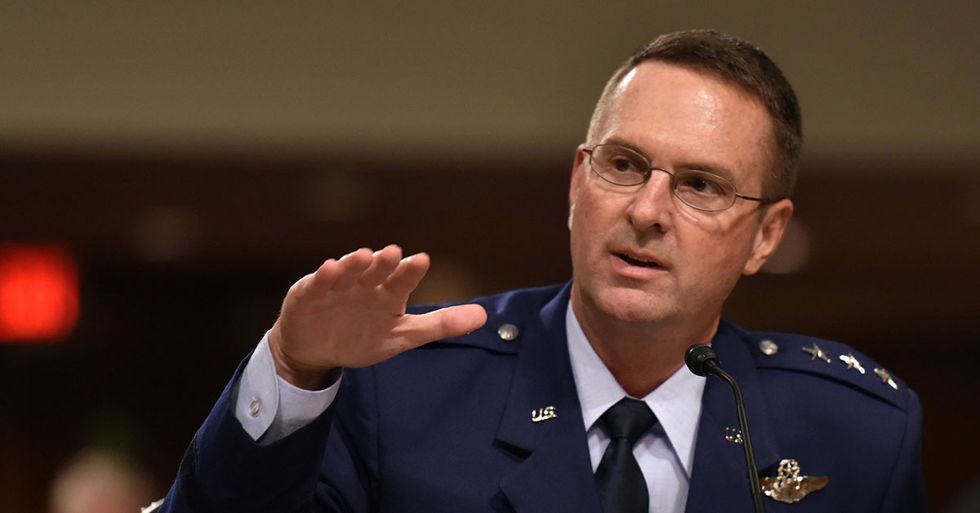 USAF Lt. Gen. Joseph Lengyel testifies before the US Senate Committee on Armed Services at a confirmation hearing for his appointment to the grade of general and to be chief of the National Guard Bureau on June 21, 2016. US Army National Guard photo by Staff Sgt. Michelle Gonzalez.
The Washington Post reported that during Harvey, a Guard Humvee vanished in Katy, Texas. With no other way to reach the driver, soldiers finally were able communicate with him using SnapChat, a messaging app that can capture a photo or video, which is then relayed to the recipient briefly before it disappears.
Similar situations can happen when there is a communications capability gap in a disaster area, Lengyel said.
"Whenever you go into particular environments, communications is always difficult when you first start. Because the infrastructure [isn't] there. It has to evolve," he said.
For example, the Guard got the call to drive to Beaumont, Texas, before the Federal Emergency Management Agency or first responders could set up hub stations to house communications equipment.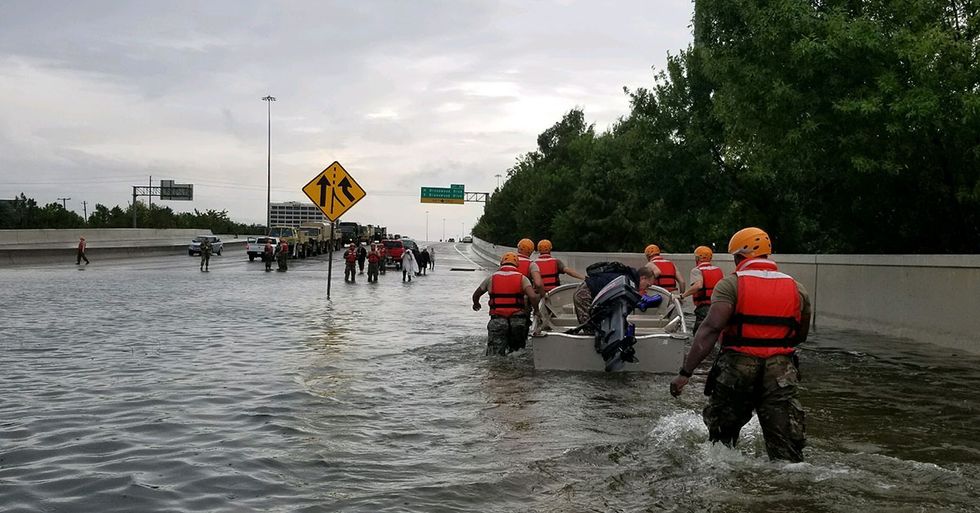 US Soldiers with the Texas Army National Guard arrive in Houston Aug. 27, 2017, to aid citizens in heavily flooded areas from the storms of Hurricane Harvey. US Army National Guard photo by 1st Lt. Zachary West.
Coordinating Efforts
The military has crews that monitor response efforts as they happen in real-time.
For example, its only non-offensive air operations center, known as "America's AOC," at Tyndall Air Force Base, Florida, keeps track of relief no matter where it's needed in the US.
Military.com visited the 601st AOC in March. It evaluates domestic operations, or DomOps, for Air Forces Northern, monitoring the airwaves — and social media sites — for events with potential military ties.
Lengyel said he was impressed with efforts as ongoing training rotations across the globe have not stopped despite the massive hurricane relief effort. Part of the Texas Guard deployed to the Horn of Africa even as Harvey laid waste to the Houston area and Hurricane Irma loomed.
Thousands of National Guard troops remain on the ground in Texas for relief efforts, and the Pentagon mobilized nearly 30,000 military personnel for Irma recovery.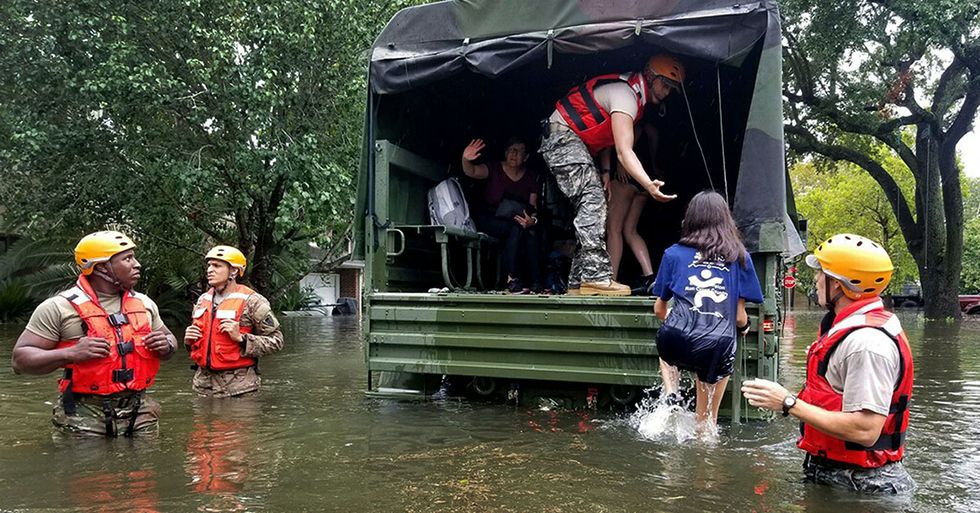 Soldiers with the Texas Army National Guard rescue Houston residents as floodwaters from Hurricane Harvey continue to rise, Monday, August 28, 2017. More than 12,000 members of the Texas National Guard have been called out to support local authorities in response to the storm. US Army photo by 1st Lt. Zachary West.
That's all thanks to planning.
"Every state creates and drafts an all-hazards response plan … and a lot of it comes together from various federal agencies," Lengyel said of the constant training and push to get ahead of the next big disaster, which could vary from an earthquake to a terrorist attack.
"Everybody has a plan. And we coordinate … and we think about it before it happens, and we've gotten much better about this over the years," he said.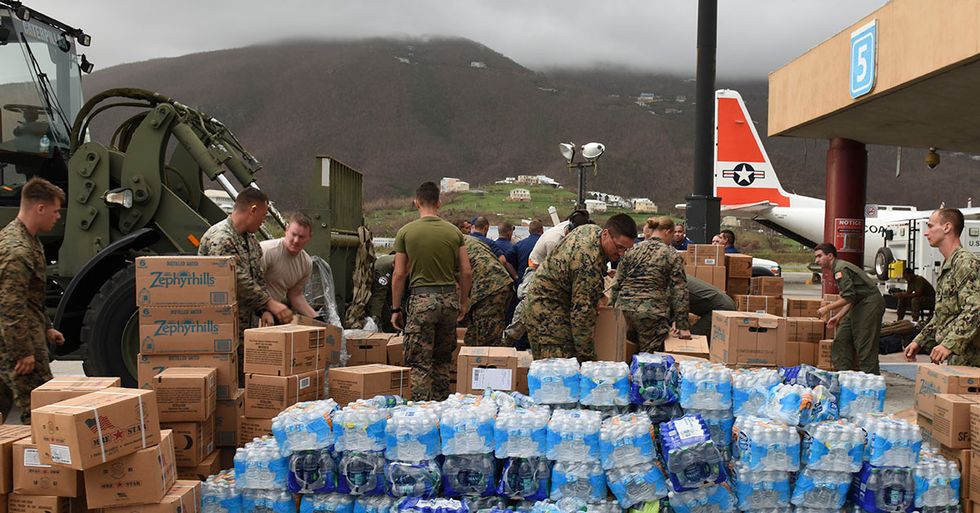 Emergency supplies are removed from a pallet and stacked by members of the US Coast Guard, Marines, Army, and Air Force at Cyril E. King Airport in St. Thomas, U.S. Virgin Islands, Sept. 14, 2017. US Coast Guard photo by Petty Officer 3rd Class Steve Strohmaier.
Special Mission Unit Milestone
This year's relief efforts — from Harvey and Irma to wildfires in the West — created another milestone for the US military this year.
For the first time in the nearly 70-year history of the Air Force Reserve, all three special mission units — weather reconnaissance, firefighting, and aerial spray — were called to action simultaneously, the service said this week.
Air Force Reserve Command's 53rd Weather Reconnaissance Squadron — better known as the Hurricane Hunters — out of Keesler Air Force Base, Mississippi, "have been flying weather reconnaissance missions nonstop" since Aug. 17, the Air Force said in a release.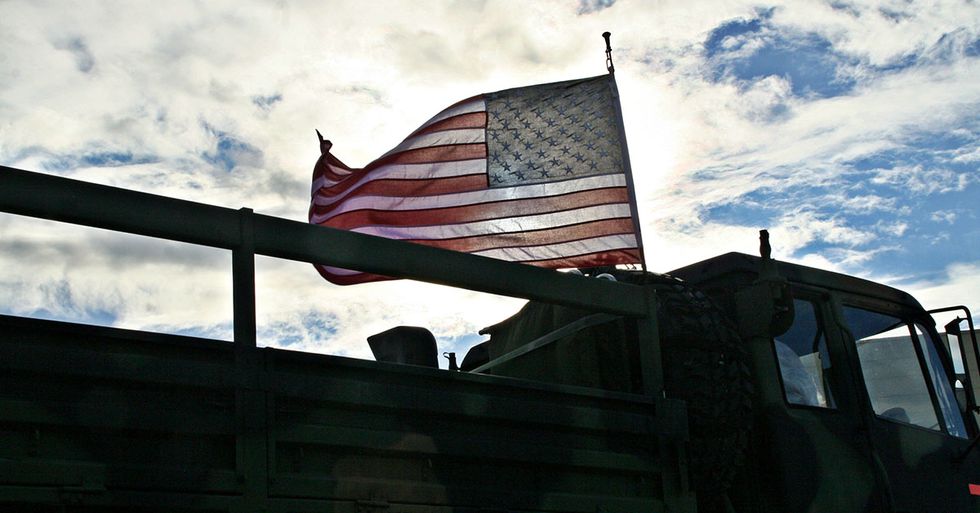 A US flag mounted to a Texas Army National Guard vehicle waves in the breeze during Hurricane Harvey rescue operations in Katy, Texas August 29, 2017. US Army Photo by Sgt. Steve Johnson.
The 302nd Airlift Wing out of Peterson Air Force Base, Colorado, is assisting the National Interagency Fire Center by providing a Modular Airborne Fire Fighting System-equipped C-130H Hercules, aircraft and aircrew to support ongoing aerial firefighting efforts in the western U.S.
And the 910th Airlift Wing, out of Youngstown Air Reserve Station, Ohio, is providing its aerial spray capability to repel mosquitos and other pests in eastern Texas following Harvey.