Articles
April 11, 2017 11:58:56 EST
With news that the Nimitz-class aircraft carrier USS Carl Vinson (CVN 70) is en route to the Korean peninsula with three other ships, there is no doubt that tensions are high. With two carriers, there is a lot of striking power, but it is also a target for the North Koreans.
---
This is not an idle thought. On March 26, 2010, the Pohang-class corvette ROKS Cheonan was torpedoed and sunk by a North Korean mini-sub firing a 21-inch torpedo. So, the concern is what one of these subs could do to a carrier.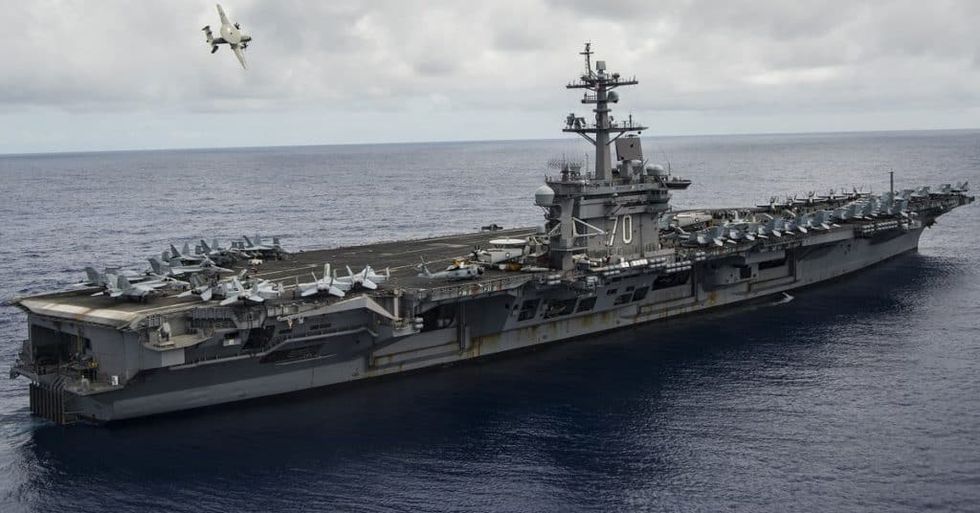 Rear Adm. Hyun Sung Um, commander of Republic of Korea (ROK) Navy 2nd Fleet, and Rear Adm. Seung Joon Lee, deputy commander of ROK Navy 2nd Fleet, brief Adm. Patrick M. Walsh, commander of U.S. Pacific Fleet, on the findings of the Joint Investigation Group Report of the ROK Navy corvette ROKS Cheonan (PCC 772). A non-contact homing torpedo or sea-mine exploded near the ship March 26, 2010, sinking it, resulting in the death of 46 ROK Navy sailors. (U.S. Navy photo by Lt. Jared Apollo Burgamy)
In fact, the Russians designed the Oscar-class guided-missile submarine to kill America's Nimitz-class carriers – and those have 24 SS-N-19 "Shipwreck" missiles, plus four 21-inch torpedo tubes and four 25.6-inch tubes meant to fire torpedoes with either massive conventional warheads or even nuclear ones.
This points to a North Korean sub being unable to sink a Nimitz-class carrier on its own.
But two torpedoes will still force a carrier to spend a long time in the body shop. And the escorts are more vulnerable as well.
A U.S. carrier could take a couple of hits and in a worst case scenario, she'd have to fly her air wing to shore bases.