Articles
February 09, 2017 10:21:48 EST
As Iraqi security forces continue the push to liberate Mosul, terrorists with the Islamic State of Iraq and the Levant find themselves trapped in the city's west, a Pentagon spokesman said Feb. 7.
---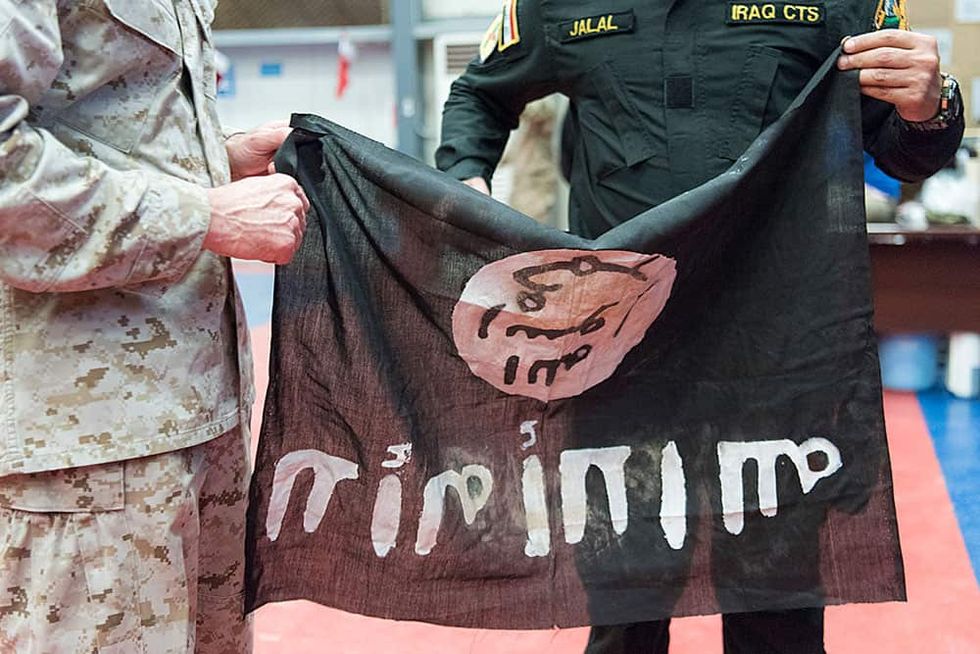 Members from the Iraqi Counter Terrorism Service present Marine Gen. Joseph F. Dunford, chairman of the Joint Chiefs of Staff, with a flag from Bartilah, a town recaptured just outside of Mosul from the Islamic State of Iraq and the Levant. This flag symbolizes the efforts of Combined Joint Task Force - Operation Inherent Resolve composed of U.S. Army Soldiers, U.S. Marine Corps Marines, U.S. Navy Sailors, United States Air Force Airmen and coalition military forces. (DoD Photo by Navy Petty Officer 2nd Class Dominique A. Pineiro/released)
"At this point, ISIL fighters are stuck in Mosul," the Defense Department's director of press operations, Navy Capt. Jeff Davis, told reporters.
With Iraqi forces closing in and bridge access to eastern Mosul severed, the terrorists in the western quadrant are unable to resupply and reinforce, he said.
"The fighters who remain in west Mosul face a choice between surrendering or annihilation, as there's not a place to retreat," Davis said.
It is nearly impossible to cross the Tigris River, which separates east and west Mosul, since access to the five bridges that spanned the river is closed off, Davis pointed out.
"Without the ability to resupply or reinforce, [ISIL] is in a situation there where their loss is certain," Davis said.
The coalition continues its strikes in support of the shift to western Mosul operations, he said, noting since the push for Mosul began in mid-October, the coalition has conducted 10,850 strikes in support of operations to liberate the city.
"We know going into western Mosul that they are more dug in there; they have had more time to place encampments and firing positions [and] fighting positions," Davis said, adding ISIL used its best fighters in eastern Mosul.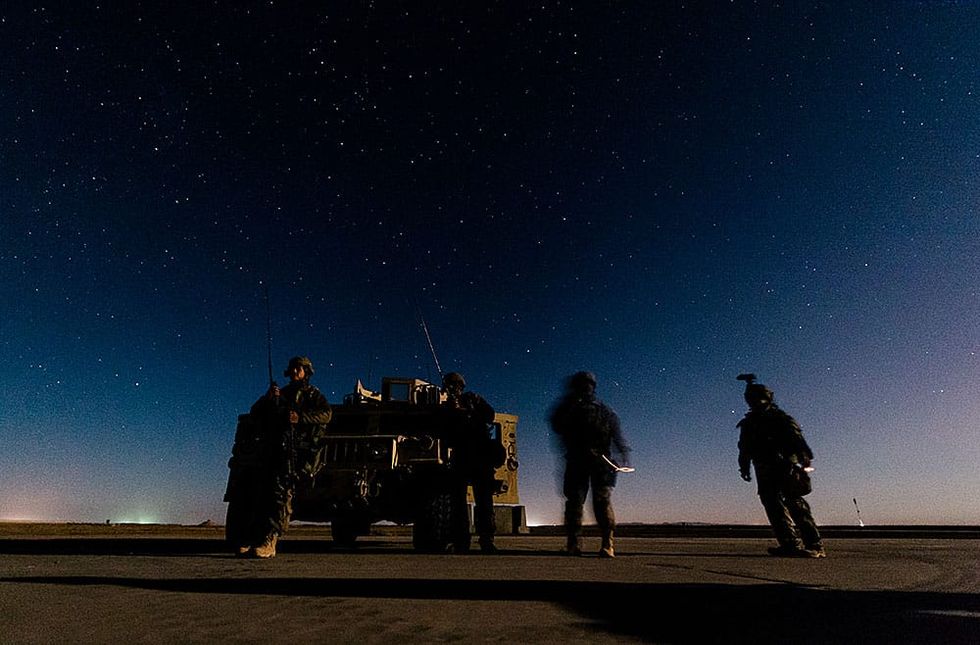 821st Contingency Readiness Group Airmen wait for approaching MH-47 Chinooks at Qayyarah Airfield West, Iraq, Nov. 17, 2016. The 821st CRG is highly-specialized in training and rapidly deploying personnel to quickly open airfields and establish, expand, sustain and coordinate air mobility operations in austere, bare-base conditions. (U.S. Air Force photo by Senior Airman Jordan Castelan)
The strikes, he said, have destroyed vehicle-borne improvised explosive devices, buildings and facilities, tunnels, boats, barges, vehicles, bunkers, anti-aircraft artillery, and artillery mortar systems.
Iraqi security forces are back clearing eastern Mosul, Davis said, pointing out they have disrupted raids, uncovered sleeper cells, and found terrorists in "spider holes."
In addition, approximately once a day, Iraqi security forces are encountering small unmanned aerial vehicles that are dropping hand grenades, he said.
Davis pointed out tests have confirmed the presence of the skin irritant sulfur mustard from samples recovered from Mosul University, a central location in ISIL's chemical weapons program.
ISIL is surrounded in the Syrian city of Al Abab on multiple axes, Davis said.
"We continue to conduct strikes, in fact there were just some strikes earlier today in Al Bab by the United States and the coalition in support of the Turkish operations," he said.
Meanwhile, the fight to liberate the key city of Raqqa continues and a third axes, an eastern axis, kicked off in the last day, Davis said. The new axis adds to the northwest and northeast efforts where isolation is either in progress or complete.
The coalition has conducted bridge strikes south of Raqqa along the Euphrates to restrict ISIL's ability to move fighters and equipment, he said.
"It further isolates [ISIL] fighters so that they'll have to take their chances with either fighting or dying or surrendering to the SDF or using what narrow window they have of escape they have right now, which is really only in this direction [to the southeast], toward Deir ez-Zur," he said.
In addition, the Syrian Democratic Forces have cleared an additional 48 square kilometers along two axes Feb. 6.
The coalition is taking steps to further limit ISIL's ability to maneuver across Syria, and will continue to degrade, dismantle and militarily defeat the terrorists, Davis said.
The coalition has delivered 2,310 munitions since Nov. 5 in support of the SDF, he said.
"In the past 24 hours, we conducted an additional six strikes with a total of eight engagements using 18 munitions in support of SDF operations to isolate Raqqa," he said.