Articles
March 17, 2015 12:28:13 EST
Editor's note: This is the third in a series of profiles of incredible female veterans that WATM will be presenting in concert with Women's History Month.
---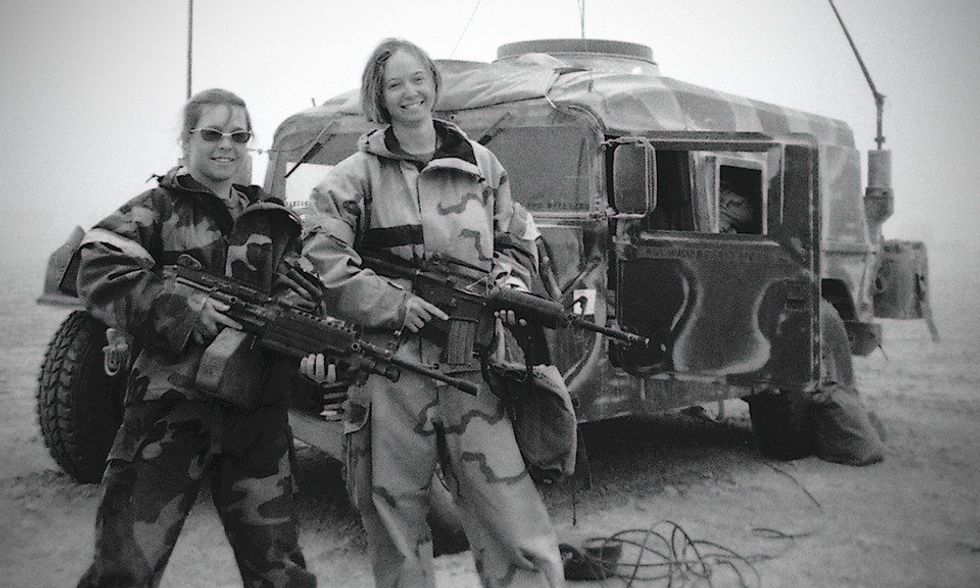 Kayla Williams (right) with unidentified female soldier next to an up-armored Humvee during the initial invasion of Iraq in 2003.
The title of Kayla Williams' 2005 book, Love My Rifle More Than You: Young and Female in the US Army uses an old marching cadence to seemingly thumb its nose at what some might consider the more antiquated ways of US Army culture, especially when it comes to women. Fifteen percent of the Army is female, but Williams would come to learn during the Iraq War, the only women in the Army the public knew well were Lynndie England and Jessica Lynch… and those were not the people Williams wanted representing women in the Army.
"When I came home from Iraq, I realized people can be ignorant about the role of women in combat," Williams told me. "Some people asked if I was allowed to carry a gun, some asked if I was in the infantry, even though women still can't be. I was acutely aware women's roles were largely unknown to the general public and I wanted to give a nuanced perspective of what women experience in the current conflicts."
Williams was an Army signals intelligence linguist, specializing in intercept and direction finding. She enlisted in 2000 because she wanted to learn another language. The language the Army chose would dramatically affect the way she looked at her career.
"I got Arabic as opposed to Korean or Chinese," Williams says. "I was at the Defense Language Institute on 9/11 and it was clear to us then the world had changed." In 2003, Williams was part of the initial invasion of Iraq with the 101st Airborne Air Assault. Though her primary function was signals intelligence, she found there was a huge need for Arabic translation on the ground. Beyond any of her expectations she found herself doing foot patrols with the Army infantry.
"This was the very early days of the war," she recalls. "The Iraqi people were still hopeful they would see a better future in the aftermath of the down fall of the regime. I was making a difference in the lives of those Iraqis and in the lives of my fellow soldiers."
Williams' work took her all over the American area of responsibility in Iraq.  She worked her way North to Mosul, Sinjar, and Tal Afar, and spent a great deal of time on the Syrian border.
"In my experience," she says, "everyone has to prove themselves in a new unit, male or female. Everyone is going to test you. It's inevitable. In the combat arms units I was attached to, how they treated me depended on how well I did my job. When they saw me translating for them, they could see I could help them. And when commanders treated me with respect, the troops would too."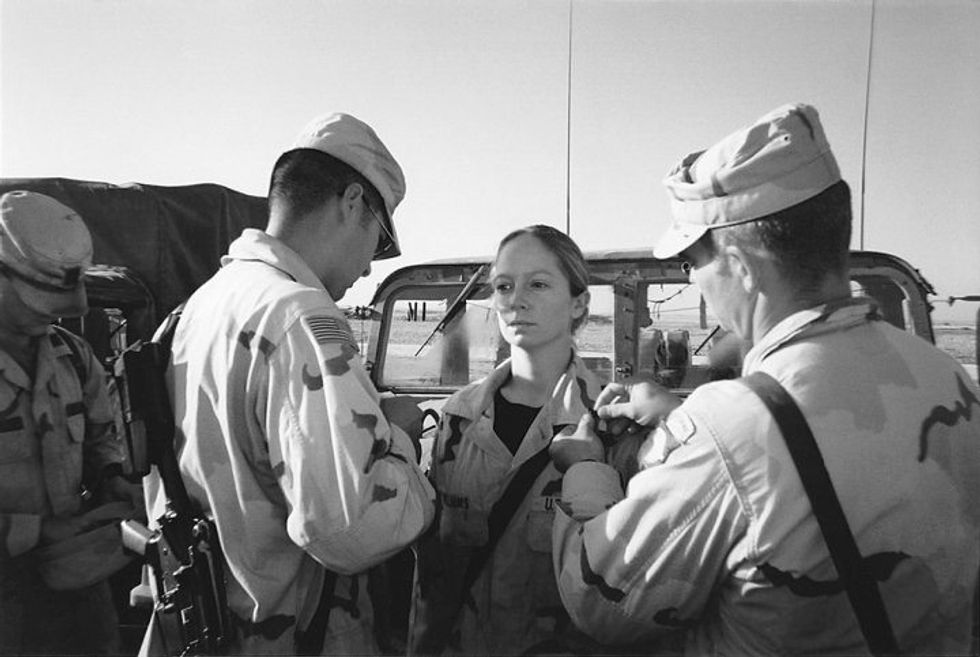 Williams getting promoted in Iraq.
Though far from a support structure, Kayla Williams remembers those first days in the Northern areas of Iraq as relatively peaceful.  By the time her deployment was over, however, the situation had completely changed. They had electricity and running water in their camp, but now the insurgency had taken root.
"When we drove back to Kuwait at the end of my tour we had to do it at night in a blackout drive."
Despite personal feelings about the war, Williams approached every mission to the best of her ability. She knew her skill as a translator could be the most necessary help to the war, and thus the troops. She thought at the time though we went to war for the wrong reasons, maybe we still did a good thing. Now, with a Master's degree in International Affairs with a focus on the Middle East from American University, her observations are more grounded in fact than feeling.
"Maybe in a generation or two the Middle East will be better off," she says. "But who knows? Who predicted the rise of ISIS? I'm not sure that anyone can predict the long term. It's the polite way of saying I hope we didn't fuck it up too bad."
Williams sees the roles of women in the Armed Forces as a necessary one, especially given cultural sensitivities in predominantly Muslim countries. To her, being able to assign women to combat units will give field commanders better command and control capability without sacrificing readiness or discipline.
"The decision to lift the exclusion policy for women in combat was a validation and vindication of the more than 280,000 women who served in Iraq and Afghanistan," Williams says. "The former Secretary of Defense made the decision with the unanimous support of the Joint Chiefs of Staff. Now commanders will be able to train like they fight and function better as a military by putting the right people in the right jobs."
Williams' second book, Plenty of Time When We Get Home: Love and Recovery in the Aftermath of War is the story of her return home, her husband's struggle with traumatic brain injury (TBI) from an IED attack during his own time in Iraq, and how they struggled to overcome; it was published in 2014.