Articles
September 14, 2017 12:57:32 EST
When filmmaker Ken Burns and his collaborators previously tackled sprawling documentaries about the Civil War and World War II, their first obligation, he said, was to strip away the "barnacles of sentimentality" attached to both events.
---
That was never a problem with his latest military epic, "The Vietnam War."
"No such sentimentality attaches itself to Vietnam," Burns says. "So there's a through line to the tragedy and the the essential horror and cruelty of war that is manifested everywhere."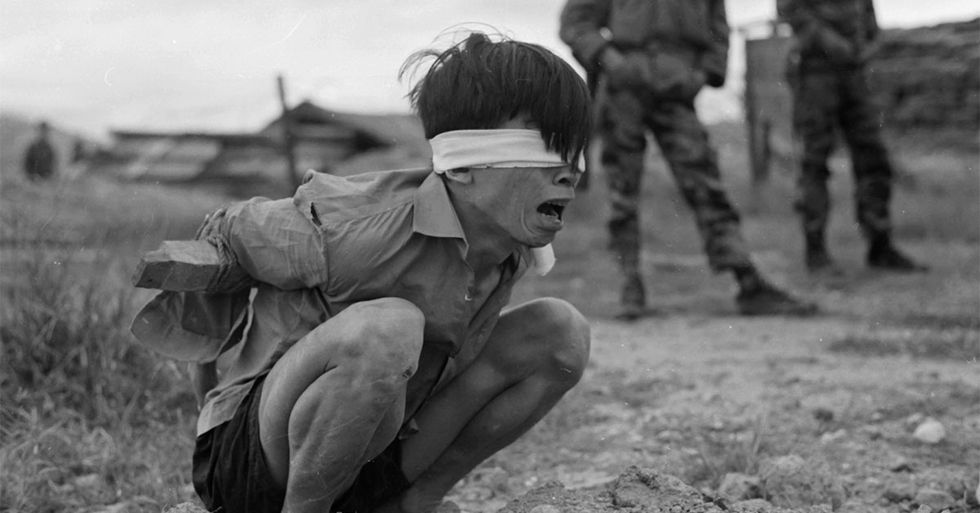 A Viet Cong prisoner is interrogated at the A-109 Special Forces Detachment in Thuong Duc, 25 km west of Da Nang, 1967. Photo under Public Domain,
Covering 18 hours over 10 installments, the film recalls one of the most tragic chapters in American history -- a conflict so divisive that, in the words of a soldier quoted in the film, it "drove a stake right into the heart of America."
Ten years in the making, "The Vietnam War" (Sept. 17, 8pm, PBS) might be Burns' greatest achievement yet in a career that dates back to 1981. It's certainly his most complicated and challenging. To get to the heart of it all, he and co-director Lynn Novick relied on a wealth of archival materials, including stunningly revelatory audio recordings from inside the Kennedy, Johnson, and Nixon administrations.
Most notably, they solicited accounts from more than 80 witnesses from all sides of the war's vast social divide: soldiers who fought in the war and Americans who opposed it, as well as North and South Vietnamese combatants and civilians. It was what the filmmakers call a "bottom up" approach with a preference toward mostly ordinary people with incredible stories to tell, rather than the usual talking heads. John McCain, John Kerry, and Jane Fonda, for example, are not interviewed.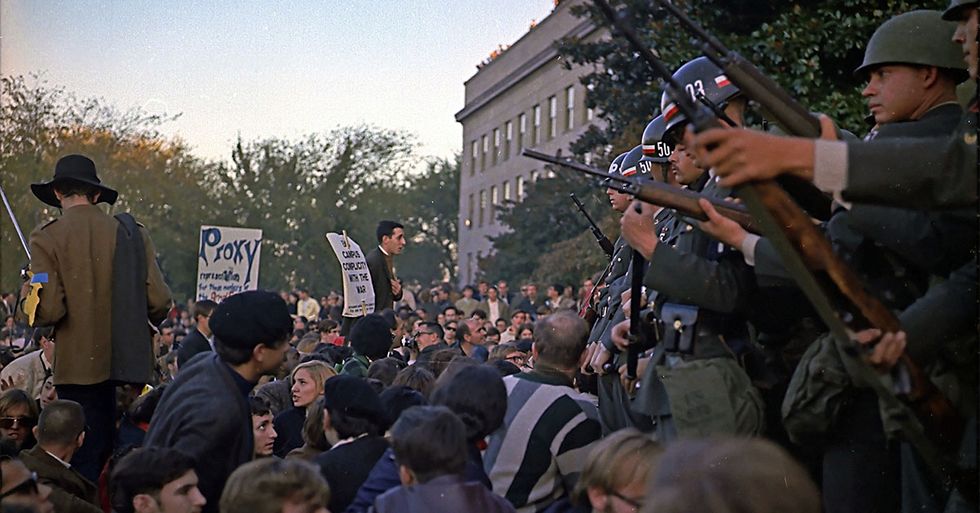 Members of the military police keep back protesters during their sit-in at the Mall Entrance to the Pentagon. Image from US Army.
Along the way, the filmmakers didn't encounter as much reticence from their subjects as some might expect. Credit the passage of time.
"We generally found that there was enormous interest in having their story told," Novick says. "They saw it as a chance to share experiences with the wider world that were very important to them and seminal, informative, and sometimes very, very painful."
The result is a panoramic, immersive, intensely intimate and often heart-wrenching film experience that captures the human stories embedded within a war that claimed the lives of more than 58,000 Americans, and more than 3 million Vietnamese military personnel and civilians.
Burns, of course, realizes that many viewers will bring their "personal baggage" and hardened perspectives to the film. But he and Novick insist that they were intent on being as even-handed as possible.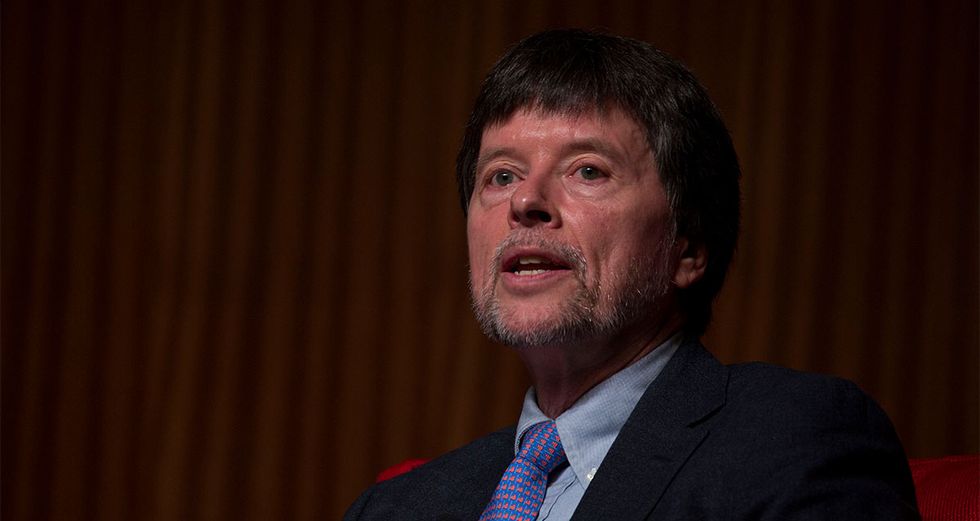 Filmmaker Ken Burns. Wikimedia Commons photo from user David Hume Kennerly.
"There isn't a single truth in the war," Burns says. "In fact, there's many truths that can coexist, and that might help to sort of take the fuel rods out of the division and polarization that was born in Vietnam that continues to this moment."
The Vietnam conflict had long been on Burns' cinematic to-do list. But early in his career he felt the wounds were too fresh. And when he finally did approach the subject, he went in thinking he knew a lot about it, only to immediately learn he didn't.
"It was a daily humiliation," he recalls. "And the humbleness that you have to assume in order to get through the next 10 years is just that -- humbling. So we just kept our heads down and worked to get it right."
According to Novick, one of the key discoveries they encountered along the way was the continual privately expressed skepticism from government officials that the US could prevail in the conflict, which was carried out under five presidents.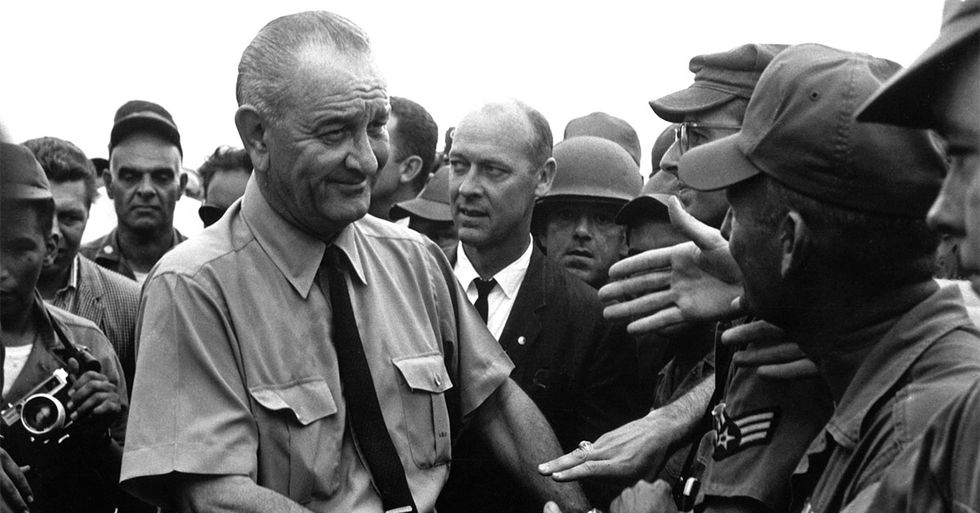 President Lyndon B. Johnson greets American troops in Vietnam, 1966. Image fro US State Department.
"There never was a time when the people in our government who were pushing the war forward had total confidence that it was winnable," she says. "You hear this drumbeat of doubt and lack of sureness that it can come out well, that we can accomplish our goals, that it's sustainable. And that goes back to the earliest days of American involvement in Vietnam. ... That was rather revelatory and devastating."
It's Burns' hope that the film can open a national dialogue about Vietnam and get people to talk about it in a "calm way." After all, so much of what occurred during the war resonates with the present: Images of mass protests across a deeply divided nation; a White House paranoid about leaks and at odds with the media; disagreements over American military strategy in far-off territories; acrimony over what defines patriotism...
"History doesn't repeat itself. We're not condemned to repeat what we don't remember," he says. "It's that human nature never changes."