Articles
February 26, 2016 11:22:06 EST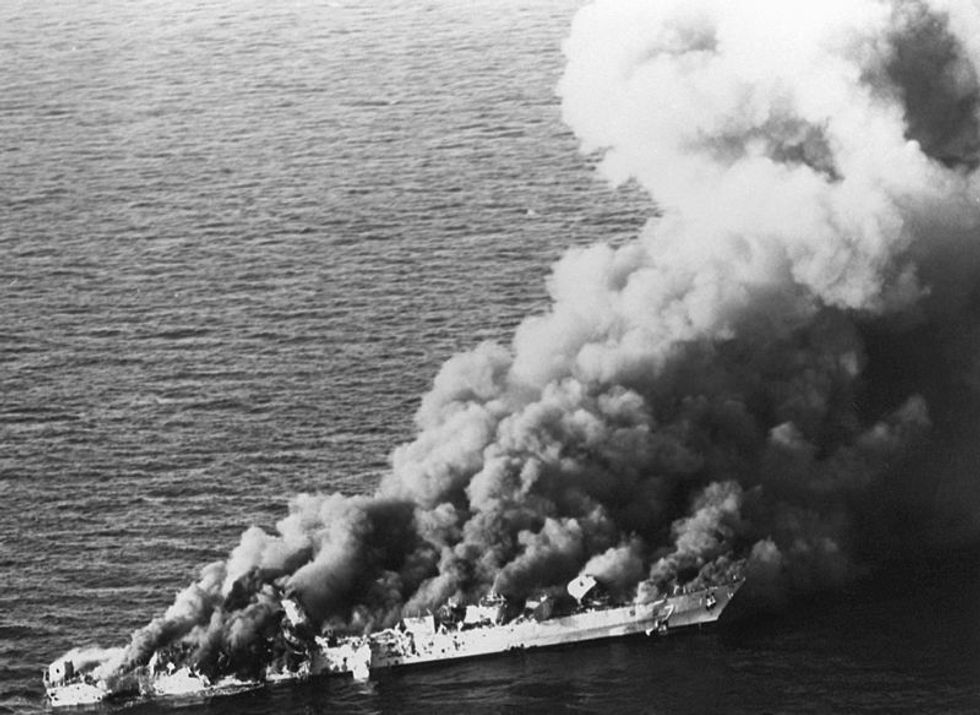 Aircraft carrier-based A-6E Intruder dropping a string on anti-ship mines during Operation Praying Mantis. (Photo: U.S. Navy)
The Iranian fast-attack ship Joshan was sunk by missiles and gunfire after attacking U.S. ships with Harpoon missiles, which were diverted by chaff. The Iranian frigate Sahand was totally destroyed by laser-guided bombs and Harpoons launched from A-6s after it had fired surface to air missiles at them. A second Iranian frigate, the Sabahan, was left crippled and burning by a laser-guided bomb and had to be towed back to port.
The Iranians launched land-based Silkworm anti-ship missiles against several U.S. ships across the Gulf, but all of them missed their targets. Considering the retaliation a success, the U.S. disengaged their ships with the loss of only one helicopter which crashed that night in an accident, leaving 3 dead. Iranian casualties from their destroyed frigates, speedboats, and platforms were nearly a hundred.
There was to be a tragic aftermath to the mining of the Samuel B. Roberts, which had triggered the action. The cruiser USS Vincennes, which had been dispatched to escort the Roberts home, shot down Iranian Flight 655, killing all 290 crew and passengers, after believing the civilian airliner was an Iranian F-14 fighter on an attack run. The U.S. government did not formally apologize, but in 1996 agreed to pay $61 million in compensation to the families of the victims.