Articles
February 19, 2016 03:46:14 EST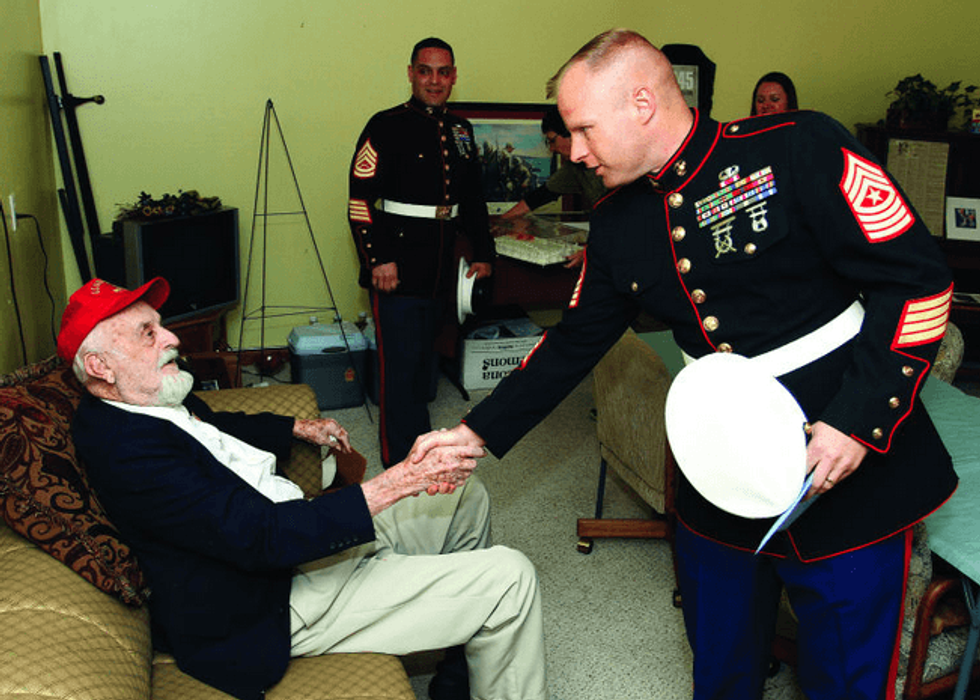 1st Lt. John Keith Wells, USMC. (Photo: U.S. Marine Corps)
Even after several wounds, including shrapnel and a chunk of his leg being severed, Wells continued to lead his men until he physically couldn't do move because of severe dehydration. But he wasn't down for long. He convinced a corpsman to give him sulfa powder and morphine so he could get off the hospital ship and back to his platoon.
Once Wells reached the base, one of the flag raisers, Charles Lindberg, helped him the rest of the way.
According to the 5th Marine Division's "Legends" page, after the first flag was raised Wells' commanding officer ordered him to relinquish command of the platoon and return to the aid station. Wells reluctantly passed the platoon to Sgt. Ernest "Boots" Thomas who was killed in action several days later. Wells remained on the island, although unable to lead his troops, until the island was declared secure.
Wells' daughter pointed out that the famous Iwo Jima flag raising photo, the one used to design the Marine Corps Memorial in Arlington, Virginia, was actually the second flag raised on the island. "The first one caused so much emotion that [one of the commanders] ordered a bigger flag be flown," she said.
After World War II ended, Wells attended Texas Tech College and obtained a degree in Petroleum Geology. He worked in the oil industry and served in the Marine Corps Reserve until 1959, retiring as a major.
In 1995, he published a memoir titled Give Me 50 Marines Not Afraid to Die.
"He honored and loved the Marine Corps with all his heart and soul," his daughter Connie said. "His last words were, 'My family.'"