Articles
December 27, 2016 15:18:56 EST
GOP Sen. John McCain said Tuesday he wants the U.S. to consider stationing troops permanently in Estonia, which borders Russia.
---
While on a tour of Baltic nations wary of the prospect of Russian aggression, McCain said stationing troops permanently in Estonia, in addition to fulfilling existing obligations to NATO, would increase military ties with the country, The Associated Press reports.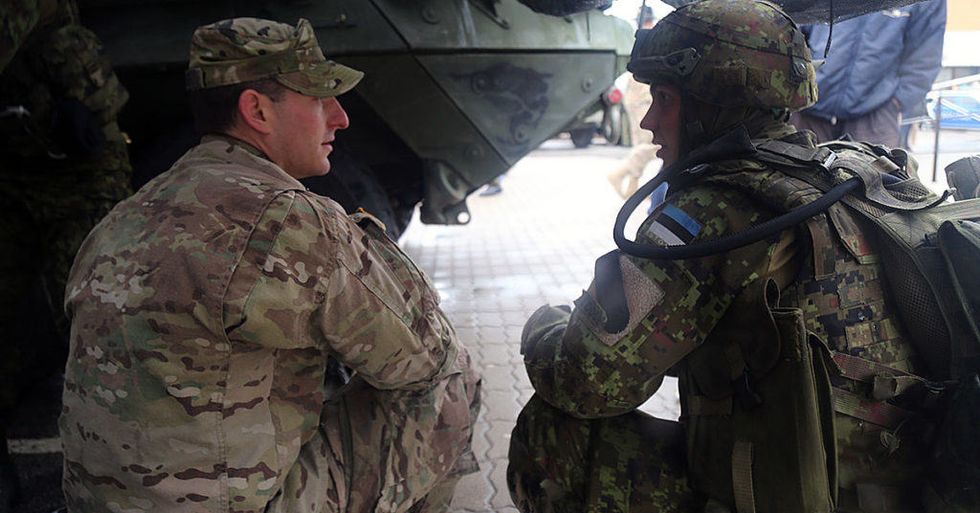 A U.S. Soldier assigned to 2nd Cavalry Regiment speaks with an Estonian soldier in Sillamae, Estonia, June 11, 2016. During exercise Dragoon Ride, Soldiers conduct static displays to validate our partnering allies' abilities to assemble forces rapidly, deploy them on short notice and improve the ability to shoot, move and communicate as a multinational alliance. Soldiers are also given the opportunity to play sports with the local citizens to build team cohesion. (U.S. Army photo by Sgt. Nikayla Shodeen/Released)
Part of the reason for McCain's visit to the region is to reassure Baltic countries like Lithuania and Latvia that even though GOP President-elect Donald Trump has somewhat soured on NATO, the U.S. will nevertheless maintain its security commitments. During his presidential campaign, Trump said he'd think about withdrawing from NATO because the "obsolete" institution costs the U.S. a lot of money
"I think the presence of the American troops here in Estonia is a signal that we believe in what Ronald Reagan believed, and that is peace through strength," McCain said in Tallinn, Estonia's capital.
"And the best way to prevent Russian misbehavior is by having a credible, strong military and a strong NATO alliance," McCain added.
Additionally, McCain has taken special interest in the area because he's a trenchant critic of Russian President Vladimir Putin and has blasted Russia's military incursions in Ukraine. McCain noted he doesn't expect U.S. sanctions on Russia to lift anytime soon.
He's also pushed for a congressional panel to examine Russia's reported attempts to influence the 2016 U.S. presidential election.
However, McCain downplayed the idea that the U.S. can say with any certainty that Russian interference changed the course of the election.
"There is no doubt that the Russians were hacking, but there is doubt whether it had any effect on the outcome of the election," McCain said. "There is no evidence right now that indeed the Russian cyber attacks and the leaking of the information had any tangible effect on the outcome of the American election."
Content created by The Daily Caller News Foundation is available without charge to any eligible news publisher that can provide a large audience. For licensing opportunities of our original content, please contact licensing@dailycallernewsfoundation.org.