Articles
March 28, 2015 05:00:03 EST
The military has very talented photographers in the ranks, and they constantly attempt to capture what life as a service member is like during training and at war. Here is the best of what they shot this week:
---
AIR FORCE
Tech. Sgt. Timothy Cotterall, an Air National Guard emergency manager, is decontaminated following attempts to identify multiple biological contaminants in a simulated lab during a Global Dragon trai

ning event on March 18, 2015. Held at the Guardian Centers of Georgia, Global Dragon Deployment For Training provides a refresher course for Airmen, allowing them to put their skills to use to identify live chemical, biological, radiological and nuclear agents and materials.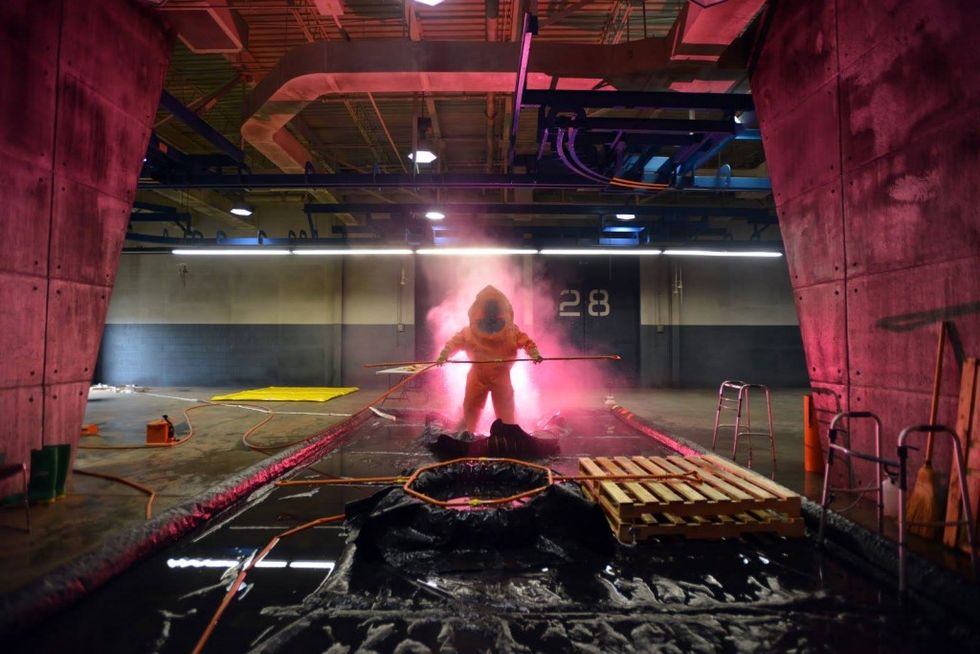 Photo: Tech. Sgt. Timothy Cotterall/US Air Force
The lights along the flightline at Eielson Air Force Base, Alaska, shine under the Aurora Borealis, or Northern Lights March 18, 2015. Eielson is home to RED FLAG-Alaska, a series of Pacific Air Forces commander-directed field training exercises for U.S. forces, provides joint offensive counter-air, interdiction, close air support, and large force employment training in a simulated combat environment.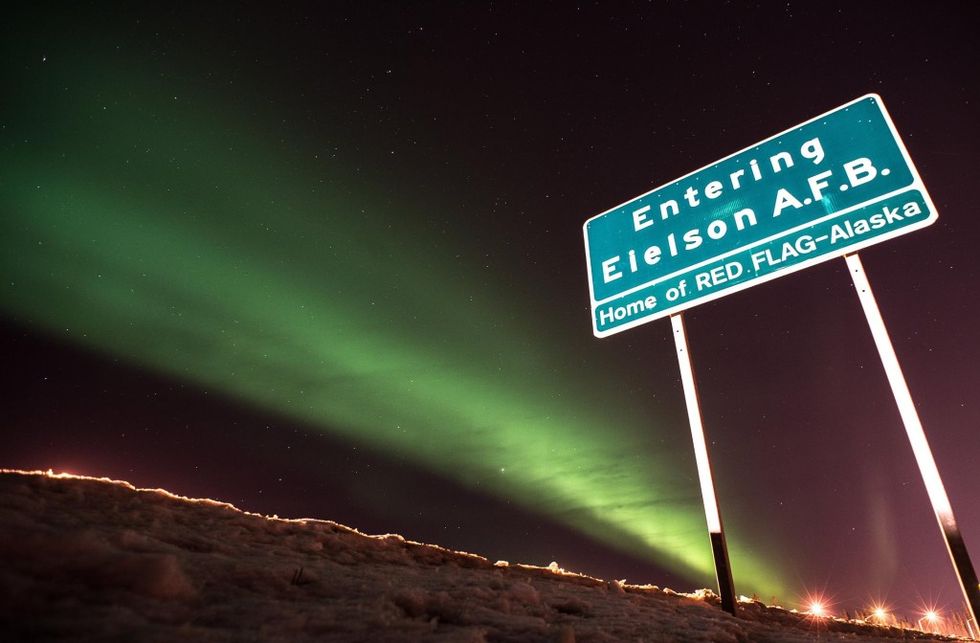 Photo: Staff Sgt. Shawn Nickel/US Air Force
NAVY
WATERS NEAR GUAM (March 26, 2015) The Arleigh Burke-class guided-missile destroyer USS Fitzgerald (DDG 62), right, comes alongside the Military Sealift Command fleet replenishment oiler USNS Pecos (T-AO 197) for a replenishment-at-sea during Multi-Sail 2015.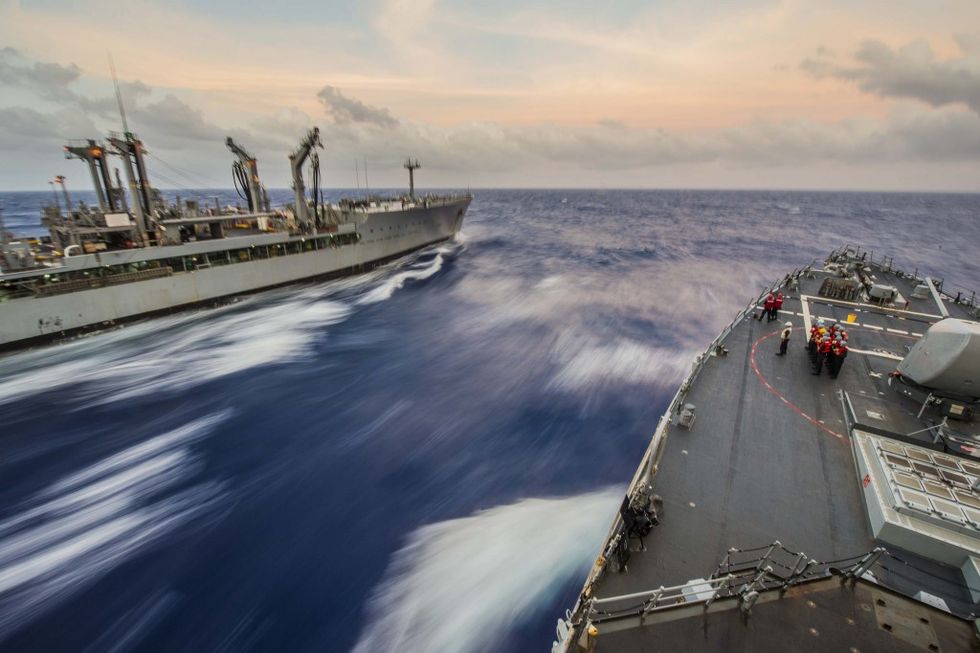 Photo: Mass Communication Specialist Seaman Patrick Dionne/US Navy
WATERS NEAR GUAM (March 27, 2015) U.S. Navy and Japan Maritime Self-Defense Force ships are underway in formation during Multi-Sail 2015. Multi-Sail is an annual Destroyer Squadron (DESRON) 15 exercise designed to assess combat systems, improve teamwork and increase warfighting capabilities in the U.S. 7th Fleet area of responsibility. The Japan Maritime Self-Defense Force is participating in Multi-Sail for the first time.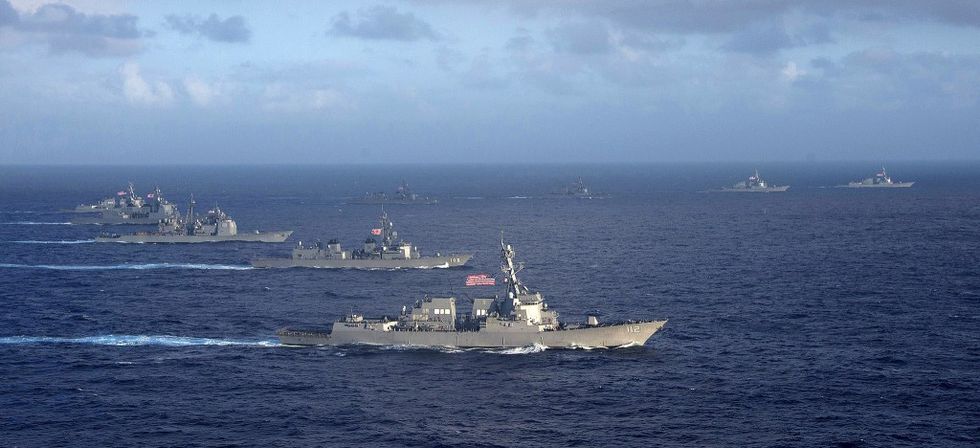 Photo: Mass Communication Specialist 2nd Class Daniel M. Young/US Navy
ARMY
The sun sets on Soldiers assigned to 2d Cavalry Regiment, after conducting a tactical road march from Mihail Kogalniceanu Airbase to Smardan Training Area, Romania, March 24, 2015. The Soldiers are preparing to partner with Soldiers assigned to 173rd Airborne Brigade and Romanian forces for a multinational training event in support of Operation Atlantic Resolve.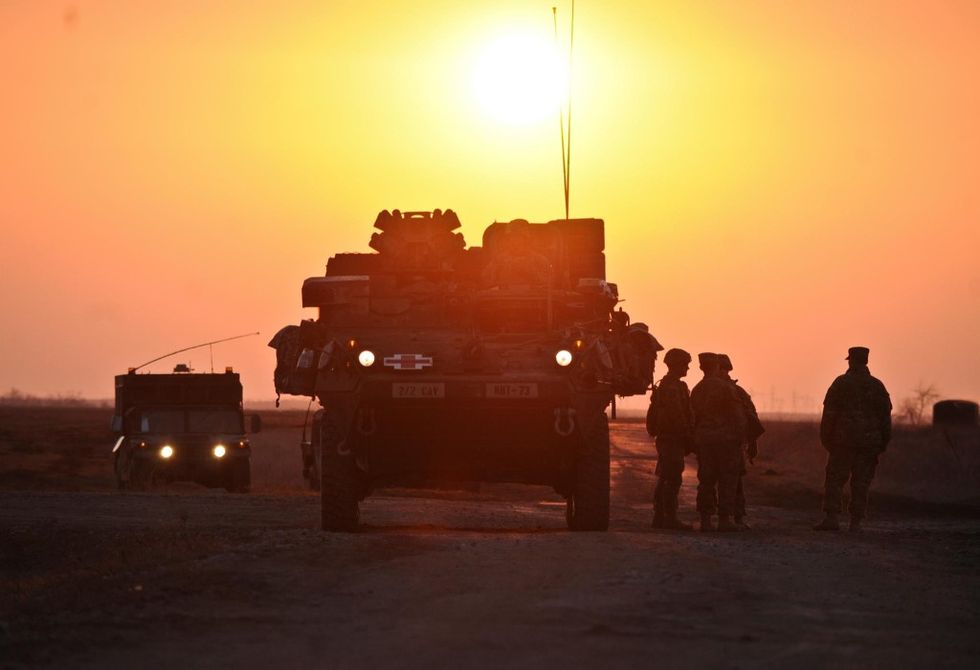 Photo: Sgt. William A. Tanner/US Army
Paratroopers assigned to 4th Brigade Combat Team (Airborne), 25th Infantry Division, conduct an after action review after completing a night live-fire, on Joint Base Elmendorf-Richardson.during U.S. Army Alaska's Exercise Spartan Valkyrie, March 23, 2015.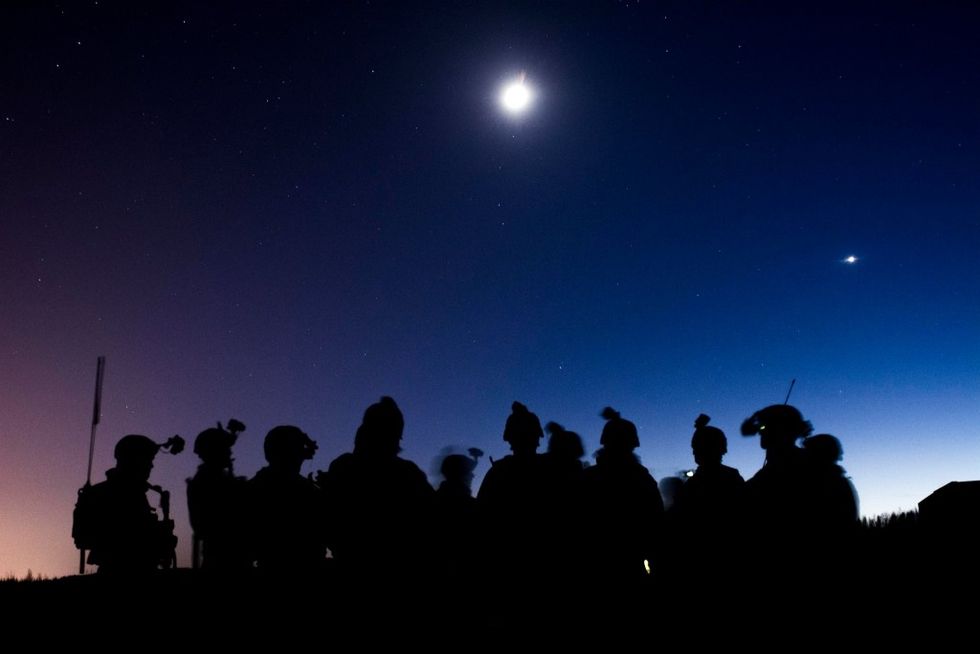 Photo: Staff Sgt. Daniel Love/US Army
MARINE CORPS
A Marine engages targets from a UH-1Y Venom with Marine Medium Tiltrotor Squadron 161, 15th Marine Expeditionary Unit, during Composite Training Unit Exercise (COMPTUEX) above San Clemente Island, California, March 20, 2015. COMPTUEX gives the Marines of VMM-161 the opportunity to practice real-world scenarios and hone their skill sets.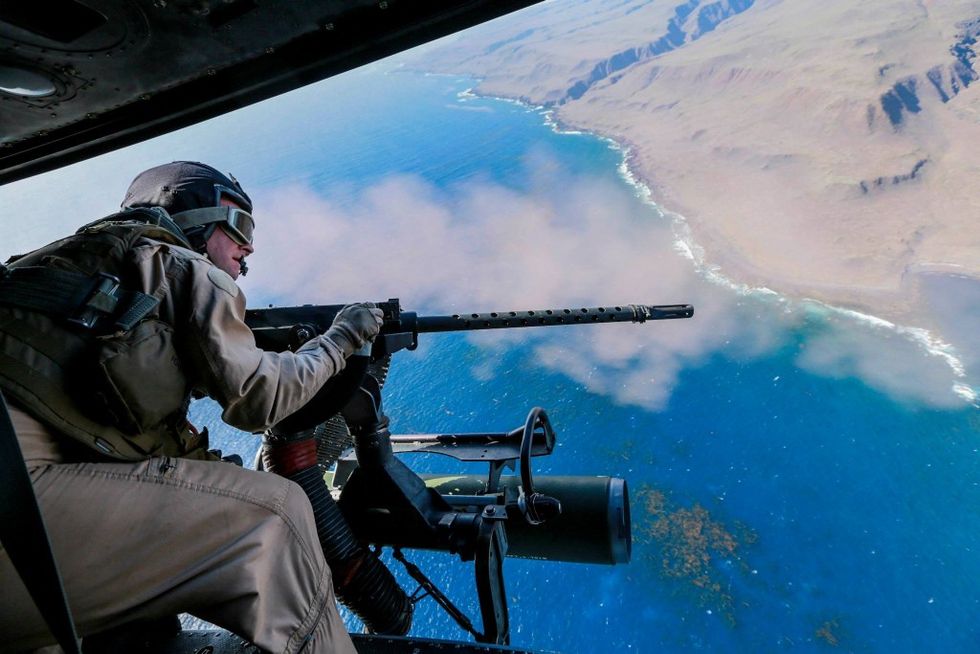 Photo: Sgt. Jamean Berry/US Marine Corps
A Marine with Combat Logistics Battalion 2, dives underwater to perform a self-rescue drill during a swim qualification course aboard Camp Lejeune, North Carolina, March 18, 2015. The purpose of the course was to maintain proficiency, and enhance the Marines skills in water survival techniques.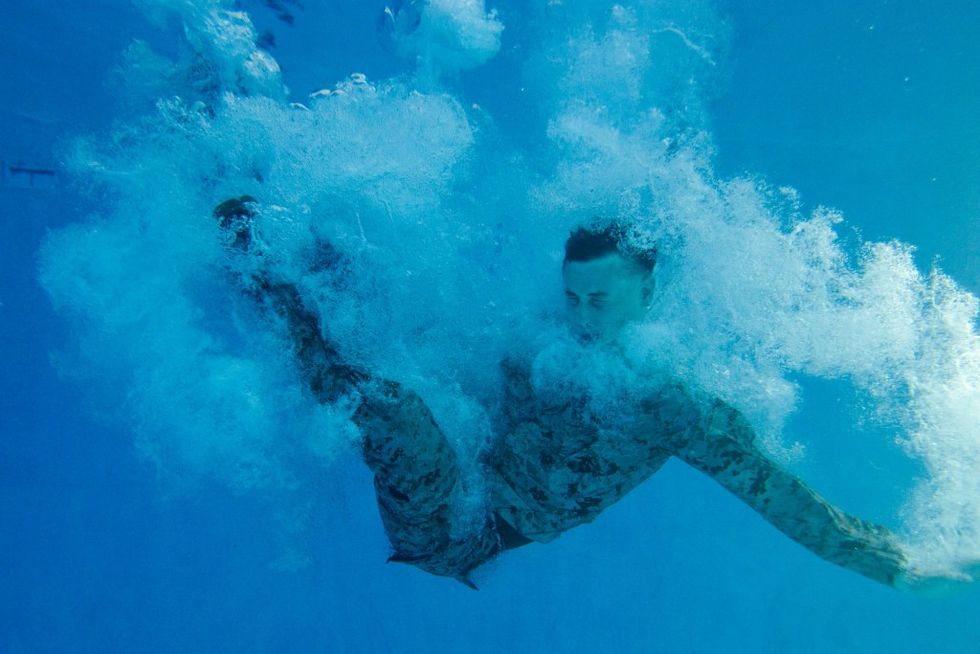 Photo: Lance Cpl. Andre Dakis/US Marine Corps
COAST GUARD
Coast Guard members from Coast Guard Sector Boston, Coast Guard Station Merrimack River and the First Coast Guard District conduct flare training on Plum Island, Mass., Dec. 15, 2014. The participants fired several different types of flares to gain familiarity with the operation and appearance for each type of flare.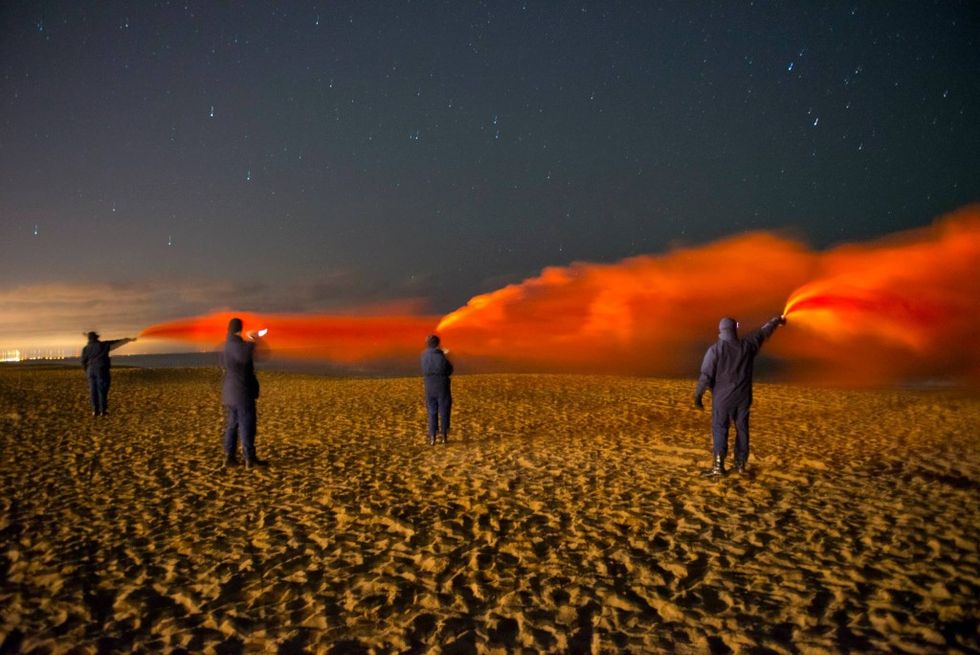 Photo: Petty Officer 3rd Class MyeongHi Clegg/US Coast Guard
As the sun sets, a crew member acts as lookout aboard Barque Eagle in the North Atlantic, April 2, 2014. Coast guard Cutter Eagle is the only active commissioned sailing vessel, and one of only two commissioned sailing vessels along with the USS Constitution, in American military service.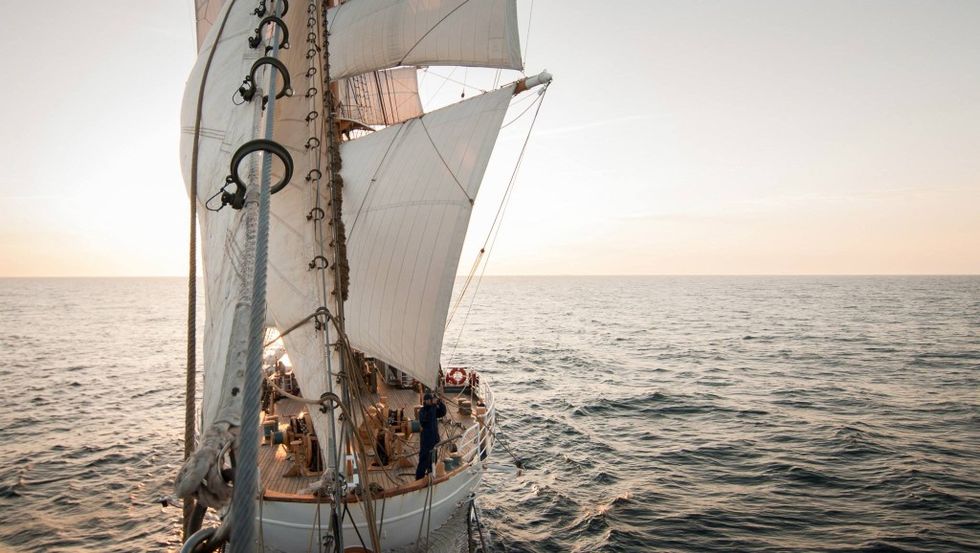 Photo: Petty Officer 2nd Class LaNola Stone/US Coast Guard