Articles
February 28, 2015 10:00:17 EST
Military photographers in all the branches of the armed forces are constantly taking awesome shots of training, combat, and stateside events. We looked among the military's official channels, Flickr, Facebook, and elsewhere and picked our favorites over the past week. Here's what we found:
---
AIR FORCE
A B-52H Stratofortress flies during Cope North 15, Feb. 17, 2015, off the coast of Guam. During the exercise, the U.S., Japan and Australia air forces worked on developing combat capabilities enhancing air superiority, electronic warfare, air interdiction, tactical airlift and aerial refueling. The B-52H is assigned to the 96th Expeditionary Bomb Squadron.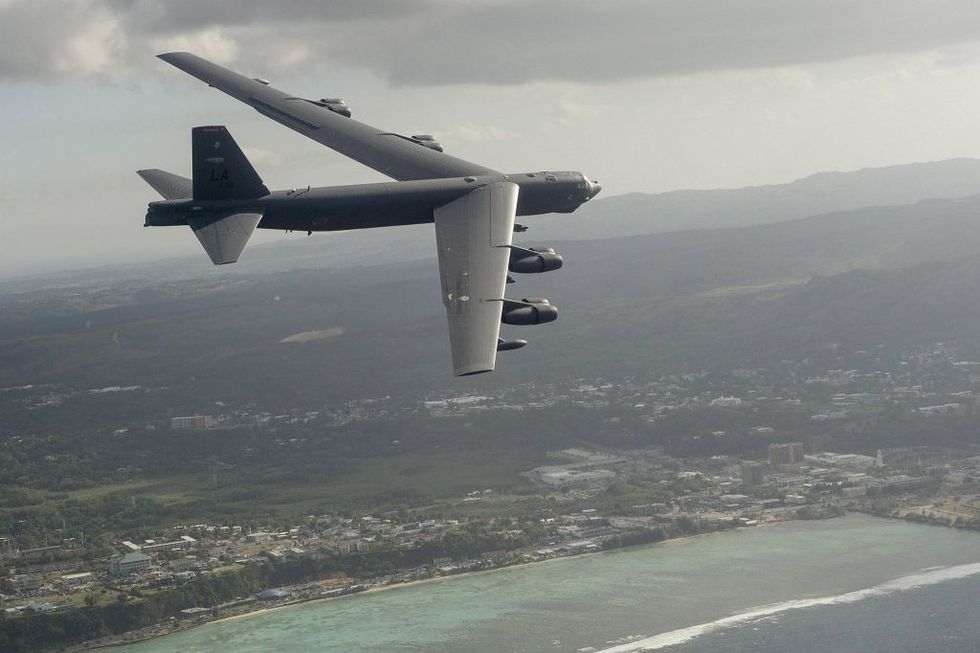 Photo: Tech. Sgt. Jason Robertson/USAF
Exercise Cope North 15 participants and aircraft from the U.S. Air Force, U.S. Navy, Japan Air Self-Defense Force, Royal Australian Air Force, Republic of Korea Air Force, Royal New Zealand Air Force and Philippine Air Force take a group photo Feb. 13, 2015, at Andersen Air Force Base, Guam.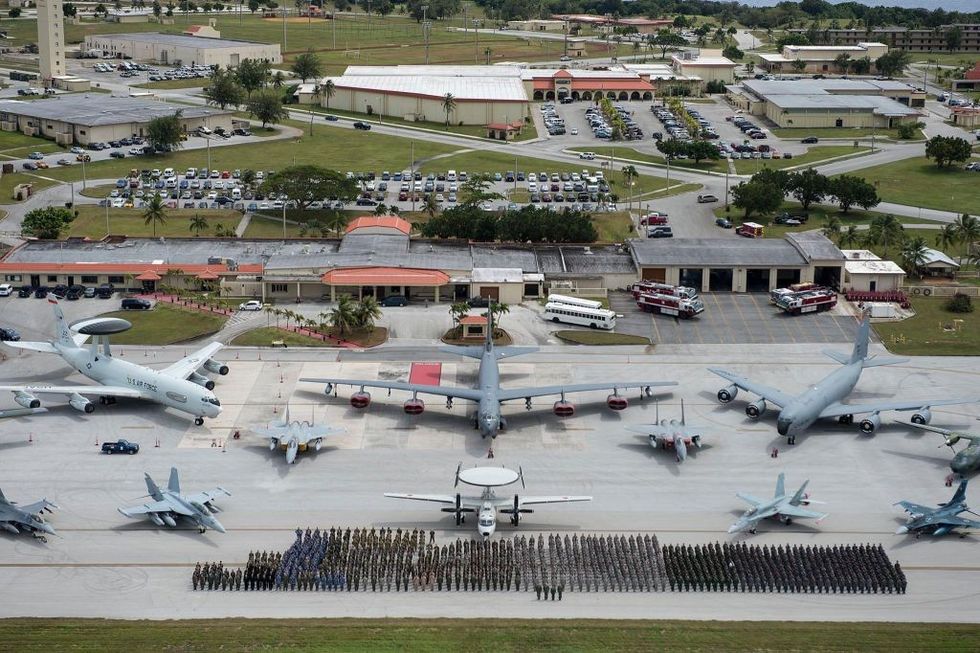 Photo: Tech. Sgt. Jason Robertson/USAF
NAVY
SASEBO, Japan (Feb. 26, 2015) Lt. j.g. Weston Floyd, ballistic missile defense officer, Cmdr. Chad Graham, executive officer, and Chief Operations Specialist Chris Ford prepare to participate in a fleet synthetic training joint exercise aboard the Arleigh-burke class guided-missile destroyer USS John S. McCain (DDG 56).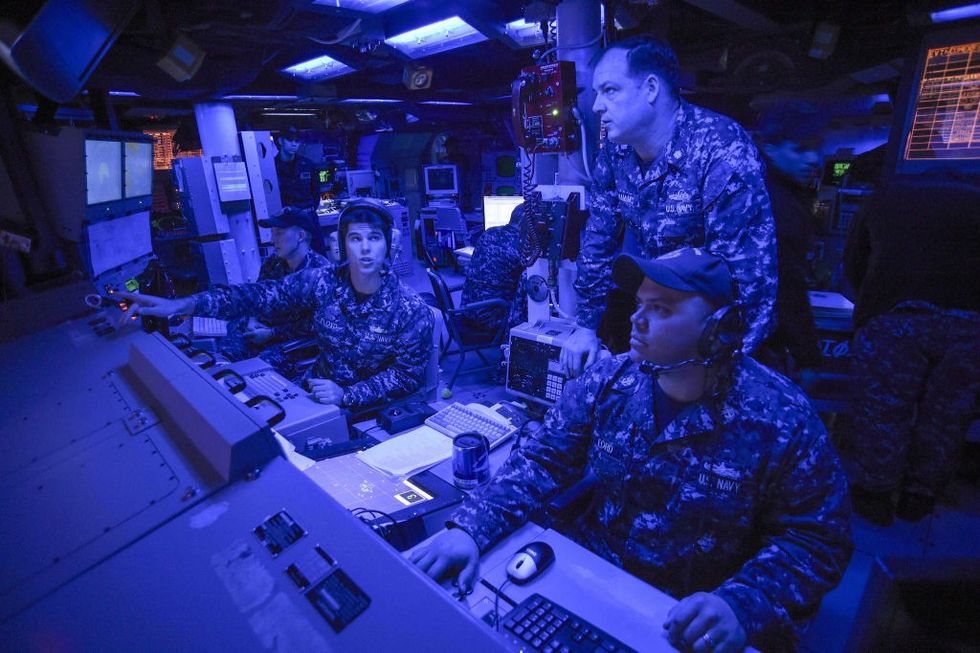 Photo: Mass Communication Specialist First Class Joshua Hammond/USN
PACIFIC OCEAN (Feb. 26, 2015) Marine Corps Maj. Gen. Carl E. Mundy III, commander of Task Force (CTF) 51, addresses Sailors and Marines during an all-hands call on the flight deck of Wasp-class amphibious assault ship USS Essex (LHD 2).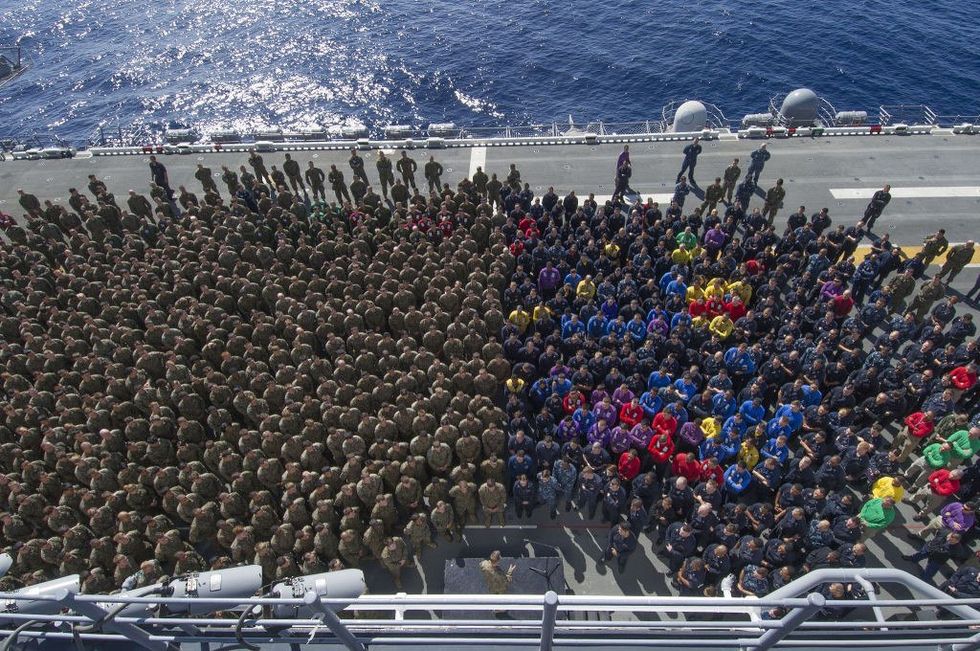 Photo: Mass Communication Specialist 1st Class Jason M. Graham/USN
ARMY
Soldiers train with multinational soldiers at the International Special Training Center Advanced Medical First Responder Course (ISTC), conducted by the ISTC Medical Branch, in Pfullendorf, Germany, Feb. 17-19, 2015.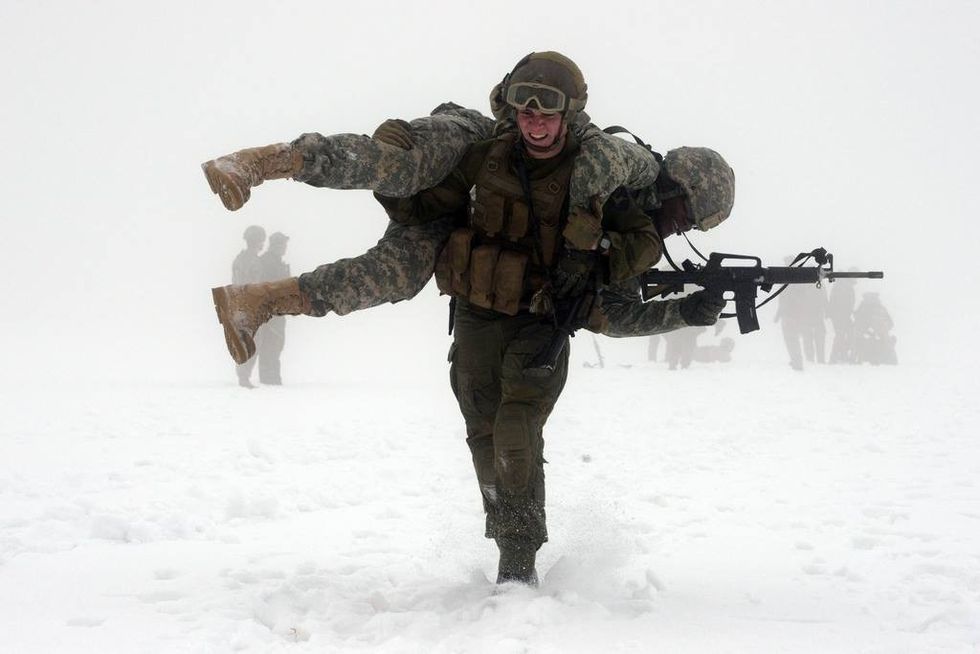 Photo: Visual Information Specialist, Jason Johnston/US Army
Soldiers participate in the chin up portion of the Ranger Physical Fitness Assessment (RPFA) on Fort Benning, Ga., Feb. 7, 2015, as part of the Ranger Training Assessment Course. In order to pass the RPFA, Soldiers must successfully do 49 push ups, 59 sit ups, a 2.5-mile run within 20 minutes, and six chin ups.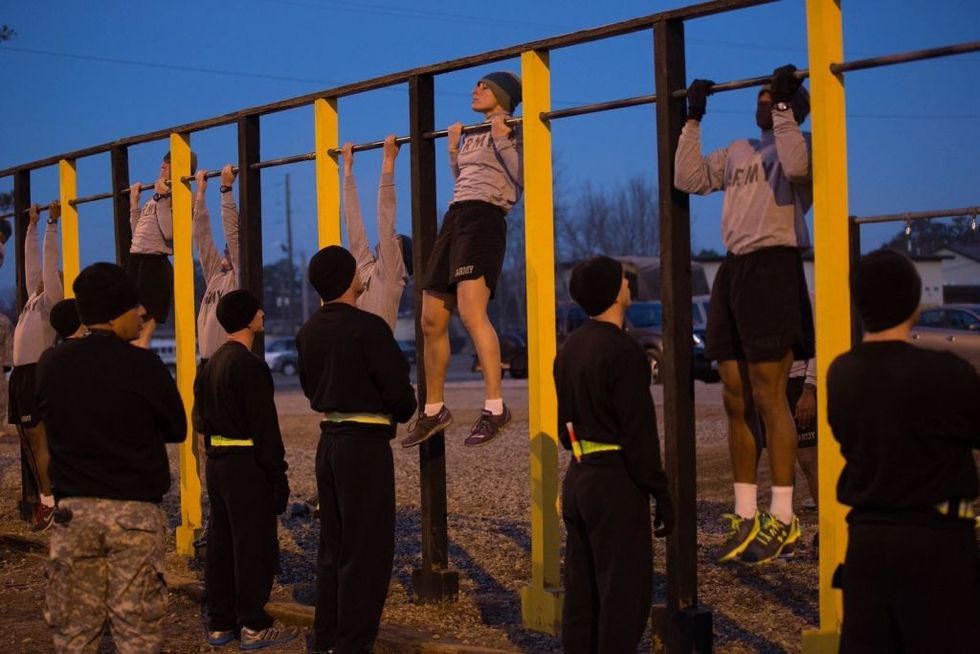 Photo: Sgt. Sara Wakai/US Army
MARINE CORPS
An AV-8B Harrier with Marine Medium Tiltrotor Squadron 161 (Reinforced), 15th Marine Expeditionary Unit, prepares to take off aboard the USS Essex (LHD 2) during Amphibious Squadron/Marine Expeditionary Unit Integration Training (PMINT) off the coast of San Diego, Feb. 24, 2015.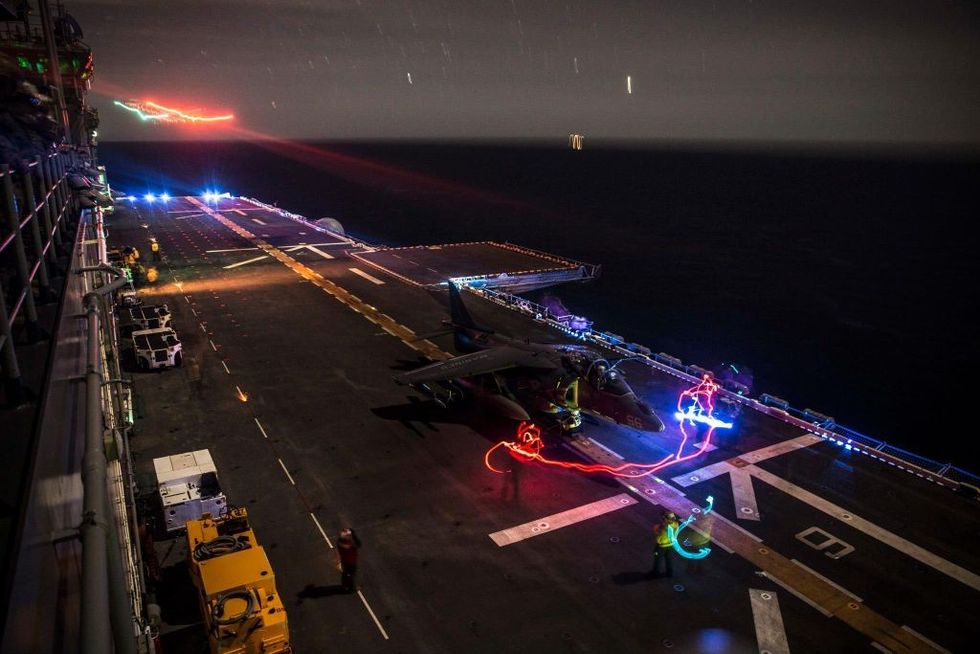 Photo: Sgt. Emmanuel Ramos/USMC
Marines extinguish a fuel fire at Marine Corps Air Station Futenma during live-burn training Feb. 21, 2015. The Marines worked together to contain and extinguish the fire.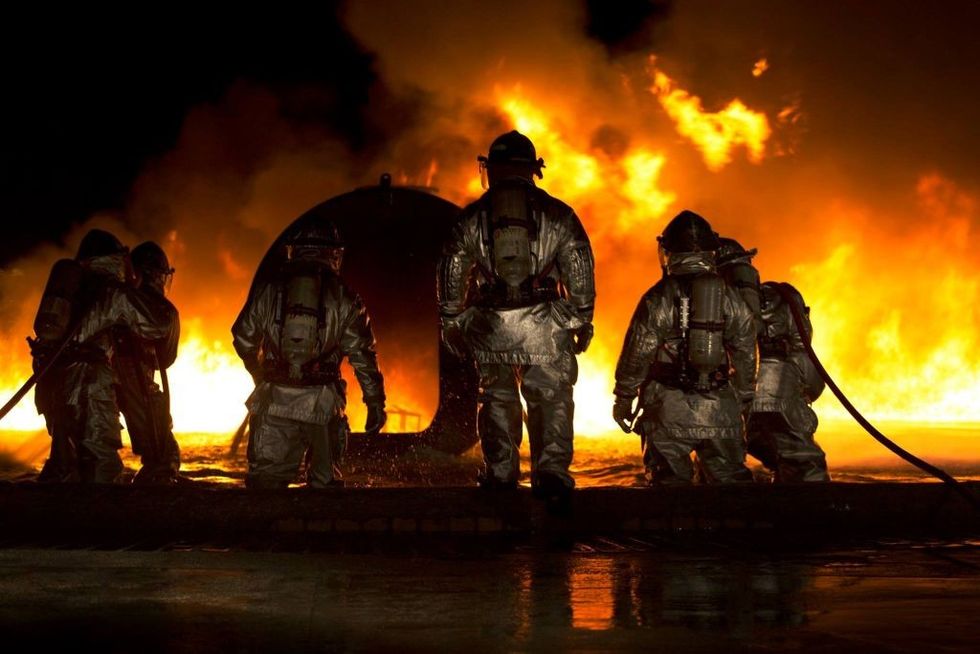 Photo: Lance Cpl. Janessa K. Pon/USMC
COAST GUARD
Petty Officer 2nd Class Bill Glenn and Petty Officer 1st Class Brian Korte, members of the military dive team aboard Coast Guard Cutter Polar Star, are hoisted out of icy water after completing an underwater inspection of the ship while moored at the National Science Foundation's McMurdo Station, Antarctica, Jan. 23, 2015.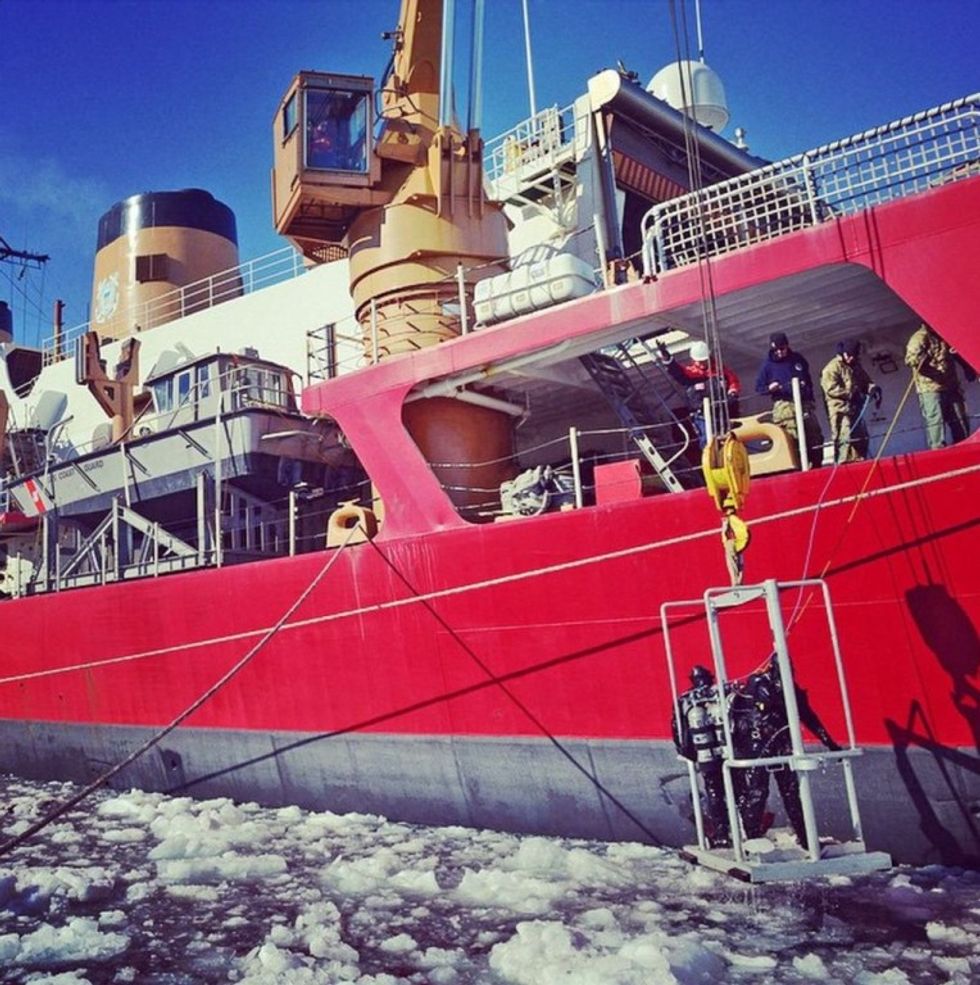 Photo: Petty Officer 1st Class George Degener/USCG
The crew sees alit of amazing wildlife in
Antarctica
. We're going to show you some of our favorite shots today. 
A seal lay on the ice in front of the Coast Guard Cutter Polar Star while the ship is hove-to in the Ross Sea near Antarctica, Jan. 30, 2015.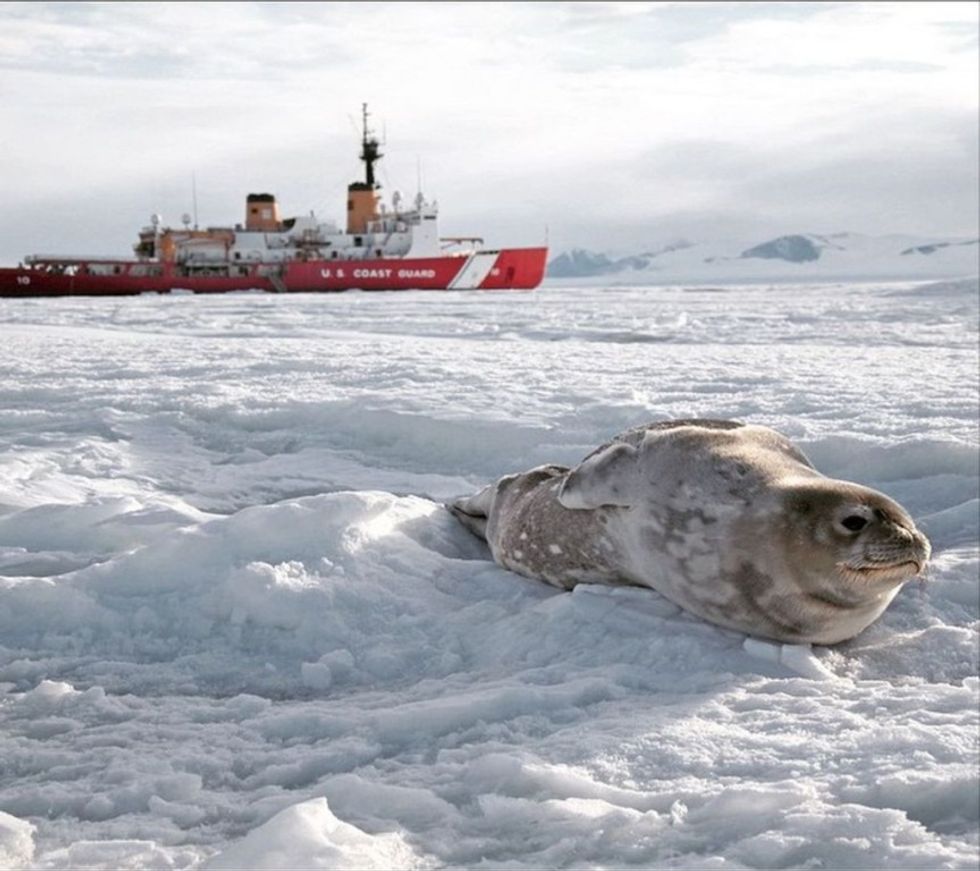 Photo: Petty Officer 1st Class Carlos Rodriguez/USCG