Articles
February 21, 2015 08:30:22 EST
Military photographers from all branches of the armed forces are constantly taking awesome shots of training, combat, and stateside events. We looked through the military's official channels, Flickr, Facebook, and elsewhere and picked our favorites over the past week. Here's what we found:
---
Also Read: These Are The Most Incredible Photos The Air Force Took In 2014
AIR FORCE
Tech. Sgt. Donnie McCorkle watches a C-17 Globemaster III land at Altus Air Force Base, Okla.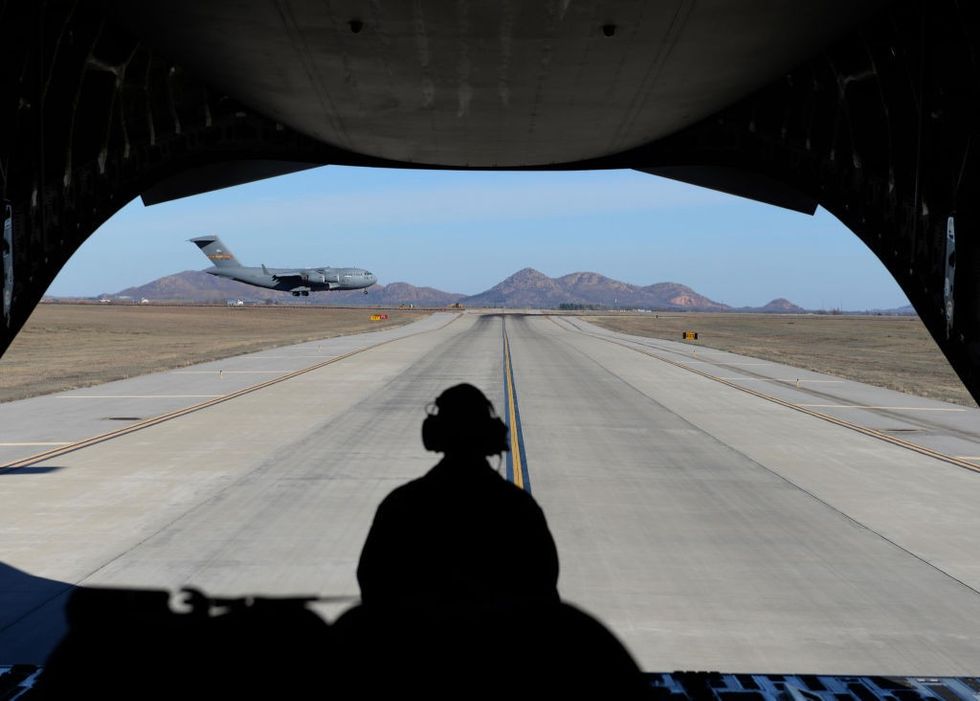 Photo: Airman 1st Class Nathan Clark/USAF
A C-5M Super Galaxy sits on the flightline as Airmen clear snow Feb. 17, 2015, on Dover Air Force Base, Del. Winter Storm Octavia dumped a total of four inches of snow on the base and throughout the local area.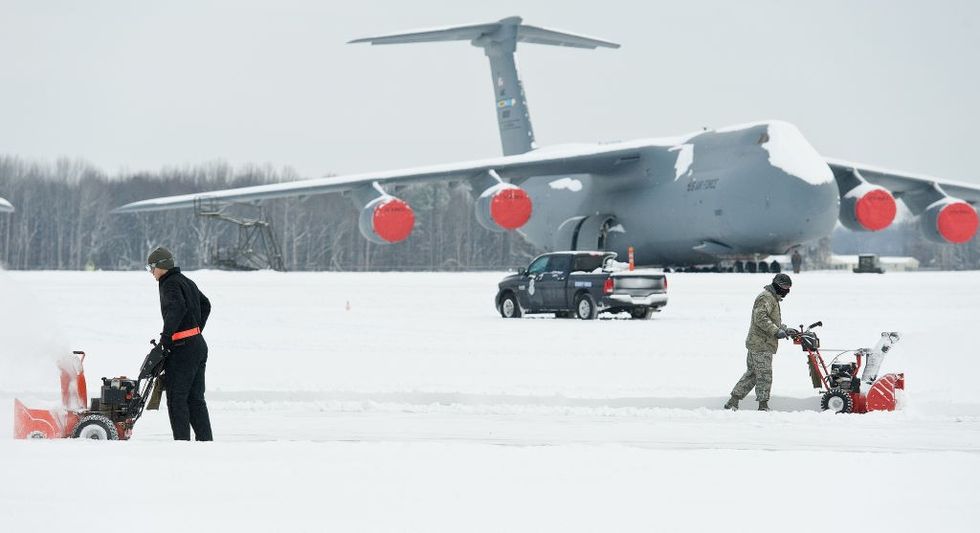 Photo: Roland Balik/USAF
NAVY
SEMBAWANG, Singapore (Feb. 19, 2015) Culinary Specialist 1st Class Robert Parks, from Fostoria, Ohio, heaves a mooring line on the forecastle of the littoral combat ship USS Fort Worth (LCS 3) during a sea and anchor detail.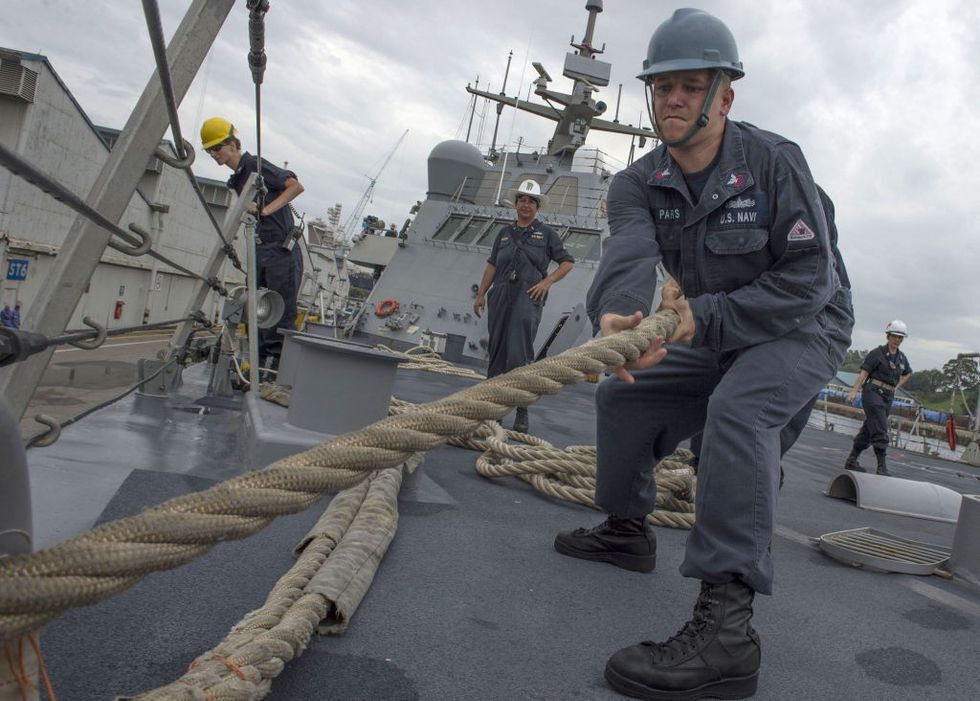 Photo: Mass Communication Specialist 2nd Class Conor Minto/USN
CAMP LEMONNIER, Djibouti (Feb. 18, 2014) Cmdr. Ron Neitzke, Camp Lemonnier command chaplain, places ashes on the forehead of Chief Hospital Corpsman Alvin Cruz during an Ash Wednesday service. Ash Wednesday marks the beginning of Lent, a Christian religious observance that covers a period of approximately six weeks before Easter Sunday.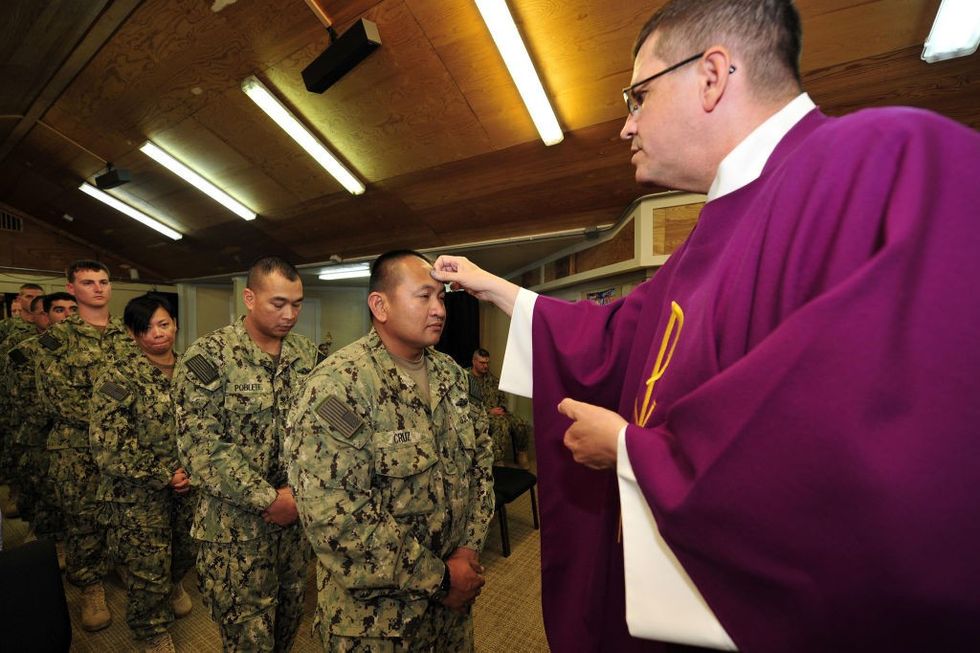 Photo: Mass Communication Specialist 1st Class Julia A. Casper/USN
ARMY
An Army Green Beret, assigned to 3rd Special Forces Group (Airborne), provides security for a mule carrying the Mk 47 grenade launcher during MULE Packing Training on Fort Bragg, N.C., Jan. 27, 2015.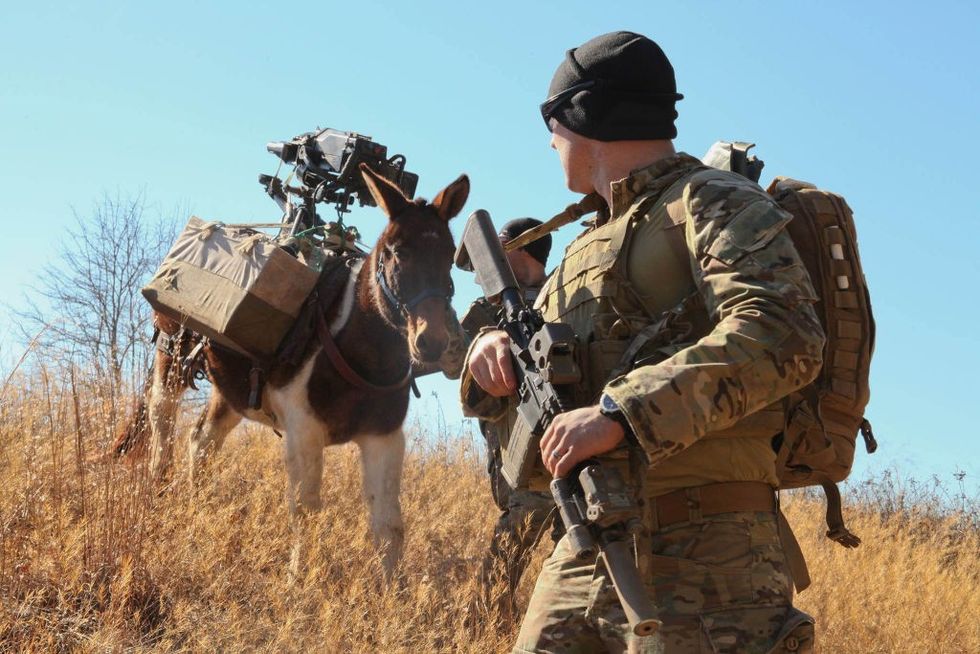 Photo: Sgt Edward F French IV./USARMY
Army Medicine researchers are investigating possible long-term effects of exposure to dust and other airborne particulate matter.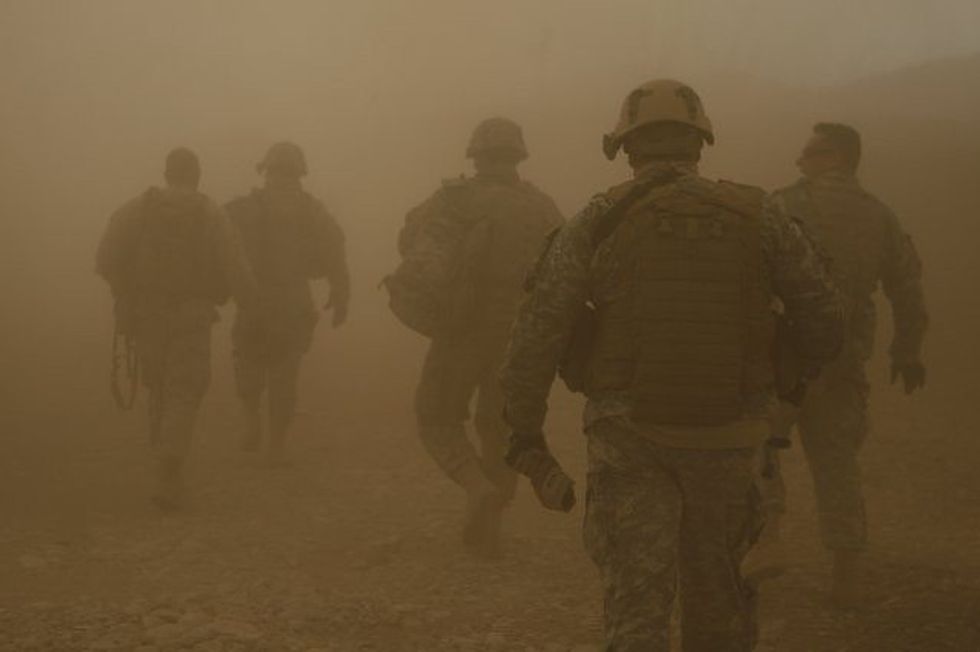 Photo: Sgt. Brian Kester/USMC
MARINE CORPS
ARLINGTON, Va. - Sergeant Major Micheal Barrett, the 17th sergeant major of the Marine Corps, relinquished his post to Sergeant Major Ronald Green, the 18th sergeant major of the Marine Corps, during a ceremony at the Marine Corps War Memorial, Arlington, Virginia, Feb. 20, 2015.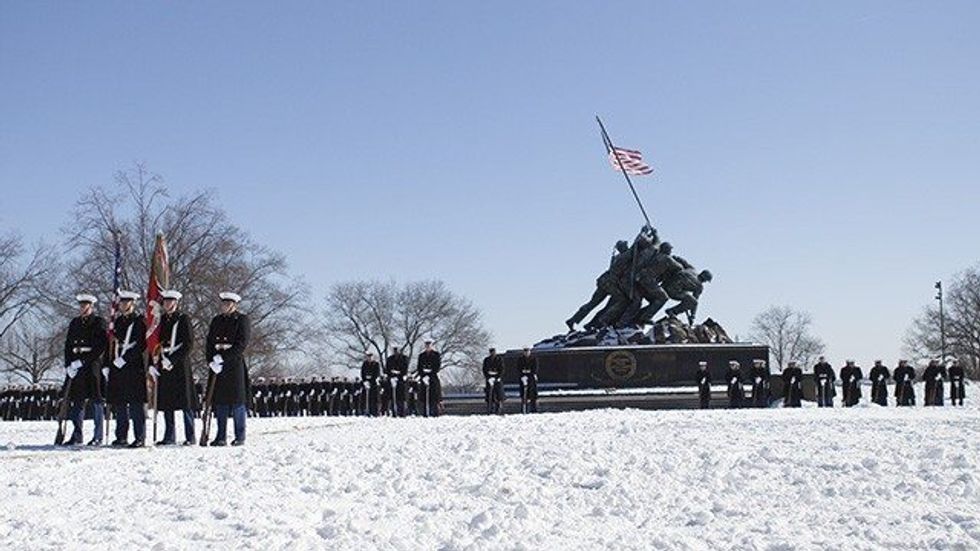 Photo: Sgt. Melissa Karnath/USMC
MARINE CORPS BASE CAMP LEJEUNE, North Carolina - Lance Cpl. Zachary Painter (left) and Lance Cpl. Reymond Kane, machine gunners with 2nd Battalion, 2nd Marine Regiment and natives of Roanoke, Va. and Long Island, N.Y., respectively, simulate firing at an enemy during a gun drill at training area G-G aboard Camp Lejeune, N.C., Feb. 18, 2015.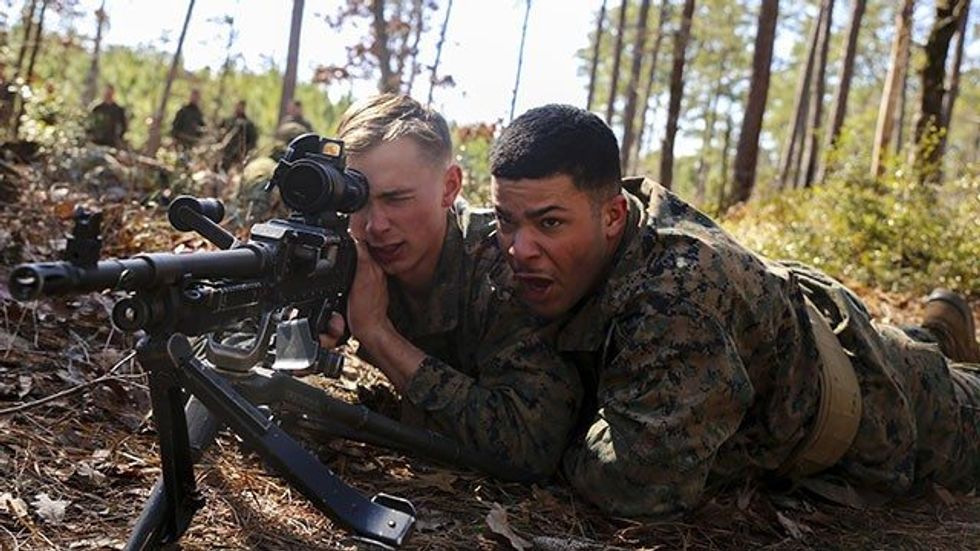 Photo: Cpl. Kirstin Merrimarahajara/USMC
COAST GUARD
A USCG helicopter stands ready as the sun sets on another day of service to nation.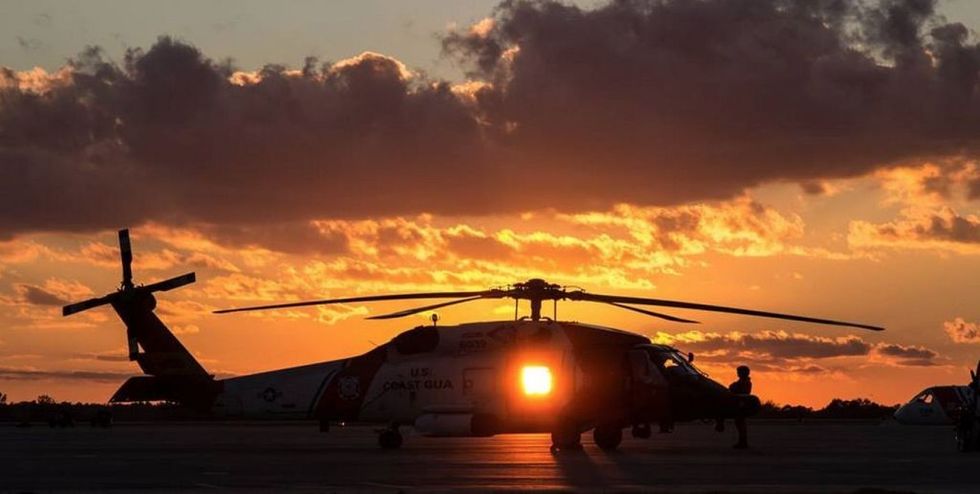 Photo: USCG/Twitter
USCG crew responds to 13 yr. old boy needing medical attention aboard cruise ship.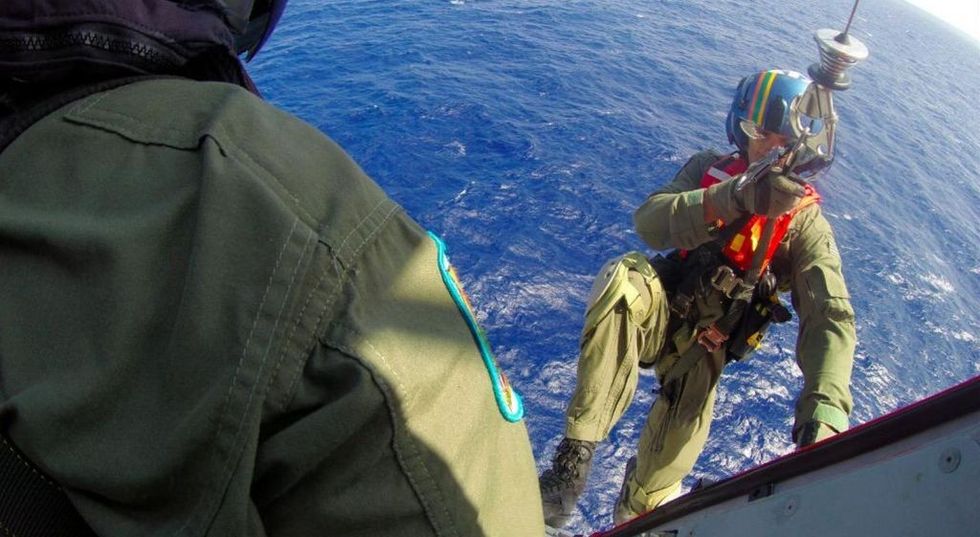 Photo: USCG/Twitter