Articles
June 09, 2015 04:00:28 EST
Politicians hold important positions of power, but their job looks boring as hell. Politicians and political writers like to spice up their stories by using military language like "ambush" while describing a heated discussion at the country club, or "the nuclear option" to explain a change in procedural rules in Congress.
---
The language definitely spices up the stories, but it sounds ridiculous to people who have actually been ambushed or had to contemplate a true nuclear option. Here are 13 terms that make politicians sound melodramatic.
1. Ambush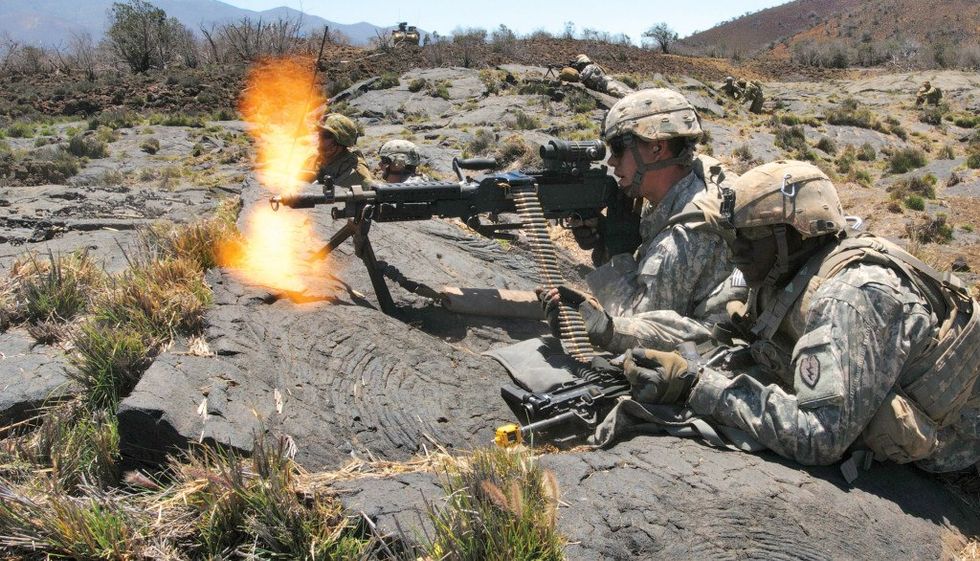 Putin has a nuclear option. The U.S. Senate has some control over a nuclear option. However, when Congress changed the rules for a fillibuster, that wasn't the nuclear option. That was a change in procedural bylaws. It's easy to tell the difference. One destroys entire cities in moments. The other makes it harder to block a presidential nominee for office.
10. Scorched-Earth
A scorched-earth political campaign is when a politician is willing to break alliances to win. True scorched earth though, comes when an army breaches the enemy border and starts destroying everything in their path. Atlanta suffered real scorched earth when Maj. Gen. William Sherman burnt the city nearly to the ground while destroying railroads on his way to Savannah.
11. Shock and awe
Like "blitzkrieg" and "all-out war" before it, "shock and awe" is now a popular phrase for describing a political struggle where one side has engaged every asset at their disposal. However, when political fights actually reach the level of blitzkriegs or Operation Shock and Awe, that's called a civil war. When a politician is spending a bunch of money or smearing an opponent, that's called campaigning. Completely different things.
12. Take no prisoners
Combat soldiers frequently have to decide whether to try and take prisoners or kill anyone who doesn't immediately surrender. Politicians, however, should never be in a situation where they decide to take no prisoners. They have an office job. They should only be deciding whether to take a phone call, or whether to take a dump.
13. The War Room/The Situation Room
James Carville and George Stephanopoulos ran President Bill Clinton's "War Room" for the 1992 elections while Wolf Blitzer anchors the news for CNN from The Situation Room, which CNN describes as "The command center for breaking news." First, while Clinton's 1992 run was tumultuous, nothing going into the War Room was on par with combat operations. Second, Wolf Blitzer is not the commander of anything. He's a photogenic TV personality. Carville was in a political strategy room. Blitzer works in a newsroom.