Articles
November 30, 2015 15:31:50 EST
A Navy Littoral Combat Ship destroyed an attacking swarm of small boats using a wide range of assets and weapons such as 57mm guns, radar, drones and helicopters, service officials said.
---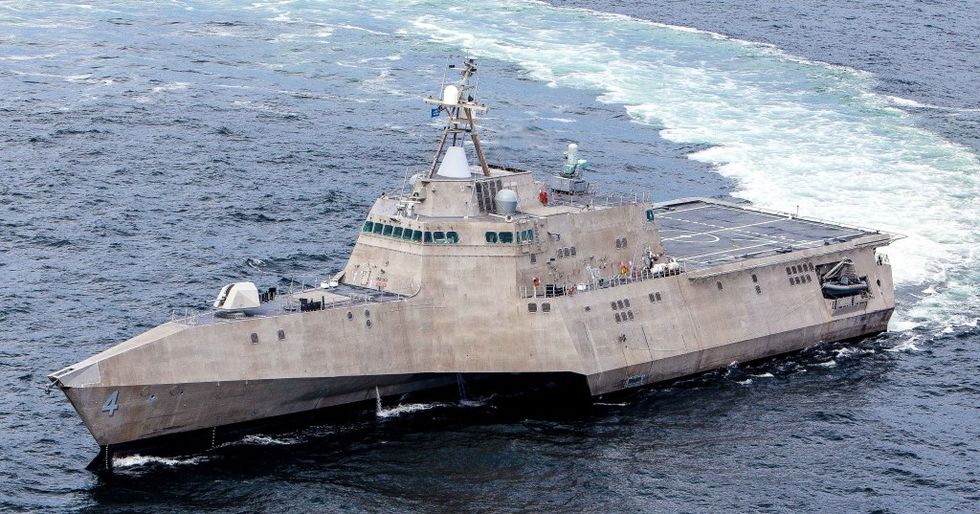 The USS Coronado arrives in San Francisco Oct. 7, 2015 for Fleet Week. Photo: flickr/rulenumberone2
Improving the electronic warfare capacity of the ship is also a key consideration, along with "hardening" the combat systems such that they are better able to withstand attacks and remain functional if the ship is hit by enemy fire. This could involve making adjustment to the power and cooling systems aboard the ship, Anderson explained.
Overall, the Navy plans to acquire as many as 32 LCS ships broken down into two variants; an Independence variant with a trimaran hull and a Freedom variant with a flat-bottomed mono-hull. The service plans to have 24 LCS ships delivered by 2019.
The Independence variants are also armed with a ship-defense interceptor missile called SeaRAM, a weapon designed to destroy approaching drones, aircraft, cruise missiles and anti-ship missiles. The defensive weapon is already installed on the Independence variant of the LCS and will be integrated onto the Freedom variant from ship number 17 and forward, Anderson explained.
The LCS ship is engineered in what Navy engineers call a "modular" fashion, meaning it is designed to more readily and quickly swap out technologies and system and more efficiently integrate new technologies as they emerge, Anderson said.
The ships are configured with so-called "mission packages" for anti-submarine warfare, surface warfare and countermine operations. The idea is to have swappable groups of integrated technologies able to move on and off the ships as dictated by mission requirements.
"The ship can be built at the right pace of construction and the weapons can be developed base on the threat in the real world," Anderson added.
For the swarm boat test, the USS Coronado was configured with the "surface warfare" package – a group of weapons and technologies which includes an MH-60 helicopter, 30mm gun and 11-meter Rigid Inflatable Boats, or RIBs.
In 2016, the USS Coronado is slated to deploy to Singapore.
Also at ScoutWarrior.com:
Wireless Technology Brings Crosshair From Thermal Sights to Night Vision Goggle Display
A UH-60L Black Hawk Helo Crashed Monday at Fort Hood, Killing 4 Soldiers
NFL-Army Collaborative Research on Concussions Yields Initial Results
A Turkish Fighter Jet Fired an Air-to-Air Missile at a Russian Plane Near the Turkish-Syrian Border