Articles
July 10, 2015 09:17:13 EST
San Francisco's fog is famous, especially in the summer, when weather conditions combine to create the characteristic cooling blanket that sits over the Bay Area.
---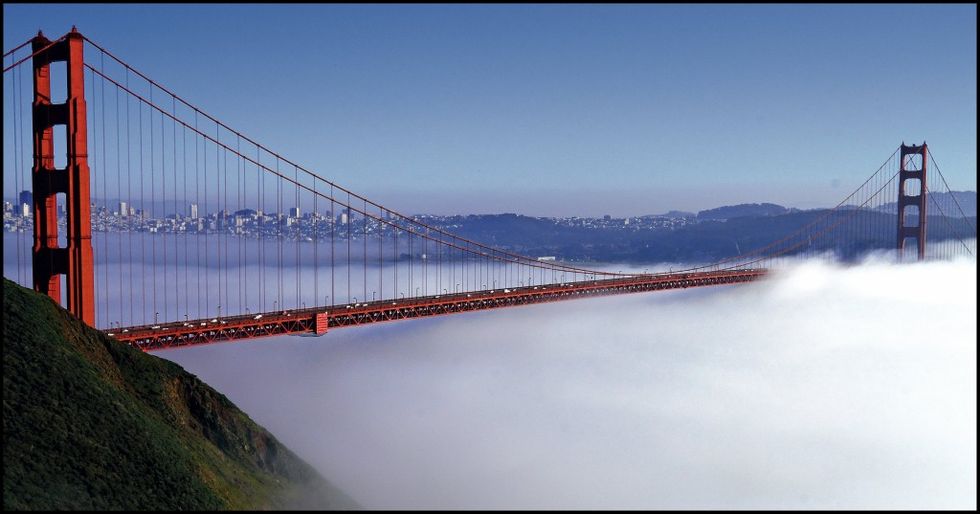 Serratia marcescens turns bread red as a bacterial colony grows. Photo: Wikimedia Commons/DBN
In 1950, the first Edward Nevin had been recovering from a prostate surgery when he suddenly fell ill with a severe urinary-tract infection containing Serratia marcescens, the theoretically harmless bacterium that's known for turning bread red in color. The bacteria had reportedly never been found in the hospital before and was rare in the Bay Area (and in California in general).
The bacteria spread to Nevin's heart and he died a few weeks later.
Another 10 patients showed up in the hospital over the next few months, all with pneumonia symptoms and the odd presence of Serratia marcescens. They all recovered.
Nevin's grandson tried to sue the government for wrongful death, but the court held that the government was immune to a lawsuit for negligence and that they were justified in conducting tests without subjects' knowledge. According to The Wall Street Journal, the Army stated that infections must have occurred inside the hospital and the US Attorney argued that they had to conduct tests in a populated area to see how a biological agent would affect that area.
In 2005, the FDA stated that "Serratia marcescens bacteria ... can cause serious, life-threatening illness in patients with compromised immune systems." The bacteria has shown up in a few other Bay Area health crises since the 1950s, according to The San Francisco Chronicle, leading to some speculation that the original spraying could have established a new microbial population in the area.
While Nevin lost his lawsuit, he said afterward, as quoted by Cole, "At least we are all aware of what can happen, even in this country ... I just hope the story won't be forgotten."
More from Business Insider:
This article originally appeared at Business Insider Defense. Copyright 2015. Follow BI Defense on Twitter.