Articles
August 17, 2015 12:12:07 EST
The U.S. Marine Corps takes their close quarters fighting seriously, even to the point of practicing with real bayonets and knives.
---
[youtube https://www.youtube.com/watch?v=Xr4W6MY-ksA&feature=youtu.be&t=42s expand=1]
As the only branch of the military that trains all of its members with knives, the Marines have some tips for cutting your enemies to shreds.
Note: Don't practice knife-fighting without a qualified trainer and only use training knives, never real blades. Seriously. Knives kill people, especially when used as described below.
1. Keep the knife "in the box."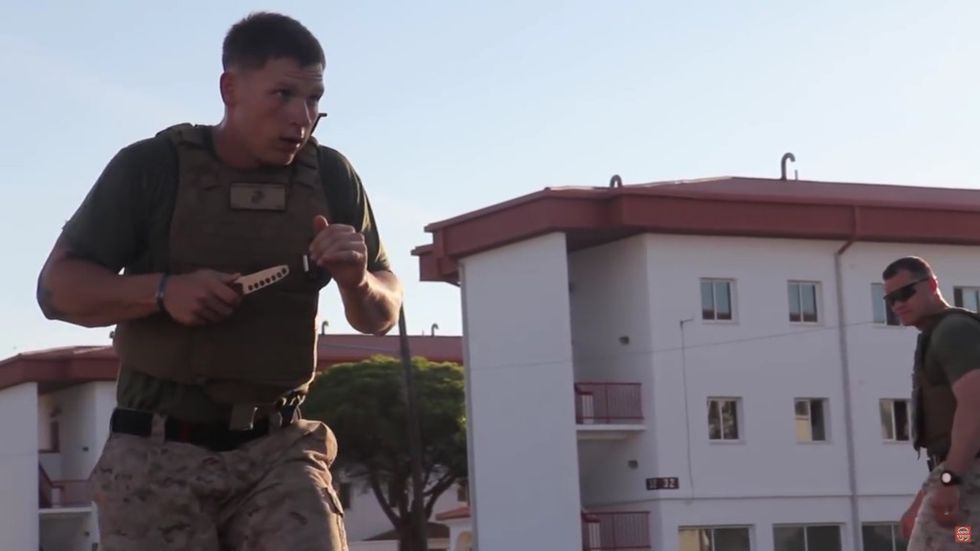 When the opponent is in body armor, exposed vital areas include the carotid arteries in the neck, the lower abdomen and the groin. When the opponent has no armor, the aorta in the chest and abdomen can also be a good target. If none of these are available, the fighter should target key places on the extremities. These include the femoral arteries in the thighs, the brachial arteries on the insides of the arms, and the radial and ulnar nerves in the arms and wrists.
3. Move to the sides
Don't stay head on with your enemy if you don't have to. Move at a 45-degree angle to either side of the aggressor to avoid their strike and increase the chances of your strike landing.
4. Placement and grip
The knife should be worn on the fighter's hip on the weak side with the blade down and facing forward. It should be worn far enough back that an enemy could not easily grab it but not so far back the fighter cannot reach it. When pulled for a fight, the knife should be gripped naturally. If the knife is properly placed, reaching across and grabbing it with a natural grip will result in the fighter holding the weapon in their strong hand with the knife pointed forward.
5. Stance
Marines knife-fight from the Basic Warrior Stance. They hold their left hand vertically as a shield to protect their ribs, head, and neck. With their right hand, they point their weapon towards the aggressor while holding it close to the body to prevent the enemy from stealing it.