Articles
December 26, 2014 07:43:08 EST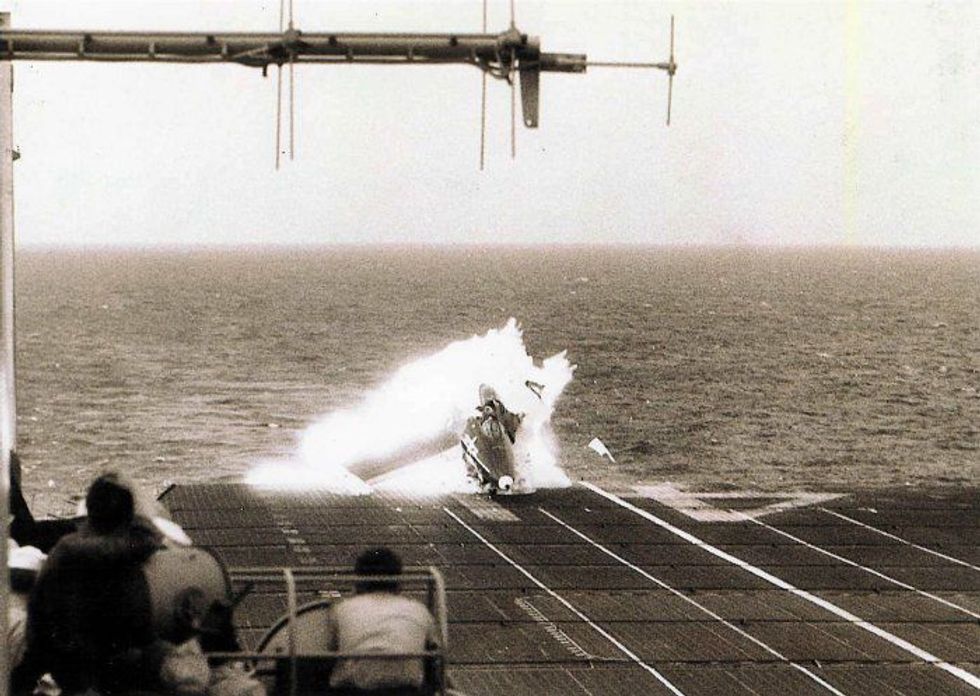 F-9 Cougar hitting the ramp of the USS Midway (CV 41) during the Korean War. For some reason that only Paramount Pictures might be able to explain, the film of this mishap was used to represent an F-14 Tomcat crashing in the movie "The Hunt for Red October."
---
In the fall of 1989 I was a lieutenant in the Navy on a shore tour serving as the editor of Approach magazine, which is the Naval Safety Center's aviation safety publication. Among my duties was to produce the "Crash n' Bash" video -- a collection of aircraft carrier mishap footage set to music -- for use at the command's booth during the annual Tailhook Convention in Las Vegas.
In the days before YouTube and Facebook this sort of video was very unique, and the Naval Safety Center's booth was very popular as a result. Most people hadn't seen this footage and setting the crashes to music was a brand new idea at the time.
Among those who saw the video was Paramount Studio's production team working on the film "Hunt for Red October," based on Tom Clancy's wildly popular debut novel. A few weeks after I got back from the convention one of the producers called me and explained that he was working with the Navy's public affairs reps and they had instructed him to call me to obtain the footage they'd seen at Tailhook. I asked him what sort of airplane they needed to show crashing. The producer said an F-14.
After verifying it was cool with my immediate superior, I FEDEX'd Paramount the master copy of the full video, which contained a bunch of crash footage of various airplanes, including some F-14s.
Fast forward a few months to me watching the movie in a theater in Virginia Beach and being very surprised with the following scene:
You can see they show an F-14 on the screen behind actor Fred Thompson (playing the fleet commander who figures out what to do with a determined Jack Ryan played by Alec Baldwin). But as the airplane gets closer it magically switches into a Korean War-era F-9 Panther that plows into the carrier's ramp and then rolls down the deck. (The pilot in that mishap survived with nothing more than minor burns to his wrists, by the way. I met him at Tailhook.)  For some reason the Paramount filmmakers also reversed the image, so not only is it the wrong airplane, it's the wrong airplane backwards.
If you go to the 1:42 mark of this video you can see more of the F-9's approach, ramp strike, and aftermath:
I still don't know why they picked that footage of all the stuff they had at their disposal. Gotta love Hollywood, I guess . . .