Articles
May 13, 2016 18:27:39 EST
In November 1947, the United Nations voted to partition what was then called "Palestine." The plan called for a complete British withdrawal, separate Jewish and Palestinian states, and an international regime to control the ancient, holy city of Jerusalem. The partition plan was rejected by Arab nations in the region on the grounds that it violated the UN charter's principles of self-determination. Before May 1948, the conflict consisted of separate Arab and Jewish fighting for supremacy and fighting to expel the British. On May 15, 1948, the Jewish people of the region declared independence as the state of Israel and the world hasn't been the same since.
---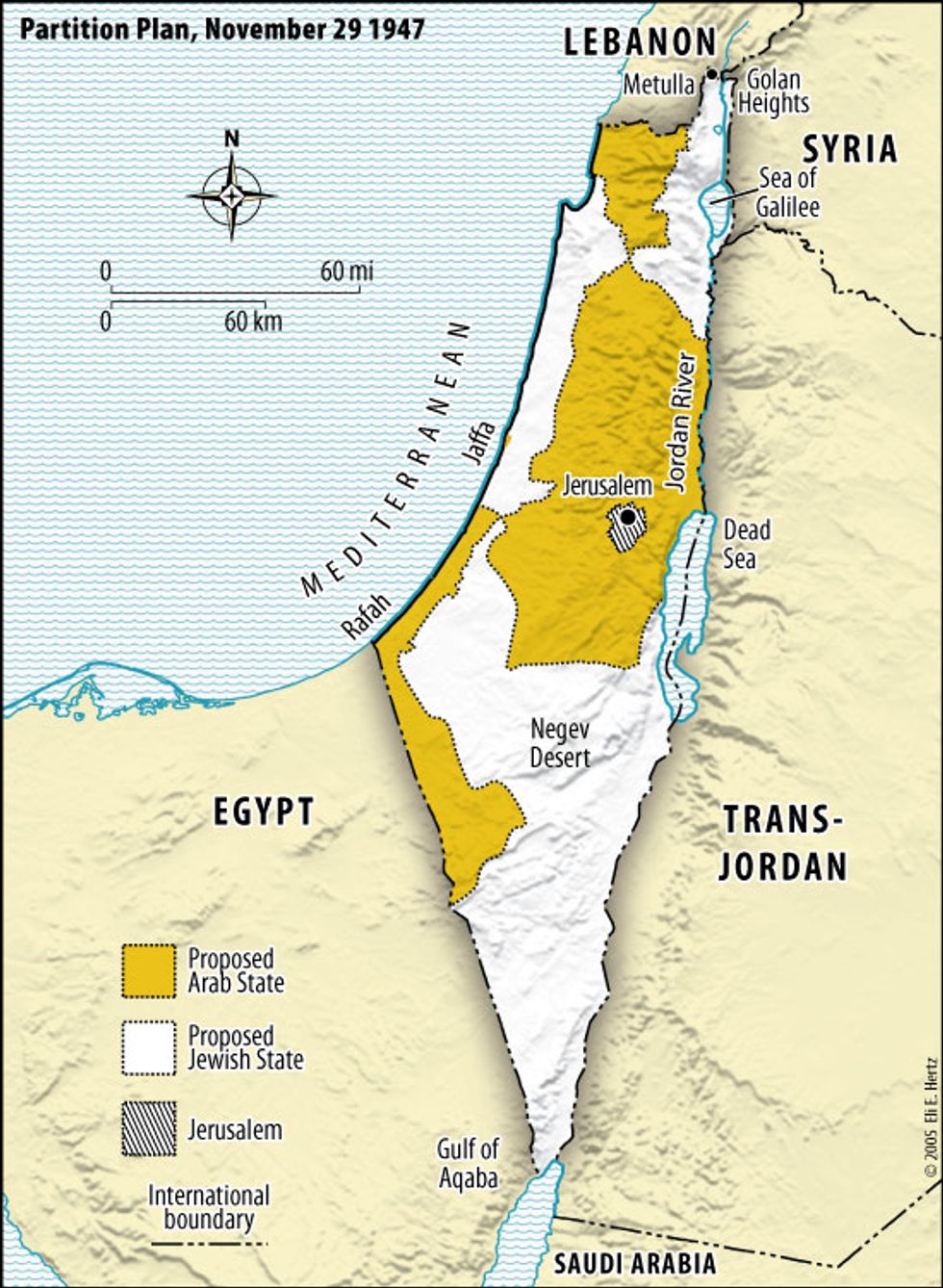 The 1947 UN Partition Plan
The Partition of Palestine passed in the UN General Assembly in November 1947. Immediately after the partition vote passed, the country descended into a civil war for control of the political and cultural hearts of the region. May 14th, 1948 was the day the British announced their intent to end their UN mandate. Shortly before midnight that day, Jewish political leader David Ben Gurion declared an independent Israel.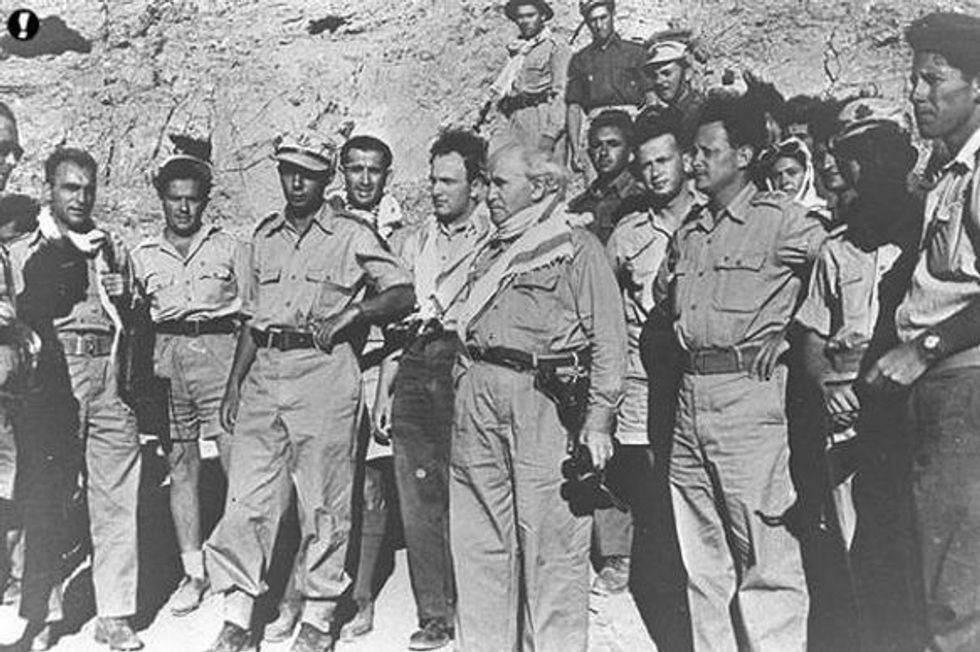 Ben Gurion (center)with Israeli forces in the Negev during the 1948 war.
The Jewish people in Palestine didn't just get independence handed to them. The conflict that started the day after the partition vote now exploded into a full-scale war, the day the British were to leave. The neighboring Arab states Egypt, Transjordan (now modern Jordan), Iraq, and Syria immediately invaded the territory declared to be Israel. Jewish paramilitary groups that were once considered terrorists under the British Mandate coalesced into the Israel Defence Forces. These groups were already engaged in conflict with Palestinian Arab units throughout the area, including the Arab Liberation Army and Holy War Army. The British were functionally gone anyway and the major cities of Tiberias, Jaffa, Haifa, and Acre had already fallen to the Israelis.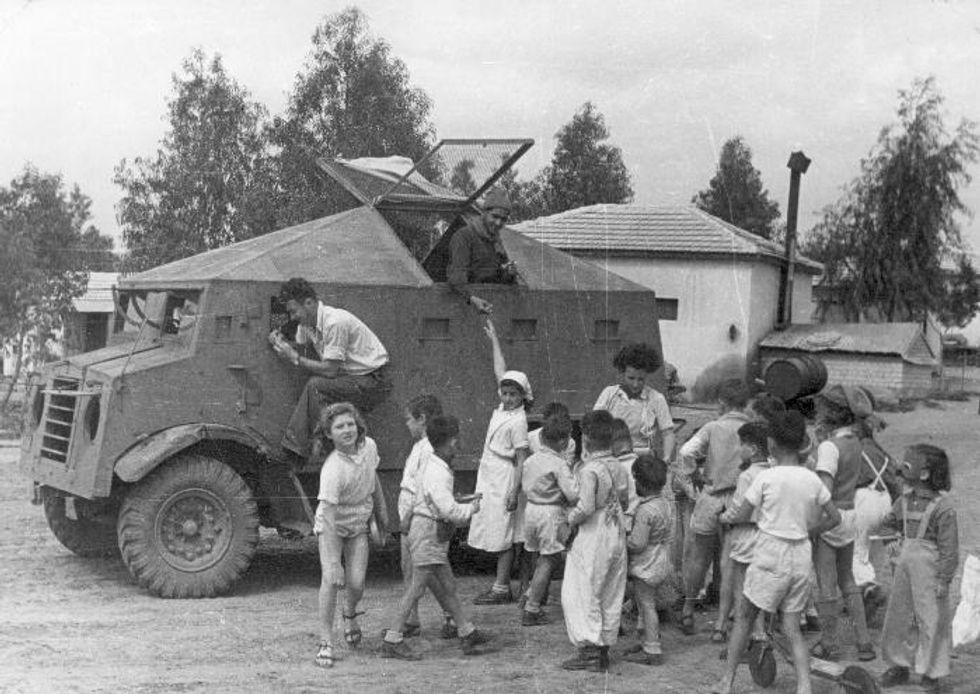 They encountered what turned out to be an armored column of 10,000 Egyptian troops and 500 vehicles. Cohen was killed in the attack and Alon was shot down (he would be killed later in the war). The Egyptians were stunned and scattered. By the time they recovered, Egypt had lost the initiative.
This was the beginning of Operation Pleshet. Israeli forces would then harass the Egyptians and group for a counter attack. Though that counter was not successful, Egypt's strategy turned from offensive to defensive and to this day, the bold Israeli airstrike is credited for saving Tel Aviv. The (first) war for Israel's existence would drag on until March 1949 but Tel Aviv would never fall to an Arab army.
Lenart died in 2015 at the ripe old age of 94. His efforts in the 1948 war were never forgotten.